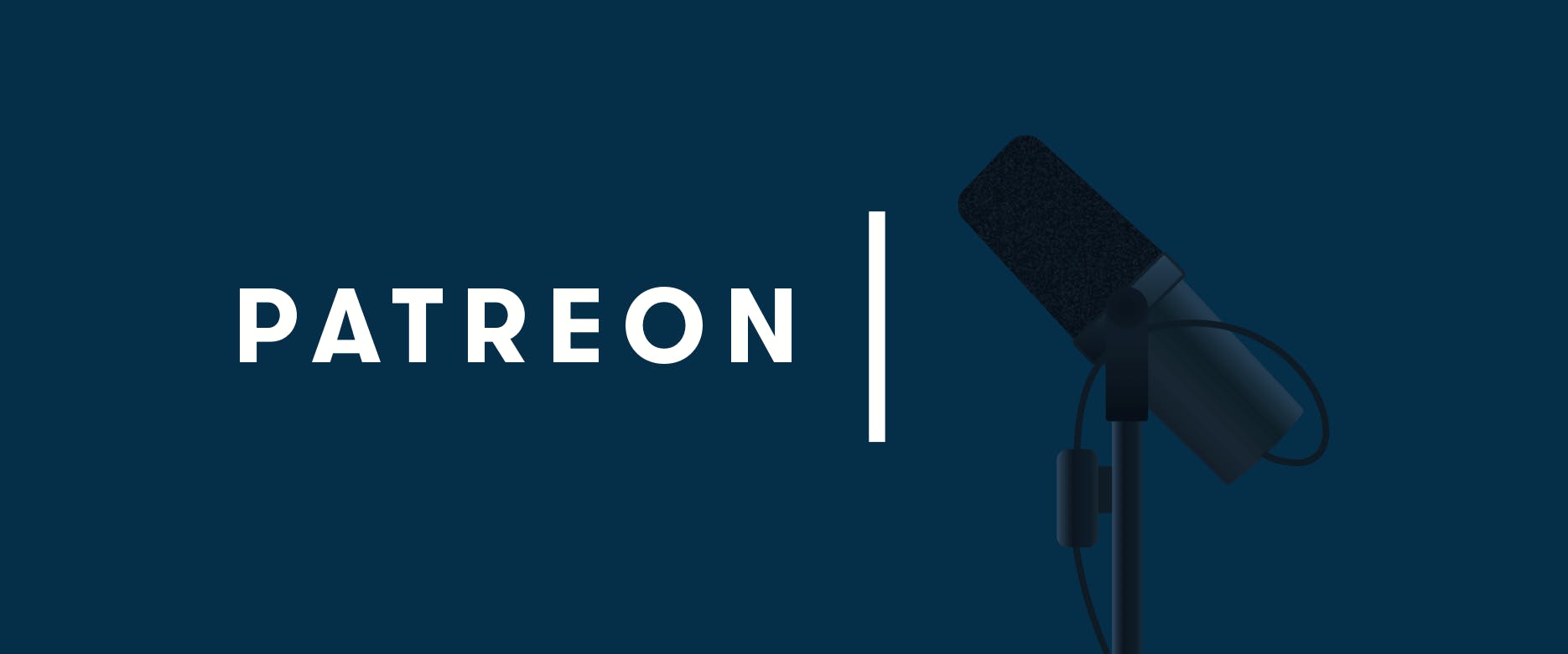 Best Patreon Rewards for Podcasters
If you're curious about the best way for small to midsize podcasters to monetize their shows, crowdfunding platforms like Patreon are a fantastic solution. These platforms allow listeners to financially support your podcast, taking some of the burdens off of you, so you can focus on making great podcast episodes.
A central part of running a successful Patreon page (or any other crowdfunded page for that matter) is setting up enticing reward tiers. What should you offer as a "thank you" at each level to reward those who decide to support your podcast?
Here are five great reward options for podcasters that don't require a ton of extra work to put together:
1. Bonus content
If there's one thing passionate fans like more than your regular podcast, it's getting even more of it! It's the same reason people purchase the "Director's Cut" version of their favorite movie or spend an extra $3 to get more behind the scenes footage. When you like something, you don't mind paying a little extra to gain access to things the common man can't get.
Bonus content is one way to scratch that itch for your listeners. You can create unique "bonus" episodes exclusive to your Patreon supporters or give them early access to upcoming content. Take them behind the scenes to show them aspects of the podcast they can't get in your regular episodes, or send them portions of the show you left on the "cutting room floor."
You can upload these bonus episodes directly into Patreon and then share a private RSS Feed so your supporters can subscribe to your Patreon feed in their favorite podcast app.
Maybe you want to start making videos as an extension of your podcast. What better place to start than serving your most passionate fans and giving them first dibs?
2. Podcast Shoutouts
"I want to give a special thanks to Mark for supporting this podcast on Patreon."
Everyone enjoys feeling appreciated. It's nice when you do someone a favor, and it's reciprocated by acknowledging that you made a difference. When you give your backers a shoutout on your podcast, it tells your patrons you appreciate their support and validate that it was meaningful.
You could also leave a running list of your supporters' names in the episode or the show description of your podcast. Listing the names of your patrons is like the end credits of a movie —you get to see everyone who helped make the film possible.
Regardless of how you go about it, giving your patrons a shoutout doesn't take a lot of work on your end and leaves a significant impression on them.
3. Exclusive access to you
What if you could jump on a live chat with your idol or favorite celebrity? What if that celebrity answered your questions and interacted with you in a personal way? Would you be willing to part with a couple of dollars to have that experience?
For your devoted podcast listeners, you are a central part of their lives. They see you as a celebrity podcaster, someone well-known and well-liked, and any interaction they have with you is unique and special.
For those people, jumping on an exclusive live video chat in Google Hangouts or doing a Q&A podcast episode featuring questions from your Patreon supporters is an easy way to engage with a personal touch.
4. Merchandise and Digital Products
Typically when you think of custom t-shirts, you think about rock bands going on tour around the country. But merchandise isn't just a rock band thing. You can do it for your podcast Patreon page as well!
Put an inside joke that only fans of your podcast will recognize on a t-shirt. Make stickers and coffee mugs with your podcast's logo on it. Make phone cases, hats, hoodies, and anything else you think would be fun. Your fans will love wearing your podcast swag and letting their friends know all about their favorite podcast.
To offer merchandise as a reward without turning your garage into a warehouse, you'll want to utilize a print-on-demand service. These services only make new items as people order them, so you don't have to order 500 t-shirts when you only need five. Just ask your supporters to include their t-shirt size (or whatever other information you need from them) as well as a shipping address and send it directly from the manufacturer to their front door.
Printful.com is an excellent print-on-demand website that will allow you to offer a wide range of products. They allow you to upload your artwork and print it on anything from t-shirts, to iPhone covers, to bathing suits. The sky is the limit!
5. Thank you cards
When's the last time you received a card in the mail? Perhaps you splurged and bought a $200 item on your friend's wedding registry, and they sent you a thank you card to let you know how much they appreciated it.
Handwritten thank you cards are a really cool (and pretty cheap) way of connecting with your listeners and letting them know how much you appreciate your support.
On my Patreon page, I've offered bonus episodes, videos, online courses, and more. To my surprise, the reward that I've gotten the most positive feedback about was the thank you cards I sent out at the beginning of the year. People liked it even more than the $150 online course I gave them! 
Don't underestimate the power of getting a card in the mail.
If you're not a graphic designer and want to create something more professional, I recommend using a website like Vistaprint. They have templates you can customize and offer a wide array of printing options, so you know your cards will look fantastic!
A final note about using Patreon
Whatever you decide to offer as a reward for your Patreon supporters, make sure it doesn't hinder you from continuing to make a great podcast. Most of your Patrons just want to say "thank you" for your podcast and aren't expecting to necessarily "get their money's worth" with Patreon rewards.
If you don't bite off more than you can chew, Patreon is an excellent option for small and midsize podcasters to make some money from their podcast and reward their most passionate listeners at the same time.