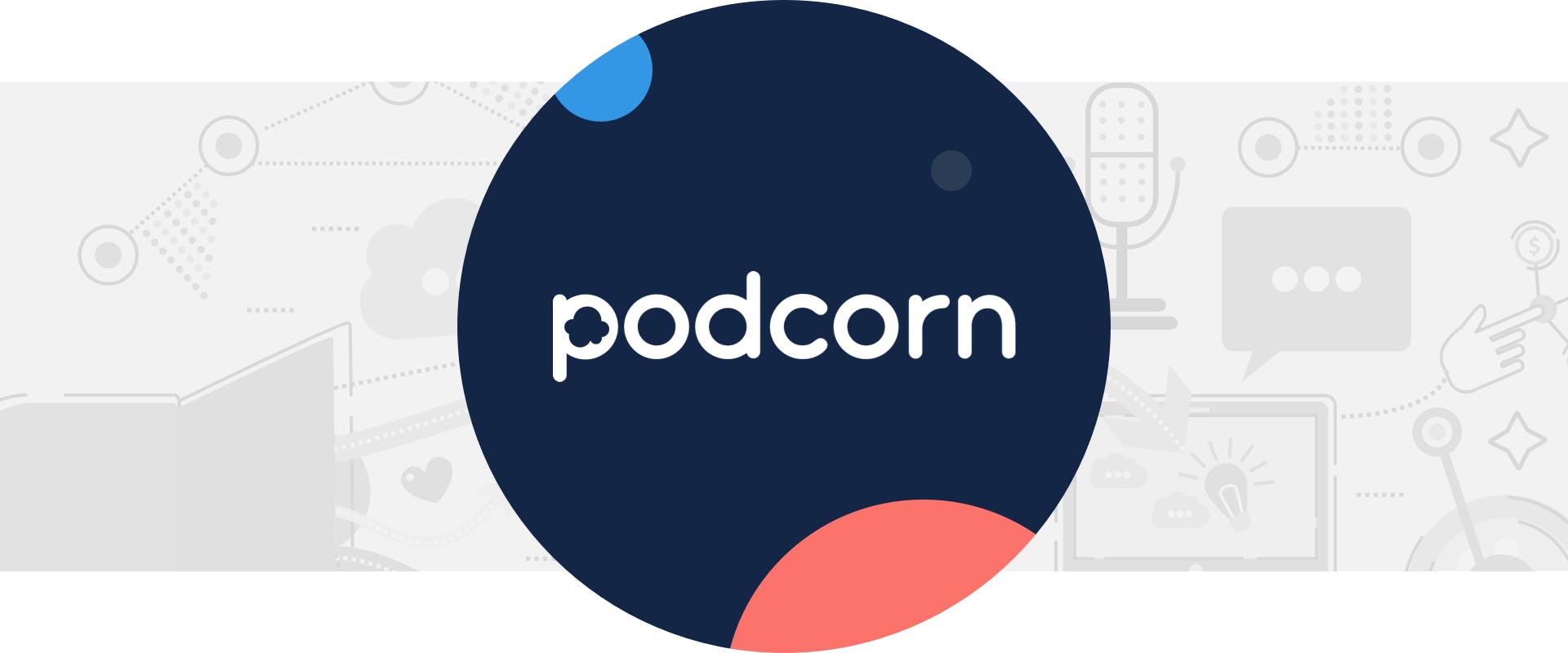 Podcorn Review & Walkthrough
Monetization plays a big role in helping podcasters put out amazing content or better yet, to turn podcasting passion into a full time career.
But unless your podcast regularly gets 10,000 or more listeners, it's nearly impossible to monetize through the traditional CPA model that is based strictly on your number of downloads.
One alternative is creating branded content where the sponsors consider other factors beyond your downloads, such as your podcast niche, topic expertise, and length of brand integration. It ditches the one-size-fits-all CPM approach, and evaluates your podcast as an individual podcast.
The real magic happens when a podcaster partners with the right sponsor. It transforms a generic commercial into an authentic recommendation & testimonial.
But until recently, that meant that podcasters had to do all the outreach themselves. They had to find the companies they could genuinely and creatively endorse, find their contact info, and send the brand a proposal themselves. There wasn't a central hub where podcasters could find sponsors.
Podcorn is aiming to change that by launching their self-service platform for podcast sponsorships. In this review, we're taking a look to seeing if Podcorn is able to deliver.
How does Podcorn work?
Podcorn is a marketplace for podcast sponsorships where they connect unique podcasts to unique brands.
They're an open marketplace where any podcaster can sign up, browse sponsorship opportunities, and send proposals to brands for free.
One of the benefits of Podcorn, is that because they're a marketplace instead of an agency, they don't take any rights to your podcast or make you sign an exclusive deal with them. You can use Podcorn for some of your advertisements or for all of them.
Once you sign up, Podcorn matches you with the most relevant sponsorship opportunities. You can choose which sponsors you'd like to work with, propose creative sponsorship formats, set your prices and schedules, and maintain control over your show and the content that is published in it. 
Different types of branded content
Since Podcorn doesn't do dynamically inserted ads, you get to create sponsorship content that meets your specific goals. The platform supports host-read ads, interview segments, topical discussions, round-tables, reviews, giveaways, and more.
So you won't be disrupting your listeners with plugged-in, boring ads, you're creating branded content in your own voice in collaboration with brand partners that you actually choose to work with. 
Positives of Podcorn
✅ All podcasters can signup regardless of how many listeners you have
✅ Find the right ad formats for your podcast
✅ Payments via Stripe or Paypal
✅ Can continue relationships with existing sponsors & advertisers

Downsides to Podcorn
🆇 You might not find a sponsor that is a perfect fit for your podcast
🆇 It can take some back-and-forth to find the right relationship
Sign up for Podcorn
If you're on Buzzsprout, you can sign up for Podcorn with just a few clicks. It will also allow brands to see verified podcast statistics from Buzzsprout.
Inside of Buzzsprout, go to Monetization > Sponsors and click Find Sponsors with Podcorn.
Next, read agree to the the Podcorn privacy policy. Once your done click Sign up for Podcorn.
This will open a separate window where you enter your podcast details and get your Podcorn login. Now you're ready to find your first podcast sponsor.
If your podcast is not hosted on Buzzsprout
If you don't have a Buzzsprout account you can move your podcast to Buzzsprout or setup a Podcorn account with your existing podcast host. You can sign up for a Podcorn account regardless of where you host your podcast, but once you create your account you'll need to reach out to your host to setup the Podcorn prefix URL (this is done automatically on Buzzsprout).
Podcorn Walkthrough
How to find a sponsor with Podcorn
We recommend browsing through the available sponsorships to find the opportunities that best fit your podcast. Try to find a sponsor that (1) is relevant to your audience, (2) that you've used, and (3) that you can recommend honestly.
If you can't hit all three, we recommend focusing on products that you can recommend honestly. If you just recommend a product you've never used, that will come through in your ad read.
Once you find a sponsorship opportunity that's a good fit for your show, you can send a proposal to that sponsor. If the sponsor likes what they see and decides your show is a good fit for their campaign, they'll accept the proposal and Podcorn will create a workroom in your dashboard. The workroom is where you and the sponsor can collaborate on the talking points, creative direction, and connect to discuss and finalize any details about the sponsored content you'll be creating.
Once you've finished and recorded the ad read or sponsored content for the campaign, you'll submit the finished audio content to the sponsor for review and approval. You'll need to do this before you publish your episode.
Once the sponsor approves your submission, Podcorn will send your payment through Stipe or Paypal. Then you'll publish your episode and begin tracking how your episode is performing.
In the next sections, we'll do a deep dive into how to pick the right sponsors and how to write a great proposal.
How to choose the right sponsor for your show
Before you start sending proposals to sponsors, it's important to consider which sponsors would be a good fit for your show, and also which sponsors your show would be a good fit for.
Ask yourself: 
Is this sponsor offering something my audience will be interested in or excited about? 
Is it something I'm excited to share with my audience? 
Will my audience be interested in the sponsor's product or service? 
Will it fit the esthetic of my podcast or upcoming episode? 
Choose products and services that you personally want to use and which share your values. Passion goes a long way. Even if a sponsor isn't directly related to your podcast, if you really care about what they have to offer then working with them usually makes sense. 
You can also ask your audience directly: Find out what they're interested in, what they like, what problems they have. Knowing this information can help you make a decision about which sponsors to send proposals to.
Writing your sponsor proposal
Once you've found a sponsor that you think will be a great fit for your show, you'll want to send a proposal to the sponsor to introduce yourself and tell them why you think you're a good fit for each other.
The proposal is also where you'll select the type of sponsored content you'll be creating for the brands, how much you'd like to charge, and which upcoming episodes you'd be publishing the content in. We recommend being flexible and offering a few different types of content because it is more likely to entice the sponsor to hire you for multiple episodes. 
Pro tip: There is only one question you must answer convincingly: "Why should someone give you money to promote their product?"
If this is your first time pitching yourself to a sponsor, don't stress! Here's what you'll want to have prepared for your proposal.
1. Creativity, detail and passion
Be creative and detailed in the proposals you write to sponsors. Most sponsors will value you for your creative ideas and passion, so showing effort is a great way to stand out. Think of your proposal as a resume cover letter. A great way to start is to tell the sponsor a bit more information about yourself and your show and the type of content you would like to create for them. 
Podcorn allows you to submit an audio proposal. So, you can use that opportunity to create a sample ad for the potential sponsor so that they see that you're already thinking about their product and are serious about working with them.
2. A compelling reason for why you want to promote this sponsor 
What makes your show and audience a great fit for this sponsor? What kind of content will you create for the campaign in order to help the sponsor achieve their goals? Why do you think this opportunity is a great fit? 
The more details that you can provide the better. Perhaps you are planning on covering a topic on an upcoming episode that relates to the brand, or maybe your listenership fits the demographic that the brand is looking for, or maybe you've been wanting to share this type of service with your listeners for a while. Share those reasons in your proposal.
3. Podcast downloads, listening data, and demographics 
Since one of the biggest benefits of these types of partnerships to sponsors is reaching your devoted listeners, being transparent about analytics data for your show (such as the number of downloads you get on average per episode within 30 days) helps sponsors get an understanding of the number of people that they can expect to reach. You can get this data from your Buzzsprout stats dashboard.
Even if you're just starting out and don't have a huge listenership, transparency goes a long way. For a lot of sponsorships, what the sponsors are really looking to see is consistency from the podcaster when it comes to their show production. 
If your sponsor is looking for demographic information, like the age and gender of your listeners, you can get this from your Spotify Podcast Statistics. If your podcast isn't in Spotify, you can also get demographic information from the social media pages for your podcast.
Conclusion
Whether you're a podcaster who is just starting to grow your listenership or someone who's been podcasting for years, Podcorn can help you connect with sponsors for your podcast.
Their flexibility in creating different ad types allows you to find the type of ads that will work for your podcast.
We're excited to see how they continue to develop Podcorn to help podcasters monetize their podcasts.
If you're ready to start, login to your Buzzsprout account to setup the Podcorn integration, and check out the available sponsorships.
Additional resources: