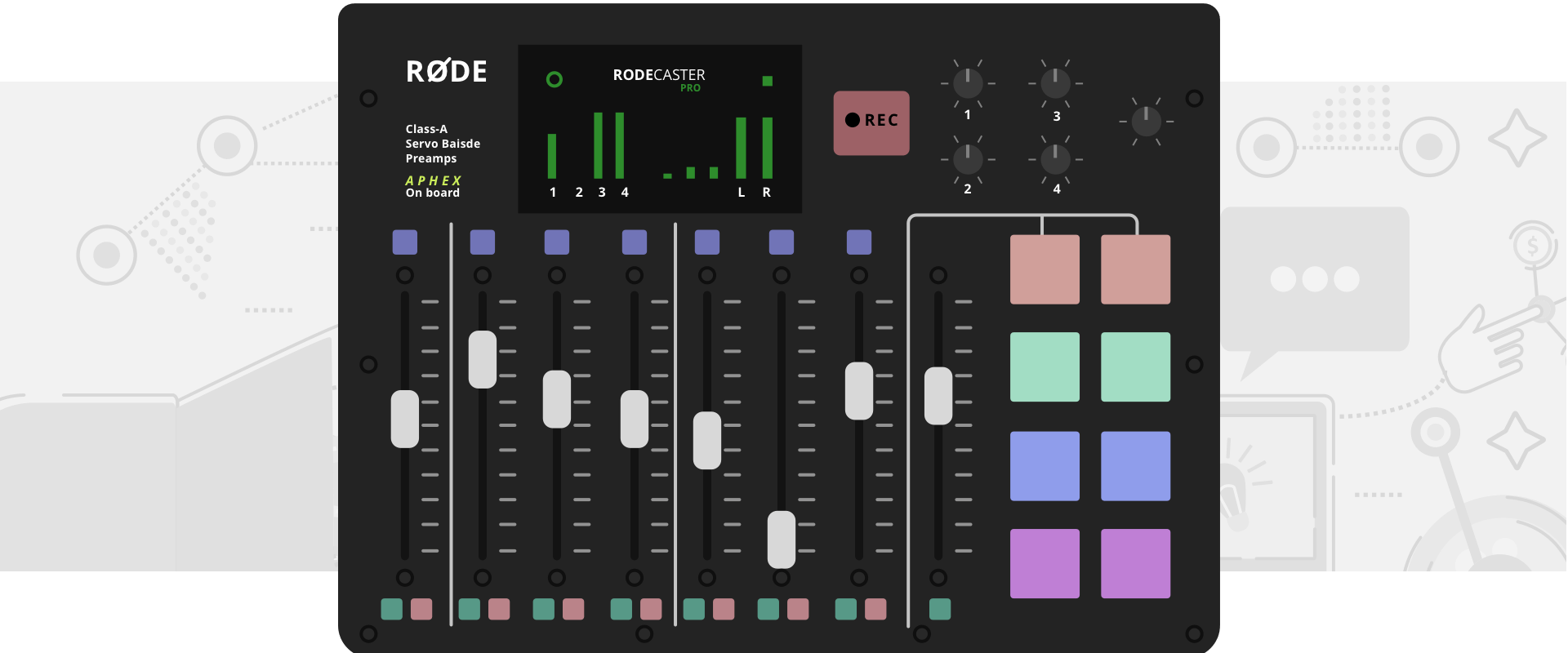 Rodecaster Pro Review
Last year Rode made big waves in the podcasting industry with the introduction of the Rodecaster Pro, a new all-in-one podcasting mixer.
After using it in the Buzzsprout Recording Studio at "Traffic & Conversion 2019" and "Podfest 2019" and recording over 30 different podcasts on it, it's safe to say the Rodecaster Pro is our new favorite podcasting mixer.
Key Features
Each of the four XLR microphone inputs have corresponding solo and mute buttons as well as a corresponding button at the top of the volume control that allows for easy access to the audio recording settings.
To the right of the XLR inputs, there is a USB track that can bring in a guest via Skype or Zoom and two ways to connect your phone for listener call-ins or phone interviews (Bluetooth and TRRS cable).
On the far right side of the mixer are eight programmable sound pads that you can use to insert your theme song, stingers, and audio clips mixed in live with your recording.
The mixer includes separate headphone inputs for each person with independent volume controls and the ability to output your recording directly into speakers or monitors.
Where the Rodecaster Pro truly shines is with the touchscreen. You're able to apply unique audio settings to each microphone, apply audio processing profiles that would normally be done in post-production, and even tailor the recording based on someone's voice profile (pretty high-end stuff). Even though it packs a bunch of features you never feel overwhelmed as Rode did a splendid job making the interface intuitive and easy to understand (even for beginners).
Who should buy one?
If you regularly record 3-4 microphones consistently and are looking for an all-in-one solution to make recording and editing your episodes more efficient, you should look into the Rodecaster Pro.
If you incorporate live phone calls with guests or listeners and don't want to deal with the hassle of setting up a "mix-minus," you should look into the Rodecaster Pro.
If you livestream your podcast and need an easy interface that allows you to control every aspect of the episode in real time, you should look into the Rodecaster Pro.
If you like investing in high-quality podcasting gear that you can use for years to come, you should look into the Rodecaster Pro.
Equipment in this video:
Affiliate disclosure: Links above are affiliate links, which means that if you choose to make a purchase, Buzzsprout will earn a commission. This commission comes at no additional cost to you. Please understand that we have experience with all of these products, and recommend them because they are helpful and useful, not because of the small commissions we make if you decide to buy something. Please do not spend any money on these products unless you feel you need them or that they will help you achieve your goals.