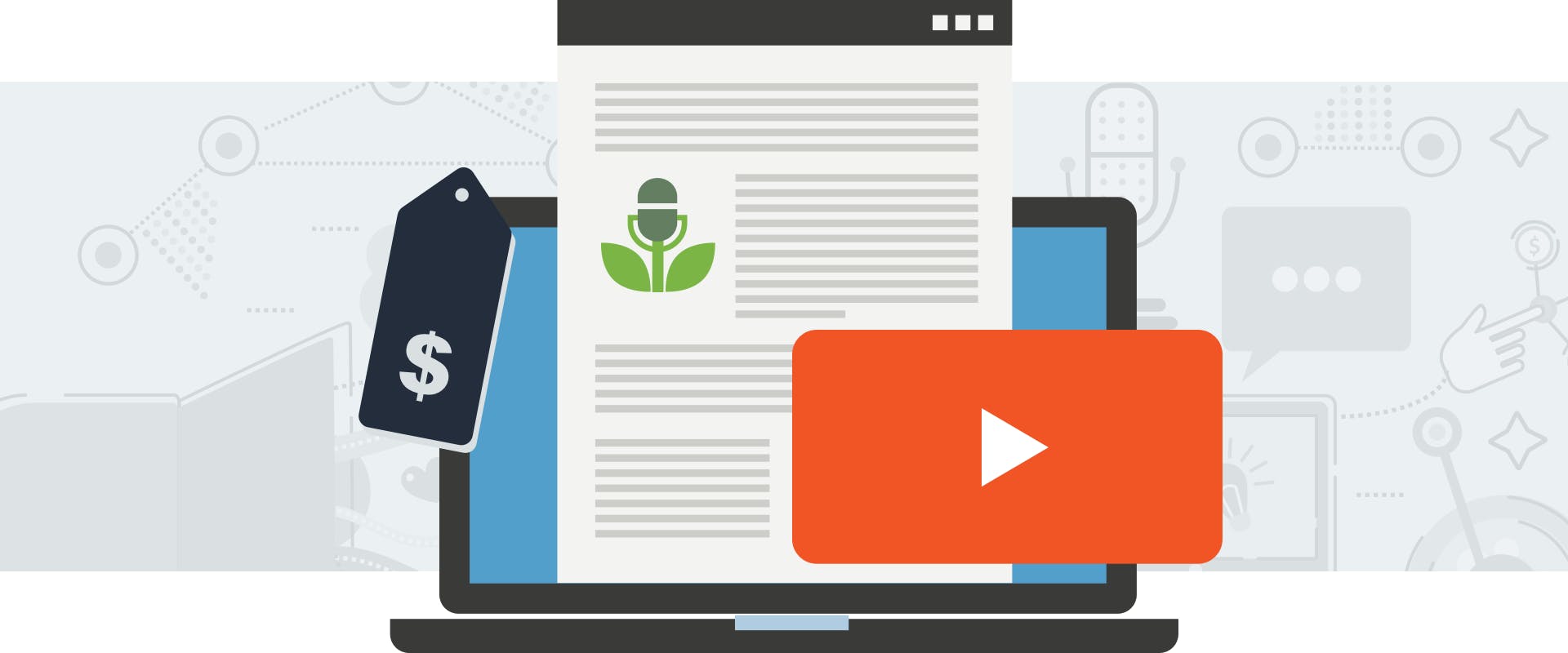 Is it more profitable to start a YouTube channel or a podcast?
Fifteen years ago, blogging was on the rise and search engine optimization (SEO) and direct marketing were taking over the internet.
As the internet has matured, we've seen the rise of content marketing with social media and smartphones proliferating the rise of the "content creator." You no longer need a custom website to plant your flag on your corner of the internet. You just need an idea and access to the internet.
So is it better to start my own YouTube channel or podcast in 2019? Which makes more money? Which one has more opportunity?
If you love making video content, YouTube is the only game in town. Sure, there are other platforms that will let you upload videos to the internet, but none of them have the reach or user base that YouTube does.
With podcasting, you can record new podcast episodes and distribute them to major apps like Apple Podcasts (formerly iTunes), Spotify, Stitcher, and Google Podcasts using a podcast host. And while quality content will typically rise to the top, finding new podcast listeners takes more effort than building an audience on YouTube.
Everyone believes that there is a fortune to be made as either a YouTuber or podcaster, but the reality is a little less glamourous. The success stories you read are not a true reflection of the real amounts the "average" YouTube or podcast host can make.
The debate isn't about which one is best. It's about finding a medium that works for you. That you get as much out of the hard work and effort you put into creating your content.
So instead of looking at just a few of the anomalous success stories lets explore some other ways to monetize both either your YouTube or podcast audience.
Assume nothing. Question everything.
In one of the Mastermind groups I was in a very smart business strategist gave me some excellent advice. Something I now use almost daily.
If 80% of businesses fail, then we should assume that 80% of people don't know what they are doing. Using this rule of thumb think about the "success stories" we're fed on a daily basis. A highlights reel of the people that are making it (top 1%) isn't a big enough sample to make a business decision on.
Peel back the façade and you might find the real story behind the hype.
EOFire's Johnny Lee Dumas changed the way podcast advertising works. By producing 7 shows a week he exploited the sponsor revenue model. The podcast payment rates are based on the rate advertisers pay per thousand listens. Recently the podcast rate dropped from $25 to $20 per 1,000 listens and may do so again as the market become more saturated. YouTube videos views are paid $9.90 per 1,000 views which is half the podcast rate.
But for most podcasters, following the 1000 subscribers = $20CPM would net you with less than $5 per episode. This often leads to people abandoning their podcasts; the average podcaster abandons their project after only 7 episodes. So it pays to get creative and find alternative revenue models.
There are no secrets – Just stuff you don't know
To think differently we must break free from the dogma of believing everything we hear or read. Only then can we begin to find alternate (and often better ways) of doing things.
YouTubers often make more revenue through outside brand deals, sponsorships, events, merchandise than they do from advertising. So let's take a closer look at 3 alternate revenue options. Ideas that might be a better fit for podcasters and more importantly, focus more on their audience's needs, wants and problems.
3 Alternate Podcast Revenue Ideas
Equity
I recently spoke to a podcaster that took equity in 2 businesses from guests that were on his show. In Poker the term is free-rolling. Using someone else's' bank, in this case an existing business, and being given all the upside. A share of the business without any risk (zero capital input.)
The "equity play" is really only for people that have expert knowledge in business consulting or growth marketing and requires a more strategic approach. This means picking the right guests to appear on the show. Subject matter experts that might not be good at business strategy or marketing. Pre-interview questions can help you define this before having them on your show. But the benefit of screening guests is you increase the likelihood of them being the perfect fit for your offer.
Affiliate Marketing
Affiliate marketing is a popular "passive income" opportunity for influencers.
But let's be honest, there is almost no passive income in the true sense. You still have to do some kind of promotion in order to earn the revenue as an affiliate. But this is a low risk option. Someone else does all the work or supplies the product. You only have to convince people it's something they need.
Tim Ferris is one of the world's best business owners and podcasters. But also a human guinea pig. All of the products he is an affiliate for he actually uses. Find a product that you genuinely love and has significantly improved your business or life. If it's congruent with the market you serve then become an affiliate for it.
Still not convinced? Here are 3 examples of how effective affiliates for podcasting can be.
7 Figure A Year Software Affiliate – Joe Fier from Hustle and Flowchart has absolutely nailed the Podcast/Affiliate space. Promoting software products for online business owners and occasionally online training products. Choose affiliate offers as the main revenue stream to solely focus on marketing. Consistently generate 7-figures in affiliate sales per year by promoting just 5 products. Then building evergreen marketing promotions to these affiliate offers.
Hayley Luckadoo from Females on Fire was amazed by the overwhelming number of comments she gets from listeners. "The audience really who really appreciate the lack of ads. It's less annoying and they don't feel like they are being constantly sold to. Plus we get really good revenue from affiliates"
Ryan Helms from Legacy Podcasting only chooses affiliate products if he uses them and if they provide value to his audience. "Even if a guest has a course, I won't offer an affiliate link unless I have experienced the product/service myself. Most of my affiliate sales have come from interviewing someone with a course that I really like. Then mentioning it in a few episodes. Someone rarely buys the first time they are presented with an offer. For this reason, I weave it into other interviews and episodes later when appropriate".
Mastermind Groups/Coaching
When you have a skill-set your audience wants from you but aren't currently delivering, we call it an improvement in your ROI. Not the traditional Return On Investment but instead a Return On Intellect™. The $355M a day information services is booming. Recently Tony Robbins combined with Russell Brunson (ClickFunnels fame) to release a Mastermind offer to their joint audience. They also recruited a huge number of affiliates. Pushing the once secretive idea of a Mastermind group to a mainstream idea (and acceptance). John North from EvolvePreneur podcast has a $25,000 Mastermind as well as does Neil Ball from The Entrepreneur Way show.
People pay for OPE – other people's experience. A playbook, blueprint or shortcut to help them get to where they want to go faster than trying to figure it out alone. The added bonus is that information products have a 70% margin vs 20% for traditional businesses. If you have the experience, expertise and intellect that people coming into your industry/niche want to learn consider improving your Return On Intellect.
So who makes more money?
If you're still wondering who makes more, YouTubers or podcasters, the answer is neither.
Many podcasters are hoping someone builds the "YouTube of podcasts" thinking a monetization engine like that would be easy money for podcasters. Well that's simply not true and a closed platform like that would likely hurt indie podcasts more than it would help.
The truth is, no matter if you're a podcaster or a YouTuber, generating any significant income requires you go beyond basic CPM advertising deals.
Ronan Leonard
Ronan Leonard is the founder of Eccountability where they help improve Return On Intellect one client at a time.