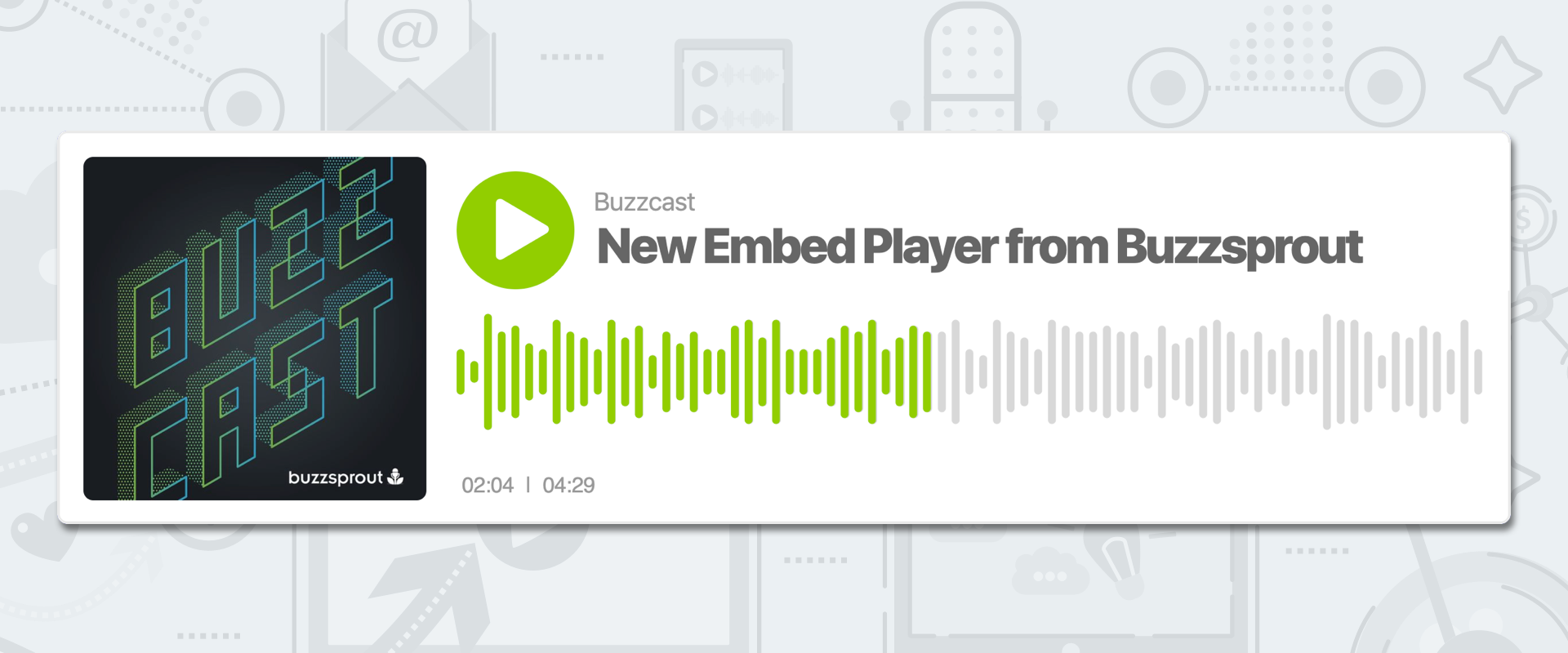 Introducing the Wave Podcast Player
We're excited to announce we are rolling out a brand new podcast player for all Buzzsprout customers.
The Wave Podcast Player builds on everything we've learned since we launched the Minimal Podcast Player in 2015 and it incorporates tons of exciting new features.
The Wave Podcast Player gets its name from the waveform that is front and center on each embed player. It adds a cool visual competent while letting people know they're about to listen to an audio file.
Customize your Wave Podcast Player
One of our favorite features of the Minimal Podcast Player was the ability to customize the colors and details to match your podcast's unique branding. It's one of the features we knew we had to bring to the Wave Podcast Player.
With the Wave Podcast Player, you can customize the colors, artwork, and type of player.
You can customize the colors to match your podcast's unique branding by changing the color of the waveform and the play button.
You can also customize the artwork that is displayed on the Wave Podcast Player. You can pick to use your podcast artwork, episode artwork, or to leave artwork off the player altogether.
Your last decision is whether you want to embed a single podcast episode or to create a playlist of multiple episodes. If you decide to include multiple episodes you'll have the option to filter episodes by guest, tag, or by a number of your most recent episodes.
Here's an example of the Wave Podcast Player with multiple episodes.
New Features
Our goal was to add more detail to the players while still keeping them clean and uncluttered. The Wave Podcast Player has new playback features, additional podcast info, and share options.
When you hover over the player, you'll see the new playback features. You can go back 10-seconds to catch something you just missed, skip ahead 30-seconds, and turn up the playback speed for binge listeners.
If you click ⓘ icon, you'll be able to see more information about an episode including the date, author, and a description of the podcast episode.
If you click the share button, you'll see a ton of new options including the ability to subscribe in Apple Podcasts, to share the episode on social media, to download the episode, to link to your RSS Feed, or to even support the podcast through your support the show link.
Let us know what you think!
We'd love to know what you think of the Wave Podcast Player. Let us know on Twitter or in the Buzzsprout Podcast Community Group on Facebook.
If you're ready to customize your own Wave Podcast Player, it's available right now in your Buzzsprout account. Just log in to Buzzsprout and go to Players > Customize Your Players to get started!