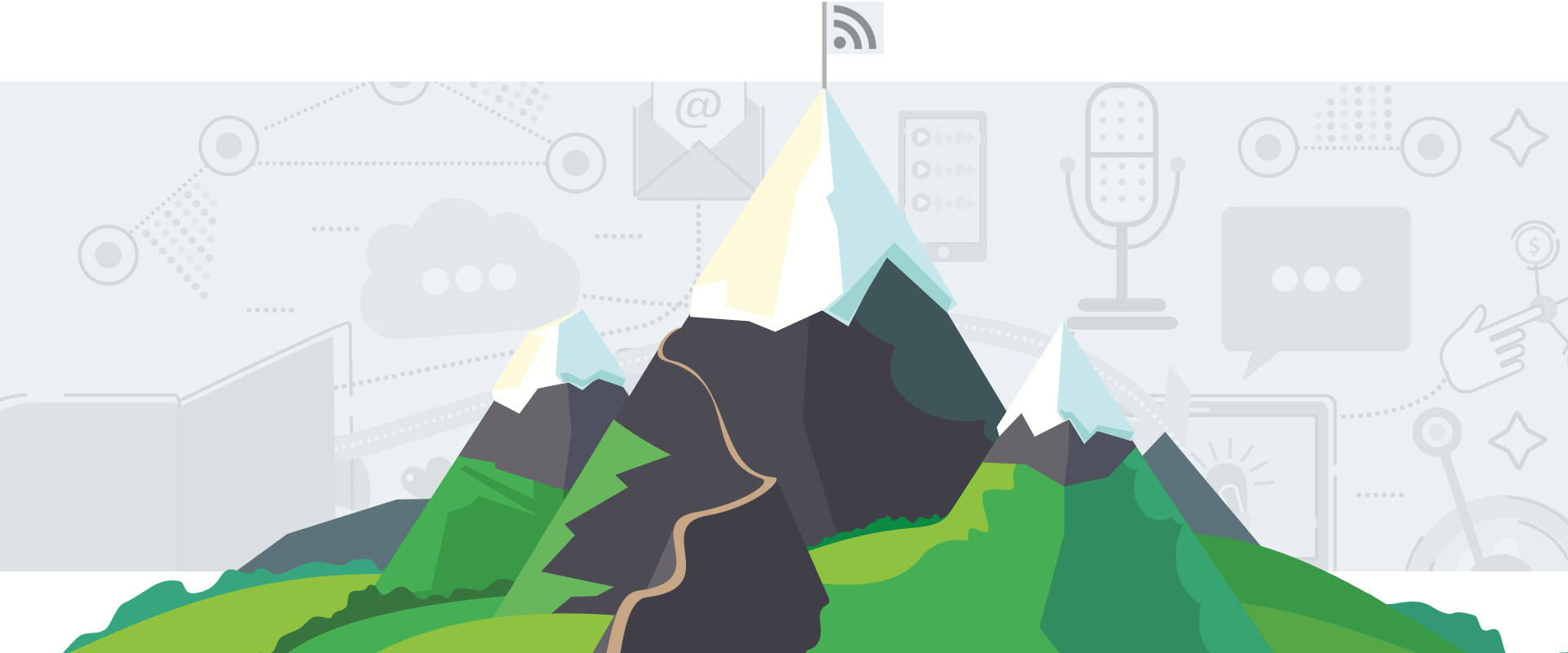 What makes a successful podcast?
If you're thinking about starting a podcast, or have already launched one, chances are you want it to be successful. Just like when you join the gym, start a new business, or ask someone to marry you, you are launching your podcast with an idea of where you hope it takes you.
But what does it mean to have a successful podcast? How many downloads do you need to have before your podcast is valuable?
Many podcasters believe that the only way to be truly successful is to have a large enough audience and sell enough mattress sponsorships to quit your 9 to 5 and be a full-time podcaster. But that's simply not the case.
Here are five better ways of measuring podcasting success as well as some tips to help you maximize your podcast's potential.
1. Content Marketing for Your Business
If you are a business owner or entrepreneur, online or otherwise, you probably want to be recognized as an expert in your industry. You know that if people see you as the "go to" person, your business will grow and enable you to do the things love. If this is you, starting a podcast will lead to more success in your business.
You'll be more successful because, in the world of "in your face advertisements" that are continually stealing our attention in the hope of securing a transaction, content marketing is becoming more of a factor. Content marketing is when you offer something valuable to your target customer or consumer without attaching a sale to the interaction. Over time, their opinion of you grows stronger and stronger so that when they're in the season to make a purchase, your company is the only one they consider. Pretty cool, right?
Sharing your expertise on a consistent basis will give your customers more confidence when they buy your products and services by allowing them to "test drive" your knowledge. If you incorporate interviews into your podcast, some of those guests can be potential clients or even other influential people you want to build a relationship with.
Finally, you'll be able to market your products to people that trust you and want to do business with you. People want to do business with people they're familiar with, and spending an hour with them every week makes you a familiar voice.
Here are a few people that use podcasting to grow their business:
2. Spread Your Message
If you got into podcasting because you wanted a platform to spread a message you believe in, then success isn't measured in dollars but reach. Podcasting allows you to reach people outside of your local network and share ideas with the people that can genuinely benefit from them.
According to Edison Research, 26% of Americans listen to podcasts every month, and 6% listen every day. If you're a church, 17% of practicing Christians listen to podcasts every day. That's a lot of people you can reach by merely uploading your podcast to the apps and directories where they subscribe.
Why is podcasting becoming the preferred medium for learning on the go? It's free to listen (for the most part) and can be consumed while doing other activities. It's not easy to watch a YouTube video while doing the dishes or driving to work, but you can listen to your favorite podcast.
Even if you never monetize, podcasting will let you spread your message to people you'd never be able to reach otherwise. Here are a few examples of podcasts that focus on sharing their cause with the world:
3. Interview Influential People
If you dream about being mentored by the leaders and tycoons in your industry, if there's a famous person you'd love to talk to, if you need some advice and know who is best equipped to give you the answer, you can do that with podcasting.
When you have a podcast, you're able to land on the calendars of otherwise unreachable people for one simple reason - your audience. People love sharing what they're doing with others and when you can offer exposure to your listeners even the busiest leaders will jump at the opportunity.
You can use that time to get personalized advice or consulting, share the audio with your listeners and invite them into your conversation. If they are a person, you want to develop a relationship with, having them as a guest on your podcast is an easy way to develop a report and kindle the start of a friendship.
Need some tips on how to land your dream podcast guest? We've got a blog post for that!
Here are a few podcasts that do an excellent job incorporating guest interviews:
4. Connect with Your Community
If you are already a leader in your community, in person or online, and want to connect with them during the week, you'll find a lot of success by starting a podcast.
If you're a church or pastor, upload recordings of your sermons and devotionals to feed your members in between Sundays. If you're a CEO, record your insights into life and business and spread it to your employees, so they get to know you better. If you're a community advocate, talk about the work you're doing and inspire people to take up the cause with you.
One thing that podcasts are exceptional at is helping you go deep with a specific group of people. The more specific you can be in what you discuss the more your listeners will be passionate about what you have to say.
Here are a few podcasts that focus on connecting with their community and helping them improve their lives:
5. Serve Your Passion
Some people are born with a creative bone and want to make something they love. If that's you, podcasting was tailor-made just for you. Success isn't about how many people are listening or whether you make any money, it's a passion project that you'd do even if it were just for you.
When you're a podcaster you can talk about whatever you want, you don't have to answer to anyone but yourself, and you can be as serious or silly as you want to be. Podcasting is a playground for people that love to create.
Here are a few passion project podcasts that keep producing content just because they love it:
Podcast Audit
Regardless of your podcasting goals, you want to make sure you're not hindering your podcast's growth in any way. Here are some quick tips to help you maximize your podcast's potential:
1. Get your podcast listed in all the major directories
The more podcast apps your show appears in, the higher chance your audience will continue to grow. Here are the main podcast directories you need to submit your podcast RSS feed to:
2. Make high-quality episodes
Podcast hosts that put out great audio quality episodes tend to grow faster than their peers. Here are a few things you can do to stand out in your category:
Create an intro an outro
Make helpful show notes that complement each new episode
Use a pop filter to cut down on your microphone's "plosives"
Save audio files in a .WAV format for use in your audio editing software
3. Promote new podcast episodes
If you want your podcast to grow, you'll need to spend a considerable amount of energy promoting and marketing your podcast (from your first episode to your most recent). Here are some tried and true methods to help you find new listeners:
Create social media posts to share with your fans
Send newsletters to your email list promoting your best podcasts
Reach out to social media influencers who can tweet and share new episodes
Create a podcast website using Wordpress or Wix to increase SEO benefits
When you're in charge of promoting your own podcast, the main thing holding you back is your ability to get it in front of your ideal audience. Brainstorm creative ways to connect with your perfect listener, even if your show is the first podcast they've ever followed.