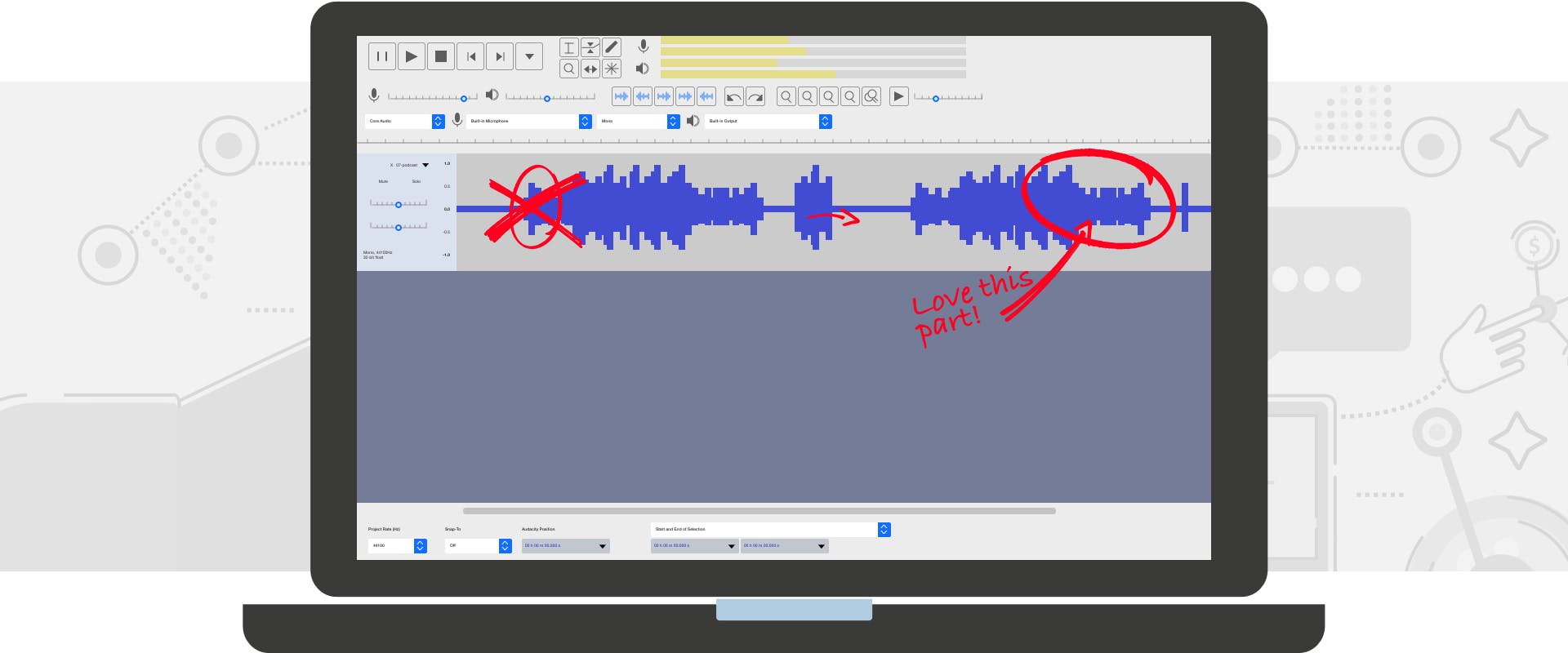 Best Podcast Editing and Production Companies
You just finished recording your latest podcast episode! Now it's time to sit behind your computer screen for a few hours messing with your podcast audio in your editing software, mix in your intro and outro, normalize your segments, remove that coughing fit… you get the picture.
Editing podcast episodes is a lot of work. Wouldn't it be nice if you could do the fun stuff (making great content) and outsource everything else to a service that could turn your raw audio into a professionally produced podcast episode? Well, you can!
Podcast Editing Services partner with you by taking the editing, mixing, and producing off your hands, letting you free up more of your time to promote your show or do something you enjoy (like sleep!).
We scrubbed the internet and found the 14 top podcast editing services available for hire. Scroll through this guide to find the service that's best for your needs and your budget.
The Best Podcast Services
These are the top companies we have personal experience with, we've met the teams, and that we highly recommend to Buzzsprout podcasters.
The team of audio professionals at Resonate Recordings has provided production services for feature films, broadcast television, multiple albums, top chart podcasts, and audiobooks. 
Their simple pricing structure and streamlined production processes are designed with you in mind. No matter what level of service you may need, their podcast editing & mixing services are sure to benefit your podcast and make your content shine.
While there is a Standard editing package available for $59/episode, it doesn't include any "interior editing" of the audio itself and only covers stitching your various segments together.
If you go with Resonate Recordings, we recommend you get Premium Editing.
When We Edit Podcasts was founded in 2015 by Carli van Heerden, she set out to give podcasters back their time while creating high-quality content without the cost. 
That mission has since blossomed into a thriving company with a multitude of service offerings. WEP continues to educate and support a new generation moving into the podcasting sphere.
You can get your first episode edited at a discounted rate if you want to "test drive" their audio editors before signing up for a monthly plan. Every monthly plan also comes with unlimited podcast hosting with Buzzsprout.
Other Podcast Editing and Production Companies
Since we don't have personal experience with these companies. These podcast services are listed from less expensive to more expensive with custom plans at the bottom. Just remember, podcast editing is one area where you get what you pay for.
As Pat Flynn's recommended podcast production service, Podcast Press is a one-stop-shop for any podcaster looking to outsource their editing. You can start with their Podcast Editing Package and then upgrade additional features as needed.
Podcast Press even has plans for podcasts that publish every single day, so if you push out a lot of content, they'll be able to keep up with your ambitious schedule!
If you're on a tight budget but don't want to settle for subpar audio quality, Podcast Press is a good first step into the world of outsourced post-production services.
From podcast editing to uploads, Podcast Engineers help make any podcaster's life easier. With their team of experienced audio engineers and editors, they use the best tools of the trade to make any podcast awesome! 
They have even helped several new shows rank in Apple Podcasts right out of the gate. If you think you have an idea to spread to the world, they can make that happen.
Podcast Motor does all of the heavy lifting from the first step of setting up your show, taking the recorded episode drafts, and publishing them on all of the major podcast networks. 
Taking all of the busy work out of your hands allows you, the show host, to focus on just the most essential thing for your show: creating the most compelling shows out there!
Sonics - £350/month
Editing is one of the most important and overlooked parts of the podcasting process. A well-crafted edit, with well-mixed audio, can make the difference between a good episode and a memorable one.
Run by Alex Kontis, he's worked with global broadcast companies, Silicon Valley startups, and independent business owners alike, and I hope we can work together too to make your podcast sound fantastic and reach listeners.
ScrubCast will remove any mistakes (umms, ahhs) while still making you sound authentic, remove background noises, unwanted breaths, and empty space. 
They add all your additional audio files (intros, outros, section breaks, and adverts), and master your audio file by adding broadcast compression, limiting, normalizing and EQs.
But what sets ScrubCast apart is that they will edit your first episode for free, no strings attached! If you've never used an editing service before, this is a great way to get your feet wet and see how much it will help you.
Freedom Podcasting coaches you in getting high-quality equipment and adhere to strict processes (noise reduction, equalization, leveling, file structure, etc.) to transform your source recordings into excellent results for your audience to cherish.
They'll work with you and their graphic designers to create great cover art as well as images to help promote the show. When you're ready to launch, Freedom Podcasting will also create a custom launch package that enables you to make a splash.
Podigy - $600/month
At Podigy, they edit every podcast to the same exacting standards. As soon as you send your latest episode over, our audio repair team gets to work on it. 
First, we reduce noise levels across all tracks before applying custom processing to make each speaker shine. Then we seamlessly edit out filler words and dead air with an ear towards delivering the best listener experience. 
Finally, we mix the episode with your intro, outro, and ads and return to you a complete podcast ready for upload. 
When you work with Podigy, you're making a guarantee of quality to your listeners, one that will keep them listening week after week.
Do you need a professional sounding show but don't have the time to edit and mix your episode each week? Are you looking for audio editing/mixing help to make your episode production quality?
If so, The Podcast Creative's Essentials package has everything you need. They'll clean up the content of your episode, mix in the different segments of your show, and professional master your audio files to give you a great-sounding podcast.
You can also upgrade to their Pro or Ultimate packages to unlock features like audio transcription to improve your SEO traffic and help your podcast appear in Google search results.
While Cashflow Podcasting is one of the higher-end editing services on our list, you're certainly getting your money's worth.
Their Podcaster Pro plan includes show notes, graphics for social media, and audio branding to make your podcast stand out from the pack. They even back up their service with a 30-day money-back guarantee!
Lower Street helps marketers and founders bring their stories to life in audio. They develop, produce, and distribute podcasts so that you can engage with your most passionate followers and create new ones.
Their custom packages go beyond the standard editing service. Lower Street will help you develop your podcast concept and launch strategy, aggregate your audience analytics from different platforms, and help you with targeted sponsorship campaigns to amplify your show and expand its reach.
You can schedule a free consultation to see if they're a good fit for your needs.
Podcast Monster is a full-service digital audio production company that caters to businesses and individuals with a story to share. By combining technical knowledge with an artistic sensibility, your finished podcast can range from simple, interview-based shows to immersive, broadcast-quality storytelling experiences. 
Since Podcast Monster takes care of everything, your only responsibility is deciding what you want to say. Schedule a free call to see if they're a good fit for your podcast.
Podcast FastTrack goes above and beyond the typical editing house with services like cover art creation, custom podcast music, professional voiceovers, and custom launch plans.
Each podcaster gets a custom plan based on their budget and goals. So if you want someone to partner with you as you grow your podcast, Podcast FastTrack is a great solution.