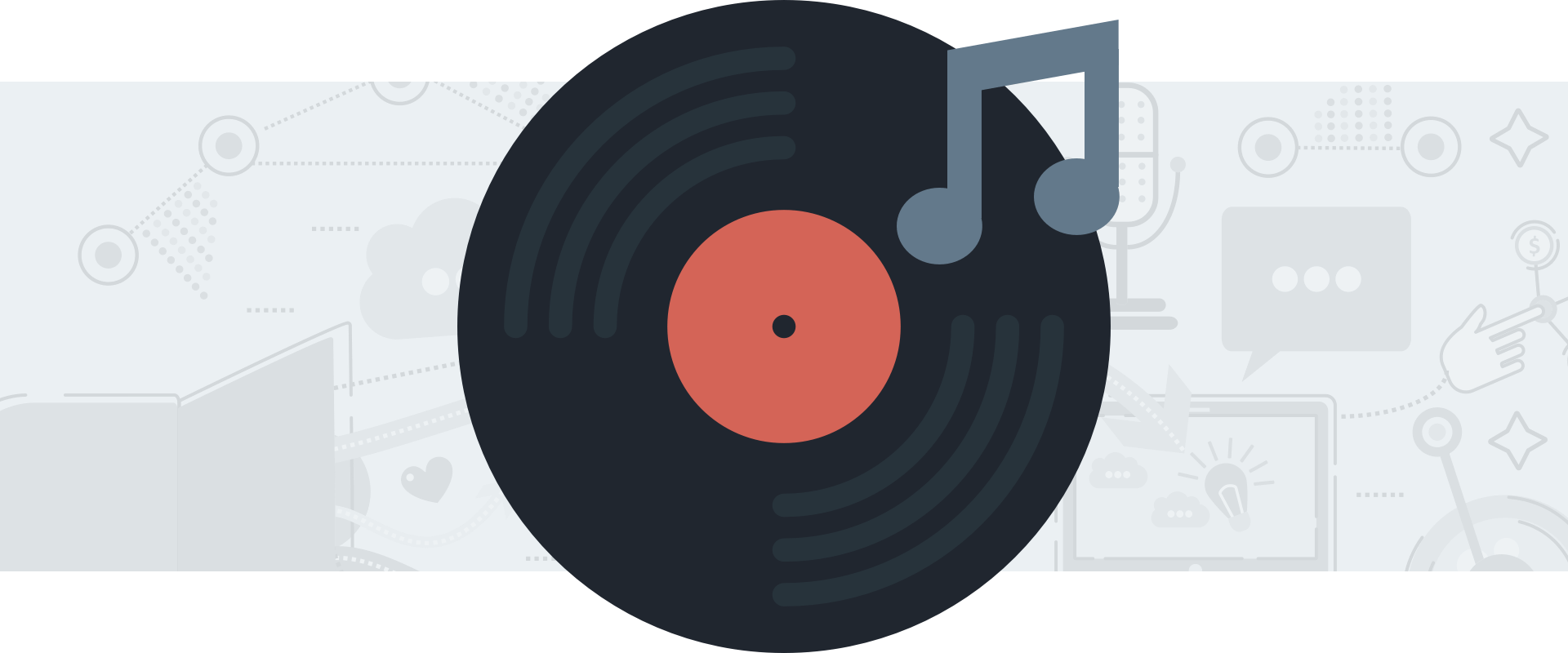 9 Best Places to Get Free Music for Your Podcast [2019]
Adding high-quality music to your podcast will help to give it a more polished feel. It's crucial for making your show seem more lively and professional.
The problem is that the world of music licensing can be a bit tricky to navigate.
Some of the most popular royalty-free music out there is overused, which makes it hard to stand out from other podcasts. Other free music options aren't very good. And using copyrighted music from your favorite band will get you sued.
You want "podsafe music" that you can use as the theme song in your intro and outro segments without worrying that the jingle you chose is restricted and can't be used as podcast music (This includes most music tracks available on iTunes).
Thankfully, there's a bunch of great websites available where you can download free music to use in your podcast. But first, you need to understand why you can't just take your favorite song off the Top 40 chart and use it as the intro music for your podcast.
Why can't I use copyrighted music in my podcast?
The vast majority of music that you're familiar with is subject to copyright.
Artists want to protect their music and be sure that they're getting paid whenever it gets used. And rightfully so! They put in a lot of hard work to create some of your favorite songs.
Record companies use teams of lawyers and content flaggers to find people who are violating copyright laws and can have your podcasts taken down, or even sue you! So pretty much any songs that you'd normally hear on the radio is off-limits for your podcast unless you get special licenses or rights to use them.
5 Common Copyright Myths Debunked
Here are some popular myths that are floating around the internet concerning music copyright.
Myth #1: I can use any music if I'm not making money from it
Absolutely not. Even if you're creating a podcast just as a hobby, only get a few downloads, and have no intentions of ever monetizing it, you're still subject to copyright law.
There aren't exemptions for charities, not-for-profits, or any other kinds of organizations.
Any copyright companies are good at finding copyright violations of even niche podcasts. Don't rely on having a smaller audience to fly under the radar.
Myth #2: It's okay if I play less than 10 seconds
The amount of music that you play has no bearing on whether it's legally allowed or not. So whether you play a full song or just a short clip of a copyrighted song, neither is okay. Artists can even get in plagiarism disputes with each other if just their melody sounds too similar to an existing song!
Myth #3: As long as I provide attribution, the artist will understand
Just giving credit for the music you're using isn't enough to avoid copyright issues. If it was that easy, everybody would be doing it!
Myth #4: I can use any music under "fair use."
The idea of fair use has a lot of myths and misconceptions associated with it online. While fair use is a legitimate defense for using copyrighted material in some cases, such as if you're parodying or criticizing it, you can't simply just use a song and then claim that it's fair use. Use of it has to be limited and "transformative" in some way.
Myth #5: "No copyright infringement intended."
This might be one of our favorite myths. If you look up popular songs on Youtube, you'll often find individual users have uploaded them with a description such as "I do not own the rights to this song. No copyright infringement intended." We've even seen a few podcasts try to use this defense as well.
The bottom line is that if you're using copyrighted music, you're infringing on their copyright whether you "intend" to or not! People who make this claim aren't within their legal right to spread music as they see fit. They simply haven't been caught yet!
What kind of music is safe for podcasting?
Now you should have a better understanding of what kind of music isn't allowed on your podcast.
You want to avoid playing copyrighted music during your podcast because it can lead to potential hassles and legal issues down the road. Even if you get away with playing copyrighted music for a while when your podcast has a small audience, someone will eventually take notice.
So what kind of music are you legally allowed to use without having to worry about getting your podcast taken down or being taken to court?
1. Creative Commons Music
This is music that artists share with the world and allow you to use for free, just out of the kindness of their hearts!
You can generally use these types of songs as much as you want and without permission. Although some artists give a stipulation that you have to give them credit.
There are several different kinds of Creative Commons licenses available, so be sure to read them and make sure that you're allowed to use a specific song. For example, some artists might only allow their songs to be used for non-commercial work.
2. Royalty-Free Music
Like the name suggests, royalty-free music means that you don't need to pay royalties to the artist every time that you use their song, which is how using music has traditionally worked.
Creative Commons music is royalty-free. But royalty-free music also includes any songs that you might need to make a one-time payment for, or have a subscription to a service to use.
3. Public Domain Music
Copyright eventually expires and music enters the public domain. That means that you can use it however you see fit.
Lots of older music like classical music or old children's songs and nursery rhymes fall under public domain.
The amount of time it takes a song to enter public domain varies from country to country. But generally if a song is 75 to 100 years old, it's probably in public domain now.
However, you need to check every song you consider using to make sure. Some companies like Disney extend their copyright even on music that would have normally fallen under public domain.
4. Music That You Get The Rights For*
You can use any music on your podcast that you explicitly get permission to use.
If you have a friend who is a musician, you can ask them if you're allowed to use their music on your podcast. You can also reach out to smaller bands or artists, and many will allow you to use their music if you give attribution. For smaller artists this is a good way to get a bit of extra exposure.
If you go this route, make sure that you get permission in writing, and that the person who gave you permission has the right to give you that permission. If the band is signed with a label they should make sure they have the rights to let you use their music.
And make sure you're getting the rights for the entire world. Your podcast is available to everybody, but sometimes music licenses are restricted by geographic region.
12 Places to Find Music for Your Podcast (9 Free & 3 Paid)
Best places to get free music for podcasts:
Incompetech: One of the oldest royalty-free music sites.
The Free Music Archive: Free high-quality songs for podcasts.
909 Music on Soundcloud: Modern & cutting edge songs.
Musopen: Lots of free classical music for your podcast.
Danosongs: Free podcast music funded on a donation model.
CCMixter: Great free remixes, samples, and a capella music.
Purple Planet Music: Browse free original music by "feel."
YouTube Audio Library: Huge selection of royalty-free music.
Soundbible: Library of free sound-effects for your podcast.
This is one of the older and more well-known royalty-free music sites. All of the music on this website comes from a single artist named Kevin MacLeod.
You'll probably recognize some of his music from other podcasts or Youtube videos.
As long as you give credit, you're free to use any songs on the site for your podcast.
There are hundreds of songs to choose from in a wide variety of genres.
The Free Music Archive has a library full of high-quality songs that you can legally use for your podcast.
All of their songs have been pre-cleared for specific types of uses. Although what you're allowed to use the music for varies from song to song, so it's important to verify for each individual rights-holder. Be sure to read their FAQ to understand exactly what you have permission to use each song for.
While Free Music Archive is inspired by Creative Commons, and they have a very similar "open source" approach to music.
You can even access their library of songs on Android or iOS devices through their app!
909 Music offers a library of royalty-free music from a few different artists. Their music tends to be more modern and cutting-edge.
You can use the songs featured here in your podcast, advertisements, and other media.
One downside is that most of their music has a similar electronic vibe to it. So depending on your preferences, you might love it or hate it.
Musopen doesn't just offer royalty-free music, but also sheet music and a free 24/7 stream of classical music radio.
The site offers a wide assortment of music, but most of it tends to be classical music. So if that's not the vibe you're going for with your podcast, you might want to give it a pass.
Their rating system is helpful at determining whether a particular song is even worth considering at a glance. Although the site seems less user-friendly than a lot of other free music websites overall.
The first site on our list was just one guy that puts out tons of great royalty-free music that you can use in your podcast. And Danosongs.com is quite similar.
Dan-O operates on a donation model. So it's not completely free, strictly speaking. But you're free to download, listen to, and try out all of the songs on his website. But once you actually use a song in a project that you publish, you need to either donate or pay for a song license.
The nice thing is that $50 donation gets you a license to use all current and future songs on the site royalty-free. There's a wide range of high-quality songs to choose from including electronic, cinematic, acoustic, piano, and even vocal tracks.
CCMixter is a global music community of over 45,000 musicians around the world.
The site has music, remixes, samples, a capellas. Users are encouraged to download, cut up, sample, and share the music however they like.
The musical offering is pretty broad. But as you'd expect, there's some good and a lot that's not so good. Since users can upload their own music, it's a less curated experience and might take some time to sort through to find your diamond in the rough. But if you need your music for free, it's a good place to start your search.
Purple Planet Music is a free music library run by a couple of guys in England named Geoff Harvey and Chris Martyn. They compose, perform, record, mix, and produce all of the songs on the website.
All of their songs are royalty-free and free to use as long as you give credit back to the site.
We like that their music features real guitars, percussion instruments, and basses to give it a more natural feel. Although they have some more electronic music as well.
Their music isn't sorted by genre or instrument. Instead you choose based on the feel you're looking for, such as "cute," "creepy," "Americana", "chilled," and more.
Most people aren't aware that Youtube has a huge selection of royalty-free music available for use and download. If you're hosting your podcast on Youtube, you can even overlay music onto it directly on the site after uploading your video.
Soundbible doesn't offer music, but instead focuses on sound effects.
We thought we'd mention it since many podcasts use sound drops for comedic effect, and it can really increase the perceived quality of your broadcast.
3 Best Sites to Buy Music for Your Podcast
The downside to free music is that more people will use the same music. If you want something unique you'll want to pay for a premium track.
Soundstripe is unique in that it's a membership site. Instead of paying for each piece of music you use, you just pay $15 per month for unlimited music.
A great option for podcasters, Soundstripe curates playlists based on the type of tracking you're looking for and they're adding new music all the time.
And best of all, every song on Soundstripe is unlocked for commercial use, meaning you don't have to worry that someone will sue you for using their song.
While other sites on our list allow you to sort by basic things like genre, Neosounds really takes it to the next level.
You can sort by music styles, instruments, and even by different moods or emotions and other categories. This can be really helpful in finding exactly the type of music that you're looking for use in your podcast.
For example, if you're making a podcast about a dark topic like the paranormal or true crime, you might be frustrated with all the happy upbeat music you come across. Neosounds lets you easily search through categories like "ghostly," "terrible/scary," "suspense," "sorrowful," or other moods that are a better fit.
The downside is the price. Many tracks on their site cost $30 or more. But you really get what you pay for in terms of quality, and having a track that you're unlikely to hear anywhere else.
While Audiojungle isn't free, it has some good premium options starting from as little as $1 per track.
You can search through the more corporate sounding stock music tracks as well as more unique songs composed by indie artists.
Audiojungle's terms of service are a bit tricky to decipher, but it appears that any of their license agreements are only good for a single episode. If you're looking for a theme song to use in every episode, Audiojungle will quickly become very expensive.
Conclusion
Using copyrighted music that you don't have the rights to on your podcast is a big mistake. It will get your podcast taken off Buzzsprout and can land you in legal trouble.
Going through the sites we've recommended above, you should be able to find some quality tracks that you can legally use without having to worry about such issues. But even on the most recommended royalty free music websites, the quality of the music that you find there can be a bit hit-or miss. So you really need to set aside a couple of hours to go through and find music that appeals to you, and fits the theme of your podcast.
But once you're set, you should have some great tunes to accompany the next hundred or more episodes of your podcast!