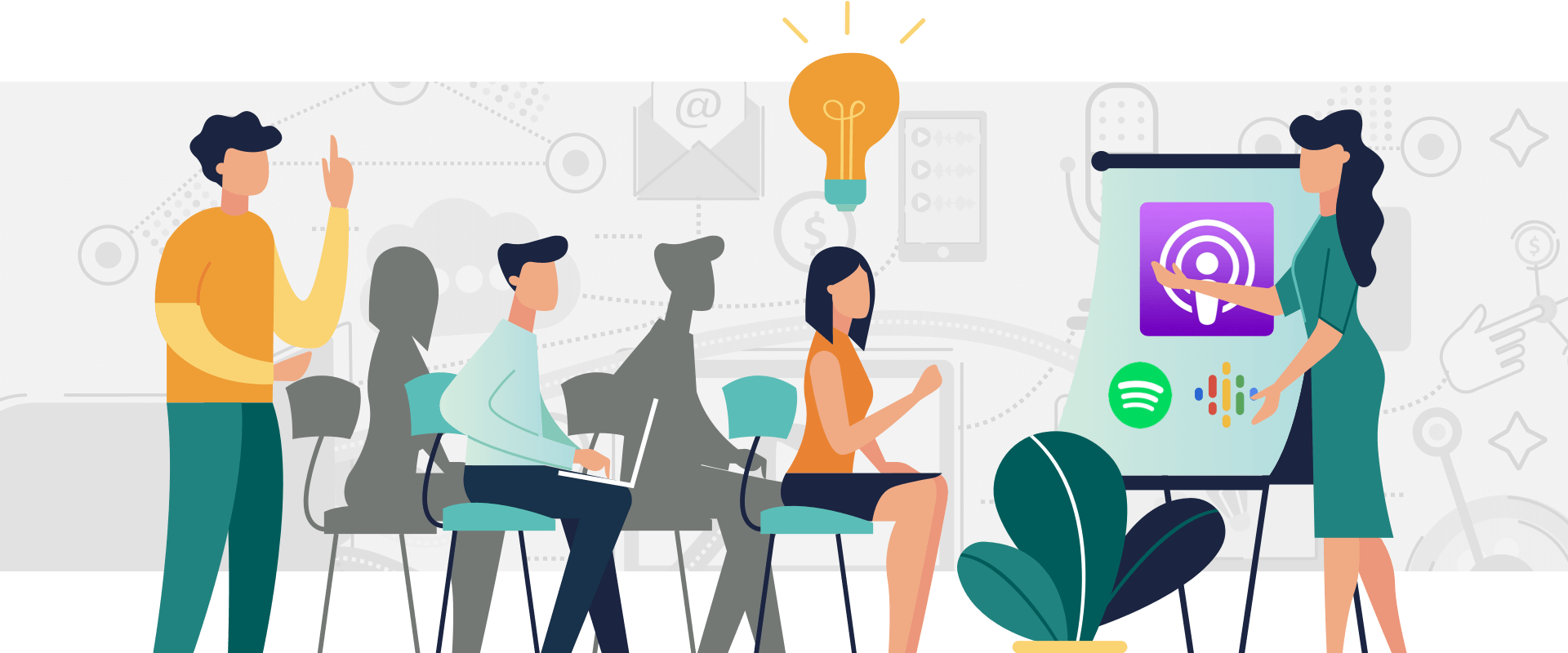 Podcast Conferences: The Best Ones To Attend In 2019-2020
So you're ready for your podcast to take off. The problem is, sometimes you can't find all the answers and solutions online.
Sometimes it's not what you know, but who you know.
That's where podcasting conferences can really help your show.
By attending events, you can network and expand your connections in the industry. Plus, it gives you a chance to learn about new technology and podcasting standards, and more about podcasting in general.
The Benefits of Podcast Conferences
Podcasting conferences feature some of the top podcasters from around the country, and around the world. Many of these events bring together thousands of podcasters.
It's an awesome place to refine your craft, whether you're an active podcaster or just someone who's planning to get started. There's usually something at these events for everyone, so don't feel intimidated if you're only on episode 2 (or 0!) of your own podcast.
The main selling point of most conferences is their speakers and panel discussions. These can cover a wide range of topics from writing a script, to basic technical information about microphones, software, and editing equipment. More advanced speakers touch on topics like monetization, refining your production quality, growing your audience, and more.
At most podcasting conferences, you can find an exhibition hall where equipment manufacturers, software companies, service providers, and other relevant businesses set up shop. It's a great place to get all of the high-quality podcasting products you need in one place.
Perhaps most importantly, these conferences are an awesome place to network and form valuable connections with other podcasters. In a community of like-minded people, you're bound to bump into at least one or two people who are on the same wavelength as you. Follow the people you meet on social media to stay in touch and continue to learn from each other.
For some people, the hardest part of podcasting is getting started. By attending a podcasting conference, you're making a big commitment to get started, and you'll certainly have the motivation that you need once you return home!
Best Podcast Conferences to Attend in 2019 - 2020
Here's a list of podcasting conferences that we think are absolutely worth checking out in 2019 / 2020. We've included some of our favorites, and also include options that are staggered all throughout the year.
Most of these are US-based, but we've included a few international conferences as well!
August 13 - 16, 2019 in Orlando, Florida
This one is one of our favorite conferences, and Buzzsprout has attended every Podcast Movement since it first launched as a kickstarter in 2014.
Podcast Movement is "the world's largest gathering of podcasters." With over 100 speakers lined up for this year, it's easy to see why. This conference brings together some of the most amazing, inspiring, and successful podcasters from all across the globe.
Tickets are $599 at the door, but you can get them for as low as $359 if you purchase in advance.
These tickets give you access to all 150+ keynotes, breakout sessions, and panels, as well as entry to the expo hall, other public parties and events, and more. You can also upgrade to their Standard Plus or Pro Pass which includes access to on-demand recordings of every session, access to a private lounge, and other perks.
March 6 - 8, 2020 in Orlando Florida
Podfest Multimedia Expo is another one of our go-to podcast conferences, and we've attended every year since they launched.
Podfest is focused around three pillar ideas:
World-class education – This event facilitates learning cutting-edge, data-driven strategies, and beginner-oriented information if you're just starting out. Learn about creation and launch, technology and innovation, audience growth, monetization, marketing, as well as networking and social media.
Inspiration & Ideas – Podfest workshops and speakers are hand-picked to inspire creativity and motivate you to grow your audience, create more content, monetize your podcast, and more.
Community & Networking – Podfest is an awesome place to mingle and network with other podcasters. In fact, some attendees call it "the best podcasting community in the world!"
In this past year, Podfest featured main stage speakers like Pat Flynn, Jordan Harbinger, John Lee Dumas, and more. Plus 100+ breakout speakers and panelists.
You can't buy tickets for Podfest Expo 2020 yet, but you can subscribe on their website to be notified when they launch.
September 6 - 7, 2019 in Atlantic City, New Jersey
If you can't get down to Florida, the Mid-Atlantic Podcast conference (aka MAPCON) might be a more convenient choice for you.
MAPCON started off in 2014 as a Facebook group for podcasters that live in the Mid-Atlantic US. It allowed podcasters to get together and arrange in-person meetups and Google Hangouts. Eventually, it grew into the conference it is today.
General tickets start at $155 per person. But if you can't attend in person, you can also pre-order a "virtual ticket" for $100 that will give you on-demand video and MP3 recordings of every session, plus slides from the conference.
October 11 - 13, 2019 in Atlanta, Georgia
She Podcasts started at a successful podcast and Facebook group for women podcasters.
In early 2019 they launched a wildly successful Kickstarter to fund their first conference in October 2019.
This event features an all-women panel of speakers and is centered around addressing issues and current podcasting events as they relate to women.
The She Podcasts conference is focused around four distinct conference tracks: Start, Refine, Grow, and Accomplish. So wherever you are on your podcasting journey, you'll be able to find something relevant.
Tickets start at $199 making this one of the most affordable conferences. You can also upgrade to the VIP options for $399. If you aren't able to attend live in Atlanta, you can purchase on-demand recordings for $99.
July 26 - 28, 2019 in San Diego, California
FlynnCon1 isn't just focused on podcasting. It's an experience put on by Pat Flynn for creators and entrepreneur's about setting their vision for the future.
Pat has done some live events and workshops for his podcasting courses and for Smart Passive Income, but this is the first even that he's put on at this scale.
The theme for FlynnCon1 is "Press Start," and it's all about getting started with a vision for your future, finding a close-knit group of like-minded entrepreneurs, challenging yourself, and more.
Tickets are limited with only 500 general tickets and 100 VIP tickets available. Regular tickets are $449 and VIP tickets cost $1,249.
Buzzsprout is really excited to attend FlynnCon1 and we hope that you'll join us there!
October 3 - 4, 2019 in Los Angeles, California.
Like She-Podcasts, Werk It is another podcasting event with a woman+ focus. Enjoy two full days of networking events, workshops, conversations, live tapings, and even one-on-one mentoring sessions.
If you want to be part of the growing community of female and non-binary podcast hosts, writers, marketers, and more, then this is the place for you.
A general admission pass is regularly $400, but you can get early bird pricing at $360 if you act fast.
October 4 - 6, 2019 in Chicago, Illinois
The Third Coast Conference will be back in the Chicago area for three days this fall, from October 4th to 6th. The event has a rich history stretching all the way back to 2001!
This festival isn't only focused on podcasting. Instead, it includes all kinds of audio artists, radio producers, journalists, documentarians, and students as well.
It's a place for everyone to share ideas, listen to each other's work, and make some connections.
Early bird pricing will be $435 per person, but 2019 registration doesn't open until July.
TBD in Chicago, Illinois
A specific 2019 date for the 4th Annual Chicago Podcast Festival hasn't been announced yet.
This festival is a bit different than most of the others on this list. Instead of mostly being about panels and discussions from experts, it's more about celebrating podcasts and connecting podcast creators with their fans.
Think of it more like a mix between a Comic Con and a film festival. A big part of the event is about getting to see your favorite podcasts presented in real life, and exploring all of the new podcasts that are out there. But there's also a great community involved and it's an excellent opportunity to meet like-minded people as well.
Details about this one are still a bit hazy. But if you're in the Chicago area, stay tuned to learn more. Or check out their monthly podcast showcases.
June 22, 2019 in Calgary, Alberta
Podsummit bills itself as "Western Canada's Podcast Conference."
The theme for the 2019 event is "After The Start" and the main focus is all about growth. Learn how to monetize your podcast with different income streams, leverage smart marketing, how to make your podcast stand out, and more.
If you're in Canada or anywhere on the West Coast, PodSummit is a great place to meet fellow content creators, both professionals and non-professionals alike. Even if you don't have a podcast yet, it's a great place to learn how to start one and become a part of the community.
Tickets are $150 each. But there are less than 40 tickets left, so you'll need to act fast if you want to attend!
November 7 - 9, 2019 in Brisbane, Australia
We Are Podcast is the first podcasting conference in the Southern hemisphere.
The event has been taking place since 2015 and only gets better with each year. The main focus of this conference is small business owners that want to create or grow a podcast. It's all about commercial intent and getting a return on investment for your business.
We Are Podcast features international and Australian speakers. Some past speakers have included Pat Flynn and Jordan Harbinger.
Take part in intimate Q&A sessions, panels, and keynotes. There are also mastermind sessions available. As well as recordings of the event so that you don't need to take notes while you're there.
Ticket price isn't available on the website. Instead, you need to fill out a form to apply on their website and someone will get in touch.
May 31 - June 2, 2019 in Nashville Tennessee
PodX is a brand new podcast convention taking place in Nashville, Tennessee. We think it looks really promising!
It has been created for aspiring podcasters, industry professionals, and even podcast fans. So it truly has something to offer for everyone.
PodX will feature a great lineup of over 30 podcasts from all different genres, with more being added every day.
There are three different types of tickets available. You can get a $69 Festival ticket for single-day access to live shows if you can only make it for one day. The $129 Fan ticket gets you the full three-day experience to fully celebrate the world of podcasts and meet some of your favorite podcasters. The $199 Podcast Pro ticket is for aspiring podcasters and professionals who want to network with other industry professionals, learn industry secrets, and really take your podcast to the next level.
If you're a student, you can also get a 25% discount on any tickets!
June 7 - 9, 2019 in New Orleans, Louisiana
The true crime genre is booming. And if you have a true crime podcast, then we think this one is a must-attend. It's being held in New Orleans from June 7th to 9th and features people from all of the biggest true crime podcasts, shows, and documentaries from around the world.
A standard all-access pass to everything except VIP events is $379.
July 11-12, 2020 in Kansas City, MO
Like CrimeCon, The True Crime Podcast Festival is for lovers of the true crime genre looking to mingle with other listeners and meet their favorite podcasters. The festival holds a podcasting panel discussion, live recordings, and a Podcast Gallery that gives members an opportunity to interact with their favorite true crime show hosts.
General admission to the festival is $105. Tickets to attend The Podcast Gallery are $85 and separate from general admission.
June 25th, 2020 in Downtown LA
Listen In is a niche podcasting conference created to teach corporate marketing teams (of all sizes) how to start a branded podcast.
The conference will feature a lineup of presenters from the podcasting industry, including the co-creator of Serial, Sarah Koenig. Speakers will cover topics like the ROI of branded podcasts, and how to advertise your show to benefit your business.
General admission to the conference is $299.
September 30 - October 3, 2020 in Long Beach, California
FinCon is a conference and online community dedicated to helping financial influencers and brands create better content, reach their audience, and make more money. The 2019 conference featured 2,300+ attendees, 200+ speakers, and 100+ exhibitors and is expected to be even bigger in 2020.
If you are creating a podcast about financial freedom, growth, and independence, pencil FinCon 2020 down as the conference to go to next year.
Their basic influencer pass to everything except VIP networking events is $497.
May 28, 10:00AM to 2:00PM, Virtual Conference
This event was created during the Covid-19 pandemic by three long-time entrepreneurs based in London because they felt that the world needs a force to unite us. With a set of internationally renowned speakers and for a global audience, the mission of the Podcast Festival Live is to help get your voice heard through podcasts by convening bona fide experts to share their experiences. 
It will feature a line-up of podcasting stars including: Kara Swisher (Recode, Pivot), James Cridland (Editor of Podnews). Bradley Davis (CEO of Podchaser), Jason Phipps (BBC Sounds Commissioning Editor for Podcasts), and Dr Siobhan McHugh (multiple award-winning podcast producer and storyteller, and founder of RadioDoc Review). 
Tickets (starting at the super Early Bird price of $10) are available on a first-come first-served basis.
Conclusion
Podcasting conferences are a great way to network with other podcasters, as well as learn about all the latest technology, tips and tricks, see your favorite podcasts performed live, and more.
With podcasting more popular than ever, there's a good chance that you'll be able to find a great conference near you!
Most of the podcast conferences we've listed above have been running for several consecutive years. So even if you miss their 2019 date, chances are they'll be back again in 2020.
Know of a podcast conference we missed or want to offer our readers a discount code? Reach out to us as support@buzzsprout.com so we can update this blog post!