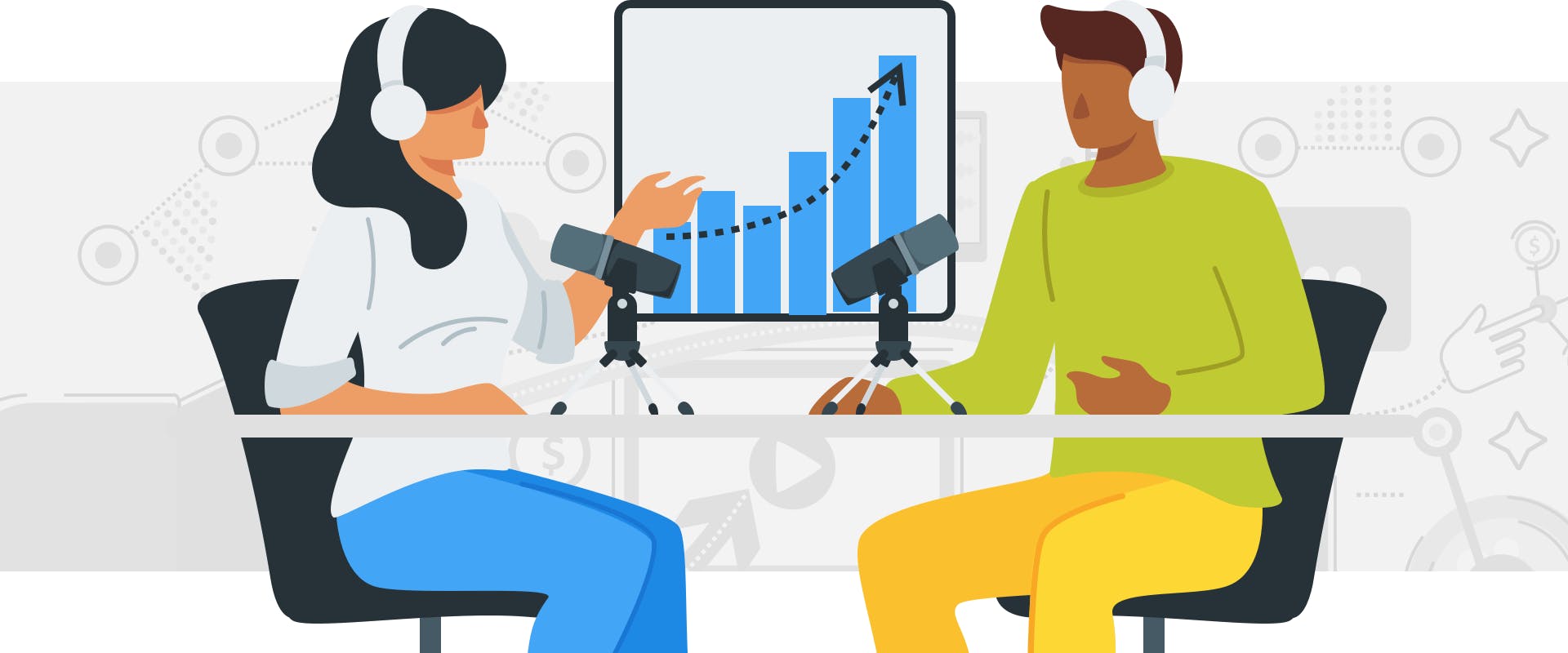 Podcast Marketing: 50 podcasters share the tactics they used to grow their shows
Launching a podcast is both terrifying and exhilarating! You aren't sure what to expect and probably feel insecure about your first few episodes. But after a few weeks, you start to become more confident that starting your podcast was a good idea after all.
Once you've got a few episodes under your belt, it's common to experience a sort of "sophomore slump." This slump happens when you continue to publish high-quality episodes, but your audience isn't growing at the same rate that it was when you first started.
And while there are many opinions about the best way to grow your podcast audience, you're interested in what's working right now for independent podcasters just like you.
"How are everyday podcasters building their audience and finding success?"
To answer this question, we spoke to over 200 Buzzsprout podcasters on the tactics they have used to achieve success. Here are 50 of their best marketing tactics on how to grow your podcast.
Pro Tip: Make sure your show is available in all the major podcast apps such as Apple Podcasts (formerly iTunes), Google Podcasts, and Spotify to name a few.

This will ensure that any potential podcast listeners can easily find your show whether they listen on an iPhone, Android device, or desktop computer.
Produce a Great Podcast
This may seem obvious, but you are not going to grow your podcast unless it is, well, good. Here are some tips to help you create high-quality episodes that will resonate with your listeners:
1. Love Your Topic
"Ultimately I believe your ambition and passion for any project is what truly sets apart from other shows that just "upload episodes" every week. People recognize when you truly care about something and that is what raises growth. If you care, they care."
- Kirk, Kicking it With Kirk
2. Do Your Research
"You have to make great content from day one. One way to do this is to follow your own taste in podcasts, and then investigate how those podcasts are made. Reach out to them. Email the hosts and the producers. Ask about gear, interviewing, and all the nuts and bolts. Figure out how you can get as close to their level of production as you can on your own level of resources, and then try and do that every single episode."
- David, You Are Not So Smart
3. Go Deep
"There are a million podcasters out there (and more each day). To stand out you must either have a deeper knowledge base than your competition in your niche or a far deeper (and genuine) curiosity—but preferably both."
- Dov, Leadership and Loyalty
4. Focus on Quality
"Create consistent high-quality content and focus on making it good instead of worrying about growing it first. Unless you have a professional sound engineer helping you, your quality is going to need work and the only way to improve it is through practice and a lot of trial and error."
- Tun, Art Grind Podcast
5. Be Timely
"Look for hooks or pegs to hang each episode on, preferably in advance—but if a suitable hook becomes apparent later, that's fine too. A good question to ask is, 'why should anyone listen to this episode now?' Of course, it doesn't have to be for each episode, but the more the better. The more timely and relevant an episode or guest is, the more likely someone is to listen and share it."
-James, Archipalago 
6. Hook Them in First 60 Seconds
"Some people, including me, will click off a podcast if I'm not sucked in within the first 60 seconds. This is hard to accomplish but over time as your audience grows, having conversations with your audience will allow you to narrow in on what keywords, format, and style your audience is most attracted to."
- Erma, Elevatd Life
7. Be a Unique Voice
"Be yourself in your business and on your podcast. Be a unique voice. Not a clone of someone you look up to or want to be like. Be someone who connects deeply with your specific kind of people."
- Nadia, Little Voice Big Business
8. Theme Each Episode
"Theme each episode so listeners know what will be covered and are more likely to share with others"
- Scott, The Soccer Coaching Podcast
9. Spend the Time to Book the Best Guests
"Focus primarily on getting the best guests relevant to the subject matter of the podcast. Live Long and Master Aging features interviews with the world's leading human longevity researchers and I have pulled out the stops to get key figures, with name recognition. This has helped secure interviews with other distinguished personalities in the field. The audience has responded positively to this and is growing steadily. I also try to conduct all my interviews in-person, even if this involves time-consuming travel. The resulting conversations are more personal and engaging than I believe can be achieved through remote links. Crucially, the sound quality is first class, which encourages listeners to engage for longer."
- Peter, Live Long and Master Aging
Learn More: Not sure how to find the best podcast guests? Check out this blog post with 7 strategies to land your dream podcast interview.
10. Invest in Audio
"Have the best audio possible within your budget. Content is great but if the listener struggles to understand then they will move on."
- Rob, Major League Eventing Podcast
11. Be An Editing Perfectionist
"Editing is so important to becoming a successful podcast because if you can hear mistakes so can everyone else. Be a perfectionist and make sure everything sounds right before releasing it to the world."
- Brian, Let's Talk About Chef
Learn More: Use this step-by-step guide on how to edit a podcast.
12. Keep Trying New Things
"Continue to expand and try new things. Keep your listeners on their toes by adding new segments or sound effects you normally wouldn't use, or give a little personal insight into yourself. This keeps the listener from feeling they know how this show goes because they are all the same."
- Rob, Major League Eventing Podcast
13. Produce 5-10 Episodes Before Launching Your Podcast
"Have about 5-10 episodes ready before launching the podcast. This will put less pressure on you and you will have worked out issues by the 8th or 10th episode." 
- Tun, Art Grind Podcast
Pro Tip: Share your first episode with people you know are in your target audience to get constructive feedback on areas you can improve.
14. Publish at a Regular Cadence
"We make sure to release our episode at the exact same time weekly. Consistently releasing at the same time creates a habit for both the creator and the listener. The day your episode drops should be like Christmas morning for your listeners. You wouldn't want Christmas to be late would you?"
- Rob, Major League Eventing Podcast
15. Have a Plan for Each Episode
"There's nothing worse than listening to a podcast host that isn't sure where they want the conversation to go. Take the time to plan your episodes, maintain a consistent pace, and be diligent with what you keep and what should go on the chopping block."
- Travis, How to Start a Podcast
Know Your Audience
If there is no market for your podcast, it won't grow—regardless of how good your content is. Therefore, you need to find your ideal listener and learn how to serve them better than anyone else. Here are some strategies to help you get started:
16. Identify a Niche
"I had a broad, general topic when I first started podcasting—stories of female entrepreneurs. When I switched to specifically teaching entrepreneurs how to start, launch, and market their podcasts—I saw a shift in numbers almost immediately. People now know what the podcast is all about; there's no guessing. The moral of the story is to niche down as much as possible so listeners know exactly what kind of value you offer them and why they should keep coming back every week."
- Krystal, The Proffitt Podcast
Learn More: Struggling to come up with an idea for your next podcast? Here are 19 untapped podcast topics that have a large audience and little competition.
17. Get Inside Your Audience's Head
"Know your audience like they're a friend. Know their struggles, wishes, fears, and basically be in their mind. This will make your content essential and binge-worthy to your audience, who will then share it with like-minded people."
- Kim, Teachers Need Teachers
18. Use Data
"Build a Google Analytics-backed landing page for your library of episodes. This helps you understand where your listeners are coming from, which can help you optimize based on channel."
- Jake, Convoy Radio
19. Talk to Your Listeners
"It may seem obvious, but the fastest way to learn what your customers like and want to hear is by talking to them. Use a Facebook group, set up a Google Form, or email them directly to solicit feedback and learn what you can do to serve your audience at a higher level. Your podcast host should have the ability to include a link to your form within your show notes."
- Travis, Buzzcast
Market Your Podcast
"If a tree falls in the woods and no one is there to hear it, does it make a sound?"
As a podcaster, the last thing you want is to put hours of time and effort into crafting a great episode and hear crickets after you publish it. Here are some killer digital marketing and content marketing strategies that will help you get the word out about your podcast:
20. Tell Everyone
Just mention your podcast either actively or passively. Getting a haircut? "Hey! Do you listen to podcasts?" At a party? "So what have you been listening to, Brandon?" On a first date? "Yeah, I produce my own podcast."
- Brandon, Jesus Hotline
21. Use Paid Ads
"The single best tactic I've used to grow my podcast has been Facebook Ads. It may sound counterintuitive to pay for advertising, but it really can make a difference. The amazing thing about Facebook Ads is that you can get very targeted listeners for your show, if you set up your campaigns correctly. And this can lead to loyal listeners who will leave reviews and tell their friends about the show."
- Nicholas, Growth Marketing Toolbox
Learn More: Check out this guide on using paid ads to grow your podcast or use Overcast Ads to get subscribers on our favorite podcasting app.
22. Leverage Word of Mouth Marketing
"We have mostly used word of mouth to spread our podcast. Some of our guests have huge social media followings so we use their fans to get more listeners. It's not an exact science but when we invite guests, we check how many followers they have on their social media accounts sometimes. We alternate guests that will help us grow our audience base with other guests who provide quality content but don't have much social media presence. By doing this our listeners get to hear new ideas and see different perspectives which is important to us."
- Tun, Art Grind Podcast
Learn More: Are your listeners not sharing your podcast with their friends? Here are four strategies that turn casual listeners into raving fans.
23. Use Search Engine Optimization
"I do keyword research around various topics to understand what people are searching for and are trying to find out more about. I take that into account when determining subject matter for new episodes."
- Travis, The Winding Road Podcast
Pro Tip: Use targeted keywords in your episode titles to maximize your SEO and reach more potential listeners.
24. Cross-Promote With Guests
"When we have guests on, the guest generally promotes their appearance to their social circle as well. Episodes where we've had guests generally have double the plays, and we see increased plays continue slowly over time after guest appearances."
- Chris, Detroit Arcade Club
25. Implement Email Marketing
"Every time I publish a new podcast, I send an email to everyone in my email database to announce the podcast. I include information about the podcast in my quarterly newsletter as well as my weekly email to my database."
- Allison, Middle Aging
26. Add Calls To Action (CTAs)
"Include one specific call to action on each podcast episode to create interaction with your listeners."
- Juliette, The Unwritable Rant
27. Hand Out Business Cards
"I have designed and ordered some business cards with a QR code on them to hand out to businesses and people locally. The QR code takes them to our podcast website."
- Aaron, Pilgrim's Digress
Learn More: Check out this this article to learn how to make professional business cards for your podcast.
28. Send Press Releases
"Every time I publish a new podcast I send out press releases to local media outlets explaining what the episode is about to see if I can get some media coverage."
- Allison, Middle Aging
29. Collaborate With Other Brands
"My podcast is very focused on its audience—Atlanta based creative professionals looking to grow their career and craft. I've tapped into partnerships with other focused brands, like CreativeMornings/Atlanta, design agencies, and other networking associations. I've also tried to book well-known guests, knowing they will likely share the episode with their audience."
- Blake, The Creative Rising Podcast
30. Create a Media Kit
"We created a media kit with information about us and our podcast. Next, we developed a database of organizations that represent the targeted demographic we wanted to reach. We sent the media kit with links to our episodes and asked people to share the podcast." 
- Justin, Category Is…
31. Create a Website for Your Podcast
"We set up a website and are asking listeners to subscribe so we can send them notifications when we release a new episode."
- Rene, The Rough and Real Podcast
Learn More: Did you know you get a free podcast website when you host with Buzzsprout? See what sets Buzzsprout podcast websites apart.
32. Leverage Blogging to Maximize Your Reach
"We publish a linked article to our podcast in a blog post each week. We try to leverage our established Wordpress blog to drive traffic to the podcasts. We always link to relevant articles on the blog from the podcast so that interested listeners can see the medieval churches that we discuss."
- Dennis, Light & Stone
33. Do Live Recordings
"I do live podcasts so that I can repurpose them. I record live, and then edit and upload for rebroadcast. It has been very successful and our live podcasts have been the most listened to episodes."
- Tanya, Mom Your Business
34. Sell Merchandise
"Creating a really catchy merch item like a hat, tote bag, or shirt with the name of our podcast begs passersby to ask about our podcast and start the conversation."
- Cate, Gift of Gab with Cate and Kenya
Pro Tip: Do a podcast merch giveaway to reward listeners that promote or tweet your podcast to their followers.
Use Social Media 
One of the fastest ways to connect with your audience and introduce your podcast to new people is through social media. That being said, it's not something that happens automatically. You can spend hours of time posting, commenting, and tagging with nothing to show for it. Here's how to do social media the right way:
35. Post on a Multiple Channels
"There's no such thing as social media overload. We make sure to post on Instagram, Twitter, and Facebook as often as possible. We are a fantasy football podcast, so news is released regularly from around the league. By acting as a reliable source of up-to-the-minute information, our followers get access to content outside of the podcast. It also helps bring attention from people on Instagram who may not have come across our podcast."
- Rob, Fantasy Suits Podcast
Learn: Still working on your social media strategy? Check out our guide on how to promote your podcast on social media.
36. Post Regularly
"Aim to post on social media two times per day on all the channels you are using: Facebook, Twitter, LinkedIn, Instagram, Tumblr, Pinterest, etc. You can also post stories or post in groups. Whatever it takes to interact with your audience."
- Rodilson, GuiaKast 
37. Share Teasers
"We have started releasing a teaser each week with our episode. We take a 30-60 second cut of our favorite moment of the episode. We then chose a corresponding photo and post the audio and photo on Facebook and Instagram."
- Max, Producing Innovation
38. Find Online Communities
"Find social media communities where your podcast is hyper-relevant, and talk about the podcast there, regularly. Reddit communities; Facebook groups; LinkedIn groups: There are communities aligned with virtually every niche you can imagine. And if you're talking about that niche—especially if you're interviewing known stars in that niche—that community will be delighted to hear about your podcast when you tell them about it."
- Simon, Exam Study Expert
Learn More: Join the Buzzsprout podcast community on Facebook to get an idea of how you could start your own online community.
39. Interact With Listeners
"Social media is a great place to gather reviews. Have a genuine appreciation for listener reviews and read them on the show or share them on social.  This makes that reviewer feel appreciated and inspires a listener who loves a pat on the back to go ahead and take that time to write their own review."
- Rob, Major League Eventing Podcast
40. Seek Feedback
"Social media is a great place to gather feedback. People are always willing to share an opinion. Be open, listen to all the feedback, but only take out the parts you think will help you."
- Beau, Fashion in Transition
41. Use Hashtags
"I make sure that I promote every episode on social media via carefully placed hashtags and photo content. Every post and every hashtag is as important as the week before."
- Brian, Let's Talk About Chef
42. Find Influencers
"You must find influencers within the industry to validate your podcast content and get their take on the industry. Their popularity and knowledge help you grow."
- Jason, Communications Academy
43. Comment on Other Podcasts' Pages
"Go to the comment section on social media pages where people are talking about your subject matter and recommend your podcast in a constructive way that is more than just plugging. Be creative and seamless. I and others have enjoyed reading these comments and have discovered new things based on what others have recommended."
- Remi, Two Birds Flock
44. Don't Forget About Video
"I've used soundbites that Buzzsprout has created for my episodes and uploaded them to YouTube to share as videos across all my social media platforms. I've also started to stream on Twitch where I promote my podcast on my page and within my stream. I've noticed that streaming on Twitch and being active within the community that is specific to my genre has been really beneficial."
- Jourdyn, Murder is My Sign
Network, Network, Network
Growing your podcast isn't just about getting the word out. It's also an opportunity to make connections with other podcasters and experts in your space (who can then go and spread the word). Here are some tips on how to grow your podcast through networking:
45. Leverage Personal Networks
"I have been using my groups of friends to grow the podcast. I have found they are much more likely to share it with their friends as they want to support me. This has produced a knock-on effect that has grown my podcast more than I ever would have thought possible."
- Merry, Flying in the Face of Fate
46. Attend Conferences/Public Events
"We show up for craft beer events at festivals and brewery events to talk with brewers and guests about our show while wearing branded merchandise."
- Charles, The ABV Podcast
Learn More: Did you know there are conferences devoted to podcasters? Here are the best podcasting conferences to attend in 2019-2020.
47. Go On Other Podcasts
"Being interviewed on other podcasts that have large audiences has been more effective than any other strategy. I've also worked very diligently for years to ensure my show consistently delivers high-quality content, with high-quality audio, every single Monday morning. Consistency, quality, and exposure to larger audiences will always help grow any show."
- Jeff, The 5 AM Miracle With Jeff Sanders
Additional Tips
These last few tips don't fit nicely into a single category, but they are still very important!
48. Publish on Multiple Platforms
"One method I use to grow my podcast is to make it available on multiple podcast platforms such as Apple Podcasts, Stitcher, and Google Play Music. Listeners can download episodes directly from my website as well. Podcasting is still a medium in its nascent stage with many distribution outlets, so it behooves podcasters to make consuming their shows as easy for their audiences as possible."
- Rod, EYE ON SCI-FI
49. Have a Multi-Year Plan
"I established a two-year plan for the growth and development of my own show that's extremely realistic. What this does is set an expectation. Growth takes time and every podcaster should stay their course rather than chasing every little fad or strategy."
- Amee, One Broken Mom
50. Don't Neglect Email
"Social media may be the sexiest place to market your podcast, but email is still the king if you want to build your audience over time. Use a service like Mailchimp or Convertkit to send out reminders when new episodes come out and create downloadable PDFs as an incentive to get people on your email list."
- Travis, 5 Minute Mondays
Conclusion
To grow your podcast today, you must produce high-quality episodes, understand your audience, develop an intentional marketing strategy, and network with the right people.
Choose a couple tips to implement immediately, keep doing what works, and come back to this blog post periodically to get more ideas.
What are you waiting for? Get out there and grow your podcast!