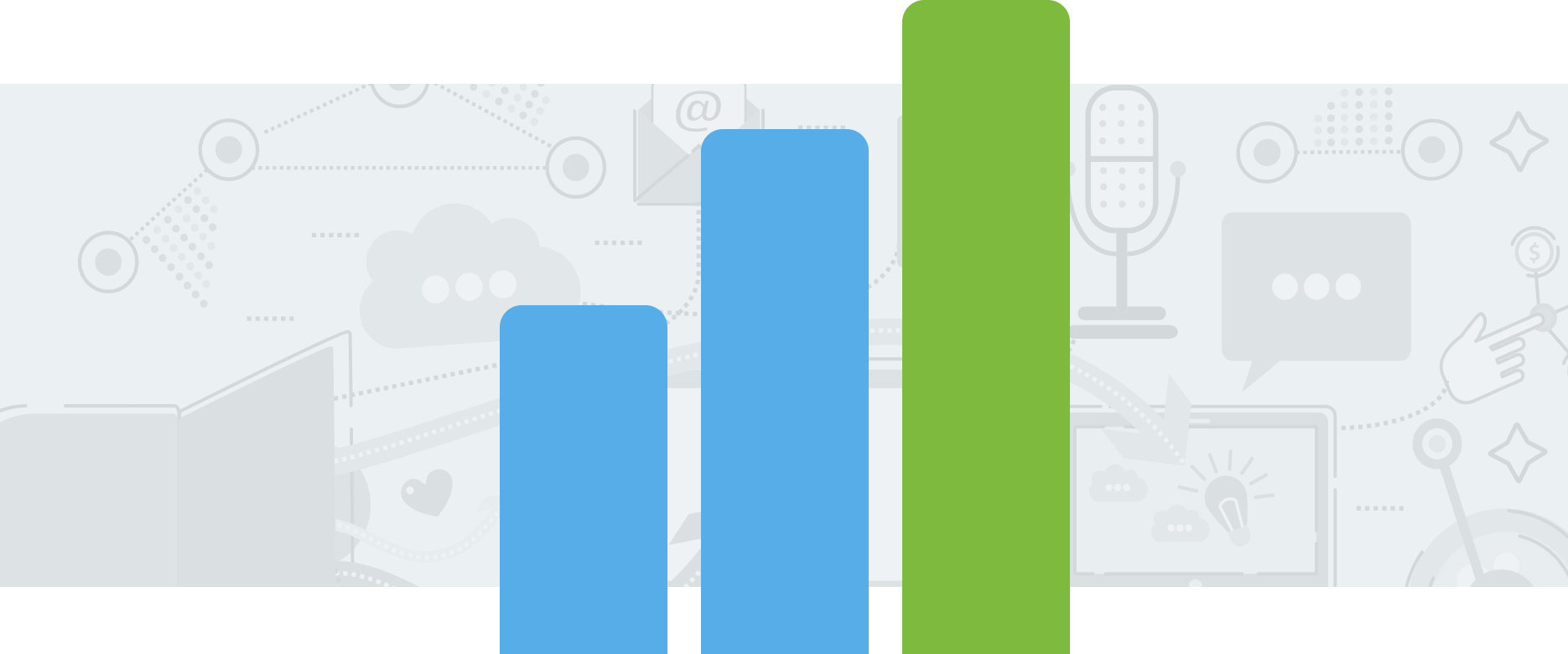 Podcast Statistics: Growth and Demographic Data for 2019
Over the past few years, podcasting has become a mainstream way for people, churches, and businesses to share their message with the world.
You don't have to wrestle with a social media algorithm, just upload a new podcast episode and your subscribers can listen to it instantly on platforms like Spotify, Apple Podcasts (formerly iTunes), and Soundcloud.
It feels like wherever you turn people are starting to recognize the power of podcasting.
Whether you're already a podcaster and are looking for ways to optimize growth or are debating whether or not to start a new podcast, these statistics can help you inform your decision.
Worldwide Podcast Popularity
Just how popular are podcasts around the world? What countries and regions consume the most podcast media? How much ad revenue does podcasting generate? Let's take a look at the current scope, reach, and revenue of podcasts worldwide.
1. As of 2020, there are over one million active podcasts in the world. [28]
2. Podcasting awareness has exploded in recent years. In 2006, only 22% of consumers knew what a podcast was, but by 2019 over 64% of consumers were aware of podcasting. [1]
3. 70% of Americans are familiar with podcasting, and 50% of the US population have listened to a podcast. [12] In 2019, 32%, or 90 million Americans listened to a podcast in the last 30 days. [4]  
4. By 2022, it's estimated that podcast listening will grow to 132 million people in the United States. [1]  
5. As of March 2019, the top growing countries for podcasting are Chile, Argentina, Peru, Mexico, and China. [23]
6. Podcasts are the most popular in South Korea, with 58% of the population listening to podcasts monthly. [19]  
7. According to Apple's Worldwide Developer Conference in 2018, there were over 555,000 podcasts on their platform alone. [20] It is estimated that this number has grown to over 700,000 since Apple's latest announcement.
8. Google says they have indexed over two million podcasts. [21]
9. Podcasting advertising revenue in 2016 totaled $169 million in the United States. In 2018, it grew to over $400 million. By 2020, podcast advertising revenue is predicted to reach $659 million[6], and $1.6 billion by 2022. [25]
10. 38% of people who listen to podcasts state that they have purchased products or services mentioned on those podcasts. [5]
Podcast Listener Demographics & Behavior
When it comes to launching or optimizing your podcast, it's critical to know your potential audience. Here is a master list of current podcast demographics in 2019.
11. 56% of podcast listeners are male, while 44% are female. [9]   
12. 34 million women in the United States are monthly podcast listeners. [9]
13. Women podcast listeners have a higher education and income than the general U.S. population. [9]
14. According to Edison research, 59% of people listening to podcasts are white. 12% of podcast listeners are African-American. 11% of podcast listeners are Hispanic / Latino. 7% of podcast listeners are Asian. Here is a complete break-down of listener composition by race / ethnicity: [11]  
15. Podcast listener diversity has dramatically increased since 2008.. In 2008, 73% of the podcast listeners were white. That number dropped to 59% of podcast listeners by 2019. [11]
16. 51% of monthly active podcast listeners have an annual household income of at least $75,000 compared to 38% of the general population. [6]  
17. 61% of monthly podcast fans have a four-year college degree. Only 44% of the general population does. To add to that, 34% of U.S. podcast listeners have a grad school degree or more advanced schooling. [6]  
18. In the United States, the average podcast listener is between the ages of 18 to 54. [6]   
19. 20% of U.S. podcast listeners have an annual household income of $100,000 to $150,000. Another 15% of U.S. podcast listeners have an annual household income of $150,000+. [6]
20. Two-thirds of podcasters take action on podcast ads and product recommendations. [29]
How People Listen to Podcasts in 2019
How are podcasts consumed? On the go? In the car? Let's take a look at how people are listening to podcasts in 2019.
21. Podcast consumers listen to an average of seven podcast shows per week. That's up 40% since 2017. [12]  
22. 76.8% of podcast listeners listen to podcast episodes for more than 7 hours each week. [8]   
23. Podcasting has grown as a traditional media, with 61.2% spending more time listening to podcasts than they do consuming TV shows. [8]
24. Podcast listening "on the go" is one of the most popular ways to consume content. 65% of people will listen to a podcast on their smartphone or tablet (Both Android and iOS devices). Only 33% listen to podcasts on the computer. [22]
25. Podcast listeners consume up to seven hours of content a week and listen to entire episodes roughly 80% of the time. [26]
26. More than 50% of podcast listeners will listen "at places other than their home." [22]
27. 23% of podcast listeners said that podcasts were the number one audio source they listen to in the car. [22]
28. The most popular places people listen to podcasts are at home, in the car, at work, or riding public transportation: [22]
29. 52% of listeners use Apple Podcasts to search for and stream their content. [27]
Most Popular Podcast Niches in 2019
Looking to start a podcast, but aren't sure which niche to choose? Maybe you are looking to target a competitive niche with tons of traffic. Or maybe you are looking to dominate a smaller niche with less competition. Here is an updated list of the most popular genres out there.
30. The most popular podcast genre in American households is music, with 61.1 million households being avid fans. TV and Movies are the second most popular podcast genres with 60.5 million households tuning in regularly. [18]
31. Comedy, technology, family, science, health, society, politics, arts, games, business, sports, and religion are all among the most popular podcast genres with at least 49 million households being avid fans: [18]
Most Popular Podcast Shows in 2019
Specific podcast shows have been dominating the rankings across the board. Many of which you have likely heard about in the news or via friends and family. Here are the most popular podcast shows in 2019.
32. The Daily, published by the New York Times, is the most popular podcast on all platforms in 2019 with more than one billion podcast downloads (as of March). The second most popular podcast in 2019 on all platforms is This American Life with more than 2.2 million weekly podcast listeners. [14]
33. The most popular podcasts (on all platforms) in March of 2019 are: [14]
Most Popular Podcast Platforms in 2019
Podcasting can be published by anyone, anywhere, on countless platforms. But, which publishers are dominating the game? And which programs are the leading programs for consumers to use? Here is a list of the most popular podcast platforms you'll want to be on in 2019.
34. The leading podcast publisher in the United States (and worldwide) is NPR, who boasts an incredible 17.97 million unique monthly listeners in the U.S. alone, and 47 active shows being produced. Second to NPR is iHeartRadio, with almost 15 million monthly listeners and 157 active shows. [15]
35. Here are the top ten podcast publishers by unique monthly listeners as of 2019: [15] 
36. Apple Podcasts dominates the listening market share for podcast programs. 52% of people listen to podcasts on Apple Podcasts. [16]   
37. 19% of podcast listeners choose Spotify as their podcast program of choice. [16]
38. Here are the top places that people listen to podcasts in 2019: [16]
39. Podcasts promoted with an audiogram video are 3x as effective as promoting podcasts with a static images. [24]
Podcast Statistics for Podcasters
Knowing how your podcast stacks up against other shows can be helpful. Here are some statistics to help you gauge the success of your podcast.
40. The average podcast gets 141 downloads per episode. [30]
41. The top 1% of podcasts get 50,000 downloads per episode on average. [31]
Wrapping Up
As you can see, podcasting is exploding in the United States and around the world. People are more aware of, and are listening to more podcasts than ever before!
Sources
[1] https://www.statista.com/topics/3170/podcasting/
[2] https://www.statista.com/statistics/188942/percentage-of-us-adults-familiar-with-the-term-podcasting-since-2006/
[3] https://www.statista.com/statistics/786826/podcast-listeners-in-the-us/
[4] https://www.statista.com/chart/10713/podcast-listeners-in-the-united-states/
[5] https://www.statista.com/statistics/712574/buy-product-brand-after-listening-to-podcast-advertisements-in-the-us/
[6] https://www.statista.com/chart/15609/podcast-audience-characteristics/
[7] https://www.statista.com/chart/15609/podcast-audience-characteristics/
[8] https://discoverpods.com/podcast-trends-report-2018/ [9]https://www.edisonresearch.com/women-podcast-listeners-closing-the-listening-gender-gap/
[10] https://www.convinceandconvert.com/podcast-research/new-demographic-research-shows-who-really-listens-to-podcasts/
[11] https://www.edisonresearch.com/podcasting-and-race-the-state-of-diversity-in-2018/
[12] https://www.edisonresearch.com/infinite-dial-2019/
[13] https://www.marketingcharts.com/industries/media-and-entertainment-105211
[14] http://analytics.podtrac.com/industry-rankings
[15] https://www.statista.com/chart/17295/monthly-audience-of-leading-podcast-publishers/
[16] https://www.statista.com/statistics/707446/popular-podcast-programs-in-the-us/
[17] https://medium.com/anchor/how-people-listen-to-podcasts-ba0c57a5f952
[18] http://www.nielsen.com/content/dam/corporate/us/en/reports-downloads/2018-reports/marketeres-guide-to-podcasting-march-2018.pdf
[19] https://www.statista.com/chart/14306/podcast-adoption/
[20] https://developer.apple.com/videos/play/wwdc2018/501/
[21] https://9to5google.com/2018/06/19/google-podcasts-detailed-global-launch/
[22] https://www.slideshare.net/webby2001/infinite-dial-2018
[23] https://blog.voxnest.com/top-growing-podcasting-countries-march-2019/
[24] https://www.headliner.app/blog/2019/04/16/headliner-facebook-face-off-video-vs-image/
[25] https://www.warc.com/newsandopinion/news/podcast_advertising_set_to_double/41998
[26] https://kitcaster.com/podcast-agent-faqs/
[27] https://musicoomph.com/podcast-statistics/
[28] https://www.podcastinsights.com/podcast-statistics/
[29] https://www.iab.com/wp-content/uploads/2017/08/IAB_Podcast-Playbook_v8.pdf
[30] https://www.smallbizgenius.net/by-the-numbers/podcast-statistics/#gref
[31] https://incomeschool.com/average-podcast-downloads-new-show/
[32] https://incomeschool.com/average-podcast-downloads-new-show/