Having trouble uploading your audio file to Buzzsprout? If so, please follow the troubleshooting steps below. If you need to contact our support team for additional help, letting us know the troubleshooting steps you've already taken will help us get you the best answer. You can email us at support@buzzsprout.com.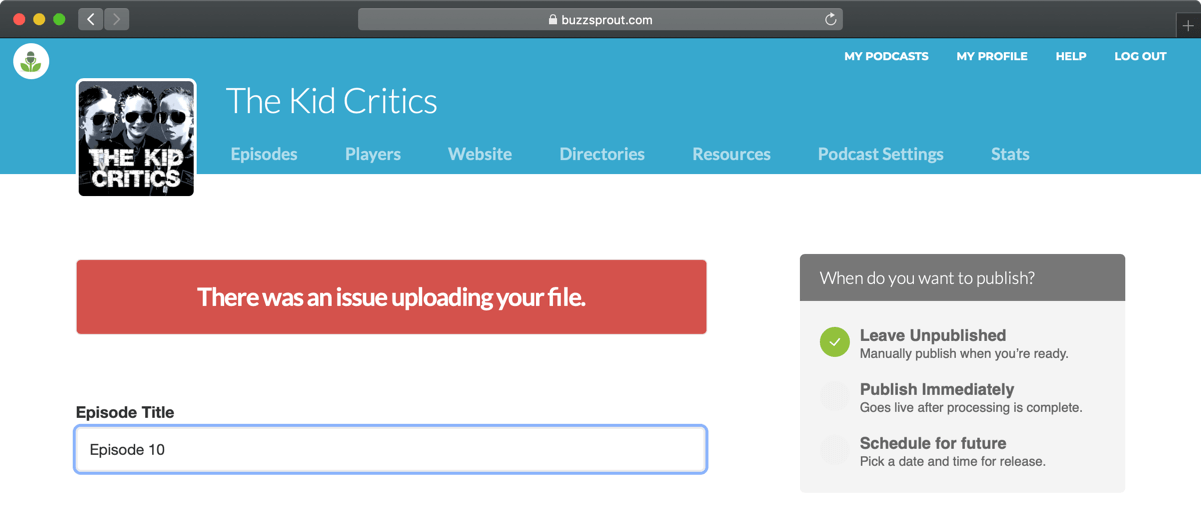 Upload_Issue_1
Are you running any antivirus software?
Some antivirus software will block uploads. To run a quick test, temporarily disable your antivirus software and try the upload again. If that works, you'll want to figure out how to add a "trusted URL" to antivirus settings. The URL you'll want to add is
https://buzzsprout-production.s3-accelerate.amazonaws.com/

The
Kaspersky Antivirus
software has been known to block Buzzsprout uploads. If you are using Kaspersky and having trouble uploading, you can
create an exclusion
or disable it completely and then restart your computer. After the restart, you should be able to upload to Buzzsprout.
Are you using a VPN?
If so, that may be what's causing the problem. To run a quick test, temporarily disable your VPN and try the upload again.


Try uploading from a different web browser.
Some web browsers allow plug-ins and extensions. It's possible that the browser you're using has an extension that's blocking the upload. The easiest way to test this is to try a different browser. If the upload works from a different browser, then you know the problem is not a computer issue nor an Internet connection issue. If you want to stick with your default browser you should then disable all extensions and slowly turn them back on, one by one, until you identify the offending extension.


Your Internet connection could be unstable.
If your Internet connection drops offline for even a brief moment, some browsers will immediately cancel any in-progress uploads. The newer versions of
Google Chrome
do a better job of handling this by attempting to resume the upload for a short time. Because of this, we suggest giving the latest version of
Google Chrome
a shot. If the upload succeeds in Chrome but fails in other browsers, that is a good indication that your Internet connection is unstable.
Try uploading from another computer.
It's helpful to know if the problem is with your specific computer or with your Internet connection. Attempting the upload from another computer lets us know where the issue most likely lies. If the upload fails from the other computer, the next step would be to attempt the upload from one of the same computers but in a different location (on a different Internet connection). This is typically only possible if you are working from a laptop. If you can manage this, the additional information does help our support team troubleshoot with you.


If all else fails...
We understand that these issues can take some time to resolve and you may need to get your podcast episode released now. In those cases, we're happy to help. You can send us your episode through
WeTransfer
and we'll load it into your account for you. Send the file to
support@buzzsprout.com
and please use the
Help
link within your account to let us know a file is on its way.