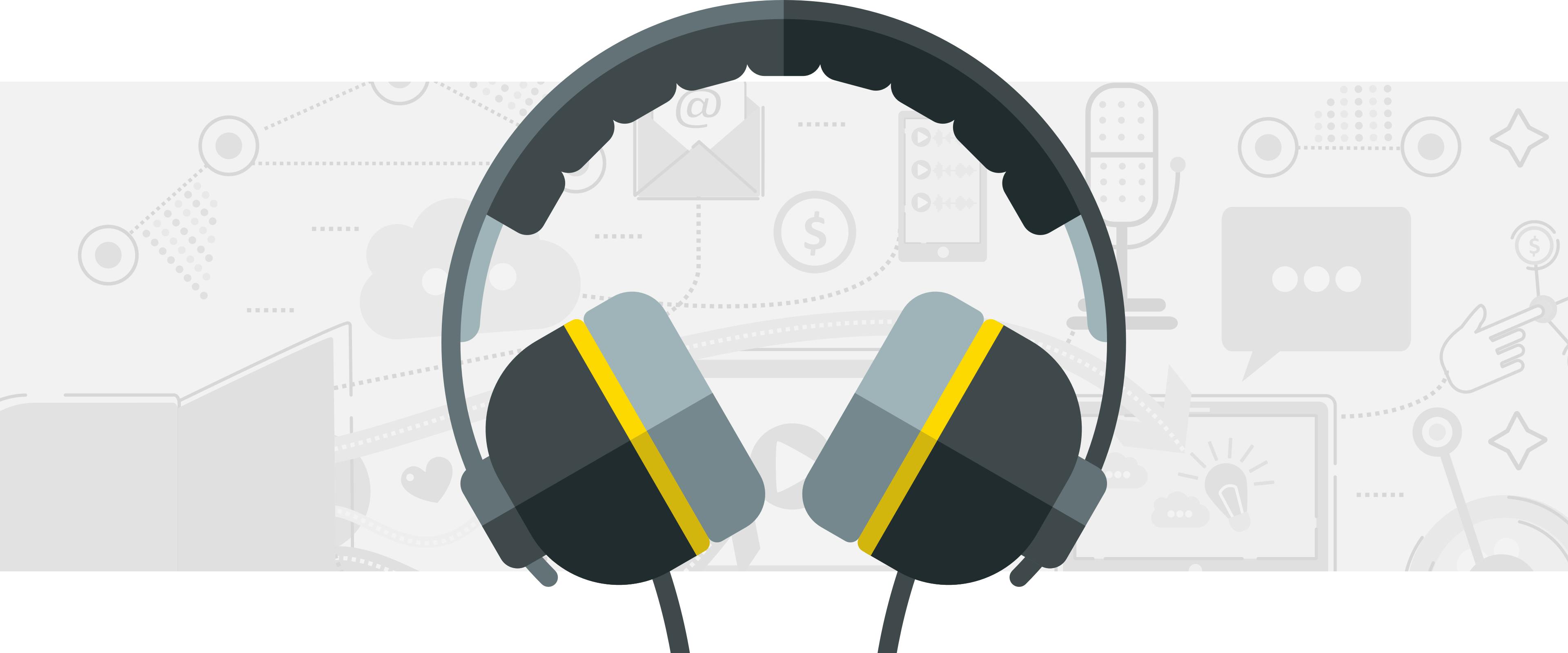 Best Headphones for Podcasting [2021]
Over 72% of podcasters use headphones when they record to monitor sound and keep static, volume, and other levels within range. A good pair of headphones is a critical part of capturing consistently quality podcast audio.
As with a lot of podcast equipment, though, there are many options on the market, and it can be hard to know what you need for your particular setup.
To help simplify your search, we put together a list of the top headphones on the market for various podcast setups and price points to help you find a pair that's best for your specific needs.
But first, let's clarify why headphones are so important to begin with and how they can help you make a better podcast.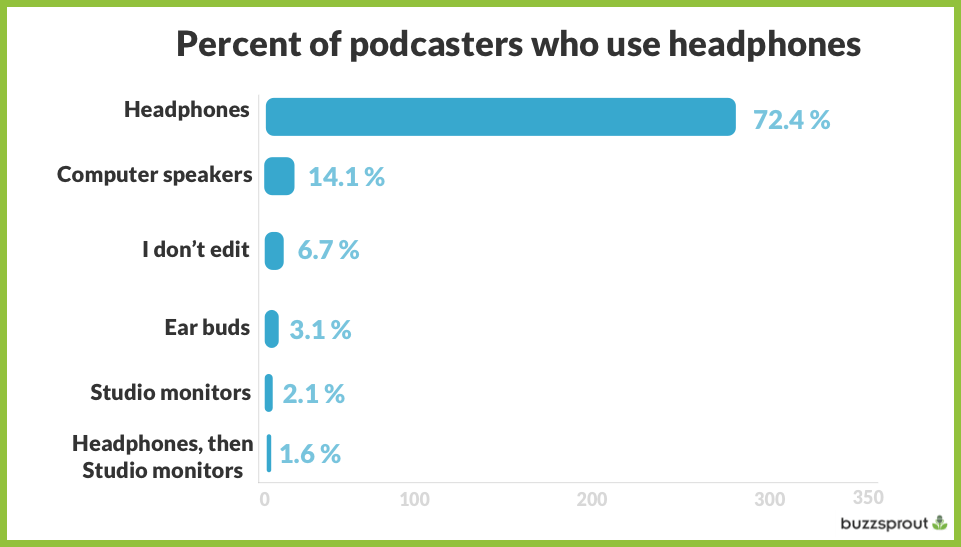 How using headphones can improve your audio 
Headphones let you hear your podcast's audio exactly how your audience will, keeping you in the driver's seat the entire time you record.
And while you technically can record a podcast without headphones, you'll likely get some surprises while editing that are at best difficult to remove, and at worst, render your file unusable. 
Here are three ways headphones help you achieve better podcast audio.
#1 Improve your mic technique
A good mic technique goes a long way toward making your podcast audio the best it can be. And without headphones that let you hear your voice back, it's nearly impossible to monitor your plosives, popping, and other hard consonants that can sound jarring to the listener.
Even if you use a pop filter, you'll likely still get some of these issues unless you're monitoring your sound as well. 
And if you're working with a guest, headphones become even more critical. Many guests you'll interview won't have much experience behind a mic, but with a few pointers and a pair of headphones, they can get a feel for how close they should be to the mic and where their volume level is.
The last thing you want is to listen back to the interview and realize there's a piece of it that is unusable because of a preventable audio issue on either end. 
#2 Help you notice and reduce ambient noise 
Headphones help with your mic technique, but they also help to improve your overall audio quality. 
Because a good pair of headphones pick up more frequencies than the human ear, it's easy to pick up distracting hums, buzzing, or other ambient noise you wouldn't otherwise, leading to a cleaner recording.
And these buzzes and hums can occur even in a sound-proofed studio, coming from places like your computer fan, air conditioner, or just regular outdoor activity that your mic picks up. 
#3 Reduce time spent editing mistakes in post 
Paired with a mixer, you can use headphones to help you edit audio levels on the front-end of your recording, saving you time in post-production.
Some sound issues are easy to edit out, but it's best to use equipment that prevents them from getting into your recording in the first place.
Most podcasters come to find that headphones are an essential part of their recording toolkit. Now, let's take a look at which features to look for when it's time to purchase your own pair.
Headphone features & factors to consider
Buying a pair of headphones doesn't have to be complicated, but there a few factors to consider to make sure you et the most of your purchase. Here are a few things to consider before you make a purchase.
• Comfort: Do they have ear pads? Are they heavy? Could you wear them for more than an hour without being uncomfortable?

• Portability: This feature is mostly important for traveling podcasters who do remote recordings and need a foldable, compact podcast kit.

• Frequency range: Headphone frequency response is the range of sound that the headphones will pick up and reproduce. We suggest looking for headphones with a range of 20 Hz- 20 kHz—anything with a wider range is unnecessary for spoken word (and more expensive, too).

• Durability: Usually, a quick scroll through some reviews and a little research into the headphones in question can give you a good idea of how long they'll last before they start to breakdown. 

• Noise canceling: Noise cancelling is a feature that has its advantages, but isn't really needed for podcast audio. Too much noise cancellation can misrepresent the audio and also comes with a hefty price tag for a feature that isn't necessary for podcasters anyway.
Closed-back vs open-back
We suggest podcasters opt for closed-back headphones vs. open-back. Closed-back headphones have ear cups that are closed and solid and prevent noise from leaking out.
Open-back headphones allow air and noise to move through the ear cups, which is great for gaming but not ideal for recording a podcast due to noise leakage and bleeding. 
Wireless vs. wired 
Although the convenience of wireless headphones is appealing, sound travels more quickly when it has a cable as a medium, and even the highest-end manufacturer can't create a headset that defies physics. 
The latency of wireless headphones causes a delay in the amount of time it takes to hear the audio after pressing play or hearing someone speak.
And because of the latency issue and the fact that wireless/Bluetooth headphones tend to be fairly heavy, most podcasters opt for wired headphones.
While they might tether you to a device, nothing is more frustrating than an audio delay in your podcast recording. 
Top best podcast headphones 
All the headsets on our list are closed-back headphones, wired, feature an appropriate frequency range for spoken word, and come from companies with a solid reputation. 
We've broken down these headphones into three categories based on price range—and they're all available on either Amazon or B&H Photo Video. 
Best budget closed-back headphones (under $100)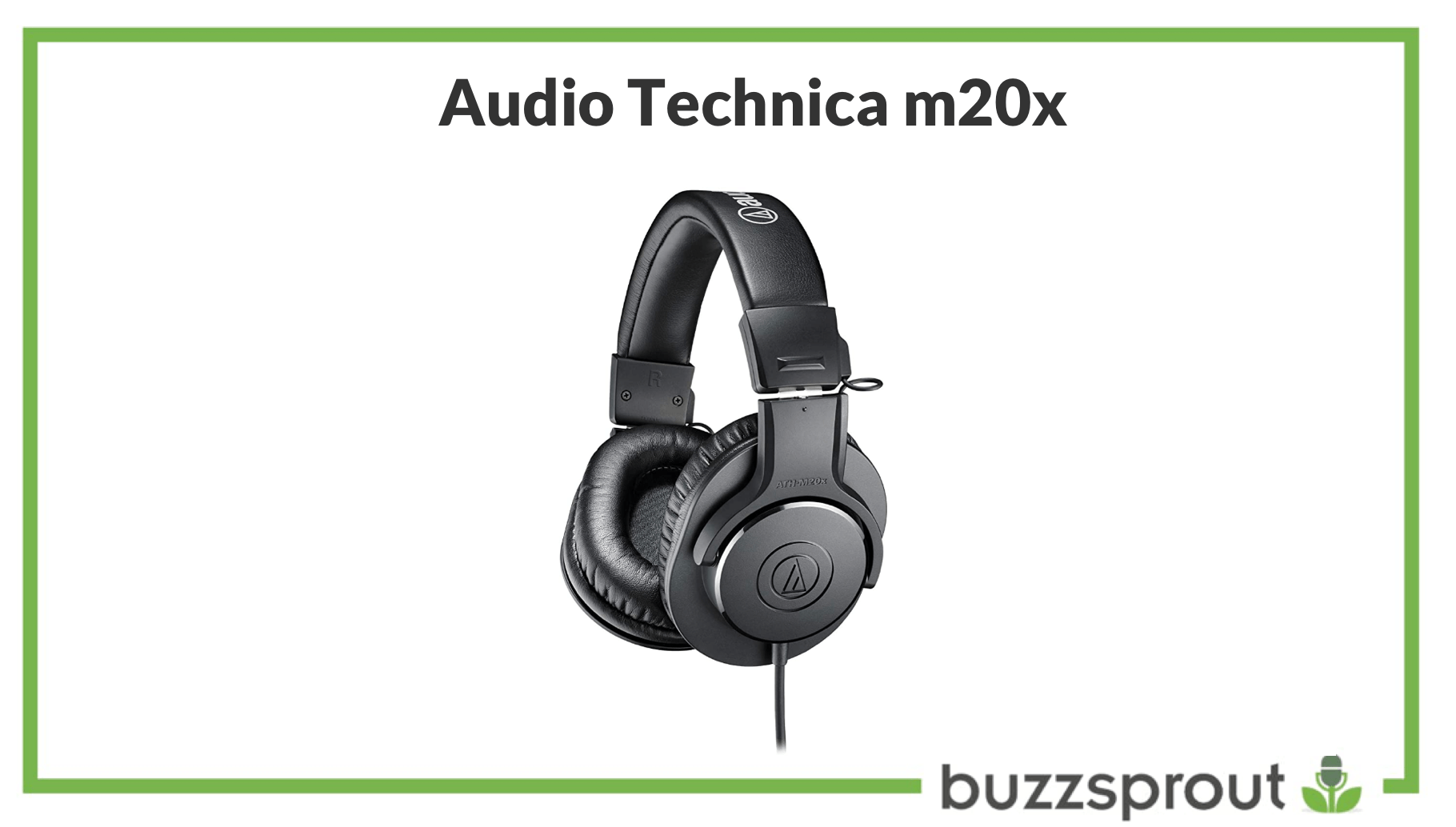 The M20X is the least expensive headphone in Audio Technica's line. 
This basic pair of headphones has an excellent frequency range and balanced sound; they're a great, no-frills pair of monitor headphones from a trusted brand in digital audio.
These wired headphones are great for podcasters who don't need a foldable pair for traveling or remote recording. If you do need these features, the Audio Technica M30X is $20 more ($79.99), features a foldable design, and comes with a travel pouch.
Keep in mind that some users report discomfort from the ear cushions that they can start to heat up after using them for a couple of hours.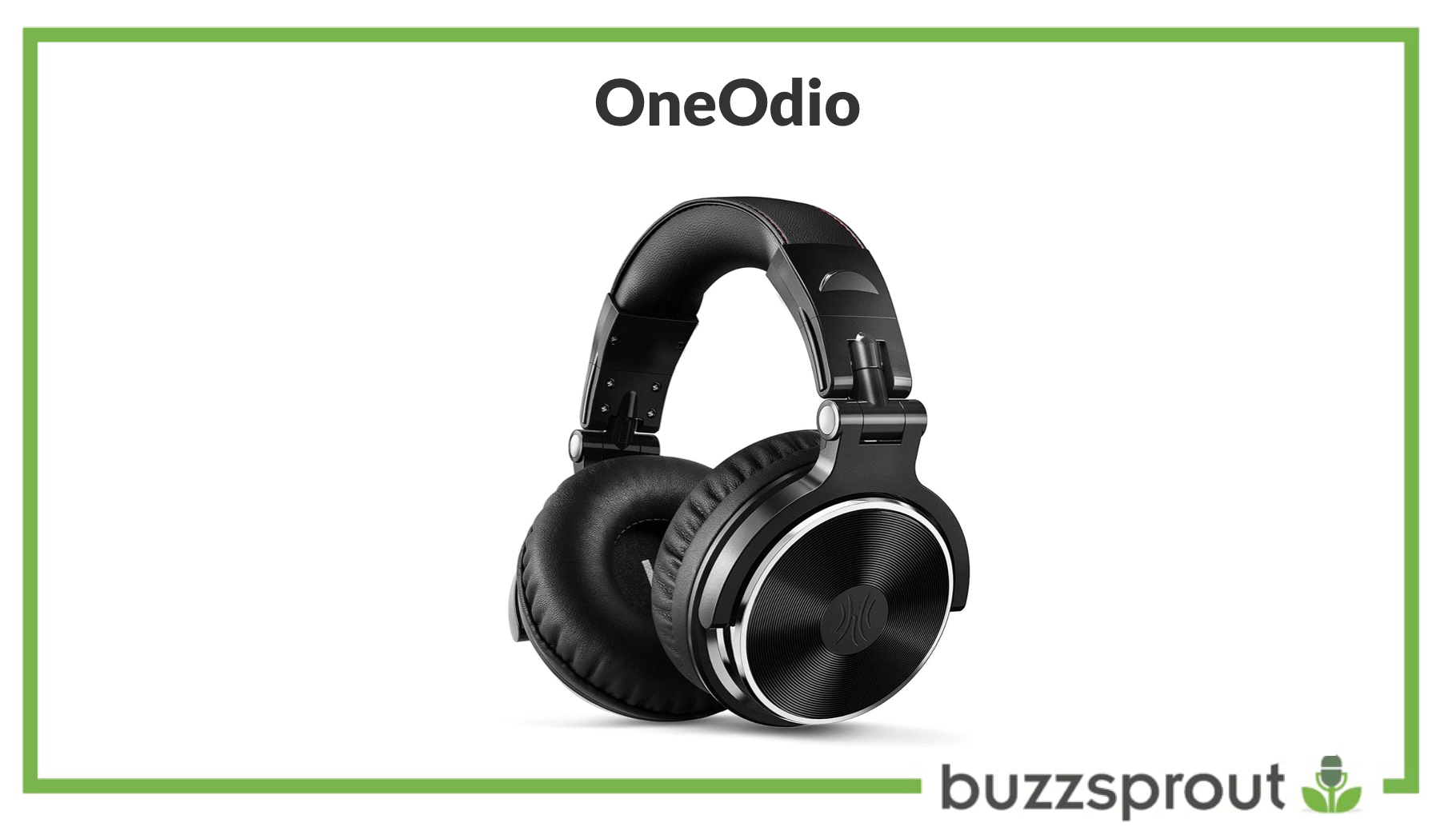 OneOdio is a headphone manufacturer focusing on the music industry, but these wired headphones get consistently high marks for comfort and overall value for digital recorders of any kind.
While these headphones are not foldable, they come with an adjustable band, rotating ear cups, and an accessories pack with cables, a 1/4" TRS adapter, and a carrying case.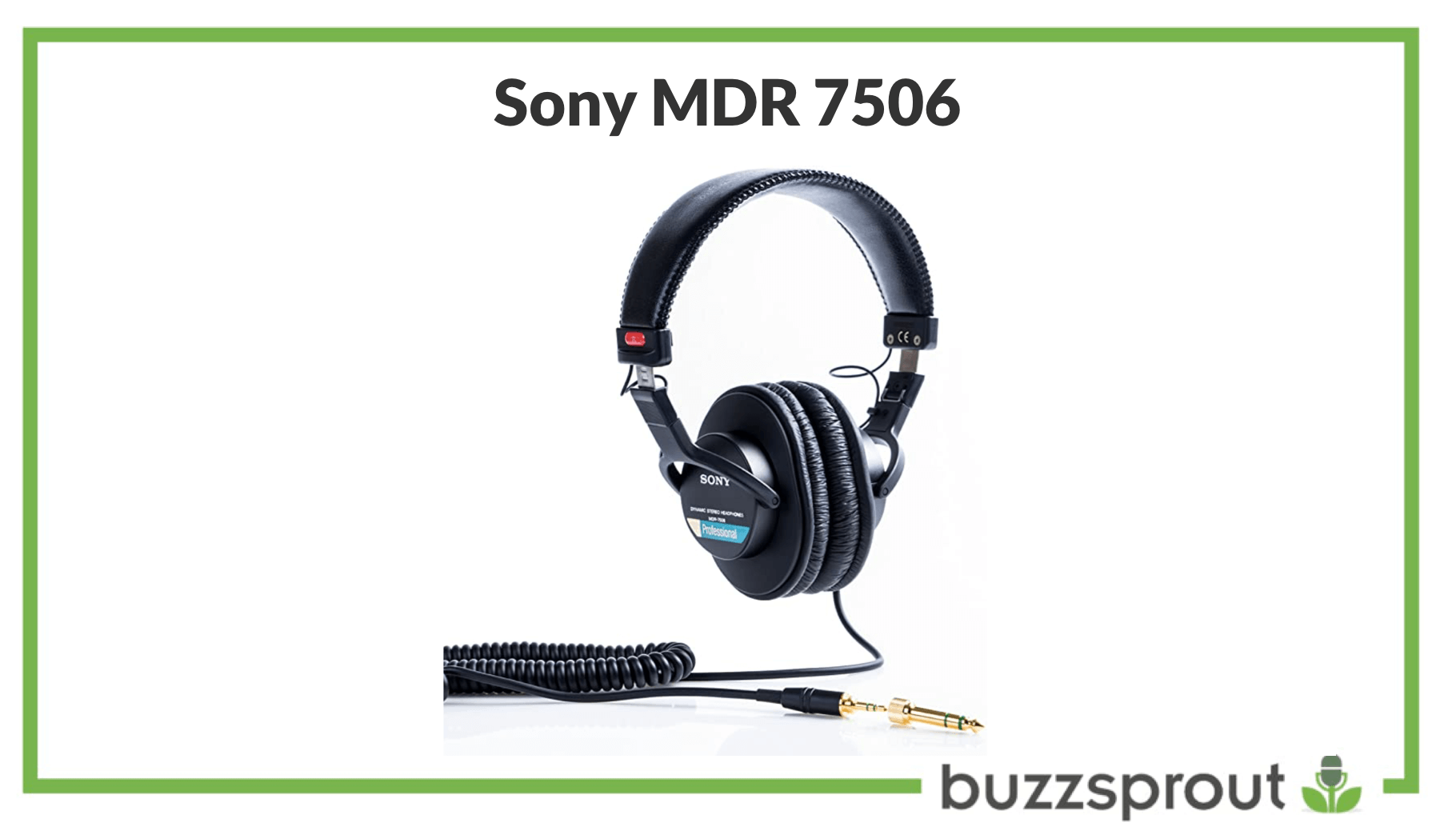 These Sony headphones include convenient features like a compatible body, long cord, and adjustable headband. Most users report clear sound and a comfortable, quality feel.
However, Besides the Sony name, this pair doesn't offer any features or quality that you can't get at a better value in, say, an Audio Technica or the OneOdio.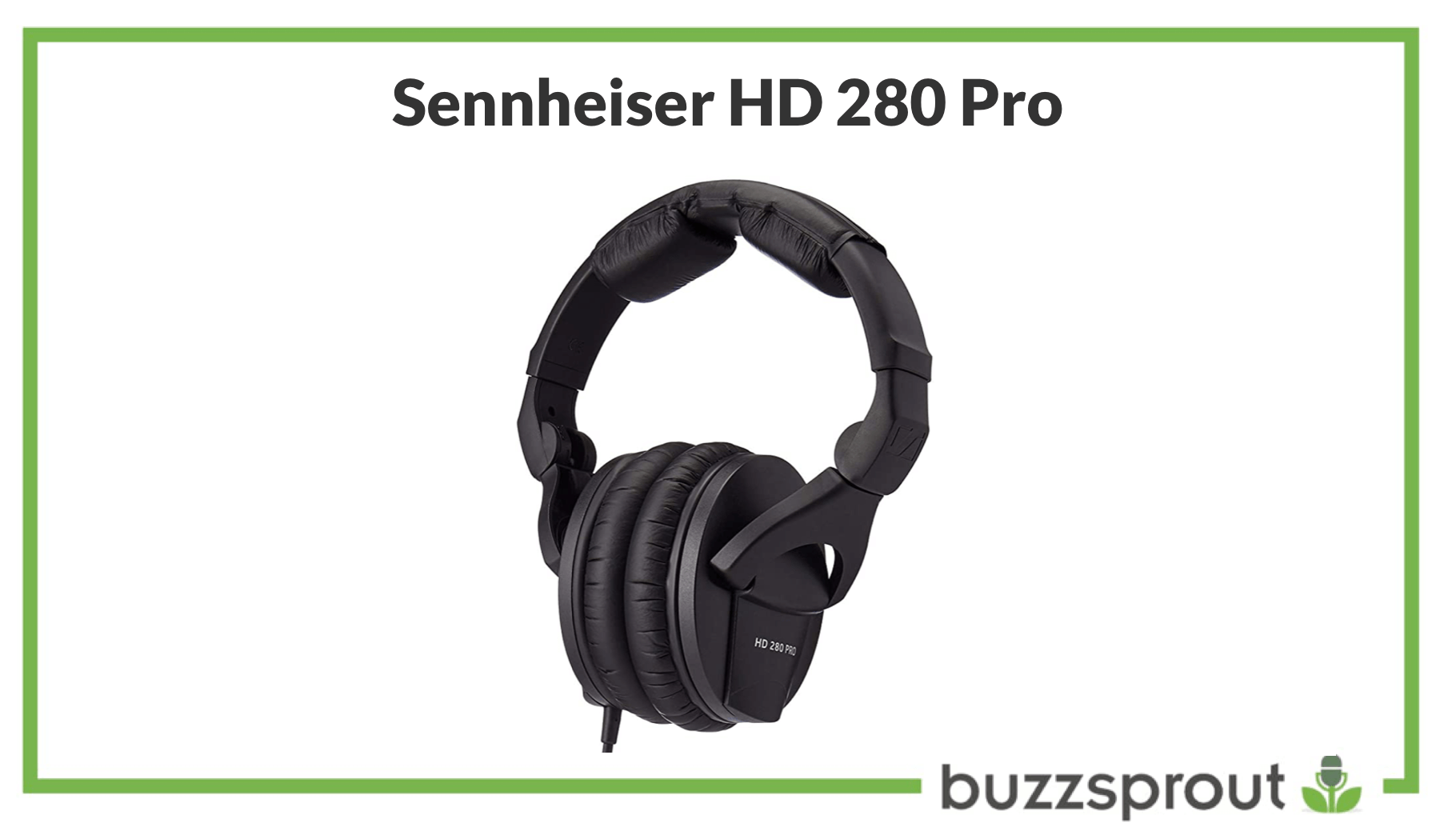 If you're unsure about the Sony but want to stay in the $100 range, the Sennheiser HD 280 Pro might be a good alternative. These headphones are slightly heavier than the Sony's but get high marks for comfort with their padded and ergonomic design. 
This set also features an easily replaceable chord (although not detachable), so you don't have to buy a whole new set when it wears down. While the set doesn't come with any accessories, these Sennheiser's are probably the highest-end, low-budget pair of headphones out there.
Best mid-range closed-back headphones (under $200)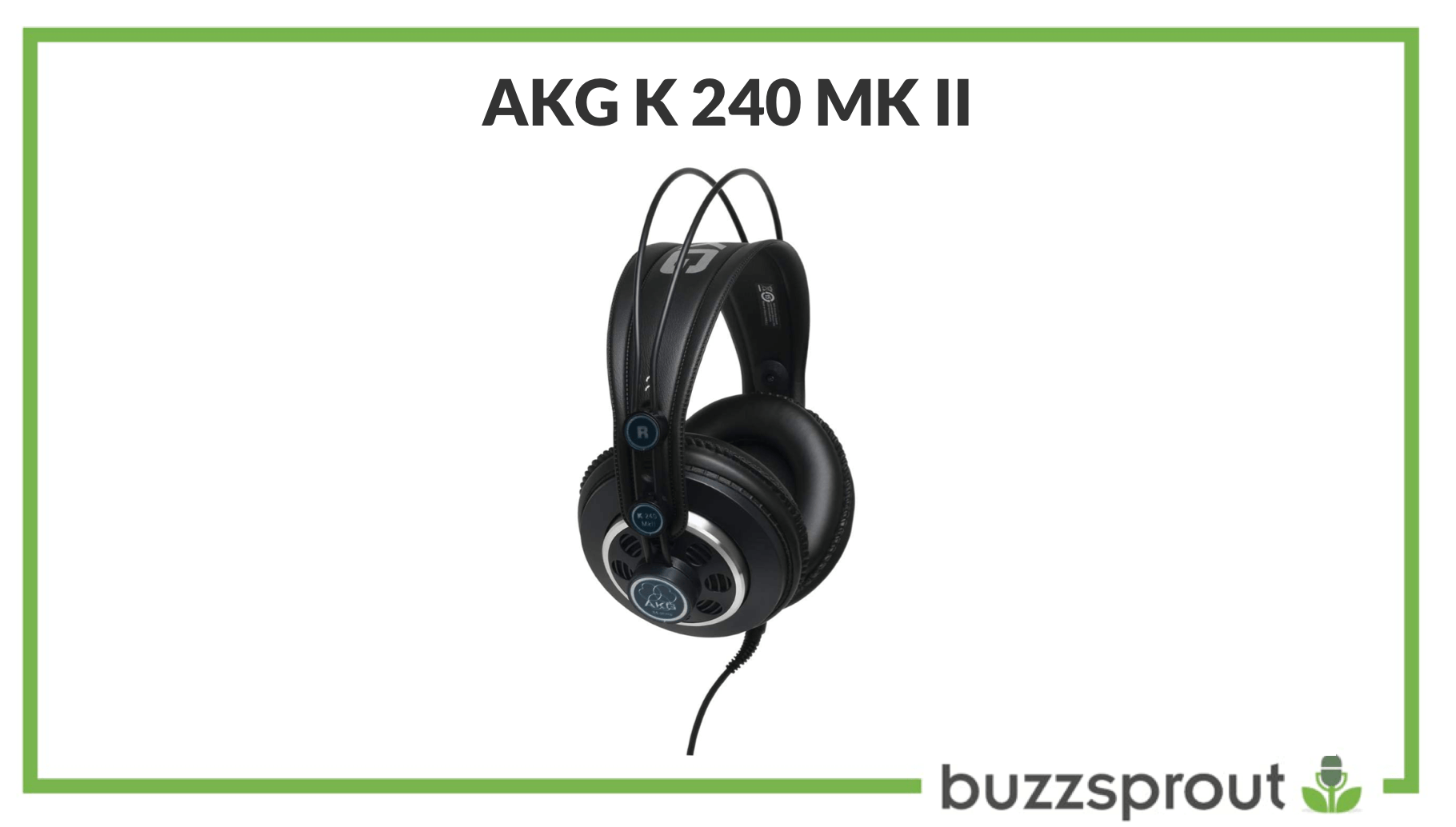 AKG's are well-known headphones used by iconic artists and sound engineers so that you can be confident in their quality. 
These professional-level, wired, over-ear headphones have a wide dynamic range and impressive audio accuracy. The AKG K 240's function well for spoken word, and because of the quality and the detachable cord feature, you'll likely use this pair for years before needing a new set.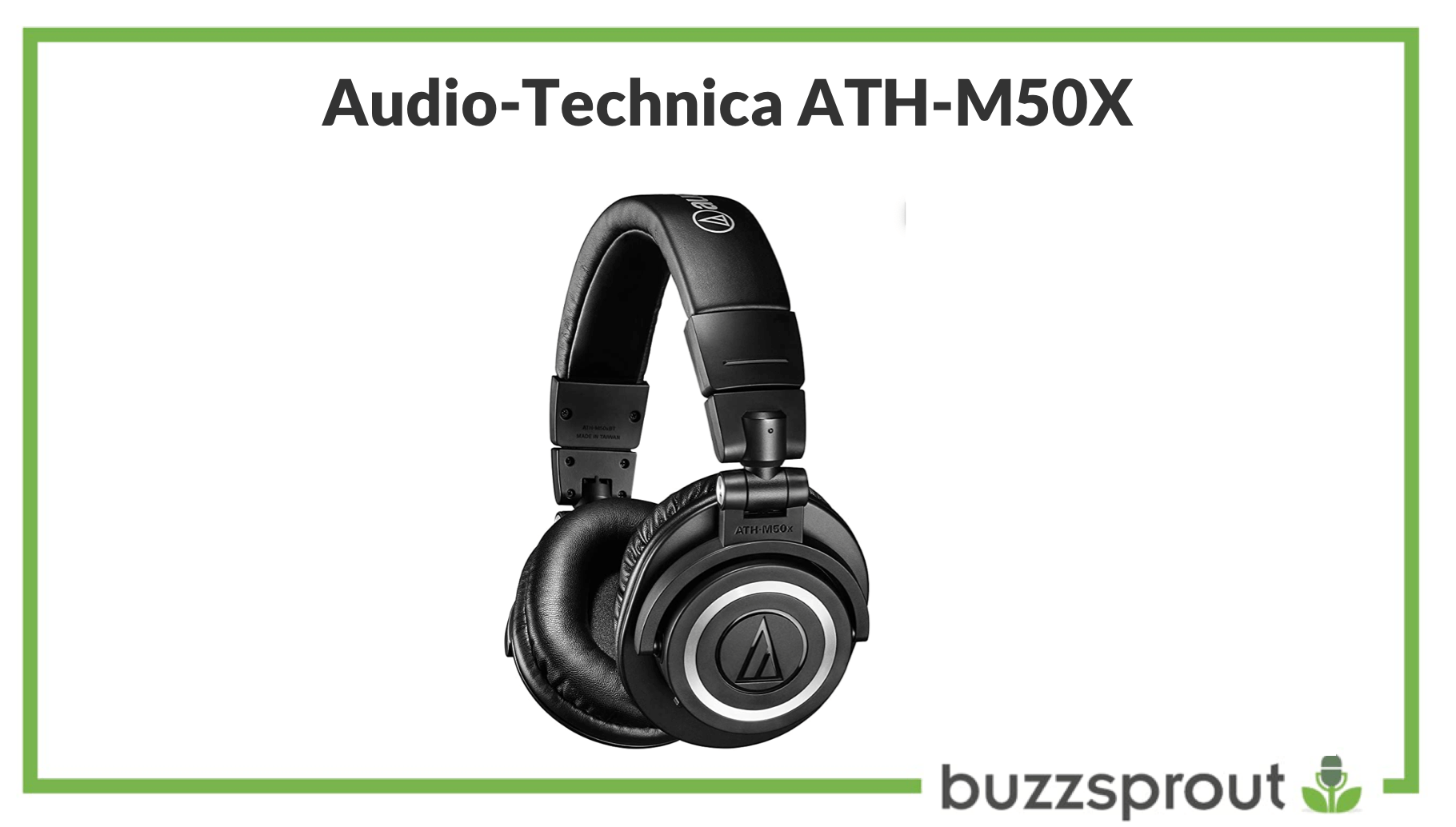 The M50X is the highest end headset in the Audio Technica M-series line, and builds upon its predecessors with a wider frequency range, detachable, coiled cables, a collapsible body, and sound-isolating ear cups.
The most significant selling point of the M50X is its clear and accurate sound reproduction and broader frequency range, but some users don't feel there's much of a difference between this version and previous models.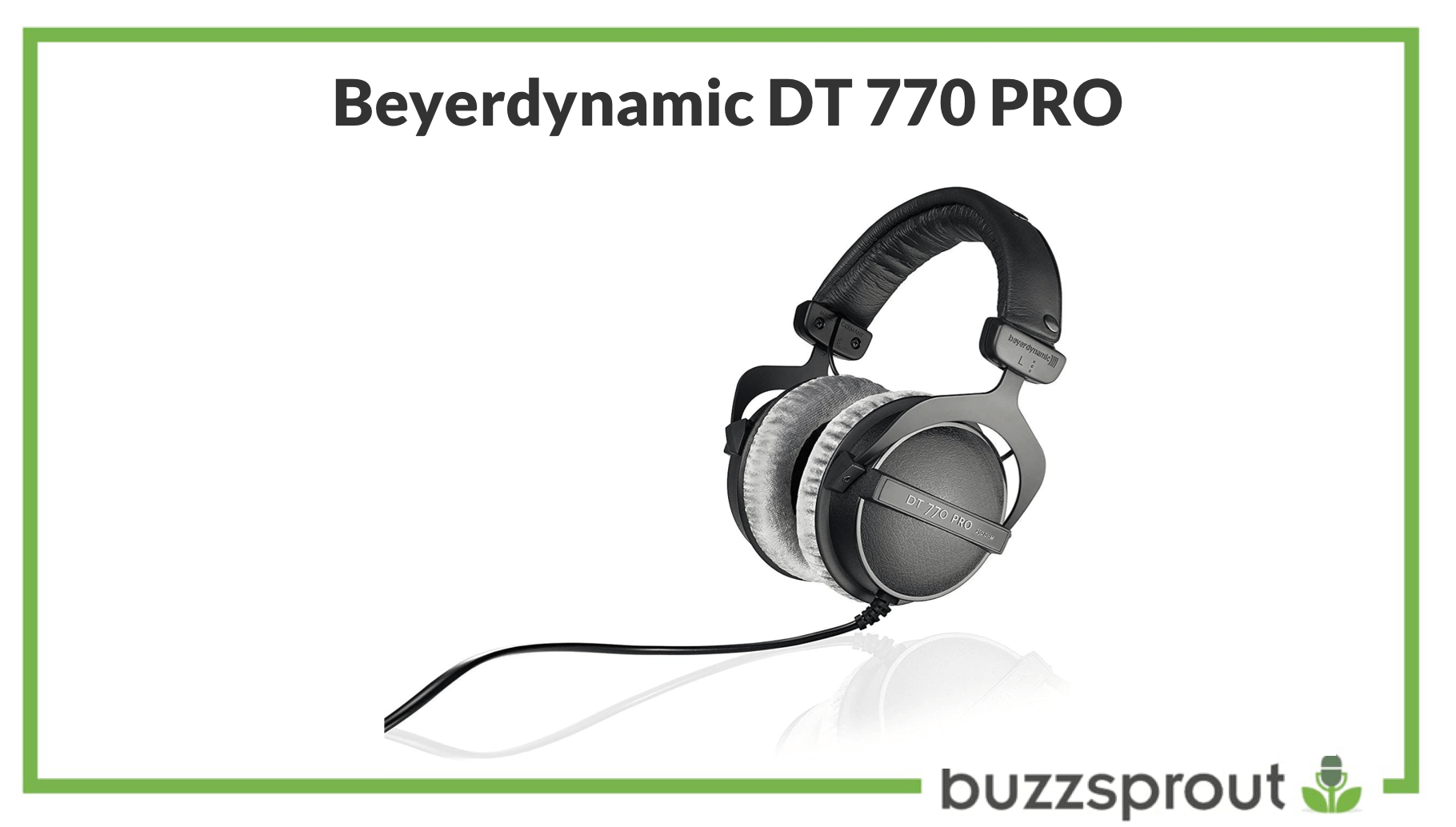 Beyerdynamic's DT 770 Pro is used by many music producers and digital creators and has a good reputation among sound engineers and producers.
This set boasts a high level of acoustic detail and crisp, defined sounds. It features a comfortable design, a one-sided cord, and durable German quality.
The Beyerdynamic Custom Pro Plus goes for $30 more at $199 and features an adjustable bass slider, customizable color options, removable faceplates, adjustable bass ports, and a new and improved driver.
But if the frills aren't important to you and you can do without the microphone cable, the DT 770 Pro offers much of the same quality minus some design and ergonomic enhancements of the Custom Pro Plus.
Best high-end studio headphones ($200 +)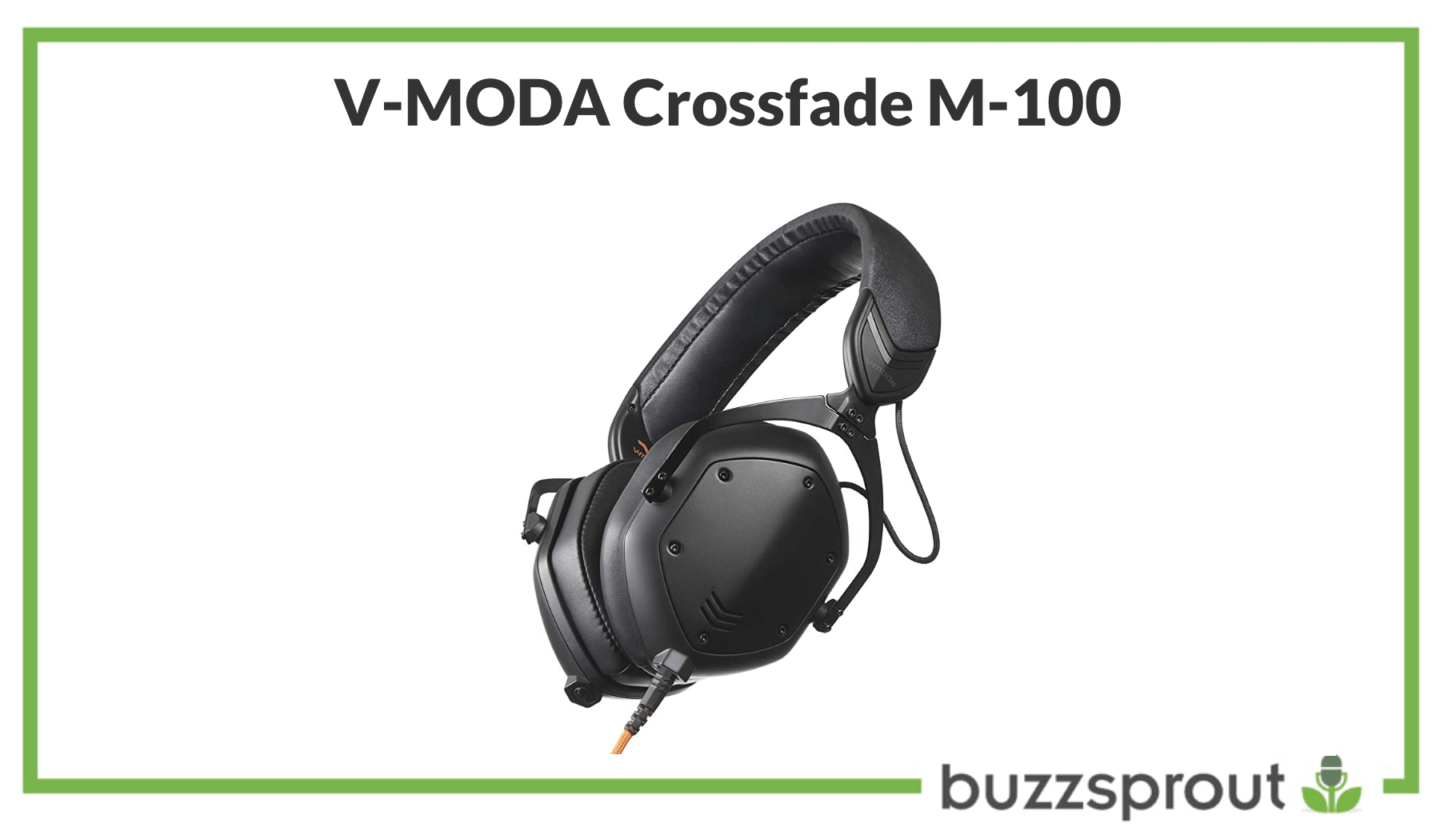 The V-MODA M-100 is a great pair of higher-end podcasting headphones, even though the company technically markets these to gamers. 
In addition to excellent build quality, the M-100 has dual 50mm drivers to keep your bass tones separate, exceptional clarity and audio quality, a foldable frame, and memory foam, vegan leather cushions that users find comfortable even after extended use. 
These headphones are an excellent option for podcasters who tend to record and edit for hours at a time and for creators and audiophiles who want an immersive audio experience.
You can even promote your brand with custom, laser-engraved shields with your own 3D printed design.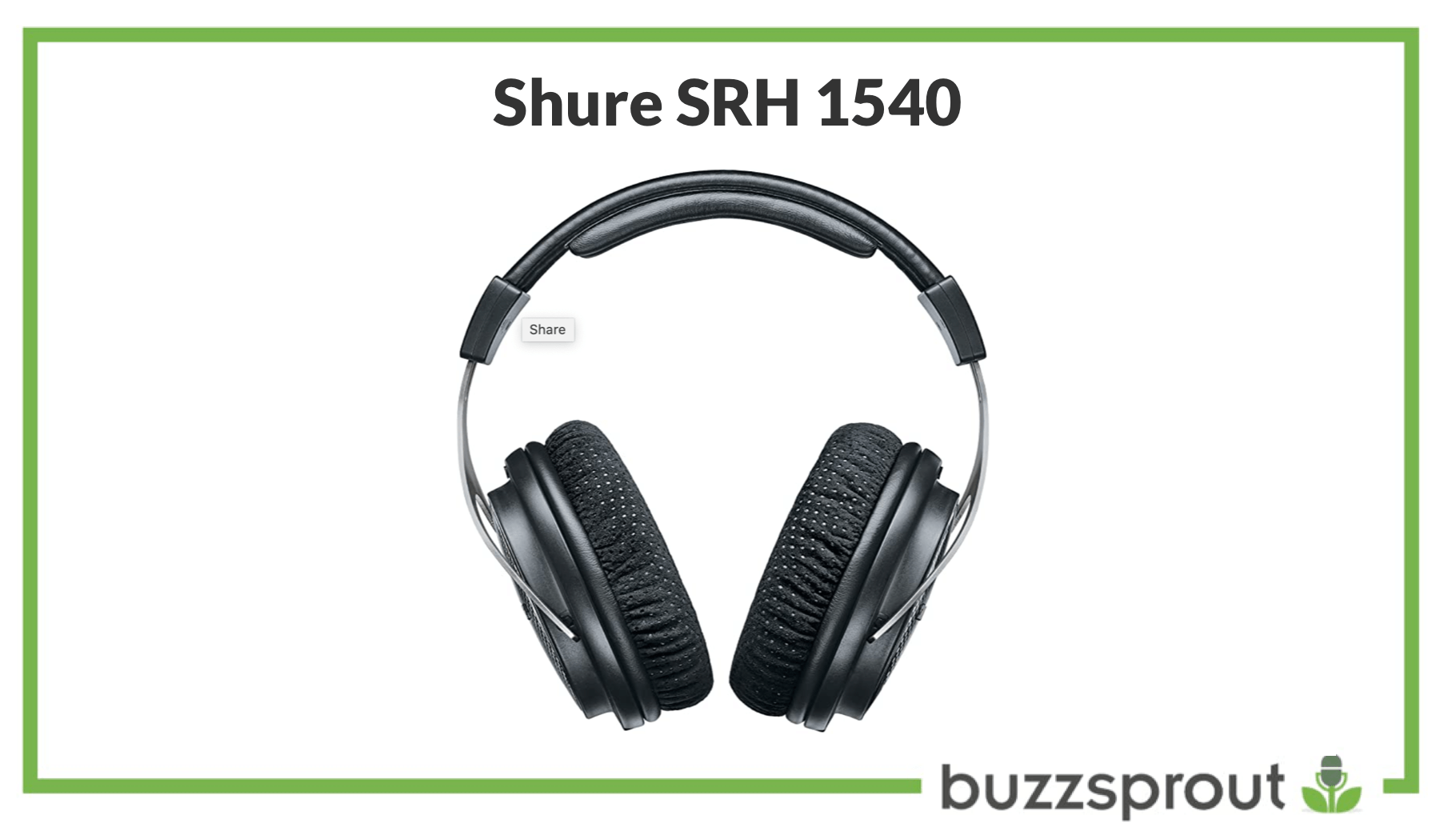 These lightweight, circumaural Shure headphones are the highest-end option on our list and are perfect for podcasters who want the best in durability, comfort, and company reputation. 
Users report great sound isolation and comfort, and like the 40mm drivers, dual exit detachable cables for easy replacement, and the zippered storage case. 
Still, even a $500 pair of headphones sometimes gets negative feedback, and this pair is no exception. Even though it gets consistent 4.5 and 5-star ratings, the occasional user reports comfort issues with the adjustable headband. 
These headphones feature audio capability that is overkill for the vast majority of podcasters. Still, overall, we think they're a solid investment for creators who want high-end, high-quality headphones with maxed out frequency range (5 Hz- 2200 Hz), passive noise reduction, premium materials, plus the Shure name backing its performance.
With a higher-priced option, it's a good idea to check with the manufacturer to find out the warranty details. 
Alternative option: The Shure 440 costs one-fifth of the SRH 1540 and some podcasters even prefer the 440 because of its foldability. In terms of quality, we think this headset is equal to the SRH 1540 with a bit bulkier construction and not as wide of a frequency range.
A note on using ear buds to record your podcast
After seeing all these options, you might be asking yourself if you can just use your iPhone's earbuds and call it a day. 
If you're in a bind, earbuds are better than nothing. But because they go inside your ears instead of over them, the sound from earbuds can leak through your speakers, creating a bleed that your mic can pick up. Ear buds are also generally lower quality than closed-back headphones with a solid back.
You'll also likely have a harder time isolating the frequencies of your recording, making it more difficult to make accurate adjustments to your audio. 
However, using a pair of quality headphones helps to isolate that ambient noise from your environment, so you can more easily edit the elements of audio you want to adjust — and you won't get the bleed.
So while you can use earbuds instead of a traditional headset, we suggest investing in over-ear headphones for maximum control of your audio levels and optimum sound quality. And if you're interviewing a guest who doesn't have a pair of closed-back headphones, a pair of earbuds is sufficient.
Final thoughts
Recording without headphones is like audio Russian roulette—you might get away with it sometimes, except when you don't, and you end up with an audio issue you can't reverse.
The good news is, as with a lot of podcasting equipment, spending top dollar usually isn't necessary. And much of the time, an inexpensive or moderately priced piece of equipment is entirely sufficient for the needs of even a professional-level podcaster.
For most digital audio creators, both the Audio Technica m20x or m30x is a great option and suit just about any price point. For those willing to spend a bit more on ergonomic features and foldability, the Beyerdynamic DT 770 Pro delivers everything you need.
For audiophiles or fans of Shure products, we recommend their SRH 1540 or the Shure 440 if you want the Shure name without the bells and whistles.