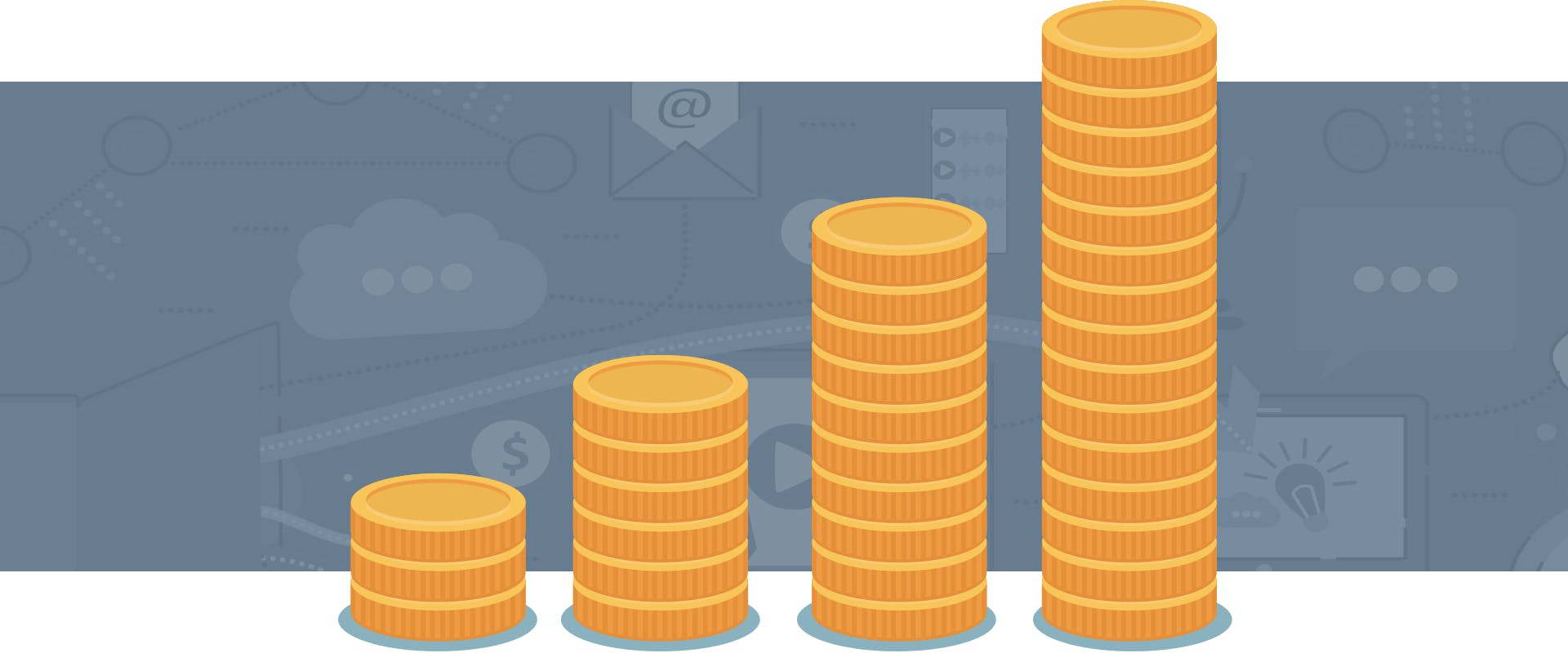 How much money can you make podcasting?
"Is it possible to make money from podcasting? Is it possible to turn a side hustle into a full-time income?"

This question, and others like it, is being asked by fast-growing podcasters around the globe excited by the prospect of quitting their 9 to 5 and going all-in on their passion project. And while it may seem out of reach, with a bit of hard work, creating a full-time income from podcasting is more accessible than it ever has been.

If you're wondering how much money you can bring in from your podcast, this article will help you see how successful podcasts leverage their podcast audience to support themselves.

Below are three different scenarios to give you an idea of how much you can make based on the size of your audience. The scenarios and dollar amounts are based on podcasts that post a new episode once a week.
Also, each of these scenarios assumes that you've listed your podcast in all the major podcast platforms like Apple Podcasts (formerly iTunes), Spotify, Stitcher, and Google Podcasts. The best podcast hosts ensure their listeners have no problem subscribing to their content and can find their show on all major social media platforms.
Scenario #1: 1,000 downloads per episode
At 1,000 downloads per episode, you've entered the realm of moderate success, having a proven podcast that consistently delivers value to your audience. At this point in your podcast's life, the last thing you want to do is stunt your growth. Podcast advertising, by its very nature, take away from the listener experience ("Let me take a break from the podcast and try to convince you to buy something!"), so it's best to use strategies that aren't as obtrusive.
You won't be able to go full-time at 1,000 downloads per episode, but you will be able to offset hosting and equipment costs associated with your podcast.
Amazon Affiliate Sales
Amazon's Affiliate program enables you to share links to products on their website, and then you get a percentage of sales when someone clicks on your link to purchase something. Anytime you mention a product that is available on Amazon, include a custom affiliate link in the episode's show notes to give your listeners a quick and easy way to learn more about the product. Anything they purchase on Amazon within 24 hours of clicking your link will earn you a commission.

In other words: Amazon will give you a "finders fee" for sending people to their website.

If you're looking for your first affiliate, you can sign up for Buzzsprout's Affiliate Program.
Listener Donations
The other strategy we'd implement in this scenario is to ask your podcast listeners to help support your podcast by making monthly donations. NPR and other radio stations have been listener-supported for decades, and it's becoming more and more popular among podcasters.

Patreon is the most popular fan-funding site for creatives and for a good reason: it makes it easy to be supported by your listeners. You'll spend about an hour tweaking your page and coming up with cool bonuses and exclusive content for the fans that decide to donate, then all that's left to do is promote it on your podcast.

You can expect approximately 2% of your podcast listeners to become patrons, and while that may seem small, it ends up being much more than you think ($5/month is typically the most popular donation level).
Monthly Earnings - $125/month
Amazon Affiliate - $25/month
Patreon (2% of audience gives $5/month) - $100/month
Scenario #2: 5,000 downloads per episode
Once you hit 5,000 downloads per episode, you can start to do some serious damage. Your audience is continuing to grow and with it comes additional opportunities. You'll continue to use the monetization strategies you began when you were only getting 1,000 downloads per episode, but now you can pull the trigger on some additional income streams.
At 5,000 downloads per episode, your podcast can start to bring in the equivalent of a part-time income.
Sponsors
Once you hit 5,000 downloads per episode, it's time to start looking for podcast sponsorships. Your audience understands that ads are one of the components that fuel your podcast so it won't be a huge momentum killer (especially if you offer an ad-free version of your podcast for those that support you on Patreon).

Also, once you've reached this audience size, you're better positioned to provide sustainable value to the sponsors you attract. Happy sponsors means consistent income for you.

Most sponsors prefer to compensate you based on CPM (per 1,000 downloads), so a 5,000 download episode will net you in the ballpark of $100. To promote a sponsor, most podcast hosts feature a midroll ad that runs about halfway through the episode with a promo code that gives their listeners a unique discount. This allows your sponsor to track how well your ad is performing and give your audience an incentive to try the product.

To find companies that might be interested in sponsoring your podcast, see who is already spending money on podcasts in your genre. Listen to podcasts related to yours and try to discover who is sponsoring similar podcasts. You can also use Google search to reveal which companies are advertising to your podcast audience. Find the contact info of their Sales or Marketing team and ask to speak with the person who handles online advertising.
Online Course
One of the more lucrative passive income opportunities on the web right now, online courses give you the chance to help your audience grow in a very specific way. Whereas your podcast offers general advice, your online course is where you pull out all the stops and dive "super deep" into one particular topic.

To get started, identify your top 3 most popular podcast episodes and brainstorm how you would help someone achieve success in their life for those topics. Write down the process you would take someone through and use that as the backbone of your online course. You could even teach people how to start their own podcast!

So you don't get sidetracked and spend a ton of hours building out a custom website, we recommend using sites like Podia to launch your online course and start collecting sales.

Make sure to advertise your course on the podcast and talk about why your listeners should consider investing in what you've created for them.
Monthly Earnings - $1,845/month
Amazon Affiliate - $125/month
Patreon (2% of audience gives $5/month) - $500/month
Sponsors/Ad Revenue ($20 CPM, 1 sponsor per episode) - $400/month
Online Course (0.5% of audience purchases your $197 online course, promote every 6 months) - $820/month ($4,925 per promotion)
Scenario #3: 10,000+ downloads per episode
When you start to average more than 10,000 downloads per episode, you hit an inflection point. You've cultivated a loyal following of people who love what you love and find value in listening to your podcast. You'll continue to use the monetization strategies from when you were at 5,000 downloads per episode, but you'll also be able to launch several new income streams as well.

At 10,000 downloads per episode, you've established yourself as a respected expert in your industry, and you can start to generate a full-time income from your podcast.
Partner Affiliate Programs
In addition to using Amazon Affiliate links in your show notes, you can also promote products you believe in to your audience in a similar arrangement. Companies often have affiliate programs specifically for their products, with compensation rates ranging from 25% - 50% of all sales you create.
To get started, research all of the products you currently use and love. If they have an affiliate program, that becomes an easy way for you to talk about something you believe in to your podcast audience so that they can benefit from those products as well.
Speaking Engagements
Whether you know it or not, podcasting is a gateway drug to the world of public speaking. All that time spent in front of the microphone gives you a leg up compared to other experts in your industry.

When you first start, it's best to speak for free as a way to get your foot in the door, get some experience, and network with conference organizers that might like to hire you in the future. Once you've established yourself as a high-quality speaker, you'll be able to earn thousands of dollars in exchange for a single speech. Crazy, right?

To learn more about finding paid speaking opportunities, read this article from "The Speaker Lab."
Consulting Services
When you are an expert people are willing to pay you for your knowledge. In their minds, learning what you know will save them time, money, and prevent them from making the same mistakes you made when you were first starting. This is what consulting is all about.

It's not because you're the number one authority on the subject or that you can make your clients a million bucks, it's because you know something they don't. Rather than try to figure it out on their own, people are willing to pay you to accelerate their success.

Consulting is different than online courses in that it is much more hands on. You're working with your client, solving their particular needs, and spending one-on-one time helping them. Because it requires more of your time than an online course, you can charge them significantly more in exchange for your help.

10,000 people listen to your podcast for a reason, because you have something valuable to offer them. Chances are there are a handful in that group that would be willing to pay you for personalized help on a consistent basis.
Monthly Earnings - $10,890/month
Amazon Affiliate - $250/month
Patreon (2% of audience gives $5/month) - $1,000/month
Sponsors/Ad Revenue ($25 CPM, 2 sponsors per episode) - $2,000/month
Online Course (0.5% of audience purchases your $197 online course, promote every 6 months) - $1,640/month ($9,850 per promotion)
Partner Affiliate Programs - $500/month
Speaking Engagements (6 speeches per year at $5,000 per speech) - $2,500/month
Consulting Services (3 clients at $1,000/month) - $3,000/month
You don't need millions of downloads to generate a full-time income from your podcast. When you're first starting, spend more of your time focusing on putting out great content. If you concentrate on monetization too early, you can risk stunting your audience growth and jeopardize your future plans. 

But if you're committed to podcasting for the long haul and focus on sustainable growth, before long, you might be able to quit your day job and become a full-time podcaster.