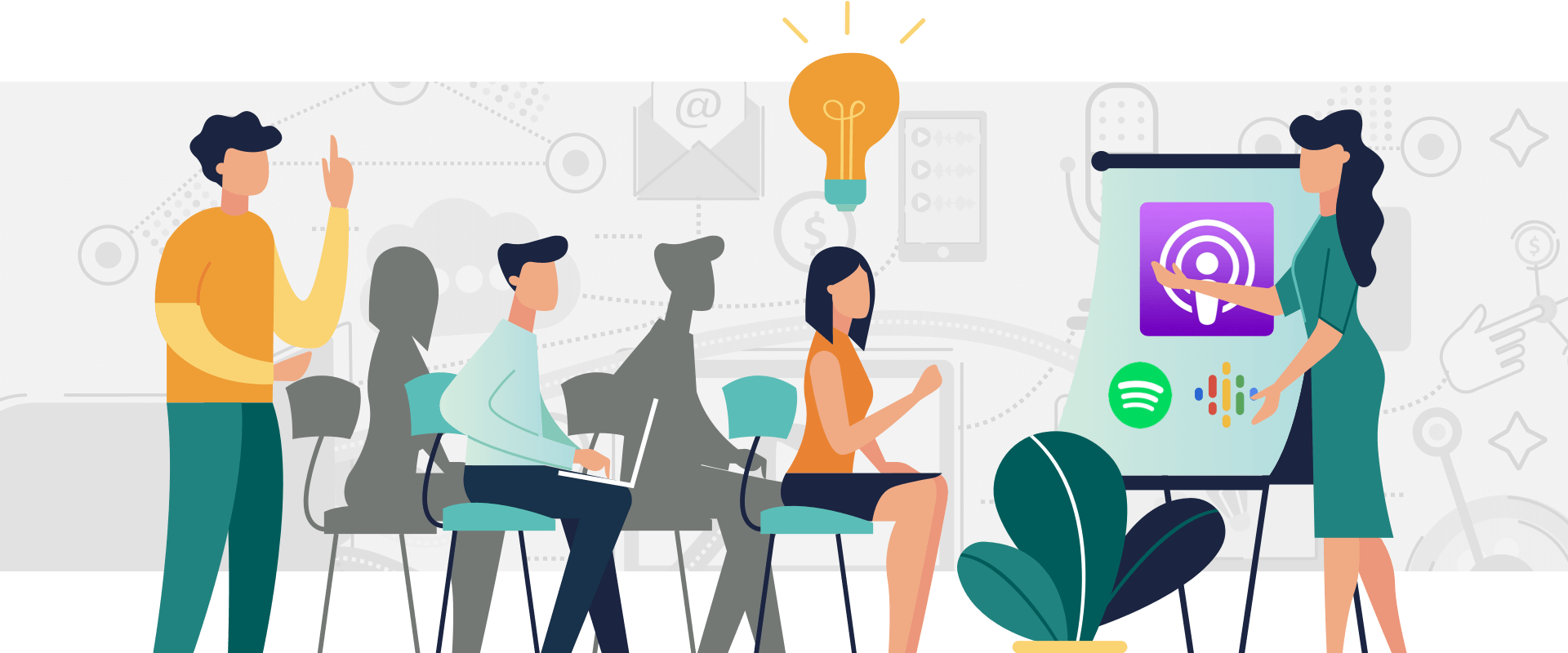 Podcast Conferences: The Best Ones To Attend In 2020-2021
The internet is a powerful tool for finding the answers to a lot of podcasting questions, but sometimes your show can benefit more from who you know than what you know. 
Podcast conferences feature pro podcast speakers, interactive sessions, networking opportunities, and the chance to meet top creators from around the world. They're an excellent way to refine your craft if you've been podcasting for a while, and a fantastic primer if you're just starting your show.
There's usually something for everyone at these events, so don't feel intimidated if you're only on episode 2 (or 0!) of your own podcast.
Here's a list of podcasting conferences that we think are worth checking out in 2020/2021!
Best Podcast Conferences in 2020-2021
Because of COVID-19, several 2020 conferences have postponed to 2021, created a virtual option, or limited their in-person ticket sales to comply with state restrictions.
All of these events are U.S.-based, but events with virtual passes allow you to attend from anywhere in the world.
July 18-19, 2020 | Virtual | $37.50 - $75
Podthon is a two-day virtual podcasting conference led by WOC Podcasters and Asian American Podcasters Association. The summit gathers podcasters from around the world to share insightful strategies, speaking mentorship, and innovate tips for content creators. Podthon is 100% virtual, and one of the most affordable conferences out there.
A Podthon ticket gives you access to 18-20 presentations and the opportunity to interact with speakers via Live Q&A sessions.
July 15, 9:30am to 2:00pm | Virtual | $15 - $25
Two of our enthusiastic customers, Andrew Grill and Minter Dial, have co-founded the Podcast Festival Live. Voices of the World features a great line-up of podcasting stars from around the world, including George the Poet (Have your heard George's Podcast, Peabody Prize 2020 - Uganda/UK), Ning Yan (A Thousand Whys - China), Lory Martinez (Mija Podcast, Ochenta Studio - Colombia/US), Amit Varma (The Seen and the UnSeen - India)and Tom Morley (ex Scitti Politti - UK) to open up the festival in rockstar fashion.
October 19-22, 2020 | Dallas Texas + Virtual | $545
This one is one of our favorite podcasting events, and Buzzsprout has attended every Podcast Movement since it first launched as a kickstarter in 2014. Podcast Movement is the world's largest gathering of podcasters with over 100 of the industry's most successful podcasters as part of the lineup.
These tickets give you access to all 150+ keynotes, breakout sessions, and panels, as well as entry to the expo hall, other public parties, and events. You can upgrade to their Standard Plus or Pro Pass, which includes lifetime access to on-demand recordings of every session, access to a private lounge, and other perks.
Indie Pod Con (previously Mid-Atlantic Podcast Conference)
September 12, 2020 | Clarksboro, NJ + Virtual | $25 - $100
The Independent Podcaster Conference began as a Facebook Group in 2014 to bring together podcasters in the mid-Atlantic states for meetups and Google Hangouts. Eventually, the group grew into real-life conferences, and this year's meetup marks their ICON's sixth successful go-around.
Due to COVID restrictions, this year's conference (ICON6) has moved to a private, outdoor location with no more than 50 in-person attendees. In-person tickets include lunch, free professional headshots, an event badge, and three months of IndiPodUniversity.com so you can re-watch the sessions at your own pace.
If you aren't among the lucky 50 or prefer to watch the conference from home, you can purchase a live-stream ticket for $25.
September 30 - October 3, 2020 | Long Beach, California + Virtual | $250
FinCon is a conference and online community dedicated to helping financial influencers and brands create better content, expand their reach, and earn more money. The 2019 conference featured 100+ exhibitors, 200+ speakers and over 2,000 financially-minded attendees.
A FinCon ticket lets you access both the in-person or virtual event for the same price. The conference is community-oriented and offers plenty of ways to interact with other creators — whether or not you're physically at the conference.
October 5, 2020 | Los Angeles, California | $249 - $379 (No virtual options)
This niche, one-day conference is perfect for business owners, startup teams, and content strategists looking to use their branded podcast as a powerful marketing tool. Sarah Koenig (host and co-creator of Serial) is the conference's headline speaker, and the day is packed with presentations focussing on growth, resources, and listener engagement.
Topics include:
The ROI of Branded Podcasts
Starting a Podcast
Growing a Podcast
Podcast Advertising
*Keep an eye out for changing dates. Listen In might reschedule the conference for early 2021, depending on the state of COVID in California.
November 6-8, 2020 | Washington D.C. | $279.00 (No virtual options)
Podcastersgather forDCPodFestevery fall for three days of networking, live shows, workshops, social events, and learning from other passionate creators. DC Podfest is an excellent opportunity to plug into the podcasting community and leverage their experience and knowledge to help you take your content to the next level.
Tickets include access to all the breakout sessions, plus an open bar, lunches, and pancake breakfasts!
March 5-7, 2021 | Orlando, Florida | $247
Podfest Multimedia Expo is another one of our go-to podcast conferences, and we've attended every year since its launch in 2015. Podfest 2021 features data-driven success strategies, world-class education, cutting-edge ideas, and a strong community of like-minded creators.
Choose from one of six customizable Conference Tracks to tailor the experience to your areas of interest:
Technology & innovation
Audience growth
Monetization & marketing
YouTube & video
Networking and social
July 2-4, 2021 | Kansas City, MO | $115
The True Crime Podcast Festival is for lovers of the genre looking to mingle with other listeners and interact with their favorite true crime podcasters. The festival holds a podcasting panel discussion, live podcast recordings, and a Podcast Gallery that allows members to interact with their favorite true crime show hosts.
This conference was postponed due to COVID and will offer full refunds if you can't make the 2021 date. General admission to the festival is $115, and tickets to attend The Podcast Gallery are $85 and separate from general admission.
Email info@truecrimepodcastfestival.com if you have any questions about your ticket.
August 3-6, 2021 | Location TBA | Price TBA
Podcast Evolutions has been around for six years and brings together 5,000+ podcasters of all levels of expertise from over 30 countries. The event offers three tracks (Creator, Professional Podcaster, and Industry Professional) making it easy for the whole industry to gather regardless of how long you've been podcasting.
Speakers for the 2021 conference will be announced this December, and a complete schedule will be released a month before the event.
August 20-22, 2021 | Chicago + Virtual | $150 - $450
PodcastCon offers podcasters a place to advance their skills, build their network, take their show to the next level, and get up close and personal with some of the top podcasters in the country. You can hone your podcasting skills through specialized workshops, level up your podcast's branding, and refine the art of creating engaging digital audio content.
You can purchase an in-person or virtual pass and have the option to upgrade to an Industry passes for exclusive access to programs and VIP networking events. If you bought a ticket for this year's conference, don't worry, it will still be valid for next year's.
PodcastCon is looking for creators, so feel free to pitch your idea if you want to be part of the lineup at a future conference!
TBD, 2021 | Scottsdale, Arizona | Price TBA
The team at She Podcasts uses their Facebook group, audio content, online memberships, and the She Podcasts Live conference to create a village of support for women creators. She Podcasts Live is the largest gathering of women-only podcasters and provides them an opportunity to meet other audio content creators in an environment made just for them.
She Podcasts postponed their Live 2020 conference till 2021, due to high rates off COVID-19 in Arizona. While there won't be a virtual version of the conference to take its place this year, the team plans to offer a shorter, half-day virtual meetup on a specific topic this fall.
TBD, 2021 | Houston, TX | $197
This new conference began in February 2020 as a networking event specifically for podcasters within the Christian category. Sessions cover podcasting basics, and more advanced topics like branding, marketing, and production tailored to the genre.
Attendees can buy conference Add Ons like professional headshot photography, literary agent appointments, and expert podcast coaching sessions.
TBD 2021 | Chicago, Illinois | Price TBA
Third Coast is a nonprofit organization passionate about the art of narrative audio and storytelling with a focus on building community within the medium. The festival started in 2009 as a celebration of creative expression and a place for dialogue on the ever-evolving audio industry.
Sign up for Third Coast's newsletter for updates on their 2021 conference!
TBD, 2021 | Brooklyn, NYC | Price TBA
On Air Fest began in Brooklyn in 2017 and has evolved into one of the premier digital audio storytelling conferences in the world. The gathering takes place every winter and brings together over 100 artists to present new ideas and explore the possibilities of digital sound — whether you're a musician, internet radio host, or podcast creator.
Keep an eye out for details on this next year's conference, and follow On Air Fest on Twitter for updates.
Conclusion
Podcast conferences highlight all the best parts of being a creator on this medium: the accessibility, creative freedom, and community within the podcasting industry.
Most of the podcast events we've listed have been running for several consecutive years, so if you miss their 2020 date, chances are they'll be back next year (hopefully with less social distancing restrictions).
Do you know of a podcast conference we missed, or want to offer our readers a discount code? Reach out to us as support@buzzsprout.com so we can update this post!