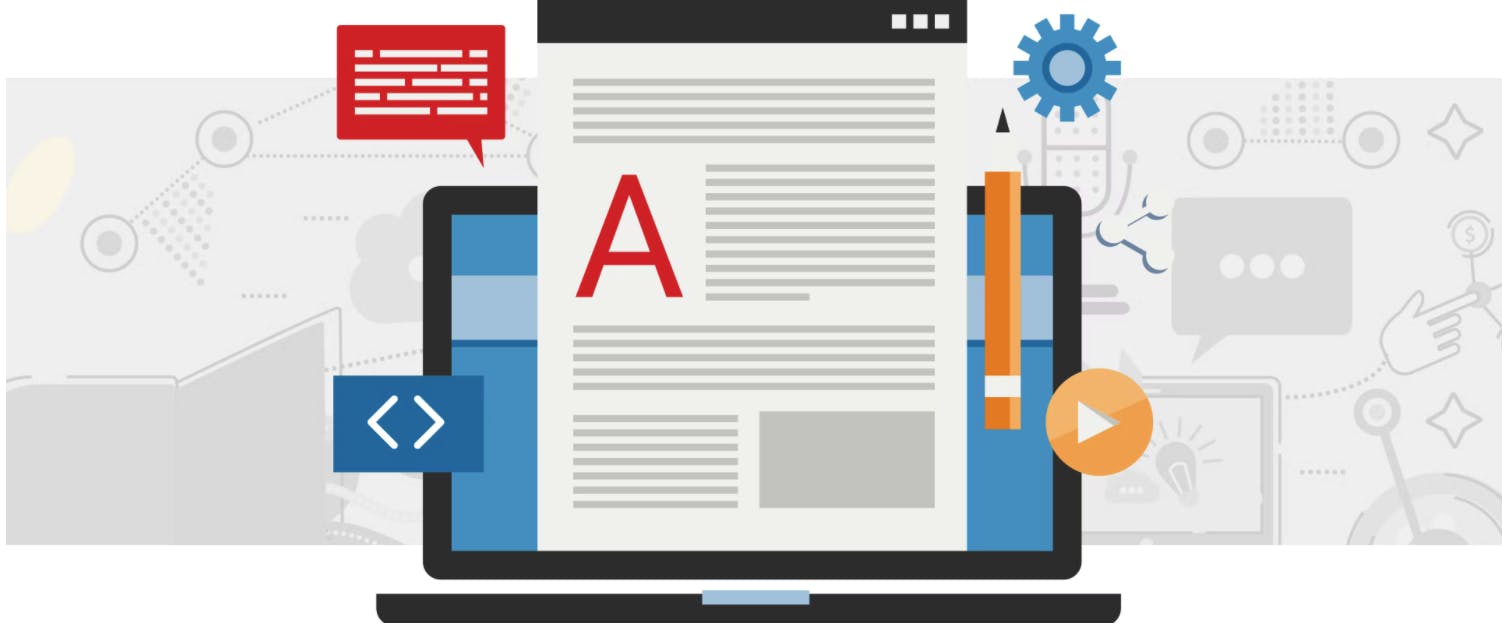 10 Best Podcast Website Ideas and Templates [2022]
A podcast website is another great way to showcase your content, get subscribers, and build your own podcast brand.
A well-built podcast website can:
boost SEO,
improve marketing efforts,
make monetization easier, and more.
We found 10 unique podcast pages that stand out. Feel free to use these examples as inspiration for your own website.
10 Unique podcast template ideas
Website builder: WordPress
Price: $8 per month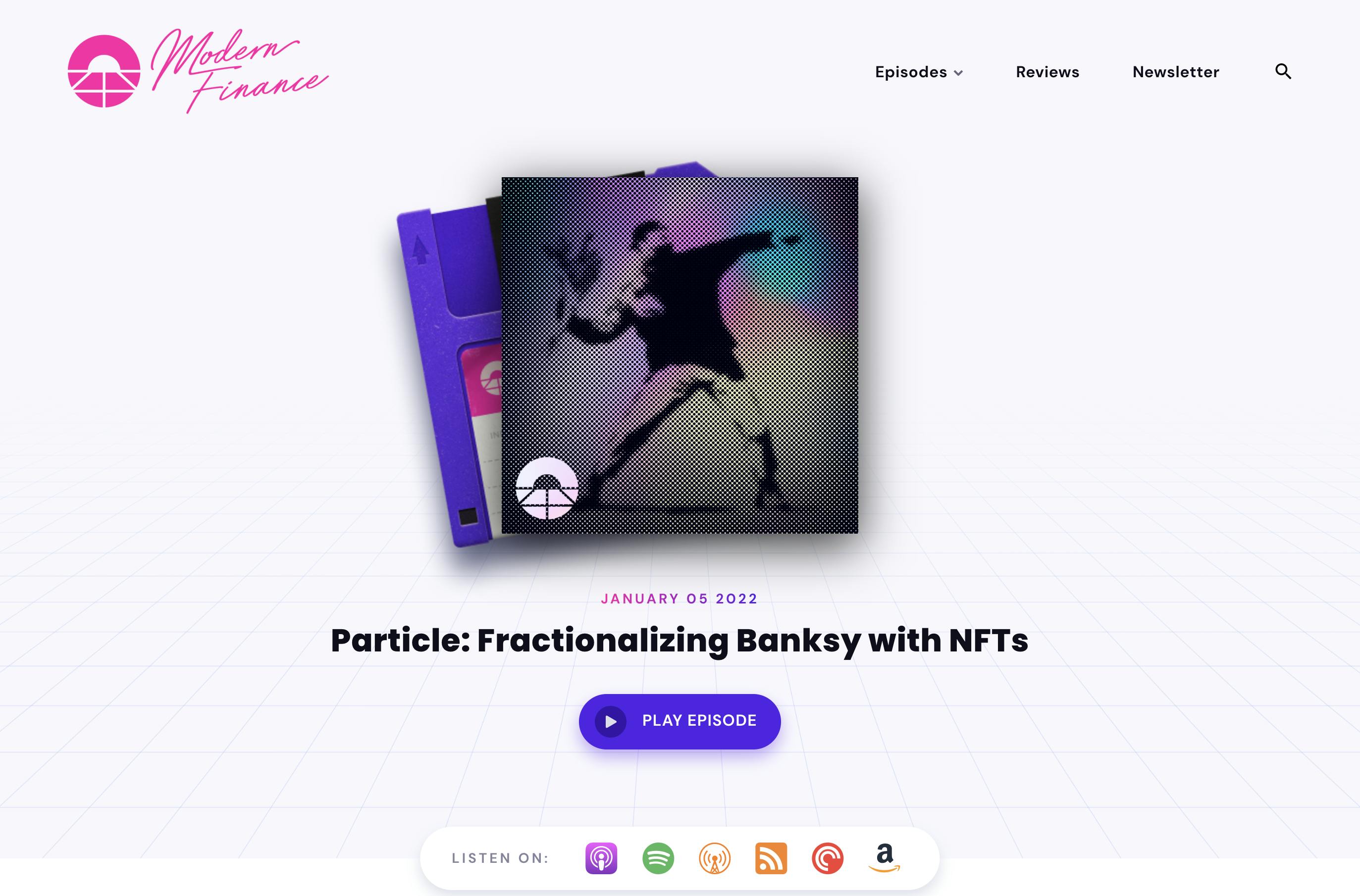 Features:
Latest episode and full description front and center
Ability to submit a podcast review via the webpage
Separate tab for newsletter keeps the homepage clean and streamlined
Website builder: Podpage
Price: $9-$15 per month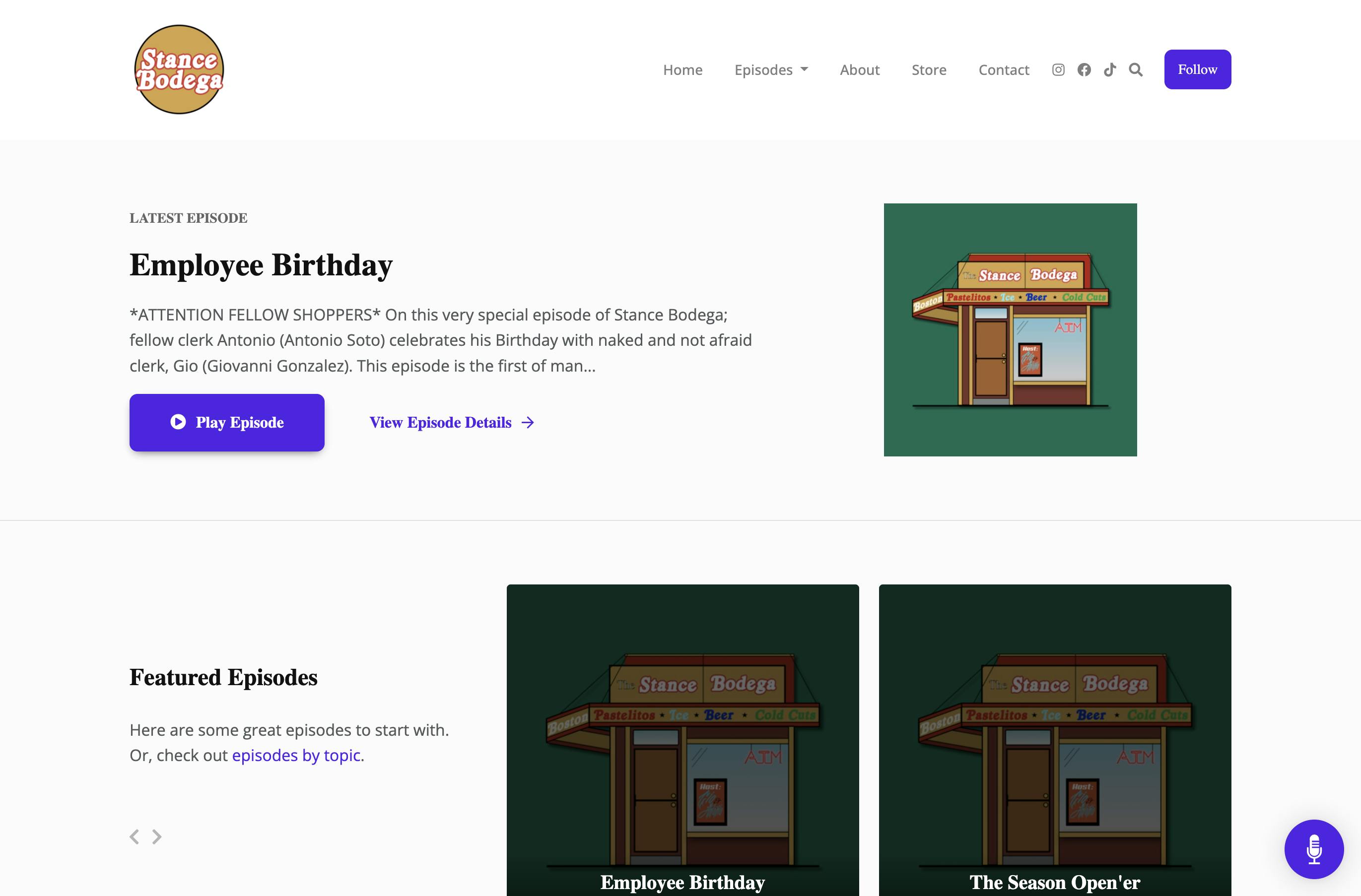 Features:
Latest podcast episode featured on homepage as well as featured episodes
Facebook page embed on right-hand menu
Easy for visitors to leave a review
Website builder: Podcast Page
Price: $12-$18 per month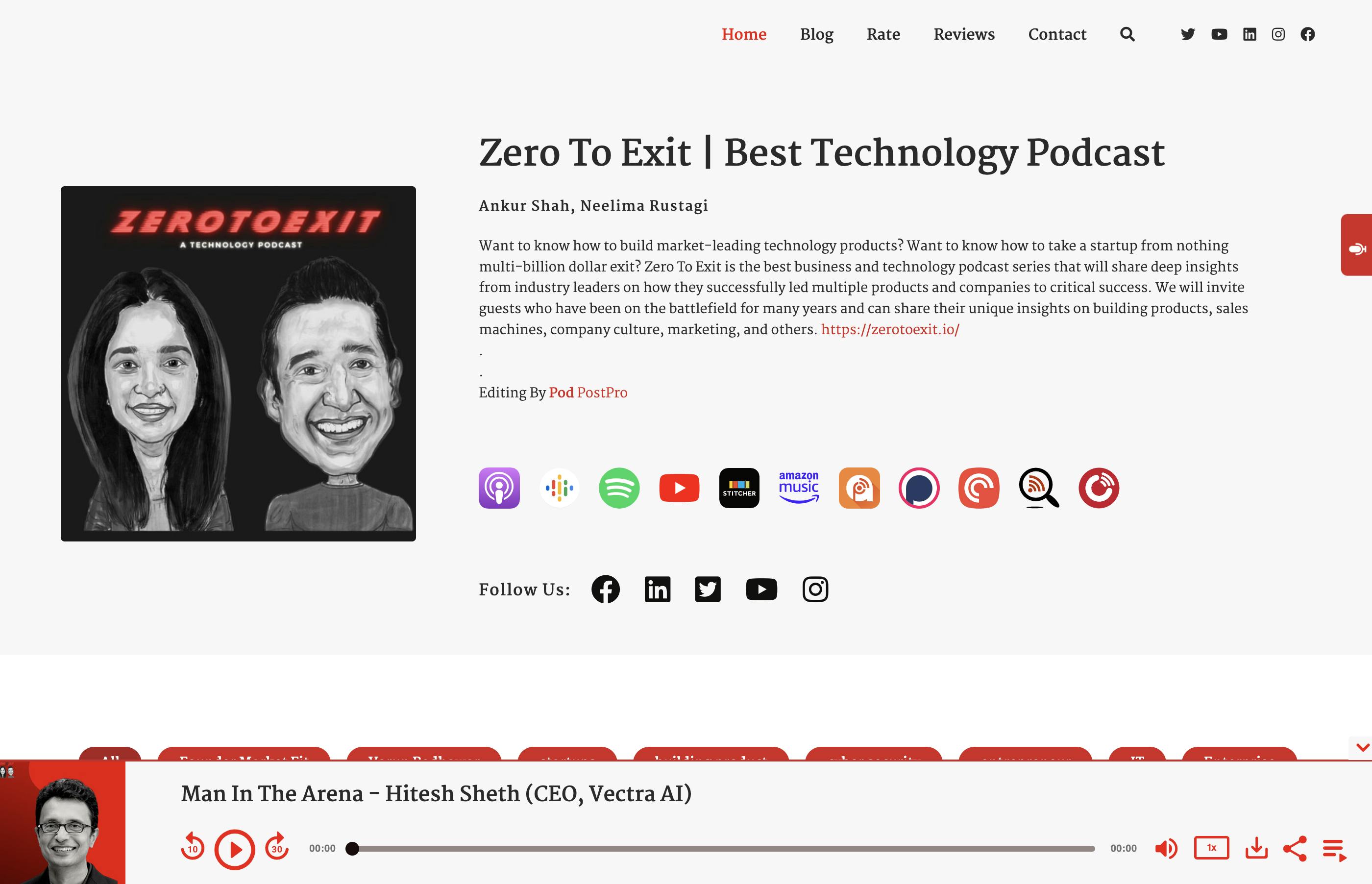 Features:
Easy-to-spot podcast directory and social media icons
Podcast player streaming the latest episode at the bottom of the page
Option for visitors to leave voice messages to the host
Website builder: Buzzsprout
Price: Included with all Buzzsprout accounts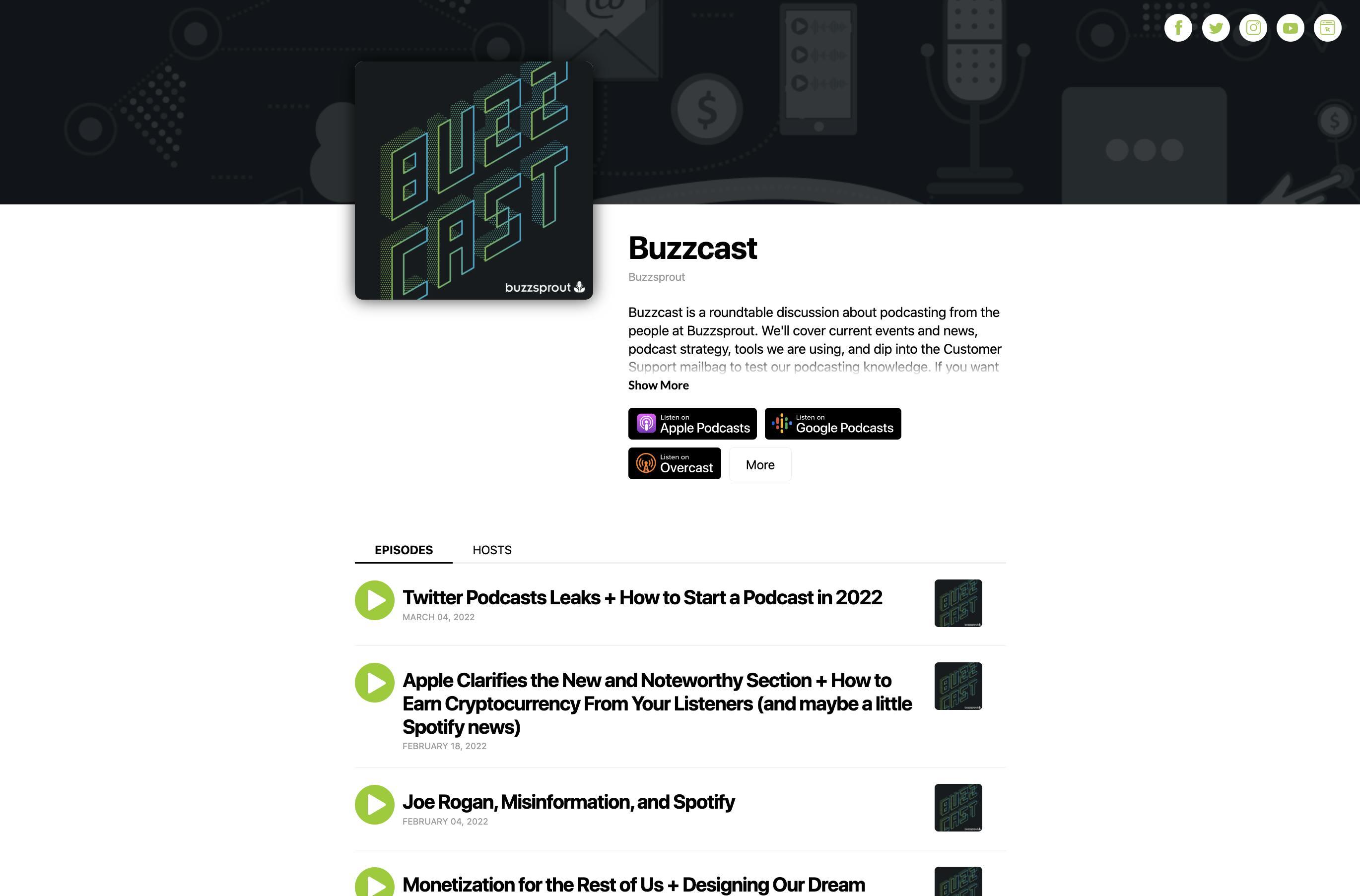 Features:
Customized, on-brand color scheme
Subscribe buttons and social media links
Short bios and image of each host
Full episode archive on one page
Website builder: Podpage
Price: $9-$15 per month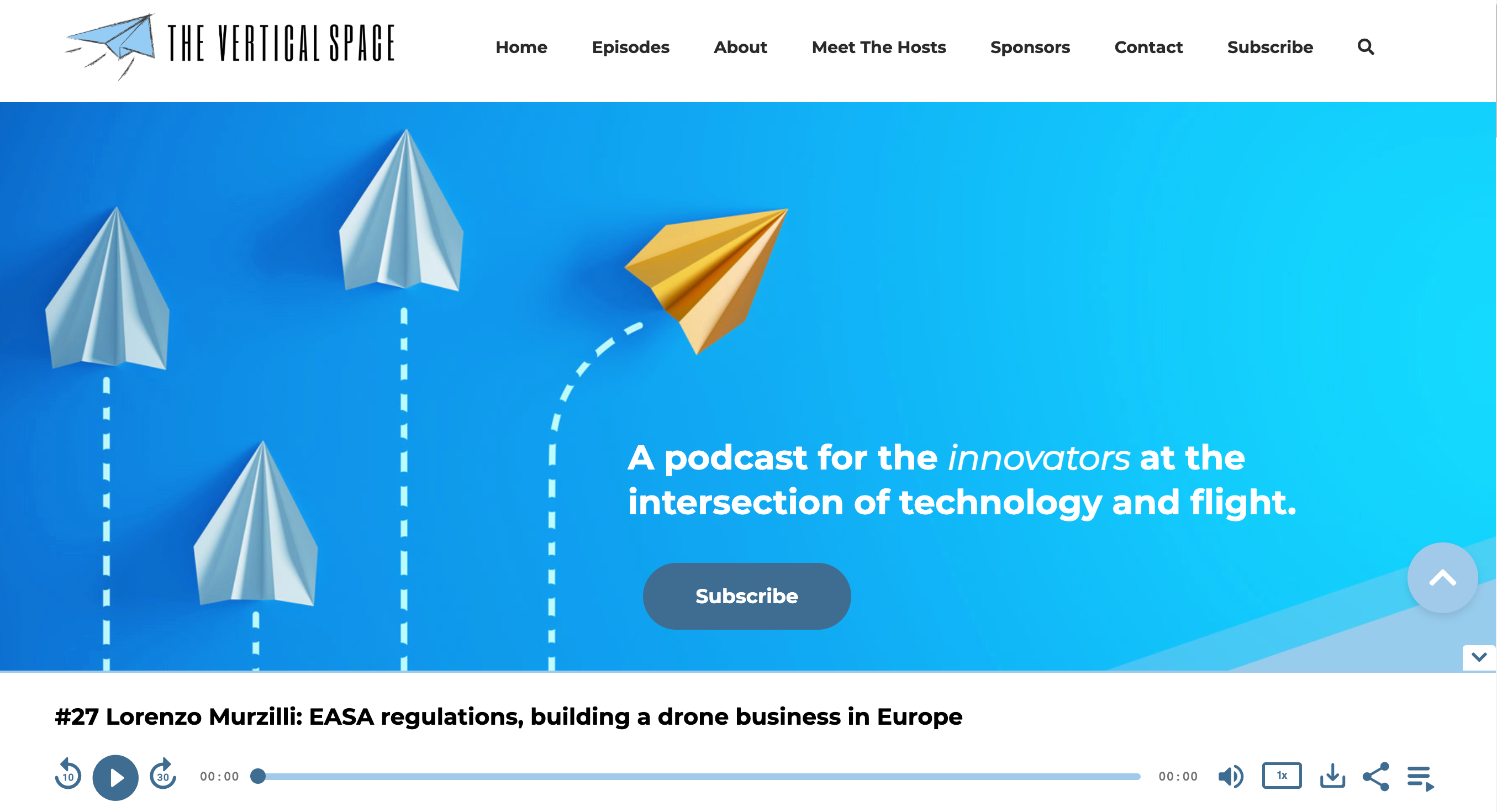 Features:
Podcast player on the bottom of the page
Can't-miss subscribe button
Meet the hosts page
Simple layout that's easy to navigate
Website builder: WordPress
Price: $8-$25 per month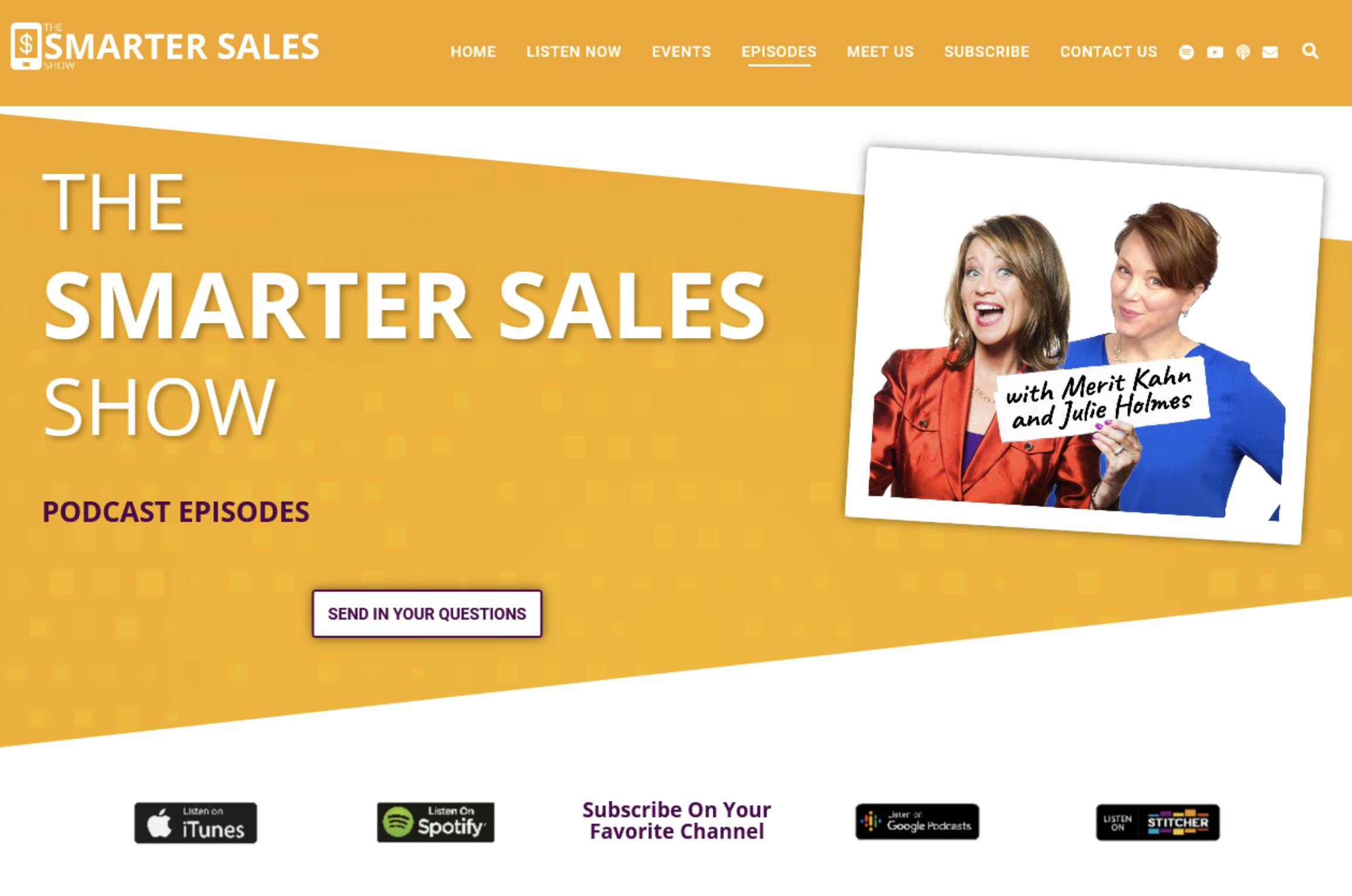 Features:
Visitors can listen to episodes without leaving the homepage
Visible subscribe buttons
Opt-ins throughout homepage
Website builder: Wix
Price: $14-$23 per month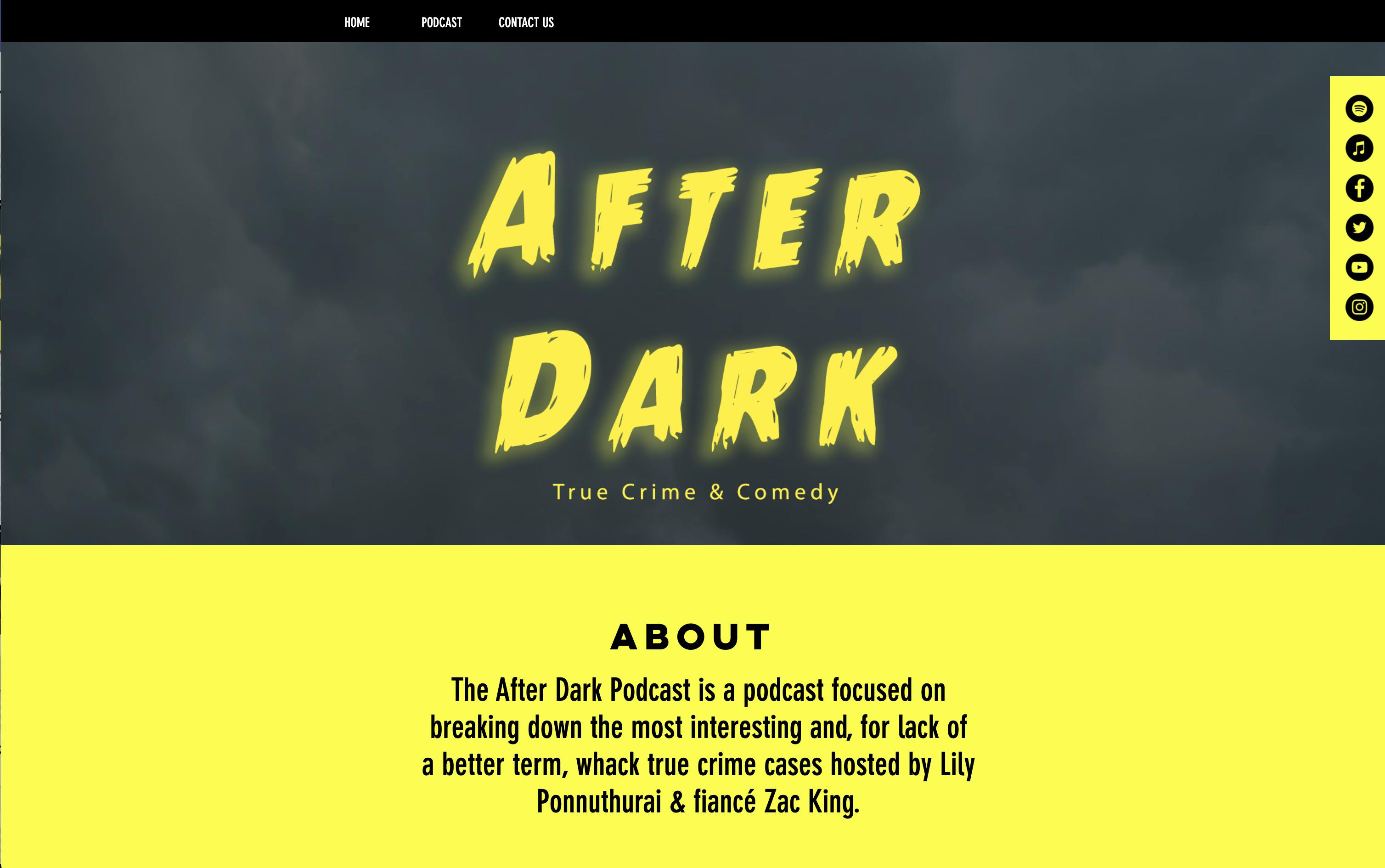 Features:
Video header that matches theme of the podcast
Very simple home page with About section and social media handles
Episodes and Contact tab featured separately

Website builder: Squarespace
Price: $19-$33 per month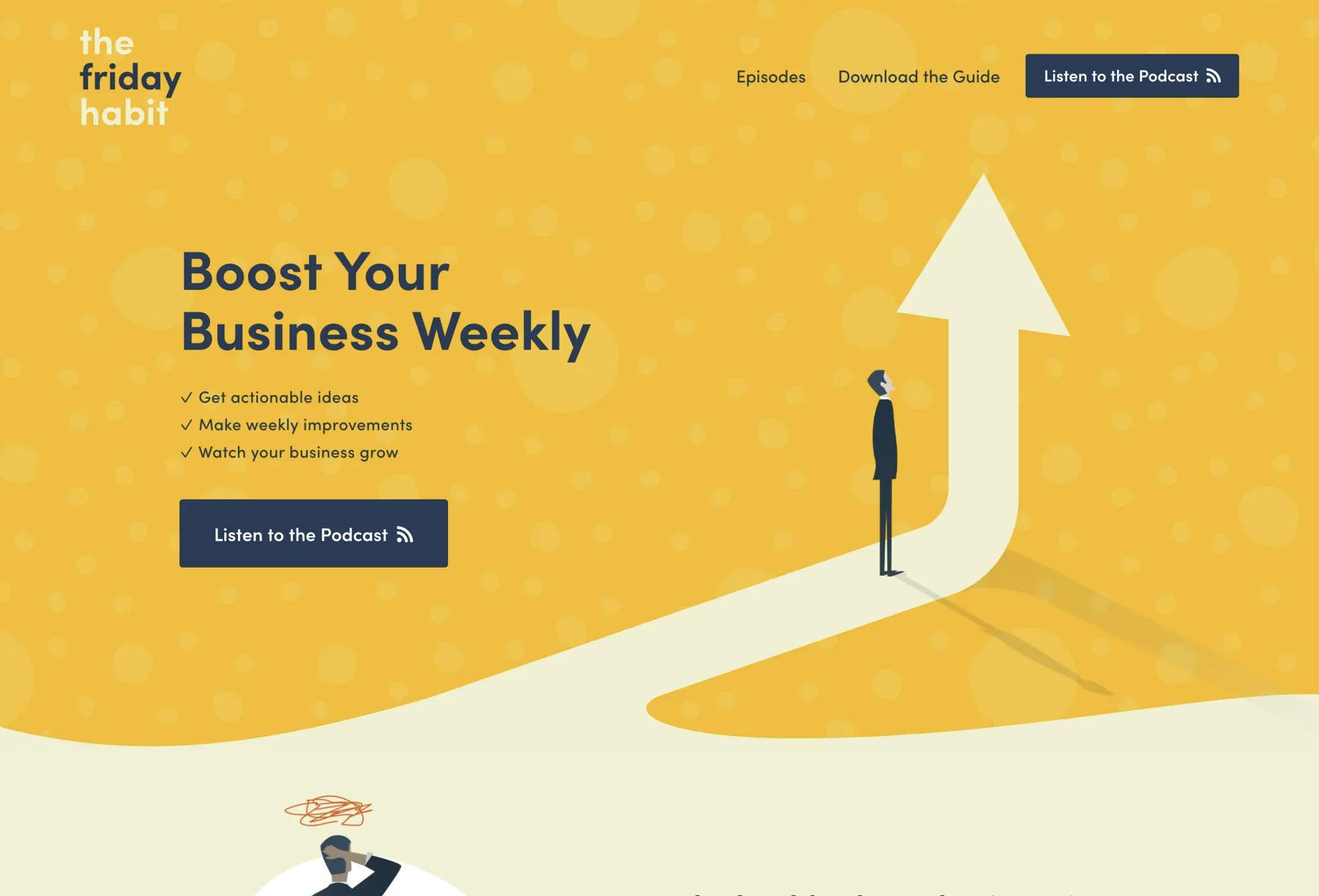 Features:
Clear messaging and easy-to-click buttons
A free offer to build email list
Customized episode artwork with guest image for each
Short host bios and images
Website builder: Ghost
Price: $9-$25 per month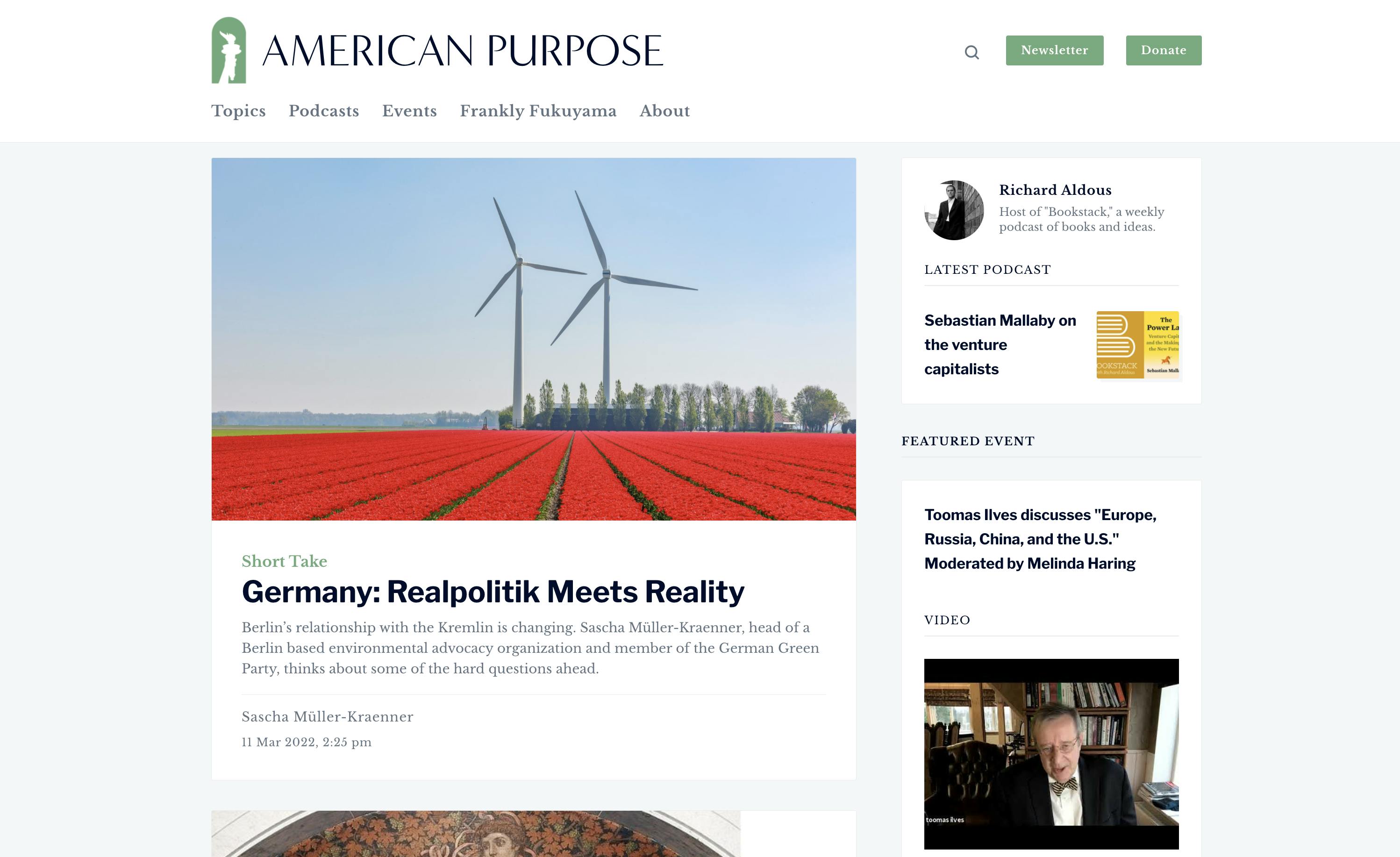 Features:
Blog-style template with latest podcast episode and YouTube video
Easy-to-spot newsletter and donate buttons
Short host bio on top right-hand side
Website builder: Transistor
Price: Included with hosting service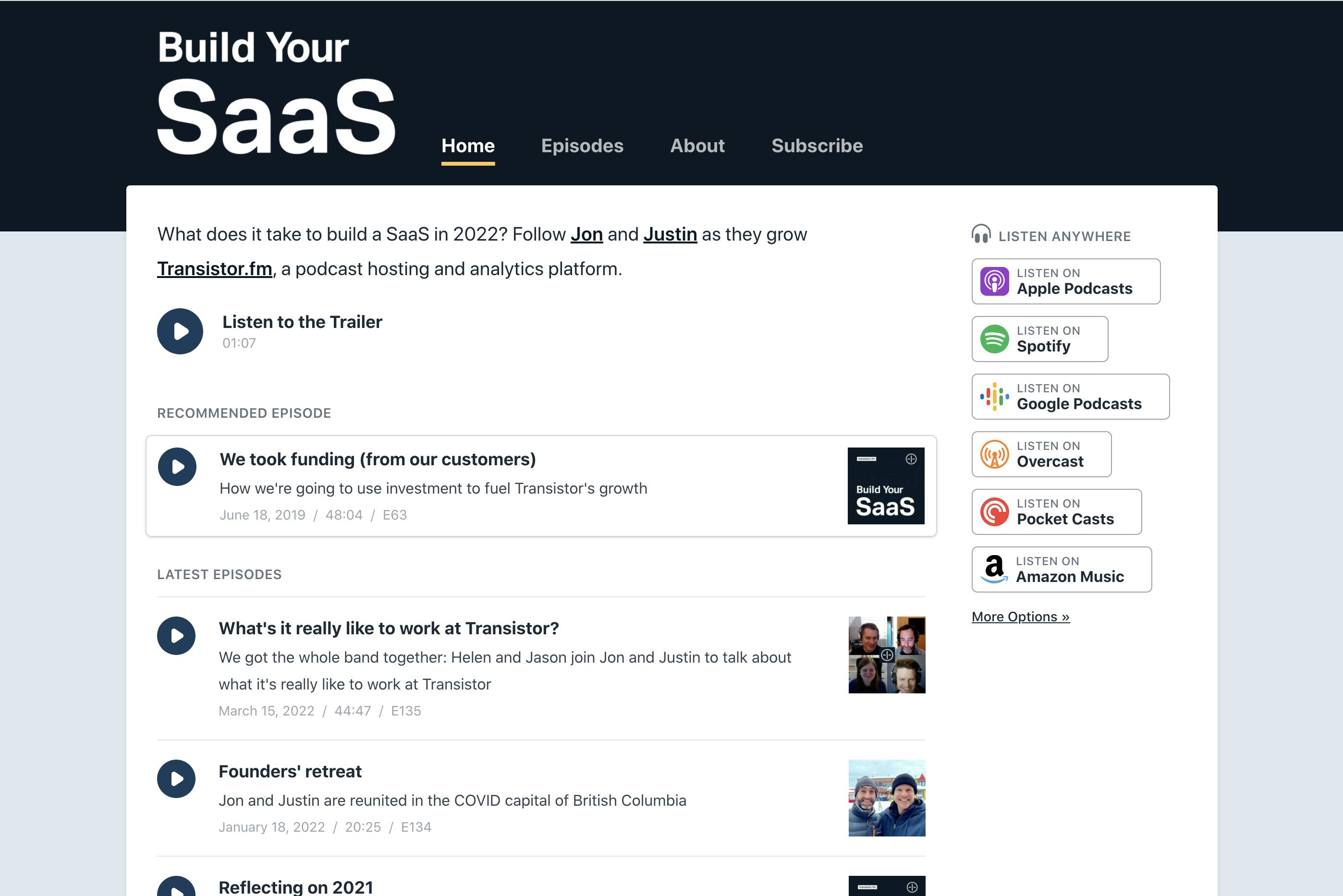 Features:
Episode artwork next to each audio file
Easy-to-see podcast directory buttons
RSS feed URL so you can listen in your favorite podcast app
13 Custom-built podcast websites
Podcast type: Non-fiction storytelling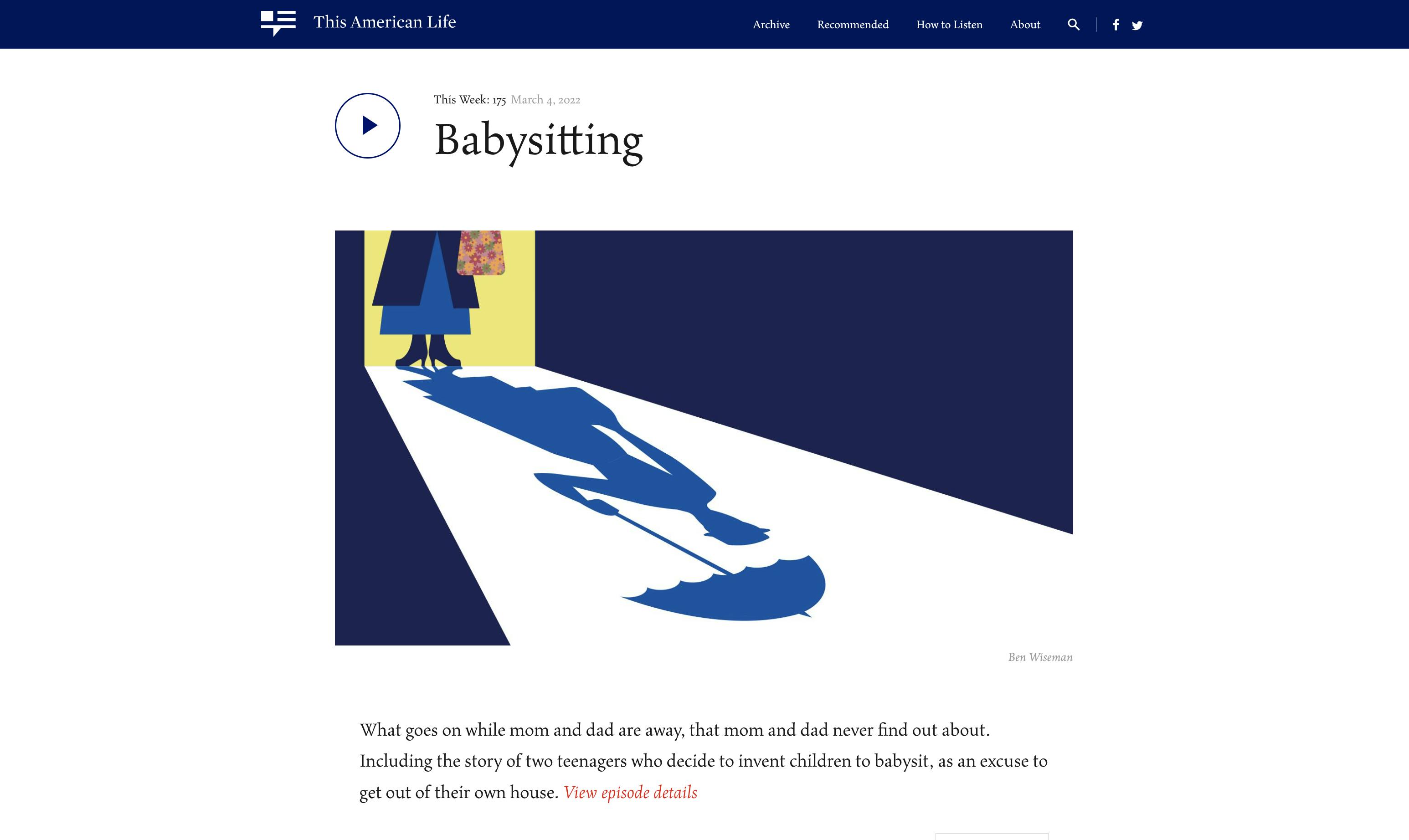 This American Life keeps its site straightforward. The latest episode gets the spotlight with large artwork, an episode description, and a big, bold play button.
Visitors can view the whole archive beneath the featured episode, buy merch, or sign-up for the weekly newsletter.
Best aspects:
Full podcast archive
The latest episode is highlighted and easy to play on the homepage
Simple template
Podcast type: Business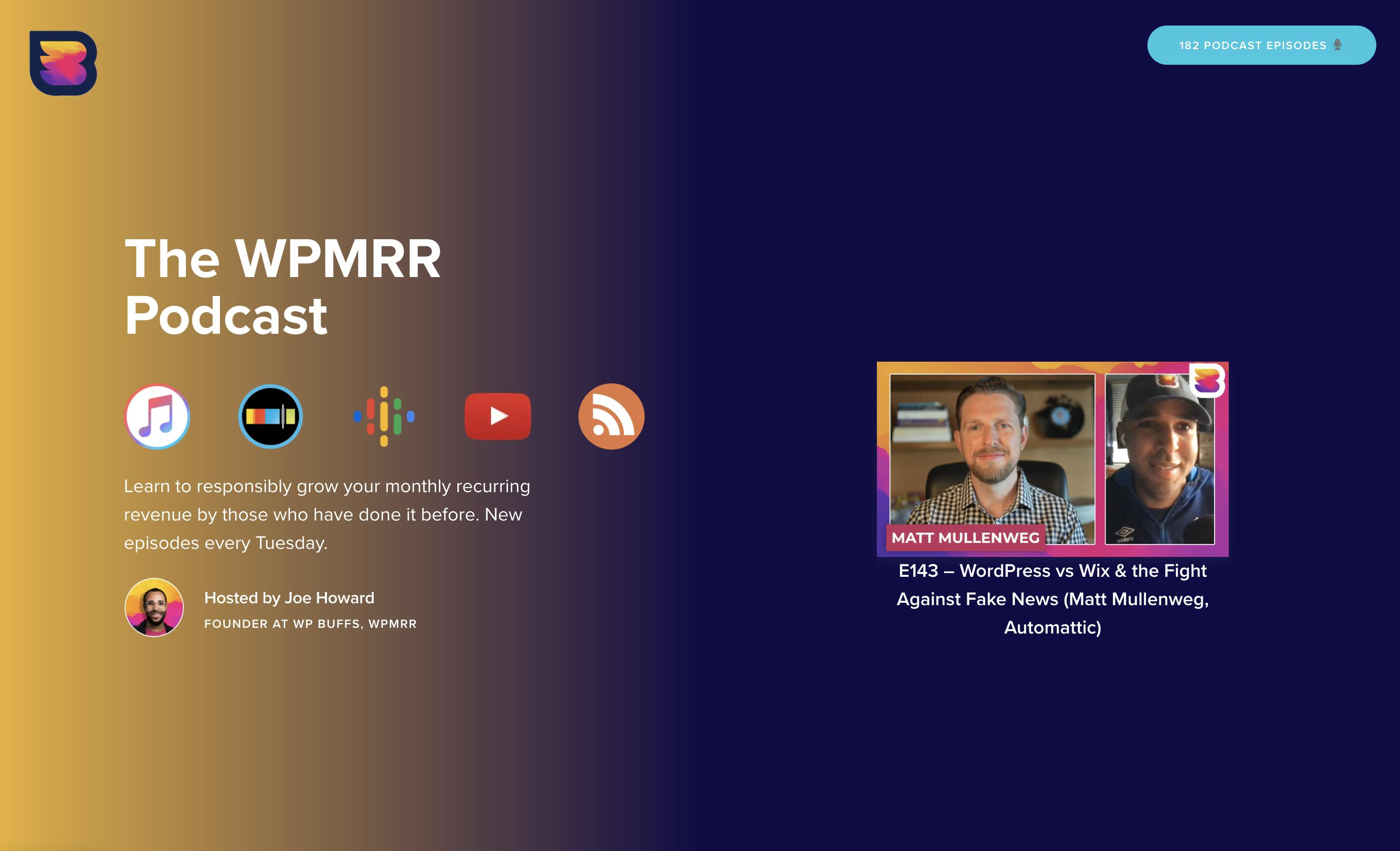 This WordPress podcast site features colorful icons to their content on Stitcher, YouTube, iTunes, and Google Podcasts. They even have their RSS feed, so you can add their podcast to your favorite podcast player.
The podcast episodes have their own show notes page and coordinating thumbnails in a bright, fun color scheme.
Best aspects:
Clean design with functionality
Coordinating, high-quality thumbnails for each episode
Full show notes pages for each episode
Podcast type: Dramatic fiction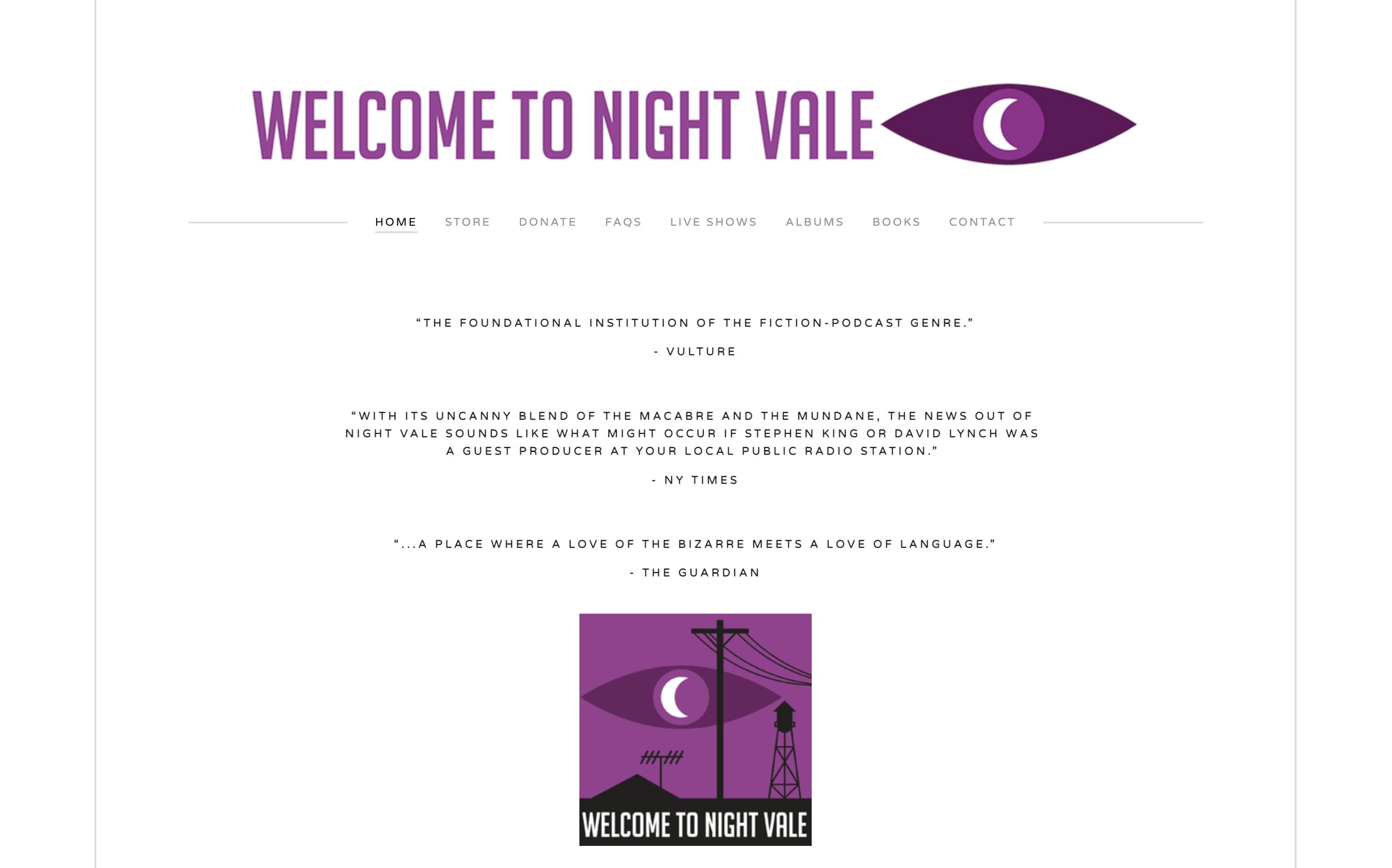 Instead of making episodes the focus, this award-winning fiction podcast spotlights its positive reviews from big-name media outlets. This page also highlights sponsorships and has easy-to-click donation links.
Best aspects:
Highlights positive reviews and sponsors
Donation links on the homepage
Podcast type: Nonprofit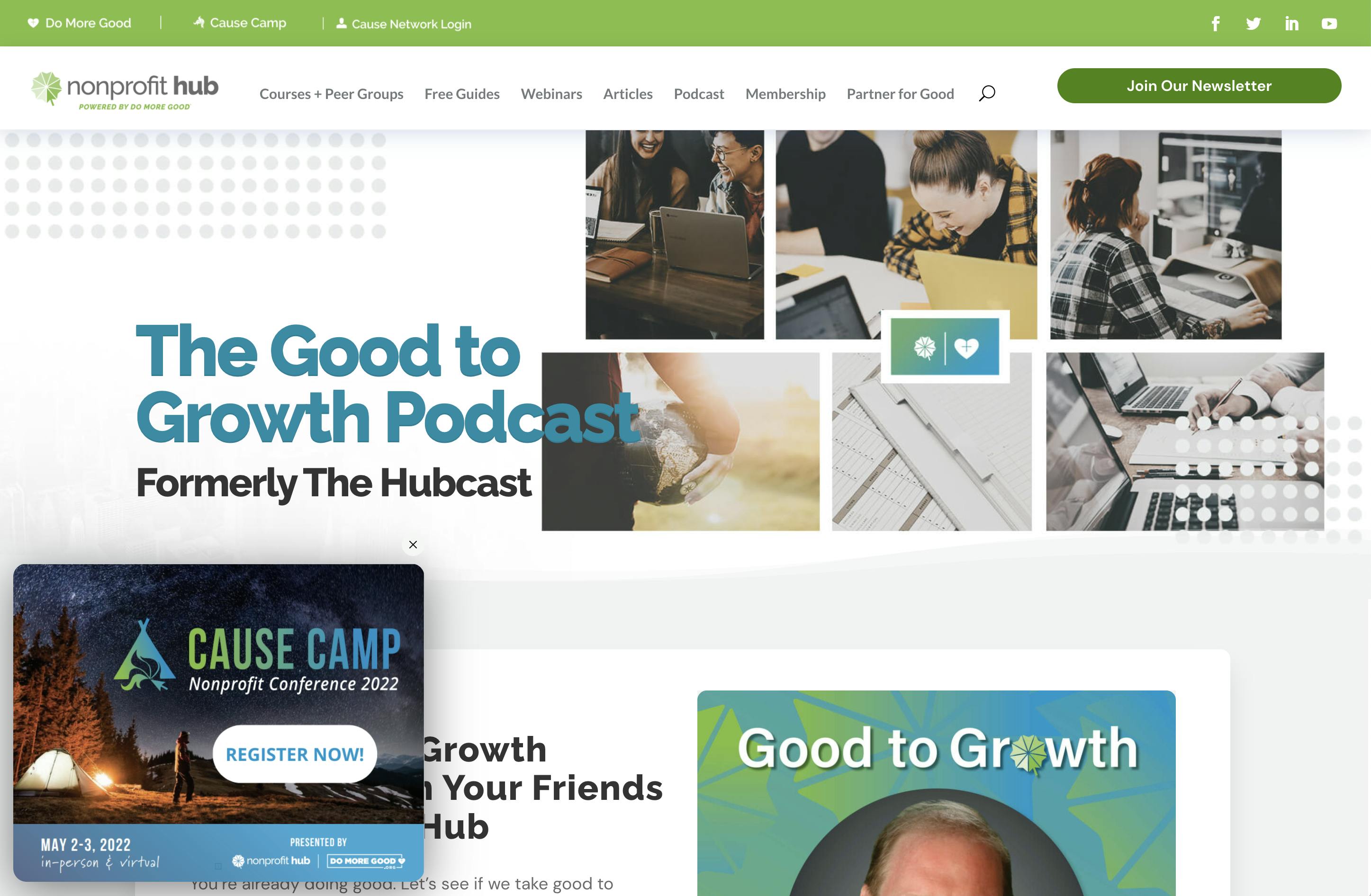 This nonprofit podcast website focuses on the podcast host and description center stage. There are podcast episodes below, each with a picture of the guest interviewed. There are also free guides and a membership element.
Best aspects:
Membership options
Free offers
Podcast type: Solo podcaster, interview podcast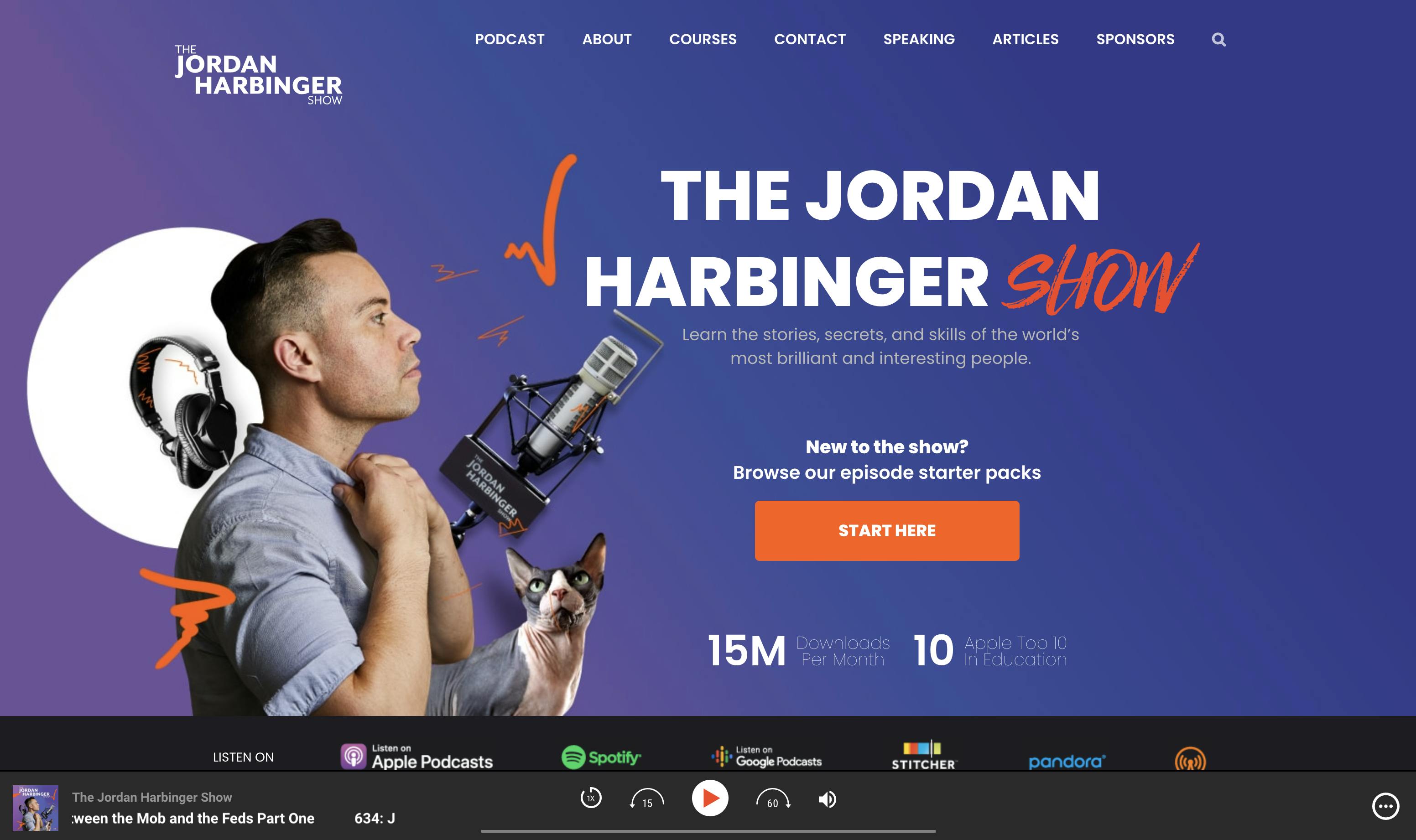 Jordan Harbinger's website is a great example for solo podcasters. The bright, bold buttons and embedded video clips encourage engagement. The site has a featured guests section, testimonials, and a podcast playback menu at the bottom of the page streaming the latest episode.
Best aspects:
Podcast player at bottom of page that streams new podcast episode
Featured guest section
Positive testimonials and reviews
Podcast type: Roundtable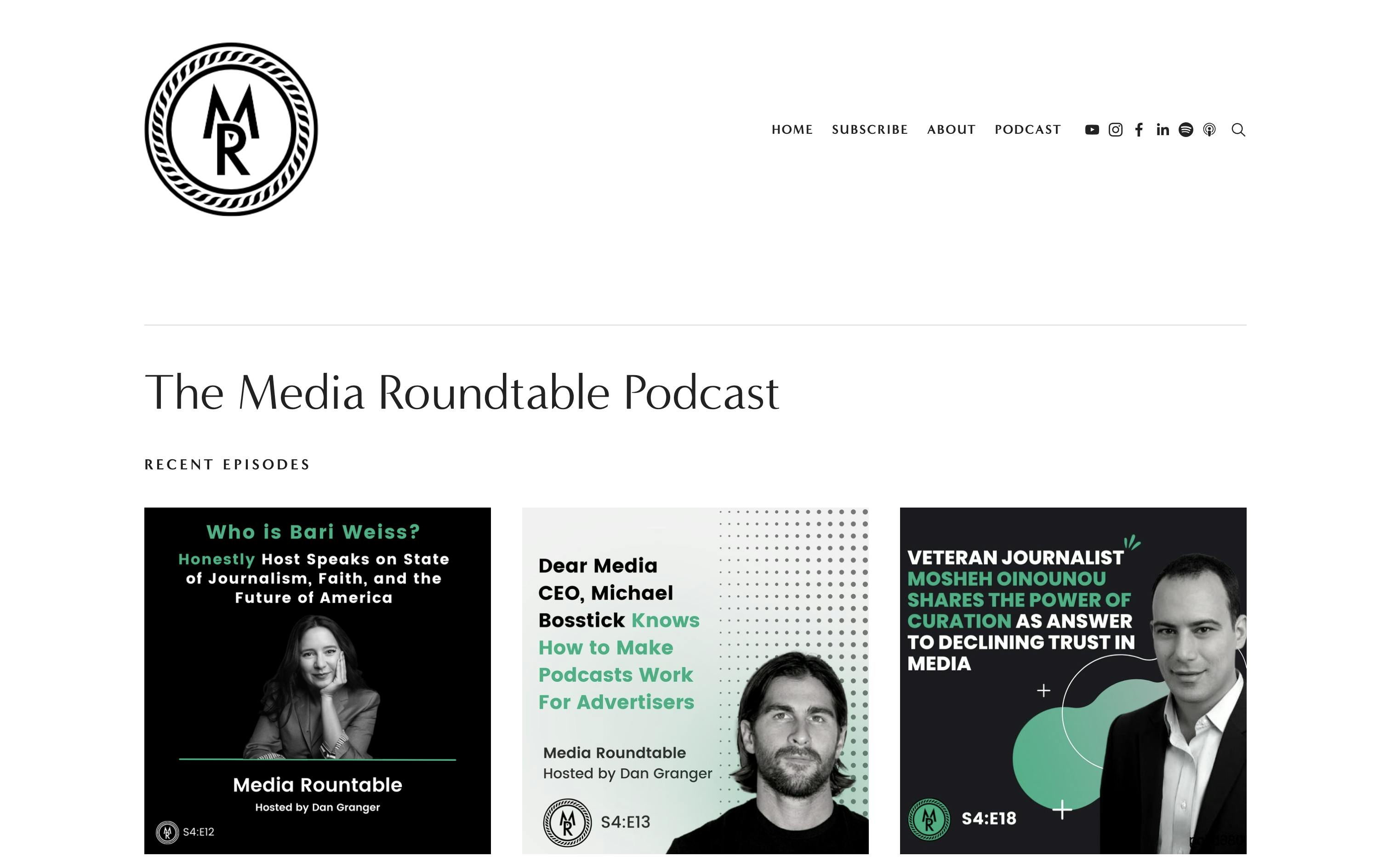 This roundtable podcast has a minimalist that features the most recent three episodes front and center. The site also highlights the podcast's YouTube channel and makes it easy for people to apply to be a guest on the show.
Best aspects:
YouTube clips on the homepage
Recent press coverage
Guest form
Podcast type: Solo podcaster, medical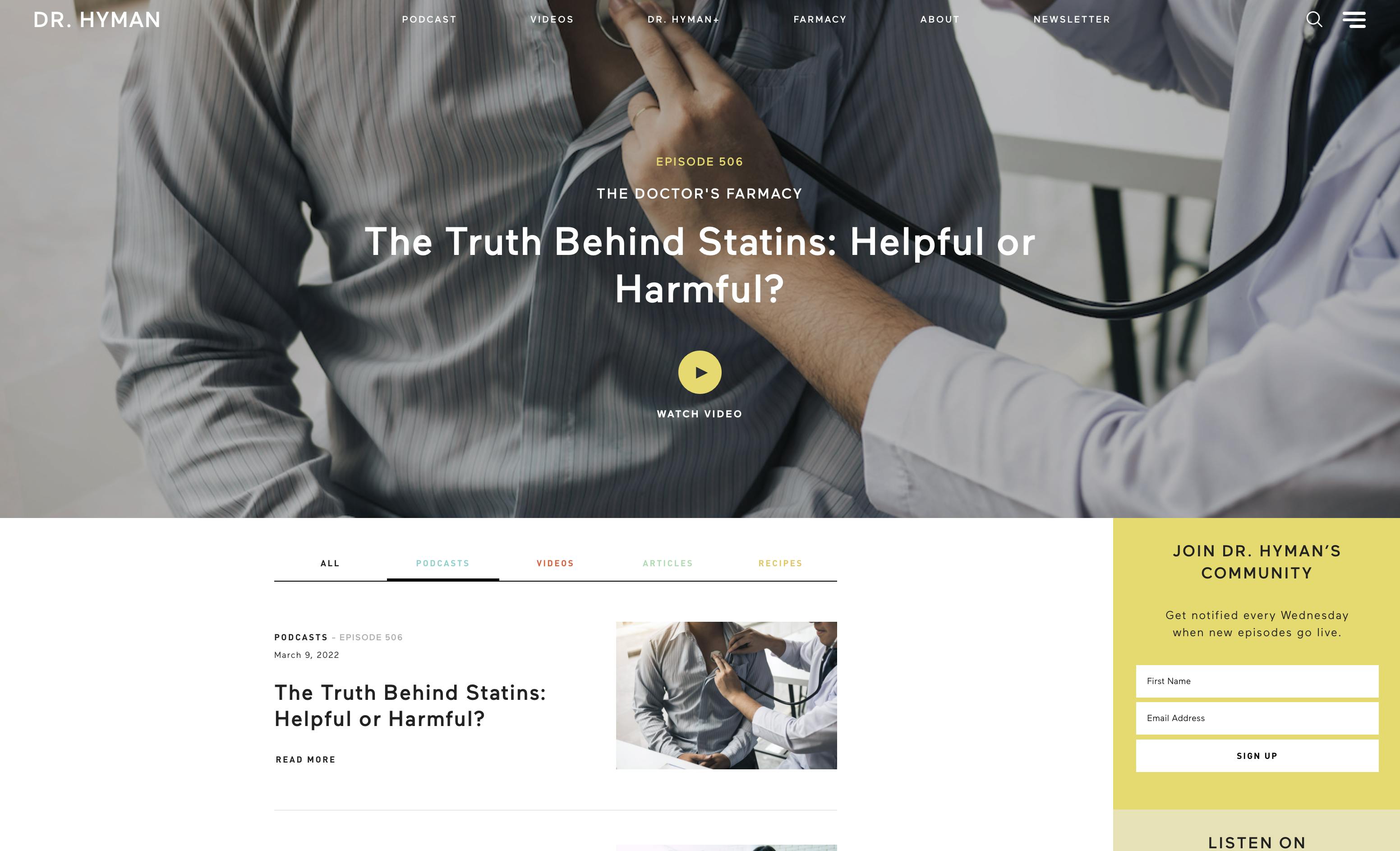 Dr. Hyman's podcast page has a beautiful video header and a simple menu separating podcasts, videos, and articles. The right side of the page has social media links, a community sign-up box, and subscribe links.
Best aspects:
Video header
Articles, videos, and podcast episodes
Organized side menu
Podcast type: True crime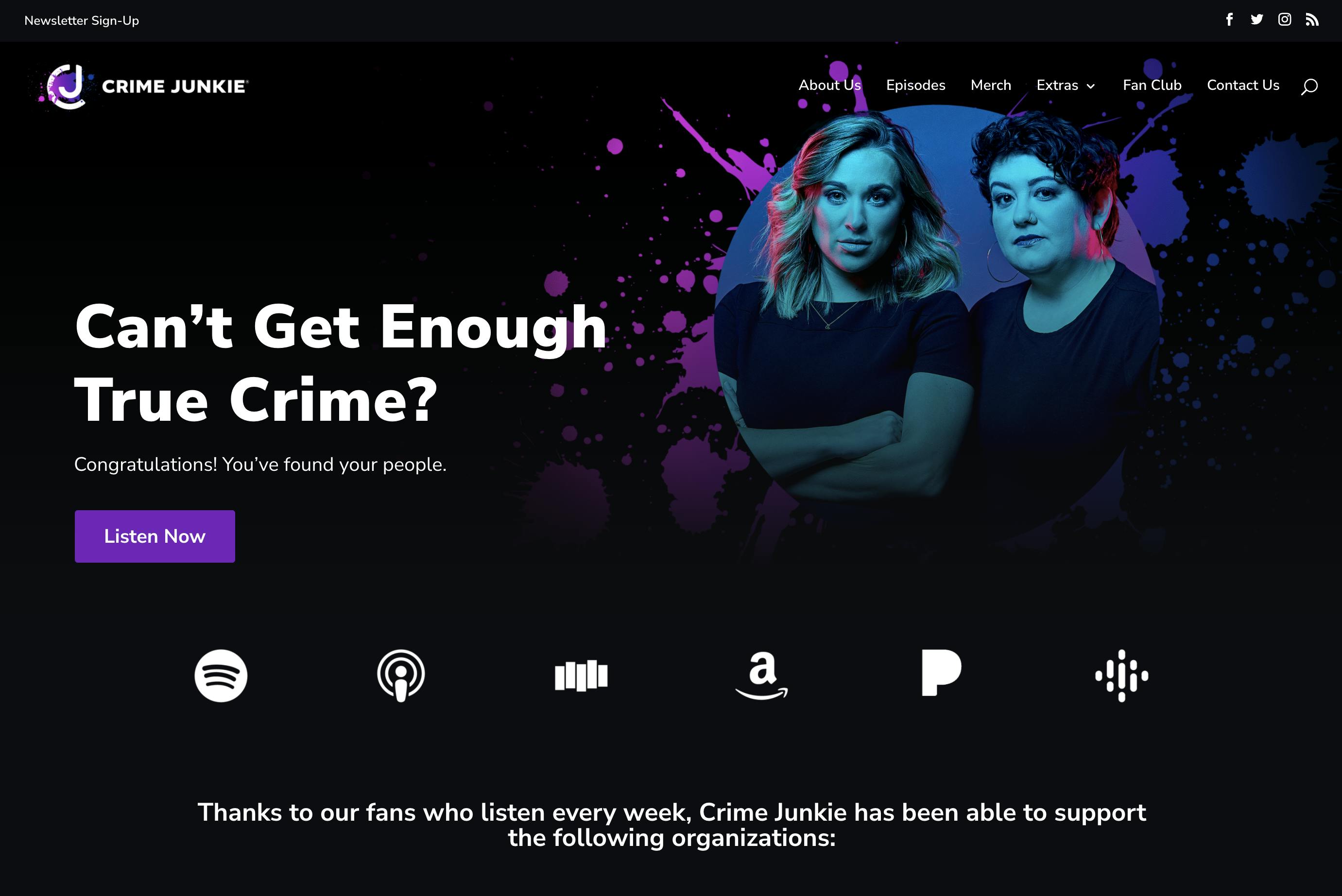 Crime Junkie's website is dark and moody and matches its genre perfectly. The "Listen Now" button stands out against the dark theme, and a scrolling bar highlights organizations supported by listener donations.
The show's latest episodes are featured farther down the page, with unique artwork for each one.
Best aspects:
Dramatic aesthetic
Scrolling bar of organizations they support
Fan club sign-up
Podcast type: Documentary-style storytelling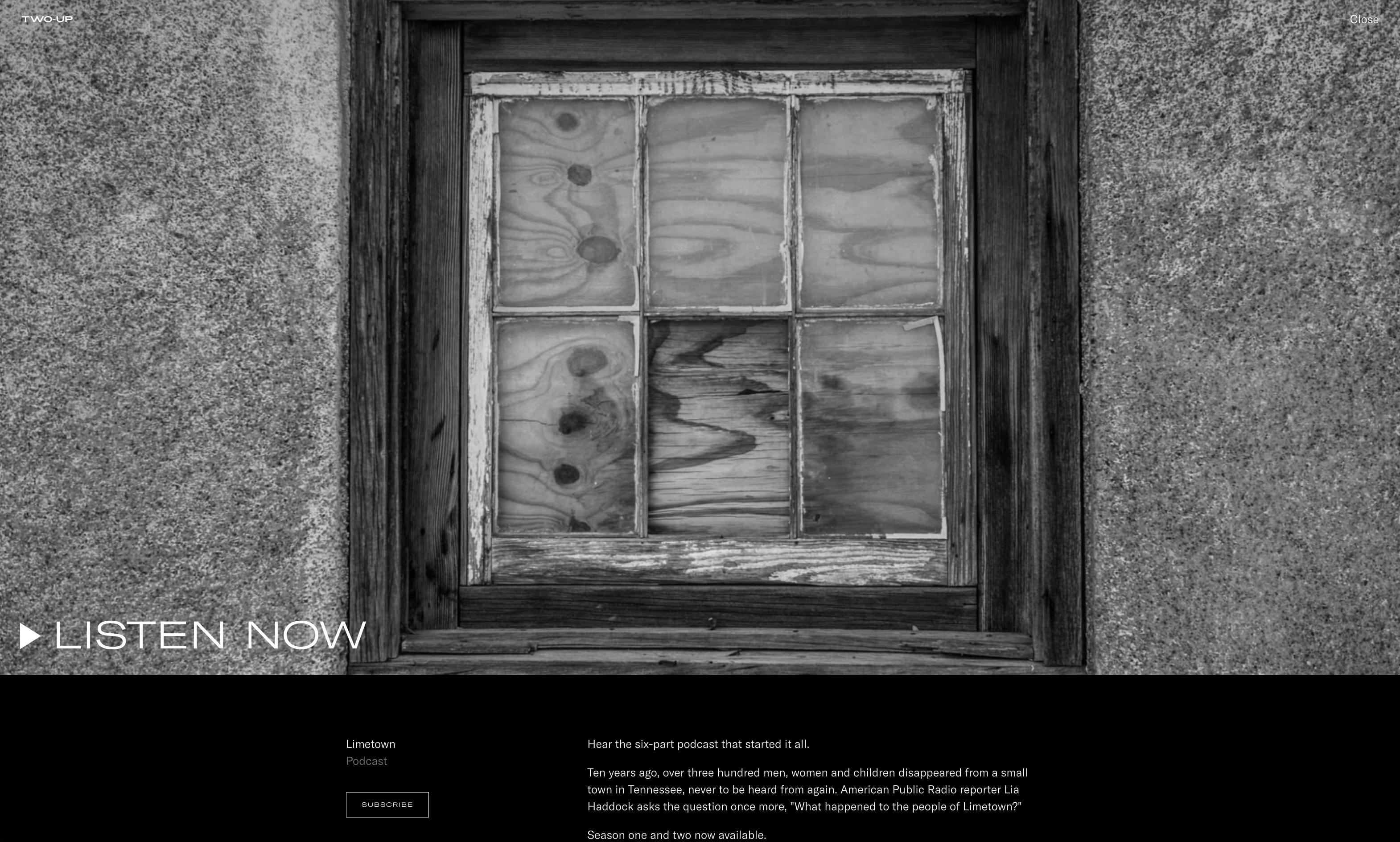 This site combines several elements into one seamless page. There are no other menus or tabs. The artistic layout features a positive review from a major outlet, a clean-lined podcast player, merch, and downloadable transcripts.
Best aspects:
Big "Listen Now" button
Merch on homepage
Downloadable transcripts
Podcast type: Multi-host discussion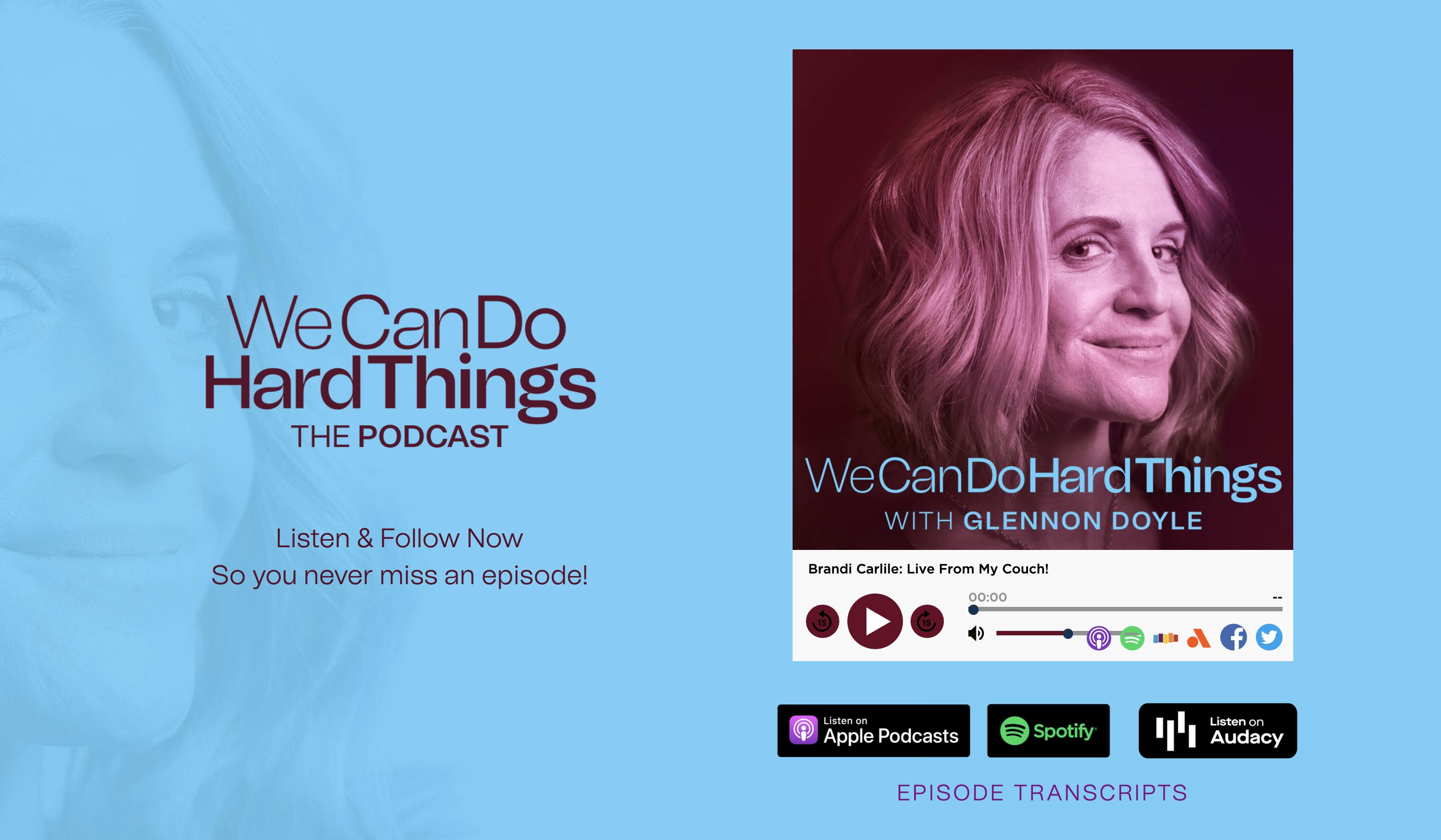 This podcast page features two elements: a podcast player with transcripts and subscribe links and an About section. The theme is big and chunky, with only the basics.
Best aspects:
Simple web player with subscription links
Episode transcripts for added accessibility
Phone line for voicemails
Podcast type: Advice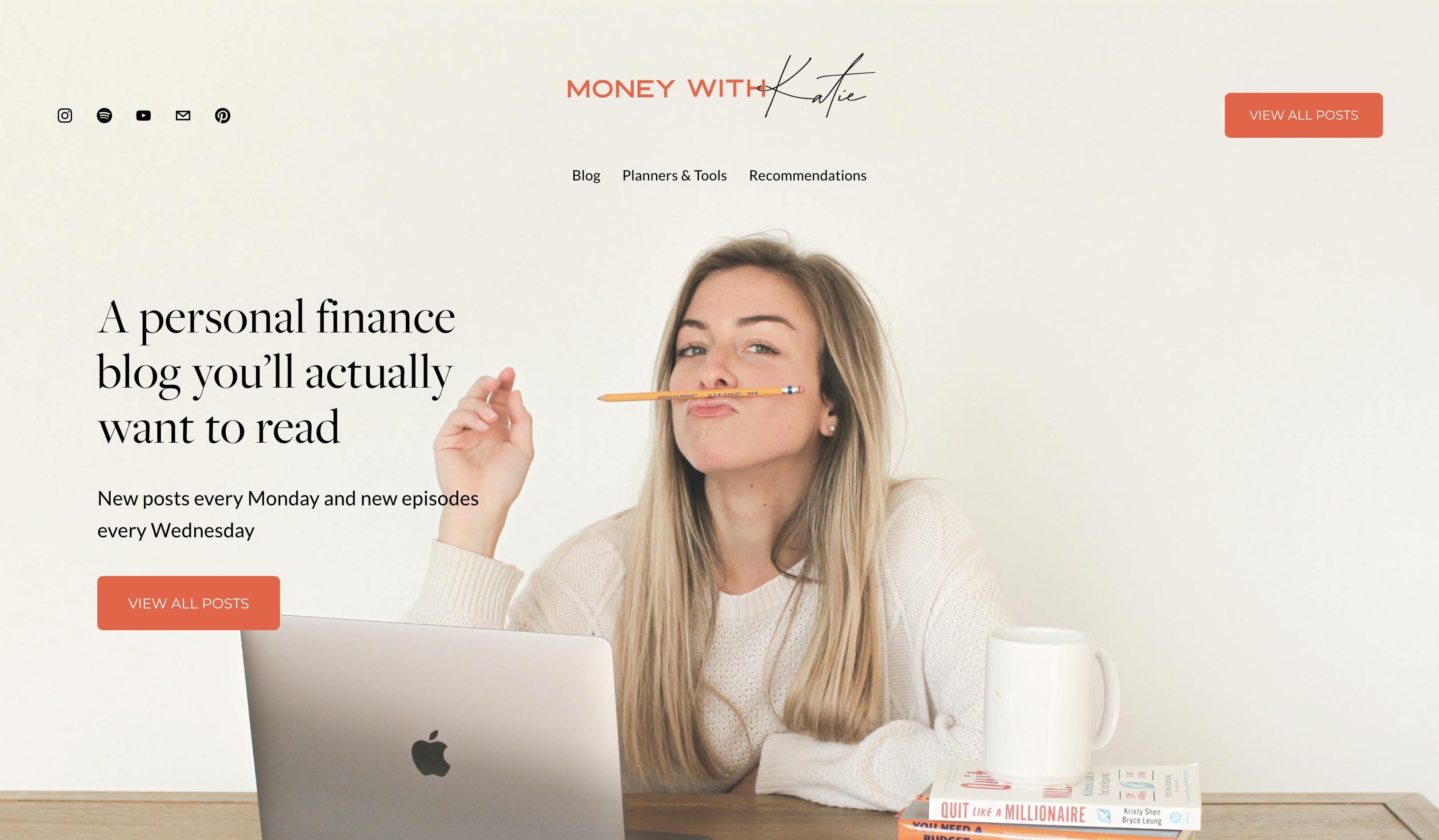 This site integrates a personal blog and podcast with buttons for each front and center. There are tons of free, downloadable guides, tools, and mini-courses. The page also has stunning graphics for every post to encourage engagement.
Best aspects:
Features full blog and podcast
Free downloadable tools and mini-courses
Podcast type: Deep-dive interviews, multiple podcasts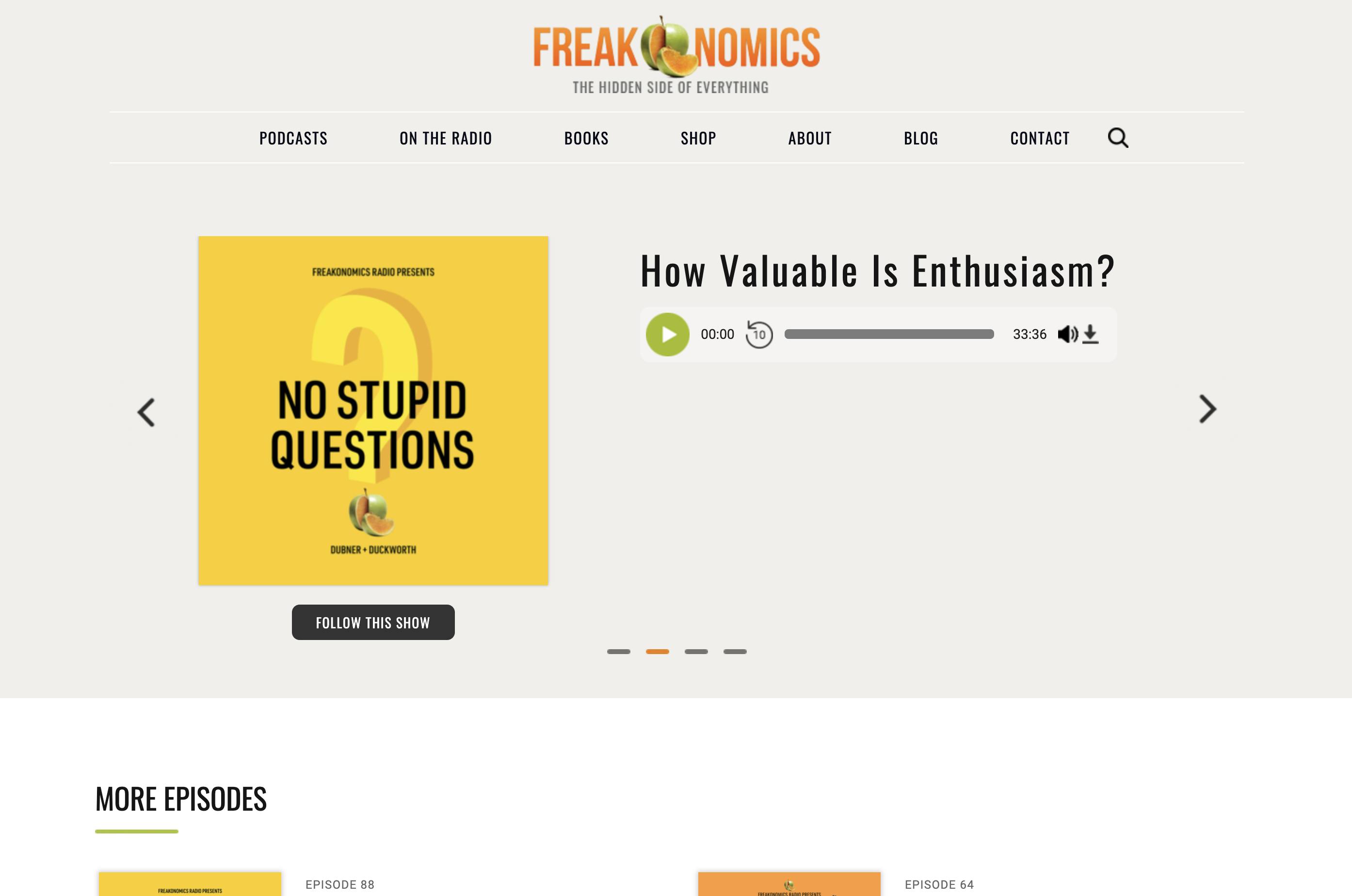 Freakonomics makes multiple podcasts and books and highlights them without being visually overwhelming to viewers. The scrolling header includes the latest episode of every podcast and a follow button for each. The books are highlighted at the bottom.
Best aspects:
Scrolling podcast player in the header
Book promotion
Podcast type: Business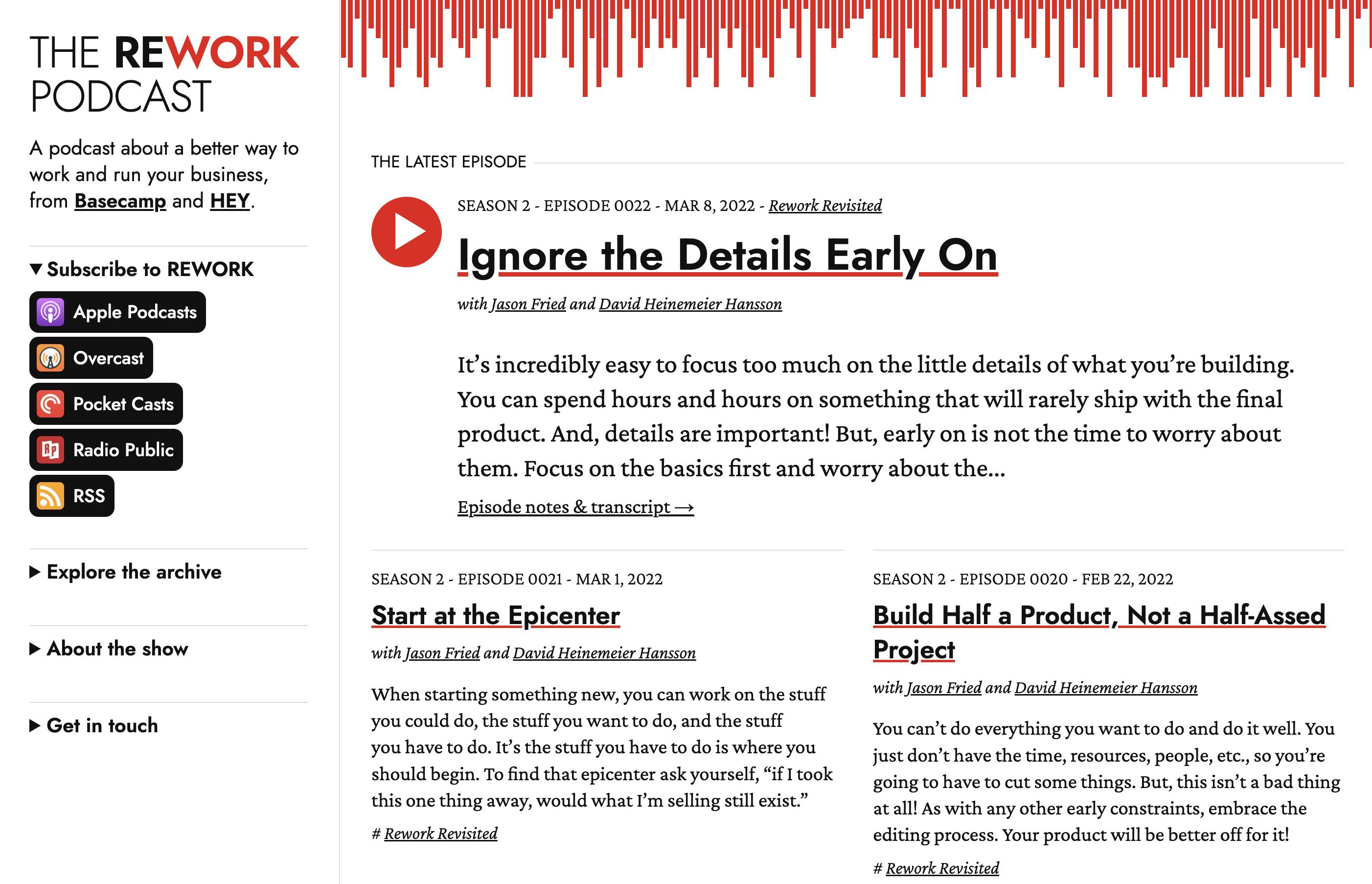 Features:
Unique layout with easy-to-navigate left-hand menu
Episode-focused template that allows for detailed descriptions of episodes
Simple contact options
Alban Brooke
Alban Brooke is the Head of Marketing at Buzzsprout and the co-host of Buzzcast. Have any questions about this guide? Reach out on Twitter.
FAQ
Do I need a website for my podcast?
It's a good idea to have a podcast website to help with marketing, monetization, and SEO optimization to boost visibility in search engines. A podcast website is also a great way to build your email list and support a successful podcast marketing plan.
How do I make a podcast website?
You can make a free podcast website through most podcast hosting platforms like Buzzsprout or Libsyn. A paid web hosting site like WordPress or Squarespace offers more customizable features and templates.
What should be on a podcast website?
Your podcast page should include:
your podcast RSS feed to display audio files,
a podcast description,
an email sign-up,
an audio player,
social media links,
subscribe links to your podcast, and
links to your content Apple Podcasts, Stitcher, Spotify, and other podcast directories and podcast apps.