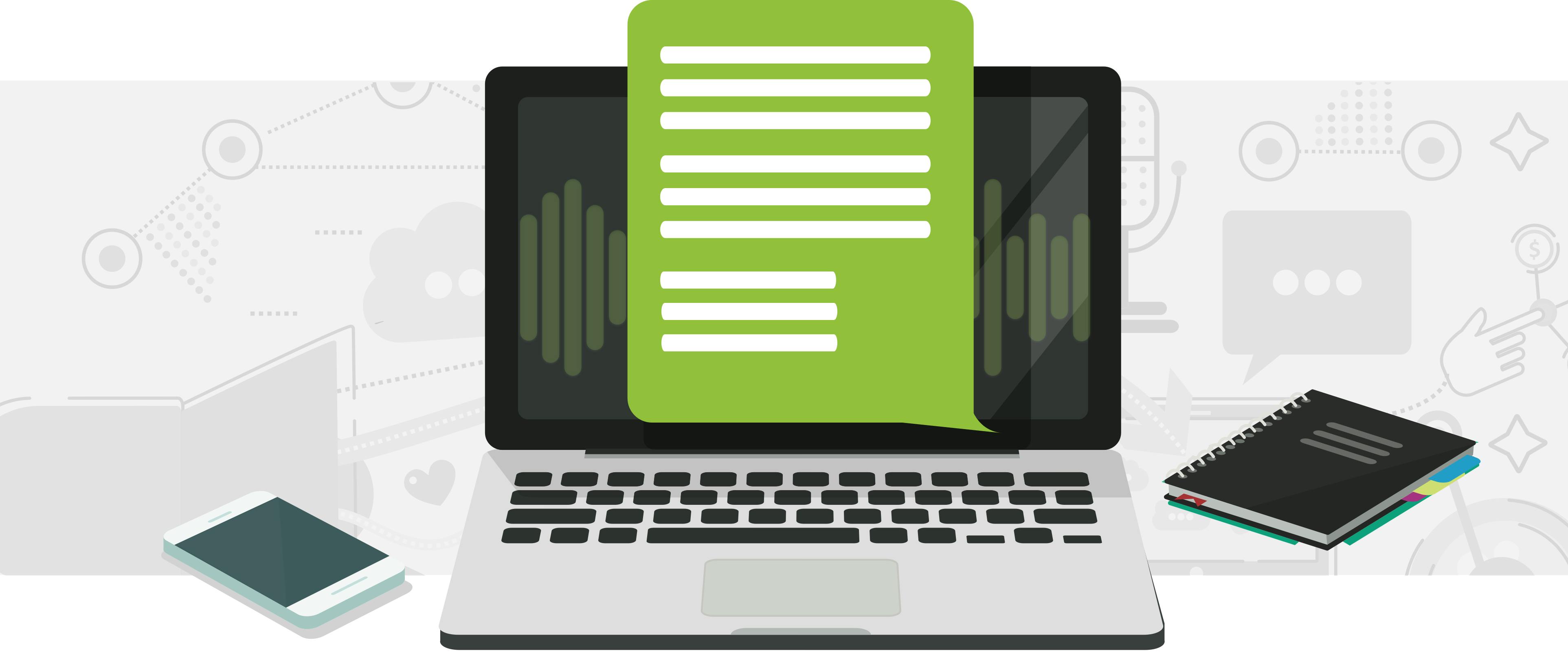 How to Transcribe Your Podcast [2021]
Podcast transcripts are a word-for-word manuscript of your podcast that has several benefits. Audio transcriptions:
make your content more accessible to listeners who are hard of hearing.
boost SEO so search engines like Google can find your content.
can heighten listener engagement, and
make it easy for listeners to share quotes to social media.
Follow this step-by-step guide to learn the tools you can use to transcribe your own podcast!
Option #1: Paid service (hire somebody)
Human transcribers can create the most accurate transcripts.
Human transcription is more expensive, typically costing over a dollar a minute.
The turnaround time for human transcription is also longer, ranging from six hours to a full day.
This transcription has the highest accuracy, typically reaching over 99%.
The best human-transcription options are:
Rev ($1.25/min and 99% accuracy),
GoTranscript ($0.86/min and 99%+ accuracy), or
hiring a freelance transcriber from Upwork ($10-$100; accuracy varies).
Option #2: Automated transcription service
Automated podcast transcription services take your audio file and quickly generate a full manuscript.
This method costs less than human transcription ranging from free to around $0.25/minute.
Automated transcripts have a quick turnaround time; podcasters usually get their finished file back within an hour or two.
Transcription software has lower accuracy, usually ranging from 80% to 95%.
The best automatic transcription services are:
Tip: Use this method only if you have high-quality audio; too much background noise can render an inaccurate transcript.
Option #3: Do it yourself
Transcribing your own audio files gives you complete control over the accuracy of your transcription.
This method is free and costs only your time.
But, DIY transcription is time-consuming and generally requires two to five times the length of your podcast episode.
While there aren't any tools to help you transcribe your podcast yourself, you can use the slow-down feature in your podcast player to make it easier.
Buzzsprout's Transcription Toolset
If you host your podcast with Buzzsprout, you can attach a transcript to your episodes within your dashboard using our transcription toolset.
You can use our transcription tools regardless of how you choose to transcribe your content:
Use Otter.ai or Temi integrations
Upload audio in SRT file format
Write them yourself.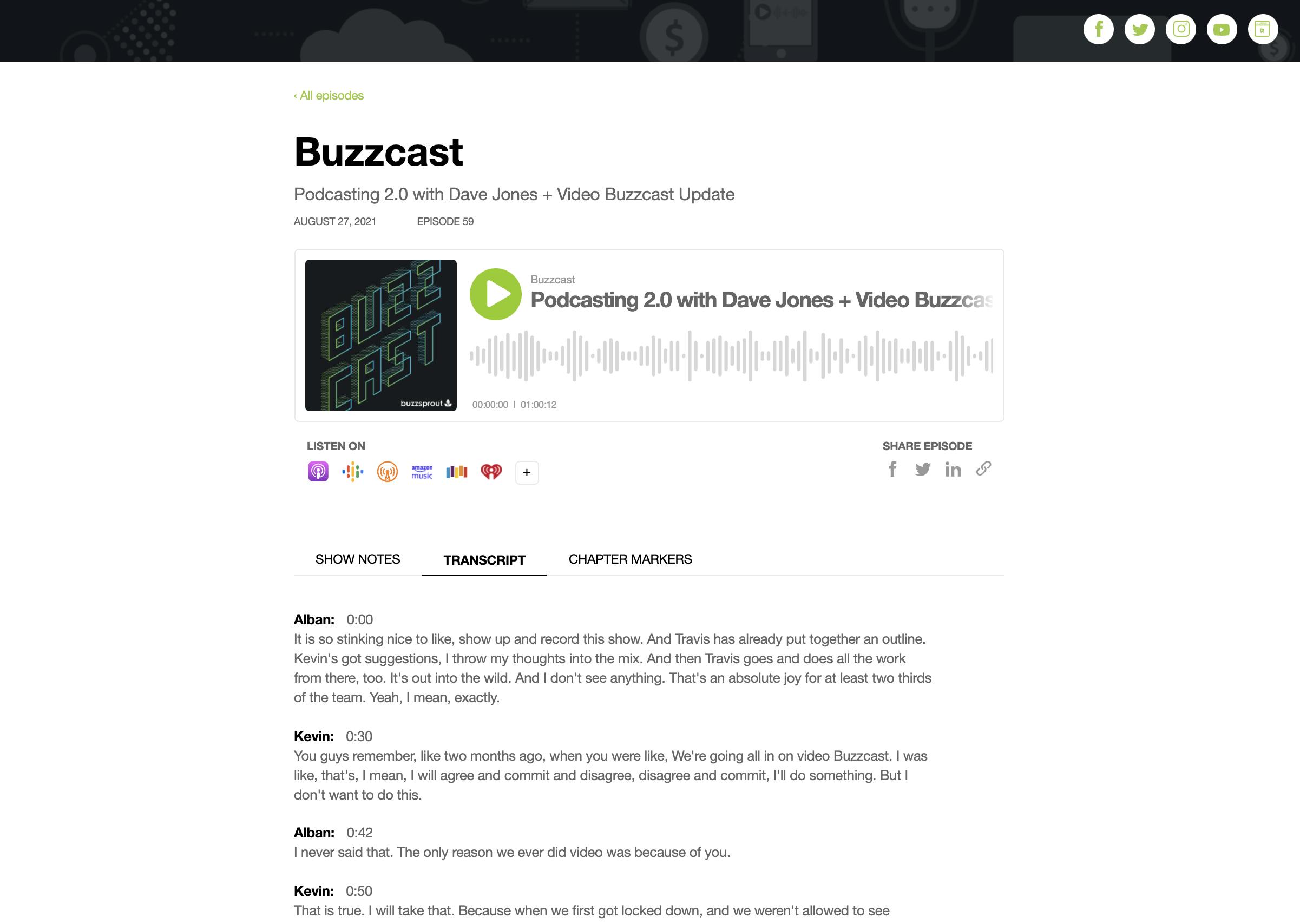 Once you have a finished file, Buzzsprout includes a link in your RSS feed for apps like Podcast Addict and Podfriend.
Your transcripts also appear on your public Buzzsprout website under the Transcripts tab.
You can put a link to your website from your episode description show notes so listeners can visit your site via podcast players!
But don't copy and paste your transcription into your episode description, as it can slow down the podcast app.
You can also repurpose your transcripts in blog-style on your personal website.
Podcast transcription guide & best practices
Keep these things in mind when you create (or edit) your transcriptions.
Review for accuracy
Whichever method you use to transcribe your podcasting content, it's a good idea to do a quick read-through; chances are you'll need to make a few edits before you hit publish.
Write in sound effects
Automated transcription services won't add sound effects. You can go through your content to add things like "outro music" or "sound of people walking on the street" to make your transcript more engaging.
Use names of speakers + timestamps
Make sure it's clear who is speaking when. It's also helpful to add a timestamp next to each speaker (ex: Travis: 0:30).
Alban Brooke
Alban Brooke is the Head of Marketing at Buzzsprout and the co-host of Buzzcast. Have any questions about this guide? Reach out on Twitter.
FAQ
Can I transcribe my podcast for free?
There are several ways you can transcribe your podcast for free, but our favorite is the basic plan on Otter.ai. You can also use the Google Recorder app, YouTube transcription, or one of these free, web-based tools:
Do I need to transcribe my podcast?
We highly recommend transcribing your podcast audio to boost its accessibility, improve search engine optimization, draw in new listeners, and give your audience a way to easily scan your content.
Do podcast transcriptions show up in podcast apps?
Major directories like Apple Podcasts, Spotify, and Google Podcasts do not support podcast transcripts. You can scan this list to see which podcast players do support the feature.