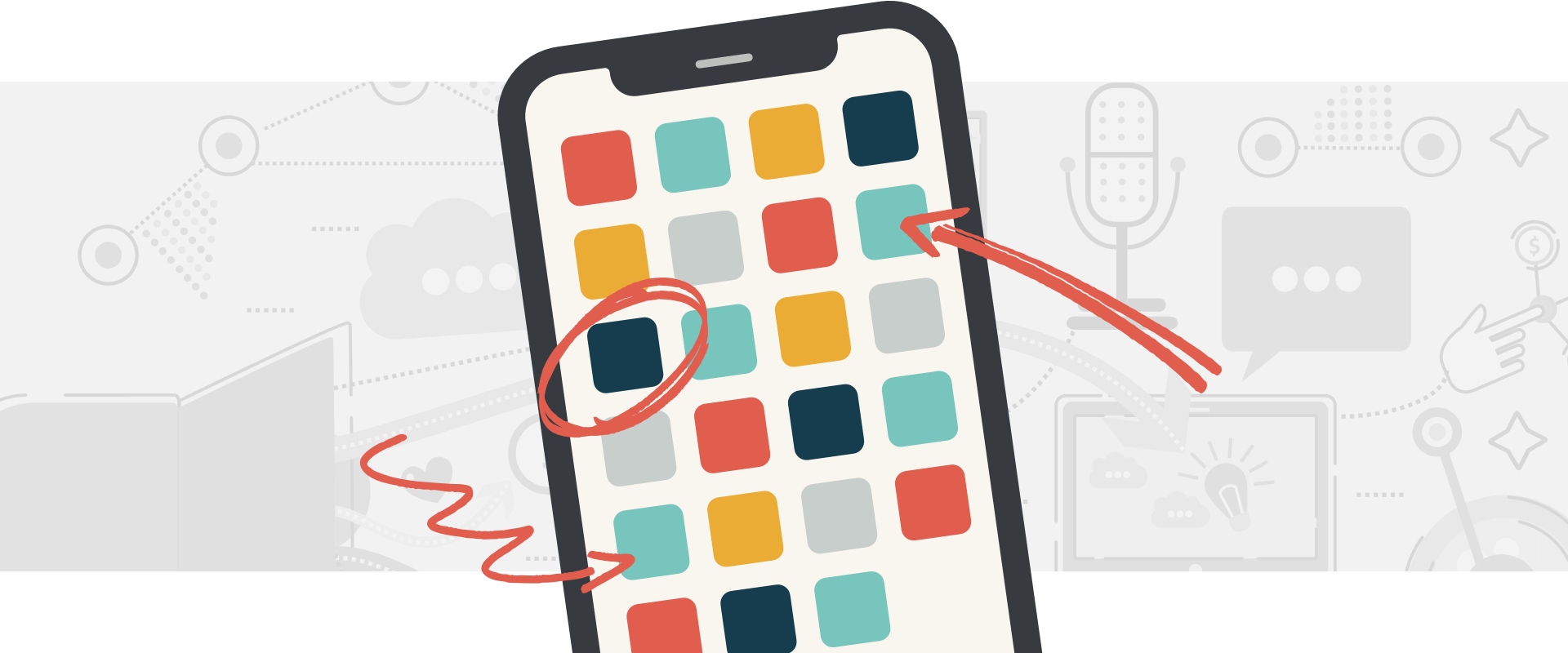 Best Podcast Apps 2019
The best podcast apps do much more than just let you listen to your favorite podcasts. They can automatically download new episodes, manage your playlists, and suggest new shows you might find interesting. In short, when you use a premier podcast app, your podcast listening experience gets way better!
Some apps are only available on Apple devices, some are just on Android devices, and others are available on both. With so many popular podcast apps to choose from, which ones get the podcaster's seal of approval? In this article, we'll give you our favorite apps on each platform and a couple that are available on both.
Let's start with the best apps for iOS.
iOS Podcast Apps
Our favorite: Overcast
A powerful yet simple podcast player, with Smart Speed (variable speed), Voice Boost (volume boost for voices), and Smart Playlists to help you listen to more podcasts in more places, try new shows, and completely control your experience.
Overcast is a modern, fully-featured audio podcasting experience with many useful features and intuitive playback controls in a simple interface. Overcast also lets you download new podcast episodes only when you are on Wifi to preserve your cellular data.
Overcast is ad-supported, meaning that while you're listening to your favorite show Overcast will show you an advertisement for a different podcast you may be interested in at the bottom of your screen. We like this arrangement because podcast discovery can be a challenge, so the ads serve as a sort of curation tool.
If you'd like to remove the ads, you can upgrade to Overcast Premium for $9.99/year. (App purchases are managed using your Apple ID).
Honorable mention: Castro
Castro is a beautiful, full-featured podcast player that makes it easy to track and manage lots of podcasts at the same time. Only listen to the episodes you want and easily skip the rest, queue up hours of podcasts at a time and enjoy a seamless listening experience with CarPlay compatibility.
Castro is free to download and use, but you can also upgrade to Castro Plus for $8.99/year or $2.99/quarter to unlock advanced features like Trim Silence, Enhance Voices, and Chapter Support.
Honorable mention: Apple Podcasts
If you're an iPhone user, chances are Apple Podcasts was the first app you ever used to find and listen to podcasts. It comes automatically installed on your phone and does a decent job of helping you find new things to listen to with it's "New & Noteworthy" and "Featured Sections" which are curated by real people.
You can also sync your podcast subscriptions over multiple devices (iPad, iPhone, Mac) using your Apple ID and iCloud and play podcast episodes directly from your Apple Watch.
If you're looking for podcasts in a particular category, you can also browse Apple's Top 200 charts to see which shows are currently popular and read listener reviews. For many people, Apple Podcasts does the job.
Podcasters Note: Once you submit your RSS feed to Apple Podcasts, your show will also be listed in Overcast, Pocket Casts, Castro, Castbox, and Podchaser.
Android Podcast Apps
Our favorite: Podcast Addict
Podcast Addict is the #1 Podcast Android app with more than 8 million downloads and over 1 billion episodes downloaded.
Podcast Addict does manage podcasts, but it also includes radio, audiobooks, live streams, YouTube, Twitch, and SoundCloud channels, so it's great as an "all-in-one" content app.
You can adjust your playback speed, manage multiple playlists, and skip silences. Podcast Addict also utilizes SD card storage, a big deal for Android users, so you never have to worry about running out of space as you download new episodes to your heart's content.
Honorable mention: Podcast Republic
Podcast Addict and Podcast Republic share a lot of the same features and have similar user experiences, so when it comes to differentiating the two, it comes down to your preference.
Podcast Republic will manage podcasts, radio, audio books, YouTube channels, and SoundCloud channels and includes all the significant podcasts.
One unique feature that's helpful if you listen to podcasts while driving in the car is Podcast Republic's "Gesture Operated Car Mode." You can control the playback experience sight simple gestures, so there's no need to look for the controls on the screen at all.
Universal Podcast Apps (iOS and Android)
Our favorite: Pocket Casts
Pocket Casts and Overcast are known to trade awards for "best podcast app" back and forth with each other, focusing on the listener experience over jamming the app with features you'll probably never use.
Pocket Casts' design makes it easy to listen to, manage, and find new podcasts and works with CarPlay, AirPlay, Chromecast, and Sonos. Being a multi-platform app, you can also sync your favorite podcasts and playlists across multiple devices, so if you have a Samsung Galaxy phone and an iPad you can seamlessly switch back and forth.
It features all of the things you'd expect in a premium podcast app (auto download, volume/speed control, and trim silence) and is available for a one-time purchase of $3.99 from your respective app store.
Honorable mention: Castbox
Castbox is an easy to use podcast player, offering a super clean layout and easy to navigate interface. With a variety of podcasts to choose from, you can stream or download your favorite podcasts anywhere, anytime.
Like Pocket Casts, Castbox will sync across all your Apple and Google devices and includes a sleep timer, so if you're someone who likes to fall asleep listening to your favorite show, it will pause the episode after a specific time.
Castbox is unique in that it features a social media element, allowing you to follow threads in a Twitter-like fashion and contribute to the conversation around your favorite shows.
Others Receiving Votes
While these apps didn't quite make the list of best podcast apps, they are serviceable options for managing your subscriptions and staying up-to-date with your favorite podcasts. Here are the other popular podcast apps for you to consider:
Downcast: Great for power users that need ever feature known to man.
iCatcher!: Supports video podcasts and replicates many of the features from Overcast and Pocket Casts
Google Play: Google's first podcast app, available in the U.S. and Canada
Google Podcasts: Comes standard on many Android devices and plays on Google Home
Podbean: Integrates with CarPlay and Amazon Alexa
Spotify: An all-in-one podcast and music platform with excellent music curation and their own podcasts
Stitcher: Clean home screen that manages all of your subscriptions and playlists
TuneIn: The default podcast app for Amazon Echo devices and works with Alexa