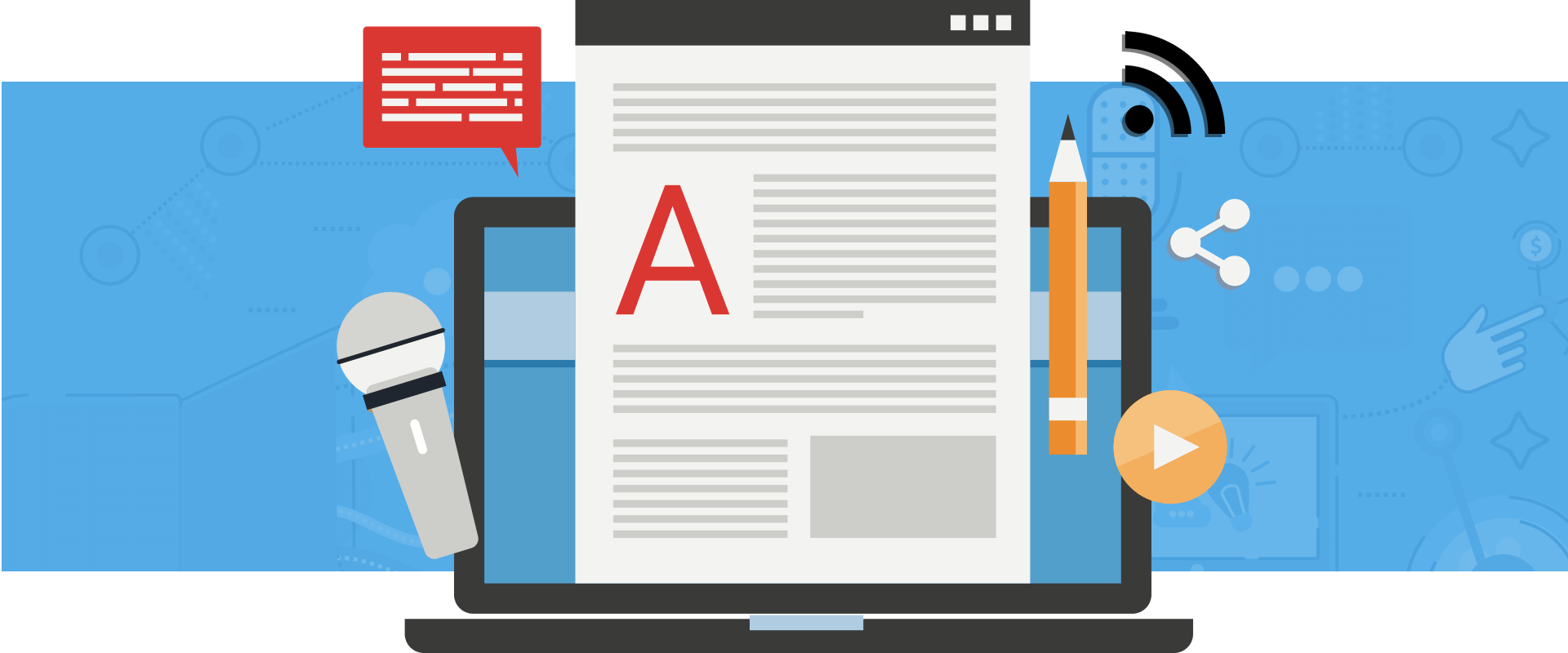 The 7 Best Podcasting Blogs - The Ultimate List
What if there was a way to learn the best tips and strategies from the industry's podcast experts? Well, if you read the right blogs, there is.

Podcasting blogs are an excellent way to find the answers you need from the people who know what they're talking about. That being said, not all podcasting blogs are created equal.

Here are the 5 blogs we think every podcaster should read.
Podcast Insights is a tremendous all-around blog that offers content for beginner and intermediate-level podcasters. It offers in-depth articles to help you start, grow, and monetize your podcast, as well as comparison articles to help you choose the best podcast hosting and best podcasting gear.

Recommended blog posts:
Start here:
We recommend checking out their "How To Start A Podcast" email course. It starts with choosing a podcast topic ends with submitting to Apple Podcasts. You can find it on the home page, just scroll down until you see it.
The Podcast Host is one of the largest podcasting blogs on the internet. You can find articles about marketing your show on social media, optimizing your podcast audio files, refining your show notes, and step by step guides to get you up and running in no time.
If you have a question related to podcasting, chances are they have the answer.
Recommended blog posts:
Start here:
They've put together an excellent, exhaustive guide on how to squeeze a lot of content out of every idea. Click here to read their Content Stacking Guide.
Discover Pods is the largest podcast-focused blog in the world, covering both podcasters and podcast fans with daily articles. Founded in 2017, the site has become the de facto home for podcast reviews, curated podcast lists, and an advocate for highlighting indie podcasts. For new podcasters, Discover Pods publishes articles reviewing podcast equipment, recording and editing best practices, and tips from expert podcasters. 
Recommended blog posts:
Start here:
If you're just beginning with a podcast, check out their always-updating guide on how to start a podcast. It's dense, but will provide new podcasters with step by step instructions to get started along with tips from podcasters so you can learn from their mistakes. 
Smart Passive Income is a blog run by Pat Flynn, one of the godfathers in the "how to podcast" space. He's helped hundreds of people build a business or brand on the back of podcasting and has some great free resources to help you on your podcasting journey.
Pat is also the creator of the popular Smart Podcast Player, a custom Wordpress plugin that embeds a high-quality, professional podcast player directly on your website.

Recommended blog posts:
Start here: 
If you're new to podcasting, Pat has an excellent intro to podcasting mini-course which you can get for free. It's three days of videos that walk you through what you need to do to get started.
P.S. If you're a podcaster AND a blogger, make sure to check out Pat's blogging articles as well.
We may be biased—okay, we're definitely biased—but we think the Buzzsprout blog is one of the better resources for podcasters. Whether you're looking to start, grow, or sustain your podcast, every article is written to give you actionable steps to become a better podcaster and create a better podcast.
Recommended blog posts:
Start here:
Need to make sure you have all your bases covered? Check out our Guide on How to Make a Podcast or subscribe to our podcast called "How to Start a Podcast" (Available in Apple Podcasts, Google Podcasts, and Buzzsprout).
The Audacity to Podcast is a blog/podcast combo run by one of the undisputed experts in the world of podcasting, Daniel J. Lewis (not to be confused with Oscar-winning actor).
Daniel covers the benefits of having your own podcast website, how to optimize your audio content and show notes for search engines, and how to squeeze the most juice out of every podcast episode
Recommend blog posts:
Start here:
If you're new to the world of podcasting, Daniel has put together a list of the episodes and resources he recommends if you're starting out or about to start. Click here to view Daniel's list.
Hot Pod provides analysis, insight, and commentary on the growing podcast industry. It's for anybody who wants to understand what's happening in the fast-changing world of podcasting.
You won't find podcasting guides on here, but instead find in-depth analysis of the moves in podcasting. If you're running a company in the podcasting space, or part of a podcasting network, you should absolutely be reading Hot Pod.