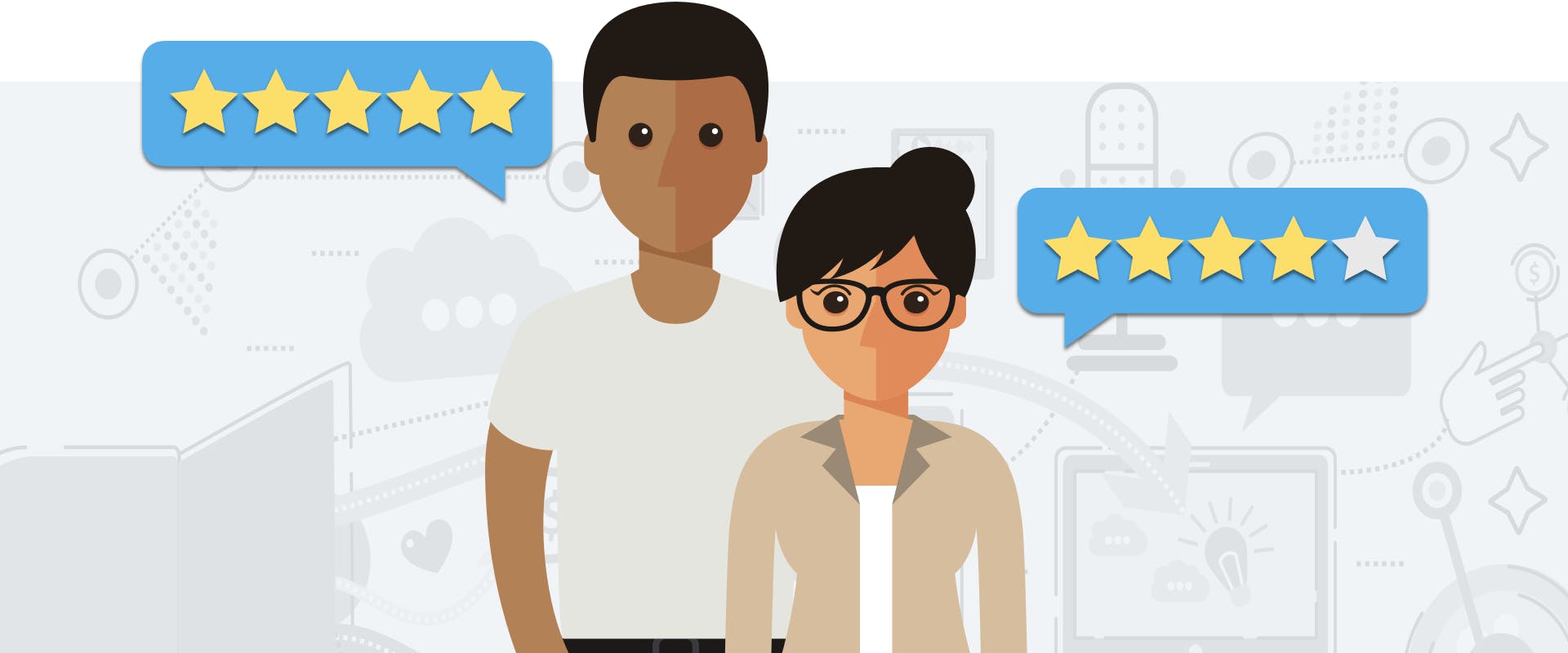 How to Get More Podcast Reviews
Every podcaster loves reading podcast reviews from their die-hard, podcast listeners, but did you know that getting reviews can actually persuade someone to listen to your podcast?
It's the same reason you go to the restaurant your friend recommends over the one that has the more excellent sign out front. It's the same reason you scroll down and read the Amazon customer reviews before purchasing a product. It's the same reason you hesitate to make a big purchase without doing a ton of research first.
We like knowing that someone else has tried it first.
When another person has "test driven" the product, service, or podcast you're considering it removes the risk. You're not as worried that you're about to waste 20 minutes of your life listening to a lousy podcast because other people have vouched for it.
So how do you get more podcast reviews? Here are three ways to encourage more of your listeners to leave reviews for your podcast.
Note: The only major directories that currently support listener reviews are Apple Podcasts (formerly iTunes) and Stitcher, though the Apple Podcast app is a lot more popular. So when you apply these strategies make sure you communicate that you are asking for reviews in Apple Podcasts.
1. Call to Action at the End of the Episode
The most straightforward, non-salesy way of getting more reviews is simply to ask for them. Many times you'll have loyal listeners who love your podcast but have never thought about leaving a review before. Just by asking for listeners to leave reviews at the end of a podcast episode will give you a nice bump.
You'll want to tell them how much it helps your show because it'll help them feel like they matter and that you're counting on them. Since your fans love listening to you and have built a personal connection with you, they'll be naturally inclined to help you out.
Your call to action can be as simple as this: 
"If you love listening to this podcast, please leave a review in Apple Podcasts."
It's better if you say it in your own style, but you don't have to spend more than a few seconds directing people to your podcast's review section.
In addition to asking for reviews, make sure your listeners know what they need to do to leave you a review. Many of them have never reviewed a podcast before, so even though it seems straightforward to you, it might not be as clear to your listeners. Spend some time one episode walking them through the steps to leave a review in Apple Podcasts and remove any confusion or uncertainty they might have.
2. Highlight High-Quality Reviews
How would you feel if your favorite podcast read your review live on the air and gave you a special shoutout? Amazing, right?
That is the same feeling you can offer to your listeners by leaving their reviews on your podcast. When you spend sixty seconds reading one of your five-star reviews and personally thank the person that left that review a couple things will happen.
First, your listeners will feel like they are a part of a community. Podcasting is typically a passive activity - you upload, and they listen - but when you acknowledge individual listeners, it reminds your audience that they are a part of a larger group. Not only will this endear listeners to you even more, but it also communicates to them that you are not "inaccessible." You're not too high and mighty to interact with your fans, and that humility goes a long way.
Here's how you can incorporate this strategy into your podcast:
"Before we jump into the main content for today I want to take a moment and give a special shoutout to SuperFan87. Here's what they said in their review on Apple Podcasts, (read their review). Thank you so much SuperFan87 for those kind words, it means a lot. If you'd like to receive a shoutout on a future episode of the podcast, leave a review for the show in Apple Podcasts."
That's it. Short, sweet, and to the point.
Pro Tip: Take screenshots of your favorite reviews and post them on social media.
3. Run a Contest
This strategy works best if you have a sizable audience but the number of reviews for your podcast doesn't accurately reflect it yet. If that describes your podcast, consider running a review contest.
Here's how it works. 
First, you decide what you're going to give away as a prize, something you know your listeners would be excited to win. It could be a one-on-one coaching session with you, some fun podcast swag like a t-shirt or coffee mug, or free access to an online course you've put together. Whatever you choose, make sure your listeners will be willing to leave a review for the chance to get it.
Second, announce that you're running a podcast review contest. Let everyone know how long they have to leave a review in Apple Podcasts and what you're giving away to one lucky listener. We recommend running the contest for one week since not all of your fans listen to your episodes the day they come and you want them to get involved as well. The other reason you want to put a time limit on the contest is that it creates a sense of urgency. If there's no end, then your listeners won't feel the need to leave a review "right this minute."
Third, select the contest winner and announce it on your podcast. Thank everyone who participated and tell them how much it helps the show when people leave reviews. Have the winner get in touch with you via email so you can give them the prize.
The more positive reviews your podcast has, the more likely potential listeners are to listen to an episode of your podcast. You put a lot of work into making each new episode great so use one (or all) of these strategies so that more of the people that find your podcast stick around and become loyal listeners.