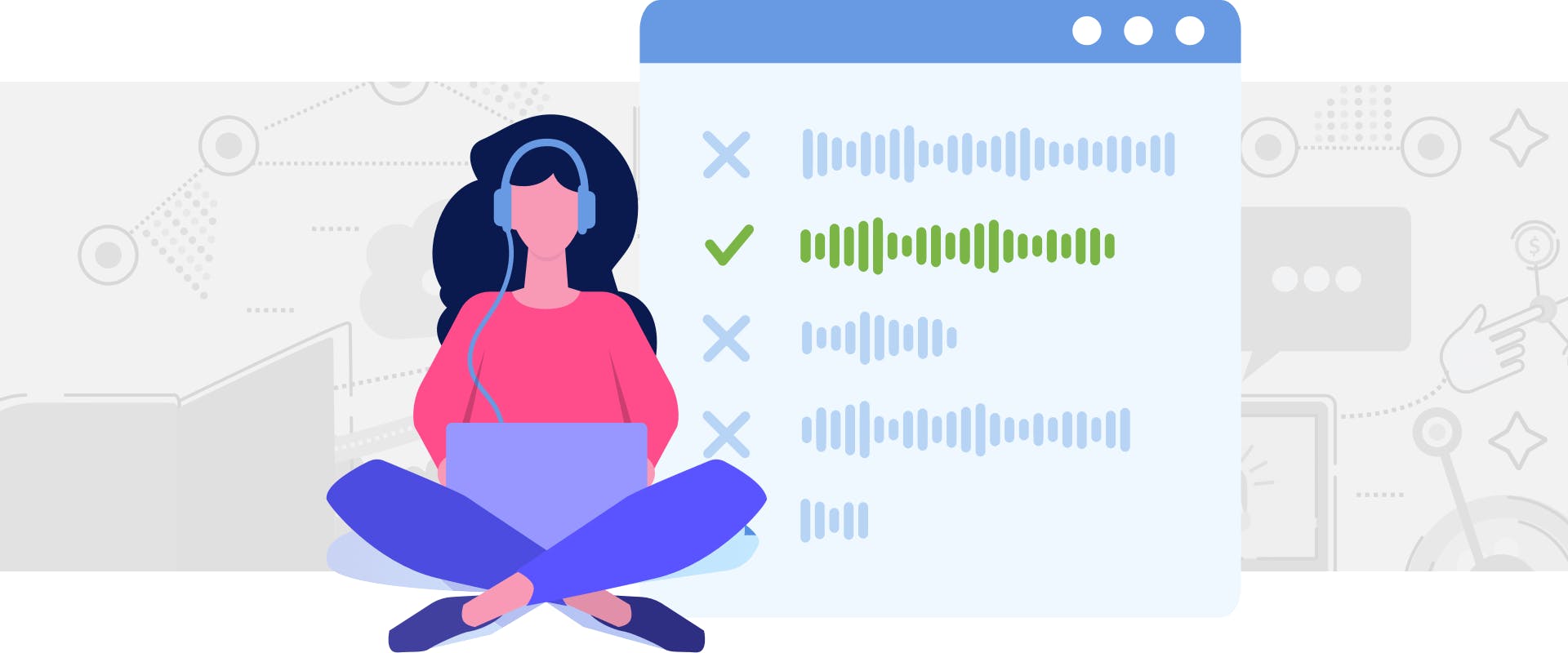 18 Unique Podcast Segment Ideas (With Examples)
There are endless ways to structure a podcast episode, and how you put together your episodes largely depends on your preferences and those of your audience.
You can utilize formal intros, outros, segments, and interviews, or opt for an informal approach with little to no structure at all. 
The critical thing is to get the attention of your listeners and keep it, and while that's not always an easy task, segments can help. 
If you decide to use segments in your own podcast, you should know how they function so you can leverage them and boost your show's success and attract new listeners.
What are podcast segments?
A segment is a portion of your show that serves to break up your content in a way that keeps you from losing the attention of listeners and experiencing a drop in ratings as a result.
Segments are a temporary change of gears from your podcast topic. They can be fun and light-hearted or informative and educational. They can occur at the same time every episode, or you can switch it up and only feature segments on specific episodes. 
The point is to keep your audience engaged, but as with anything in the podcasting world, how you do it is up to you.
Why are segments important to podcasting?
Podcasts are simple: an audio file is recorded, edited, then shared to Spotify, Apple (formerly iTunes), Google, and other directories for listener access. 
They differ from radio shows only slightly and are, at their core, a relatively vintage concept.
And people love them.
Podcast segments are in keeping with this simplicity and nostalgia. They were a part of the very first radio shows and are still needed today to keep people's attention, break up long episodes, and engage listeners. 
Because, as convenient as podcasts are to listen to, they are often 30 minutes to 1 full hour long. It may be the 21st century, but the tendency to tune-out mid-show is going strong, and a well-orchestrated segment (or two!) can make a world of difference.
Segments can:
Add endless variety to episodes
Create structure and a familiar rhythm to episodes
Increase creativity 
Give hosts a chance to plug sponsors
Podcast segment best practices
Podcasts generally follow this format:
1. Introduction
2. Main content 
3. Conclusion 
Your main content is the bulk of your podcast. It's typically the longest portion of each episode, and where it's easiest to lose listeners. 
Create consistency: Something is reassuring about listening to a podcast with a solid structure. We think most podcast listeners enjoy shows with some degree of structure and rhythm-the amount is, of course, up to you. 
Leverage your segments for all they're worth: Try to think out of the box. A segment can do far more for your show than just provide a break in content. 
Get listeners involved: Ask your audience questions and encourage communication through polls, email, social media, etc.
Stay authentic & consistent with the tone of the show: Segments are a chance to stretch your hosting muscles a bit. We think it's smart for hosts to stay on the outer corners of their comfort zone: push yourself, but not to the point of being, or feeling, inauthentic. Try not to veer too far from what you can do well.
18 Unique podcast segment ideas
Episodes can feature much more than just a podcast interview and a few ads. Below are some ideas to help make your podcast dynamic and engaging the whole way through.
1. Noteworthy mentions
Shine a spotlight on stand-out companies, solopreneurs, influencers, artists, technology or travel spots and bring them to the attention of your audience. 
Example: Pop Culture Happy Hour "What's Making Us Happy"
2. Podcast Plug
Support like-minded podcasters by giving them a free plug on your show. You can include a brief interview with the host, or simply tell your audience why the podcast you are plugging is worth their time.
Example: How I Built This 
3. Listener Voicemails
Feature short interviews or voicemails left by listeners. Voicemails can include a short story related to a past show, or testimonial illustrating something valuable they received from listening to your podcast.
Example: Two Guys, One Lapdog
Example: Marathon Training Academy
4. Make it a game
Game segments work exceptionally well with a live show (and a co-host), but can easily be implemented in pre-recorded shows as well. Improv segments, trivia, and audience participation games can be a fun way to involve your listeners in your episodes.
Example: SaaS Breakthrough "Lighting Round Questions"
5. Q&A
Answer a listener question in a segment specifically designed to engage your audience and create connections. Answering an audience member's question is an excellent way of encouraging audience engagement and generating new podcast ideas straight from your listeners.
Example: Help Me Be Me
Example: Gilmore Guys 
6. Interview affiliates and sponsors
Having affiliates and sponsors can be tricky territory. Your audience needs to know you believe in the product and aren't just after ad revenue. Interviewing affiliates creates a personal touch that adds credibility to the products and services that sponsor your show. Make sure to keep up with your episode show notes to include important links mentioned in this segment.
Example: The Birth Hour
7. Helpful tips
Include a free tip or useful tidbit within each episode. Free advice and generous content is an audience builder and a great way to foster trust among your listeners. 
Example: Buzzcast
8. Favorite products related to your show's topic
Suggest helpful apps, magazines, subscriptions, or a physical product.  
Example: The Practical Christian Podcast
9. Featured quote or excerpt
A short excerpt from an article, book, or other pieces of content that is inspirational, funny, or has explanatory power. As long as it offers something of value to your listeners, it's fair game!
Example: Pop Culture Happy Hour
10. Flashbacks
Replay a short segment from a previous show. Flashbacks allow you to re-emphasize points you made in the past or update & revise outdated information to keep your audience abreast of the most up-to-date information available.
Example: How I Built This
Example: The School of Greatness
11. Patreon Sneak Peak
Show your listeners the bonus content you offer Patreon subscribers by giving them a free sneak peak! You can dedicate a whole episode to Patreon content or include a segment within an episode.
Example: The Big Ones
12. Ask the audience
Turn a Q&A on its head and ask your audience the questions! Poll your listeners to create an interactive listening experience. The opportunities here are endless, so get creative!
Example: How I Built This
13. Latest news
Be an expert in your field, and never miss an opportunity to share breaking industry news and current events that could be of benefit to your listeners.
Example: NPR Politics Podcast  "Can't Let it Go "
14. Share listener comments, tweets or reviews
Engage your audience on social media and keep track of any noteworthy comments, reviews or tweets and share them in a dedicated segment. Encourage listeners to mention your show on social media by creating a unique hashtag to include in posts. Hashtags are an excellent way to increase audience participation and engagement.
Example: Brand Party Podcast (3:09)
Example: Gilmore Guys
15. Little-known facts
Take a deep dive into your show's subject matter by bringing hidden truths to the surface in a segment dedicated to facts, trivia, and bite-sized educational tidbits. Segments like these let you dive into the specific niches of your show's topic and deliver facts your listeners are unlikely to get anywhere else. 
Example: The Eric Metaxas Show
16. Issue a challenge
End your show with a challenge to your listeners. Challenges can be personal, financial, or even have a prize or incentive attached to them related to your show.
Example: Help Me Be Me
17. Product reviews
No matter the subject of your podcast, there are sure to be related products and services, and non-biased reviews from a third party are always appreciated!
Example: The Practical Christian Podcast 
18. Book/music/pop culture reviews
Keep on top of old and new reads related to your show's subject. Suggest books that stand out for any noteworthy reason and give a review of its content.
Example: Pop Culture Happy Hour "What's Making Us Happy"
Final thoughts
Keeping your audience engaged for the entirety of your show is a critical part of podcasting and a considerable challenge for hosts. But few methods effectively combat listener distraction better than quality segments.
Segmenting your episodes provides structure, rhythm, and a familiar cadence to your listeners, but don't let the word "structure" scare you creative types away. 
Free-styling content without any format can seem more appealing at first but often leads to creative burnout and content paralysis. 
While there's no need to stick to a tight outline, organizing your show around a loose format can drastically aid your efforts in keeping your listeners listening!