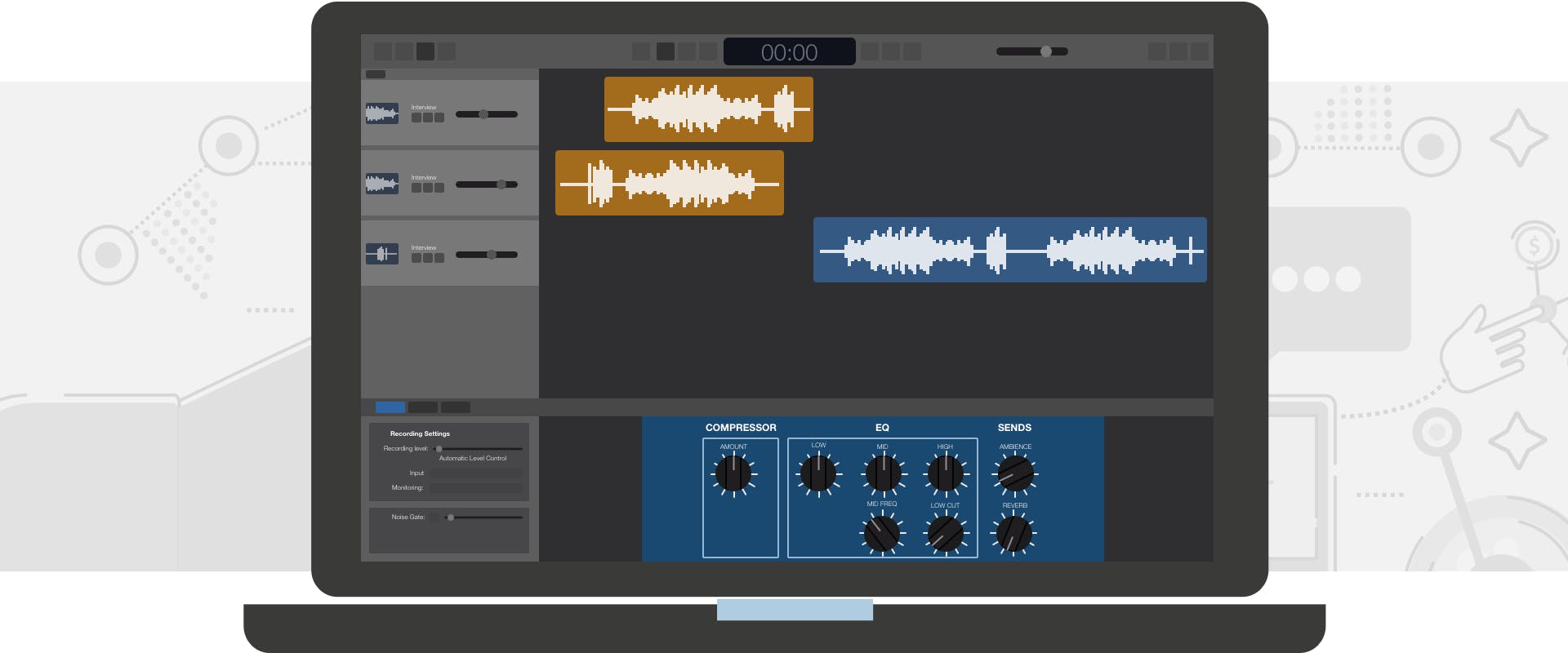 How to Structure Your Podcast in 5 Steps
The structure of podcast episodes is just as important as the content itself. The individual elements of your episodes have to be in the right order to make an impact on your listeners.
Having a clear structure to your episodes can:
hook listeners and keep them engaged
make editing easier in post-production
make interviews run more smoothly
This guide walks through five ways to structure the perfect podcast episode so each one gets and keeps your listener's attention!
JUMP TO A SECTION:
Step #1. Choose your podcast segments
Every podcast should have a beginning, middle, and end. But you might add more segments depending on your content. There's a lot of room for creativity.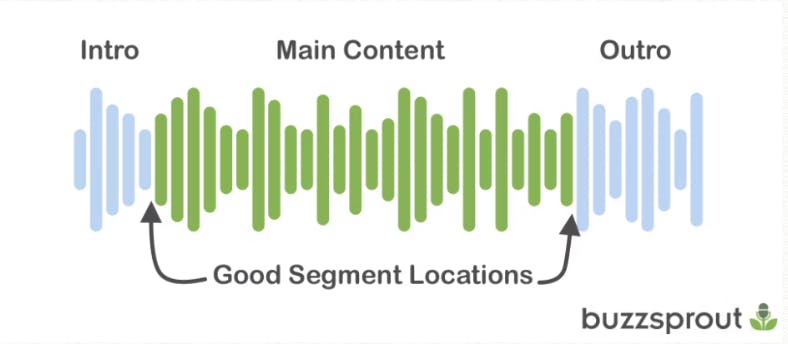 Every podcast should have these essential elements:
Introduction. A good intro can hook your listeners and give them an idea of what to expect. Let them know what you'll talk about, and how it could help them solve a problem or enhance an aspect of their life.
Main content. This is the body of your podcast and where most of the action takes place. This is where you deliver the bulk of your message.
Conclusion. A good conclusion helps summarize the episode for listeners. You can include outro music and a quick synopsis of the episode with the key takeaways. You can also set up the next episode's topic to keep listeners coming back.
This is just the very basic structure of an episode. You can get as creative as you want from here based on your own podcast format.
POPULAR PODCAST FORMATS

Podcast with multiple cohosts:
Podcast intro
Introduce each cohost
Discussion
Audience Q&A
Summary and CTA
Outro

Solo podcast:
Intro
Topic #1
Segue or sound effect
Topic #2
Segue
Highlight listener emails or social media comments
Summary and CTA
Outro

Interview show:
Intro
Topic #1
Segue or sound effect
Topic #2
Segue
Highlight listener emails or social media comments
Summary and CTA
Outro
Step #2. Apply the elements of storytelling
Storytelling is what podcasting is all about, and what makes it such an effective medium. Incorporating the elements of storytelling is key to engaging content and helps keep your listeners engaged throughout the whole episode.
The three basics of storytelling are:
The setup. The purpose of the setup is to build interest and suspense and make your audience want to hear the rest of the episode.
The delivery. The delivery is the core part of your story where you teach, entertain, or inspire your audience.
The application. This is where you can apply the content to your listeners in a way that helps them or solves a problem.
You can apply these elements to podcasts of all different formats, whether fiction or nonfiction.
Step #3. Determine episode length
There's no set rule for how long a podcast should be. An episode's length depends on your preference, genre, and how much time you have to commit to your show.
Here's a breakdown of the percentage of podcast episodes with various durations according to Buzzsprout's Global Stats:
less than 10 minutes: 15%
10-20 minutes: 14%
20-40 minutes: 31%
40-60 minutes: 22%
over 60 minutes: 17%
For new podcasts, it's better to start with shorter episodes and increase the duration of your show as you build trust with your audience.
Once listeners know you have valuable content, they'll be willing to listen to longer episodes.
No matter how often you release episodes, we suggest keeping your episode length to no longer than is necessary to get your message across.
PRO TIP: A podcast can take six to eight times the length of an episode to create. To find out how long your episodes should be take the number of hours you can commit to each week and divide it by six.
Step #4 Write an outline or script
A podcast script can be anything from a list of bullet points that help you stay on track to a formal, word-for-word script.
A script or outline can help you decide how to break up segments, how long to spend on each one, and where to include segues and sponsor ads.
If you host a interview podcast, jotting down the questions beforehand can help make transitions smooth and put your guest at ease.
This step is a good idea whether you record remote interviews via Skype or Zoom, or conduct real-life interviews. You can also send your guest the outline ahead of time to ensure you're both on the same page upfront.
NON-FICTION SCRIPT TEMPLATE

[Music intro]
[Speaking introduction]

Section I (Duration: ______)
Notes:

Section II (Duration: ______)
Notes:

Section III (Duration: ______)
Notes:

Recap
[Call to action]
[Outro or teaser for next episode]
FICTION SCRIPT TEMPLATE

Act I Duration: (____)
Establish setting and introduce main characters
Inciting incident: The problem, or question that the character-or you-is trying to solve or answer.
Turning point: The character turns in a new direction in response to the inciting incident).

Act II Duration: (____)
The struggle: The attempt to solve the problem or question at hand. This is the "rising action" of the plot where you can develop your narrative arc.

[Sponsor message]

Act III Duration: (____)
Climax: Theme reaches its most intense point of conflict
The resolution: Episode's conflict is resolved and story ends

Closing remarks and or teaser for next episode

[Call to action]
[Sponsor message]
Step #5. Include one call-to-action
A call-to-action is when you ask your listener to do one thing at the end of your episode. This step is an important part of your episode structure because it gives encourages podcast growth and can attract new listeners.
Try to limit yourself to one CTA, so you don't overwhelm your audience.
You could ask listeners to:
download a free resource
sign up for an e-course
fill out a survey from a link in your show notes
leave a review on Apple Podcasts
Try to make directions simple and include a compelling incentive. For example, you could run a contest and give a prize to the first ten people to leave a review.
Final thoughts
Podcasts typically benefit from a little structure, and a few parameters can even help creativity thrive.
With a little planning, you can make every episode an engaging, shareable, audience-growing piece of content.
Alban Brooke
Alban Brooke is the Head of Marketing at Buzzsprout and the co-host of Buzzcast. Have any questions about this guide? Reach out on Twitter.
FAQ
What is the basic structure of a podcast?
Basic podcast structure includes an introduction, the main content, and a conclusion. You can add more segments within this structure depending on the podcast show format.
How long should a podcast episode be?
There is no rule for how long to make a podcast episode. A good goal is to make episodes as long as they need to be to communicate your message effectively, but no longer.