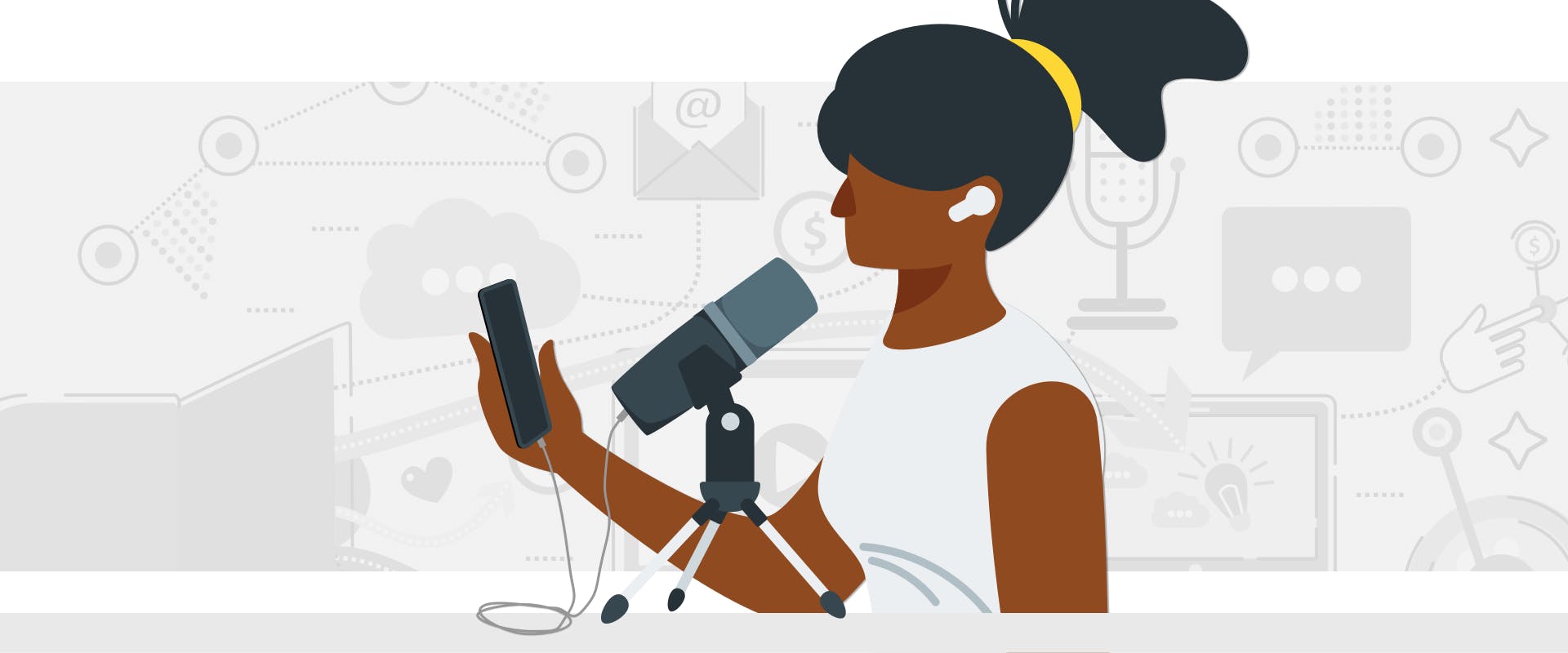 How to Record a Phone Call for a Podcast: 4 Easy Steps [2022]
Recording phone calls for your podcast is an essential skill in your toolkit, but there are a few things to know to get a quality recording.
Knowing how to record podcast phone calls can:
make the interview easier on your guest,
open more podcast interview opportunities, and
simplify the process of booking remote podcast guests.
Here are four steps to record phone calls that sound professional and keep it simple for both parties.
Step #1. Choose your recording method
Most people you interview will only have a smartphone, so it's best to keep things simple. Here are four ways to record a phone call interview.
VoIP tools
VoIP stands for Voice over Internet Protocol and is the technology that lets you record a call from a computer or device.
All these VoIP apps are compatible with Mac, PC, iPhone, and Android.
Zoom
Best software-to-software option
Cost: Free for two guests up to 24 hours
Difficulty: Easy
Quality: Average
The great thing about Zoom is that most people know exactly how to use it, and it's already on their smartphone or computer.
Just provide your guest a phone number they can call in on, or share the invite link with them so they can join.
Then, press the record button to record the session.
Zoom has the best audio quality of all VoIP tools, the most recording features, and records separate tracks for each guest in MP4 or M4A format.
Google Voice
Best smartphone to smartphone option
Cost: Free
Difficulty: Easy
Quality: Average
Google Voice has an intuitive layout, is free to use, and records each guest's track separately, just like Zoom.
You can use Google Voice on a smartphone or the web, but you have to have a US-based mobile or landline phone to use the service.
Follow the prompts to claim a phone number and link it to your actual number.
Send your guest your Google Voice number and press 4 to start recording.
Once the recording is over, download the audio file. Google Voice does not record separate tracks for each guest.
Skype
Best smartphone to software recording option
Cost: Free
Difficulty: Average
Quality: Low
Skype is easy to use, supports call recording, and is the most popular VoIP option.
Have your guest download the Skype app on their phone and join the interview.
You can record the call via the Skype recorder, but we think you get better results recoding a Skype call using a voice recording app like:
Set up a mix-minus
Best option for guests without an internet connection
Cost: Free if you have a mixer or digital recorder
Difficulty: Above average
Quality: High
A mix-minus lets you record you and your guest simultaneously by feeding the call through your mixer, digital recorder, or audio interface.
Recording phone interviews this way results in ultra-compressed audio, so we recommend this only if your guest doesn't have an internet connection.
To get started, plug the 1/8" end of your cable to your smartphone and the 1/4" side into your audio interface, mixer, or digital recorder.
You'll probably need an adapter as most newer smartphones don't have 1/8" jacks. of youre phone doesnt have a headphone jack you may need an headphone jack adapter for your phone.
Plug your mic and headphones into a separate input and make your call.
If you use a portable recorder like the Podtrak P4, just press the record button. Otherwise, record on a tool like Audacity.
Record a double-ender
Best free option for studio quality audio.
Cost: Free
Difficulty: Above average
Quality: High
A double ender is where each guest records their own audio locally on their own device. Afterward, they can send the finished file to the podcaster to edit.
You can record yourself as you would normally, but have your guest record themselves on their own device.
This method requires that your guest has:
Line up the two recordings in your editing software and you'll get a perfectly synced finished product.
Remote recording software
Best option for high-quality audio.
Cost: Starts at $10 per month
Difficulty: Above average
Quality: High
Recording tools like SquadCast have specialized audio that makes it sound like you're in the same room as your guest.
The best part is your guest doesn't need to download anything or have their own account.
Just send callers a link to the recording session. You can accept calls from Android and iOS devices, and video is always optional.
It also progressively uploads your audio, records separate tracks for each guest, and exports finished audio recordings in WAV and MP3 format.
Step #2. Optimize your recording environment
In most cases, you only get one shot at a phone call interview, so it's important to optimize your chances of getting it right the first time.
Follow best recording practices like you would normally, and also remember to:
check your wifi and cell signal,
make make sure your equipment is correctly set up,
fully charge your smartphone or recording device.
Step #3. Communicate with your guest
Reach out to your guest before the interview to ensure they have the following:
A quiet space.
Help your guest find a quiet space with good acoustics. They can get in a walk-in closet or any small room with lots of furniture to absorb and diffuse sound.
Earbuds or headphones
Even a pair of Apple Earbuds or something similar is better than none at all.
The directional microphone in these headphones is significantly better than the one on their phone and will help cut down on unwanted background noise.
A solid internet connection or cell phone signal
A poor internet connection or cell signal can quickly ruin a recording. Make sure your guest has a strong connection and that you can hear them clearly before you begin.
Also, suggest that they stay in the same location for the duration of the call.
Step #4. Import files to editing software
When you're done with your podcast recording, it's time to get your finished MP3 or M4A audio files into podcast editing software for post-production.
Open your software and select import to find your files and import them into a platform like Audacity or GarageBand.
From here, you can piece together your phone call into a full episode!
Final thoughts
The best approach to recording a phone call is to keep it simple.
You can record a phone call with VoIP tools, set up a mix-minus, or use remote recording software.
Whichever method you use, always communicate with your guest beforehand and double-check your own setup for optimal audio quality.
Alban Brooke
Alban Brooke is the Head of Marketing at Buzzsprout and the co-host of Buzzcast. Have any questions about this guide? Reach out on Twitter.
FAQ
How do I record a phone call on a podcast?
You can record phone calls on your podcast using VoIP tools like Zoom, Skype, or Google Voice. You can also set up a mix-minus, record a double-ender, or use remote recording software like SquadCast.
Can you use your phone to record a podcast?
You can record a podcast on your smartphone, but you'll need some additional gear to capture the best audio. The sound quality won't be as good as using a computer, field recorder, or podcast software.
What equipment do I need to record a phone call?
For most situations, all you need to record a phone call is a podcast mic, a pair of headphones or earbuds, and a computer or smartphone. Other recording methods require software like SquadCast, or a mixer like the RODEcaster Pro.