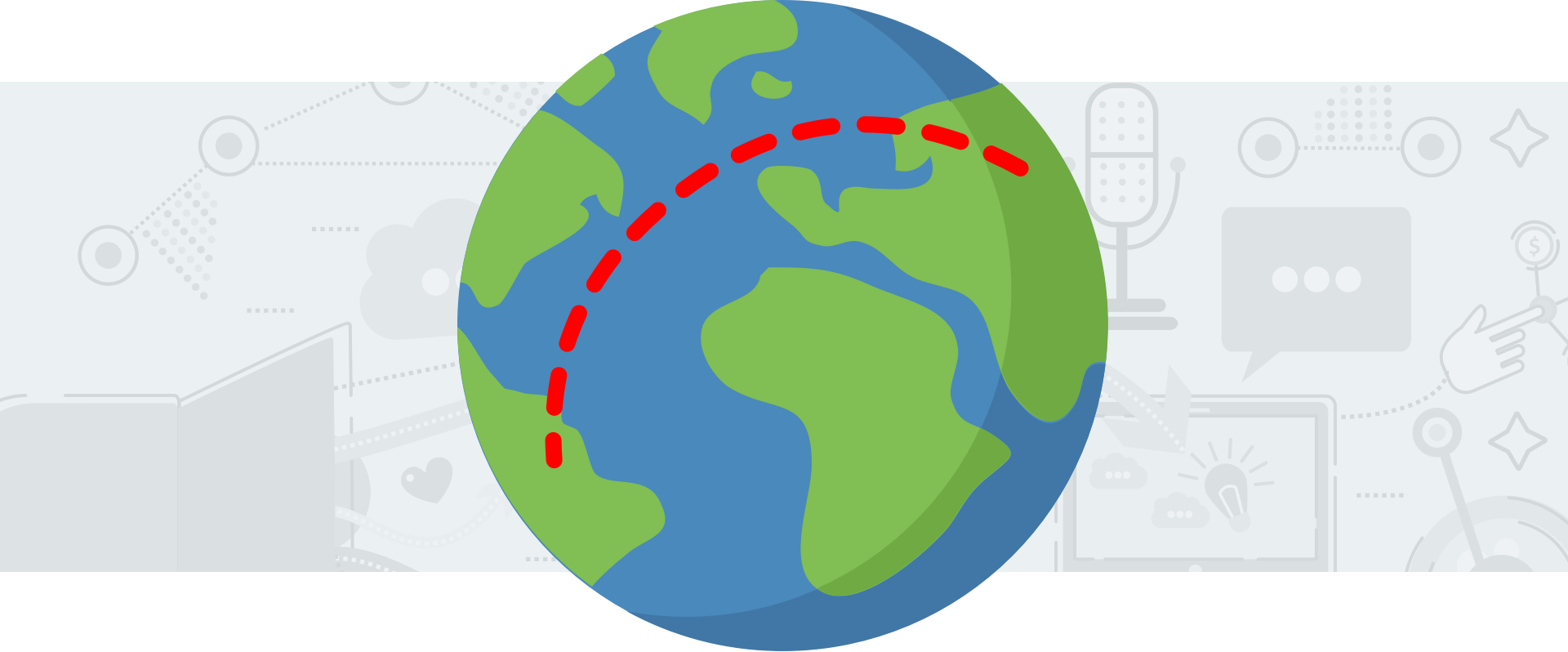 How to Record Long-distance Podcast Interviews
When my-cost and I started our podcast, we ran into that oh-so-common podcaster problem: how do you record your podcast when your co-host is somewhere else?
My co-host lives in St. Petersburg, Russia while I live in Brooklyn, New York. Despite the time difference—and the Atlantic Ocean—we wanted to be able to record easily and get audio that was crisp and consistent in quality.
In this post, I'll share all the tools we evaluated and how we ultimately solved this issue. Our particular setup doesn't work for everybody, but we hope that with this post you can pick the tools and approach that will work best for you.
What we'll cover
1. How to record remote podcast without any special tools
2. Reviews of the software solutions: Zencastr, Ringr, Cast, and Skype
3. How to make the right decision for your podcast
Record remote podcast hosts or guests without any special tools
In a nutshell, the manual approach is simply to use a VoIP service (think Skype or Google Hangouts) and have each person just record their own their voice on their computer. You can do this with GarageBand, GarageBand, Audacity, or Reaper. At the end of your recording session, have everybody send the files to you to edit and sync into a single audio file.
The best approach we've found with this is to have me count down from 10 two times with my co-host joining in for the second round. This makes it easier to sync the tracks up, simply by aligning where we count together.
This approach, however, does require: (1) that your co-host or guest, is comfortable with recording software and that (2) your internet connections are strong enought to not cause too much lag.
The manual approach is a good option for someone on a budget who trusts their co-host to record at the right levels and not lose files in a cyber abyss.
Long-distance podcast recording software
There are currently three recording apps that solve this problem: Ringr, Zencastr, and Cast. I tried each of these, and while their core products tend to be similar, they each have slightly different features and prices.
I've also included the most economical route which is just to use Skype.
1. Zencastr Review
Platform: Desktop
Zencastr bills itself as high fidelity podcasting. We use Zencastr and it's winning characteristic is that its workflow is intuitive and straightforward for anyone with minimal computer knowledge.
The Zencastr Workflow
You as the host create a new episode
Send link of new episode to everybody who is on that episode
Add audio clips to your soundboard - if you have things to play during the episode that you want other people to be able to hear in high quality
Hit Record - Zencastr records both an MP3 and a WAV file to each user's computer of just their voice
Hit Record again to end recording - Zencastr uploads both the MP3 and WAV files of each person to your linked dropbox account
Getting your audio
Zencaster Benefits
Intuitive and very easy to use for guests who may not be familiar with your workflow
Ability to quickly add audio clips to play during episode
Responsive and personable customer service
Zencastr has a built in VoIP, but you can also use Skype or Hangouts if you prefer
Zencaster Downsides
Requires you to have a Dropbox account as Zencastr doesn't store any of your audio in their database
Setting recording levels can be hard as the UI does not display your real-time recording levels
The user experience around pausing and resuming a recording is a bit cumbersome
Zencaster Price
Hobby - Free (Up to 2 guests, record 8hrs per month, record in high-quality MP3, pay-per-use post-production)
Professional - $20/month (Unlimited guests & recordings, live editing soundboard, record in high-quality MP3 & 16-bit 44.1k WAV, 10hrs post-production a month)
2. Ringr Review
Platform: Desktop & Phone
Ringr is similar to Zencastr in that the core product performs the same function, but it does have some extra bells and whistles when it comes to scheduling and useable devices.
Ringr Workflow
You, as the host, add a conversation and invite a guest. You schedule the conversation, and then Ringr will send an email to your guest with a link and scheduling information. You can do all of this on mobile or desktop.
Once your guest joins the conversation and you select "Start Recording."
You can end and resume the recording at will
After you're done recording the files will be uploaded to Ringr's database
Getting your audio - you can download your files in either MP3, FLAC, or OGG. Both MP3 and OGG are lossy, which means you lose some of the data contained in the recorded file. FLAC is lossless (that's good), but compressed, unlike WAV which is lossless and uncompressed and therefore results in much larger files. Like Zencastr, you can either download individual files or a synced-for-you file.
Ringr Benefits
Works on either phone or desktop
Allows you to schedule calls in advance in the app
User experience is intuitive
Can stream recording in app before downloading
Ringr Downsides
Similarly to Zencastr, setting recording levels can be hard as the UI does not clearly display your real-time recording levels
Only supports 2-person calls (this is supposed to change shortly)
Ringr Price
Basic - $7.99/month (Unlimited calls, mono MP3 download, unlimited storage)
Premium - $18.99/month (Unlimited calls, stereo and mono MP3, FLAC, and OGG downloads at studio quality, unlimited storage)
3. Cast Review
Platform: Desktop
Cast intends to be the podcast production one-stop shop. Not only can you record remote guests, but you can also edit, mix, host, and view stats. To create equivalency with the other web apps, I will attempt to focus most on the recording portion of Cast.
Cast Workflow
Go to the "Studio" and name a session
Invite up to 3 guests by sending them a link
Start Recording
End Recording
Go to the editor, where you can cut slices from your tracks and add music
Mix your audio - this mixes your separate tracks down into a single MP3 file
Go to Publish and configure your RSS feed
Publish your episode to the Cast directory and your RSS feed
View analytics like number of downloads, country of download, and apps used to listen to your podcast
Cast Benefits
Don't need to manage multiple and separate accounts and software for recording, editing, hosting, and analytics
Great looking UI
Intuitive user experience
Cast Downsides
Because Cast is an all-in-one podcast production hub, it restricts your ability to control your workflow. However, you can download the recorded file at any time if you prefer to use your own editing and hosting software.
There's no stopping and starting recording, once you've hit Stop - Recording, you have to move onto the editing stage
Only provides MP3 file format
Cast Price
Hobby - $10/month (10hrs of recording time per month, editing & mixing, unlimited podcast hosting, one RSS Feed)
Pro - $30/month (100hrs of recording time per month, editing & mixing, unlimited podcast hosting, unlimited RSS Feeds)
Record Podcast using Skype
There's an abundance of call recorders. Keep in mind, though, that these do not record each person's voice to their own computer. This means, whatever you hear coming through Skype is going to be what's recorded.
This leads to lower quality recordings for your guests or co-hosts. You can see a pretty stark demonstration of this on Ringr's website, scroll down to the section titled Listen To The Difference. That being said, if you and your co-host or guests have a strong internet connection, you can get a reasonably good recording. If you're using Skype, you can check out their list software to record Skype conversations.
Deciding for your podcast
Now that I've provided some options, what route is best for you? Ultimately, this may just be a matter of trying out each of the options—Zencastr, Ringr, and Cast all have free trials—and deciding which experience feels best.
Here's a roundup of all the features to help you decide.
| Product | Monthly Price | Audio Type | Extra Features | # of People | Difficulty |
| --- | --- | --- | --- | --- | --- |
| Manual | Free | Any | None | Unlimited | Hard |
| Zencastr | Free - $20 | MP3 or WAV | Post-production | Nearly unlimited | Very easy |
| Ringr | $8 - $19 | MP3, FLAC, OGG | Scheduling & mobile friendly | 2 | Easy |
| Cast | $10 - $30 | MP3 | Editing, mixing, & hosting | 4 | Very easy |
| Skype recordings | Varies | Any, but low quality | None | Nearly unlimited | Moderate |
Smith Freeman
Smith Freeman is the co-host and producer of She's In Russia, a podcast that examines the revival of Cold War rhetoric in mainstream American media.