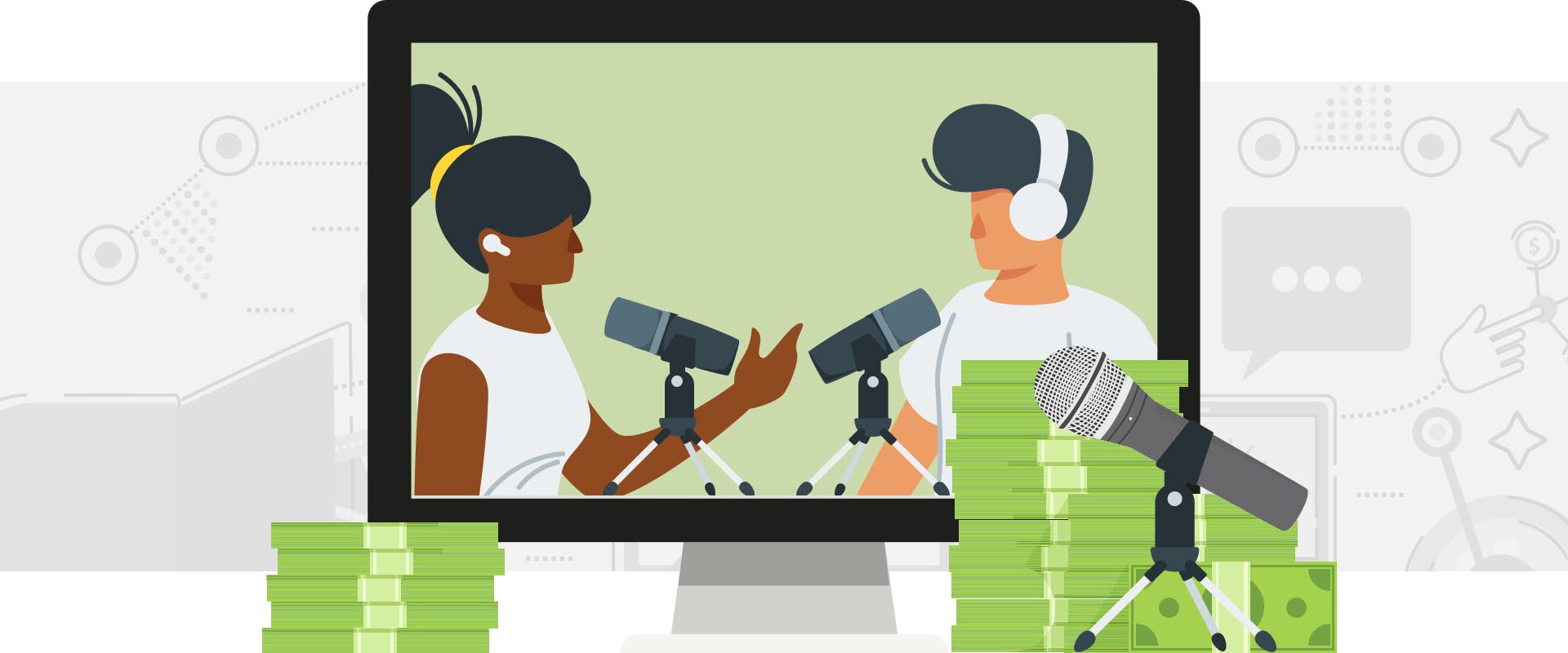 How to Make Money Podcasting: 11 Strategies For 2023
Once you've started your podcast and grown your audience, you can consider whether you want to make money podcasting.
Over the past few years, I've grown my podcast to over 10 million downloads and made podcasting my full-time job.
I'll share the exact income streams I've built to support my podcast and walk you step-by-step through the 11 best ways to monetize your podcast.
We'll cover everything from negotiating sponsorship deals to whether you should have exclusive content behind a paywall, so you know how to make money from your own podcast.
11 Ways to Make Money Podcasting:
1. Podcast Advertising & Sponsorships
The most popular podcast monetization strategy is podcast advertising. Most successful podcasts include host-read advertisements in their podcast content, but they can also include pre-recorded ads.

While some experts recommend waiting till you have 1,000 downloads a month before trying ads, I've seen podcasts with as few as 500 downloads land a sponsor based on how they pitch their podcast. You don't have to be Joe Rogan before you can start selling podcast ads.
PRO TIP

Choose brands that align with your podcast's mission and values. No amount of money is worth alienating your podcast audience.
How much do podcast ads pay?
Podcast ads typically pay between $5 and $20 for 1,000 downloads. But this varies widely based on the podcast's popularity, the type of podcast ad, negotiations, and listener demographics.
CPM vs CPA
CPM stands for "cost per mille" or "cost per 1,000," and is great for podcasts with large audiences. 
CPM Example: If a podcast that gets 5,000 downloads per episode runs an ad at a $15 CPM, it will receive $75 for that one episode. 

If the podcast runs three podcast sponsorships in the episode, it will make $225 since each ad is calculated separately.
CPA stands for "cost per acquisition" or "cost per action," which is perfect for new podcasts with smaller listenership. The podcast gets paid for every listener who makes a purchase. CPA ads are typically tracked with promo codes or links in the show notes.
CPA Example: The podcast negotiates a $20 CPA, and five listeners use the promo from the ad. The podcast will make $100 from this advertisement.
You can use multiple monetization methods and combine some ads measured by CPM and some based on CPA. Use this calculator to decide which method is best for your own podcast.
Average CPM rates for Podcast Sponsorships in 2023:
Pre-roll Ad (plays before the episode starts)
15-25 second pre-roll ad will have $15 CPM
Mid-roll Ad (plays in the middle of the episode)
30-60 second mid-roll ad will have $30 CPM
Post-roll Ad (plays when the episode has finished)
15-25 second post-roll ad will have $10 CPM
Source: Podchaser
Types of Advertising
Programmatic Ads
Programmatic advertising are pre-recorded ads that are dynamically placed into your podcast episodes. 
This is a simple monetization method because the ads are already priced and ready to insert into your episode.  
Putting programmatic ads into your podcast
Your podcast host may have an ads marketplace built into your dashboard, similar to Buzzsprout Ads.
With Buzzsprout Ads, you control what brands advertise on your show. Buzzsprout also inserts a transition so that the ads feel natural in your episodes. Buzzsprout Ads pay $14 CPM.
Sponsorships and Brand Deals
A sponsorship is a partnership between a podcaster and a brand that wants to promote their product or service to the podcaster's audience. The sponsor pays the podcaster a fee in exchange for the promotion in the podcast episodes.
Podcasters can negotiate higher sponsorships if they have large social media followings, an SEO-optimized website, or an email list that they'll use to promote the sponsorship.
Podcast networks and ad platforms will keep a percentage of all the money you make podcasting. While it's more work, you can make more money by pitching your podcast to sponsors yourself.
In my experience, you'll have to pitch about 15 brands before getting your first response. It requires patience but can be lucrative.
Create a Pitch Deck or One-Pager
Spend an hour or two crafting a slide deck or one-pager to make your podcast look professional. Include details about your show, audience demographics, download statistics, and sponsorship packages.

Download our pitch deck and one-pager templates.

Craft a Sponsorship Pitch
A pitch is an email to potential sponsors telling them why their brand would fit your audience perfectly. Write a template email in a document editor that can be copied and customized for each brand.

Download the pitch email template. 

Research Potential Sponsors
Look for companies or brands that align with your podcast. What brands sponsor other podcasts in your niche? Are there products or services you'd recommend to your audience? These brands are a good place to start.
Reach Out & Pitch
Send personalized sponsorship pitches using the company's preferred contact method (usually email). Tailor your message to show that you've researched and understand their brand. Include a PDF of your pitch deck or one-pager for the brand to reference in the pitch email. 
Make a Deal
As potential sponsors respond with interest, be sure to follow up quickly. And don't be hesitant to negotiate on things like pricing, ad format, and samples.

When you reach an agreement, draft a document for you and the sponsor to sign. This is an "Insertion Order." It will detail the dates you will publish the promotion, how much the sponsor will pay, and the payment due date.
Delivery
Once it's published, email a link to the podcast episode and the timestamp of the sponsor's promotional spot. In the industry, this is called an "air check." 
If this seems like a lot of work, that's because it is!
This is why busy podcasters (including myself) turn to podcast advertising networks and sponsorship marketplaces. For a fee, they can help streamline the process of getting sponsors. 
Join a Podcast Advertising Network or Collective
Networks and collectives group podcasts together for ad sales and divide revenue among the podcasters according to downloads.
The two are often confused, but there are some distinct differences:
Podcast Networks have top-down control. They may take over IP rights and decisions such as the content that is on each show or who stays in or leaves the network.
Podcast collectives have decentralized control. The podcasters retain all rights and decision-making for their own content. 
The requirements to join a network or collective vary. Eligibility may depend on download numbers, publishing schedule, podcast genre, or inventory (how many ads per episode).  
Use an Ads Marketplace
A marketplace platform connects sponsors with podcasters in exchange for a fee. Here are a few that you can use:
On Podcorn, podcasters browse through sponsors and submit their pitches and pricing. There are no minimum download requirements, which is good for smaller podcasters. 
There is a 10% fee at payouts on completed campaigns.  
This is a good option for larger podcasts since it's 10,000 downloads per episode minimum to join. The platform presents podcasters with potential sponsors based on their profiles and ad listings.
Advertisecast takes a 30% commission from the ad revenue. 
Work with an Ad Agency
This is my favorite way to get sponsors because you do nothing! Agencies work to match podcasts with sponsors and manage the ad campaign. 

True Native Media
True Native Media is a representative that specializes in host-read endorsements. They have a minimum download requirement of 10,000 per episode.

They take a 30% commission for all ads.

Authentic
Authentic is an advertising agency run by Podtrac. Fill out their contact form for rates and eligibility. 
2. Affiliate Marketing
Two years ago, I decided to try affiliate marketing and I'm still receiving money from these deals every month. Affiliate marketing is a great way to create passive income!
Here are some of the most popular affiliate marketing platforms:
ShareASale has over 15,000 brands across 39 merchant categories. 
GoAffPro makes it easy to start joining affiliate programs and earn money. The affiliate portal has performance tracking, creative assets, and a custom link generator. 
They have over 50,000 merchants to choose from.
5 Tips for Affiliate Marketing
Authentic Product Reviews: Provide genuine product reviews during your podcast episodes. Share your personal experiences, highlight benefits, and address potential drawbacks.
Tell a Story: Share personal stories and experiences related to the affiliate products/services. 
Give it Context: Find natural ways to mention or recommend the products/services in your episode.
Exclusive Offers and Discounts: Brands typically include discounts for buyers that use the affiliate link or code. Mention these offers in podcast episodes, website banners, email lists, and social media posts.
Win-Win: Let the listeners know that using your referral code or link is also a way to support the podcast. So they can feel good about getting a deal and benefiting you simultaneously!
3. Exclusive or Premium Content
My most successful revenue stream is through subscriptions.
It allows me to reward my most supportive listeners with exclusive content. 
The best part is that you can start creating premium content and build up the library as you go along. Imagine a year from now, saying, "Subscribe and unlock access to 20 bonus episodes!" 
What content should I offer to subscribers?
There are many different types of premium content that podcasters offer. By mixing and matching, you can create the perfect subscription package for your show.
In the Signal Hill and Cumulus Media Report, podcast listeners said they'd pay for:
Bonus episodes: Share episodes that are only for your biggest fans.
Extended episodes: Give extra content beyond the regular episodes. Do this either by extending the episode's length or reserving a part only for paid subscribers.
Early access: Give subscribers access to new episodes before they are released.
Behind-the-Scenes: Offer content that is funny or unpolished, such as outtakes, bloopers, and "off the mic" chatter. 
Merch: Give discounts on the merch store or provide exclusive products to supporters.
Live chats with hosts: Some fans dream of having a one-on-one conversation with their favorite hosts. Do a live chat or Q&A/Ask Me Anything (AMA) session.
Ad-free: Offer subscribers an ad-free listening experience.
PRO TIP
Be considerate not only of what your audience wants but also of what you have the ability to deliver.
If these ideas seem too time-consuming, try something more simple:
Supporter shoutouts: Make a public declaration of your appreciation.
Show input or participation: Allow subscribers to vote in a poll or give topic suggestions.
Back catalog or archive access: Give access to past episodes or an extensive archive of content. 
Francesca Amber started a Patreon book club for the Law of Attraction Changed My Life.
"The idea was to do this one month and do one book. Well, over a thousand people signed up…we're now 25 books in. I've been doing it for 25 months, and we have over 3,000 members and it's incredible. It's absolutely incredible." — Francesca Amber
Watch the full video to learn how Francesca became a 6-figure podcaster!
Subscription Platforms
Each subscription platform is different in the benefits they offer and the fees they charge.
Buzzsprout Subscriptions enables podcasters to offer premium content to their supporters. It allows for creating exclusive episodes or early access to regular episodes for subscribers. The revenue split is 85% for the podcaster and 15% for Buzzsprout, without any transaction fees.
Patreon is a membership-based platform that offers many different tools to creators. Podcasters can set up different tiers with various benefits for subscribers. Patreon charges a percentage of earnings, ranging from 5% to 12%, depending on the plan chosen plus payment processing fees.
Supercast is a podcast subscription platform with AMA (Ask Me Anything) feedback tools. They charge a flat rate of $0.59 per subscriber per month plus payment processing fees.
Apple Podcasts Subscriptions allow podcasters to monetize their content directly through Apple's ecosystem. It provides access to detailed stats and analytics. Apple takes a percentage of earnings, starting at 30% in the first year and reducing to 15% thereafter. 
4. Listener Support, Donations, and Tips
Like crowdfunding, listeners can donate to show their support and appreciation. There are many platforms where fans set up monthly pledges or one-time donations. 
I have a PayPal link in all my show notes, and it was an awesome feeling the first time a fan sent $100, just because they like the show!
PRO TIP
Enabling listener support doesn't cost anything, so do it as early as possible.
Badr Milligan spent years not accepting listener support, until a fan reached out demanding that they set it up.
"One day he was like, 'Dude, stop playing around. Set up a Patreon so people can support.' I think I remember him saying, 'I think I speak on behalf of the Short Box Nation, we want to support you guys. Let us give you our money!" — Badr Milligan
Watch the full video of how 11 years of podcasting led to Badr's success.
It's awkward to ask for money
Here are some tips to help overcome the weird feeling of asking for listener support:
Value: If you bring value to your listeners, whether education or entertainment, they will likely want to give back.
Honesty: Share some of the expenses associated with running a podcast. Be open about production costs, equipment upgrades, hosting fees, or music licensing. 
Benefit: Offer perks like a thank-you email or personalized shoutouts. 
Opportunity: This is an opportunity for listeners who want to help your podcast grow. 
Practice: The more you ask for support, the more comfortable you will become. 
How to accept listener support
Some donation platforms are simple, while others have more bells and whistles. Think about ease of use, fees, and customization options. 
Buzzsprout Subscriptions
Buzzsprout has a feature that allows podcasters to receive support from their listeners. After recurring support is set up, listeners can choose a monthly contribution amount. 
Podinbox
Podinbox gamifies listener engagement and support. Listeners can leave audio messages, give donations, and interact with other fans through chat.
PayPal.Me
PayPal is a trusted payment platform that podcasters can use to receive donations. It offers the flexibility of creating a PayPal.me URL for easy payments. 
Buy Me A Coffee
Buy Me a Coffee is a free platform that allows creators to accept support from their audience. Listeners can make one-time or recurring donations, referred to as buying a "coffee". 
Ko-fi
Ko-Fi enables one-time donations through a free tip jar. You can also share updates and sell products and memberships. 
5. Value 4 Value and Podcasting 2.0
Podcasting 2.0 is an initiative to advance open podcasting by expanding the podcasting spec.
One of Podcasting 2.0's innovations was creating Value 4 Value, where podcasters can receive Bitcoin and messages directly from their listeners. These payments are completely decentralized and utilize the Lightning Network, making transactions incredibly fast and affordable.
Once you set up your podcast for Value 4 Value, your listeners can send you small amounts of Bitcoin, called Satoshis, from many Podcasting 2.0 listening apps. This might sound complicated, but there are new apps that make it a lot simpler.
Here's how to set up Value 4 Value for your podcast:
Create a Lightning Wallet that can receive Bitcoin: I recommend using Alby to create your Lightning Wallet.
Get your value block: Go to Wallet and scroll down to Podcasting 2.0 - Value 4 Value and copy your value block; this block tells podcasting apps where to send your Bitcoin payments.
Email your value block to your podcast host: If you host your podcast on Buzzsprout, just email support@buzzsprout.com and ask them to add your value block to your RSS Feed. Buzzsprout will enable Value 4 Value on your podcast so listeners can send you Bitcoin and messages.
Tell your listeners: Once your podcast has been enabled, tell your listeners that they can support your podcast directly by using a V4V-enabled podcasting app.
This just scratches the surface of how you can use Value 4 Value! I encourage you to listen to our interview with Adam Curry, the co-founder of Podcasting and Podcasting 2.0, where we discuss Value 4 Value in-depth.
6. Podcast Merch
Merch and physical products serve double duty as a marketing tool and income stream. Think of every t-shirt and coffee mug as a billboard for your show. 
PRO TIP
If you aren't sure what kinds of products to make for your podcast, ask your listeners for ideas of what they'd like to buy.
When I first created a merch store, I was surprised when only one person bought a t-shirt. The holographic and glitter logo stickers, however, are in constant demand. You may need to play with different ideas to figure out what works best.
Designing Merch
Merch design isn't limited to only the podcast logo or cover art. In fact, many listeners prefer to buy merch that reflects a podcast catchphrase, inside joke, or recurring theme. 
Examples from popular podcasts
Smartless creates simple designs with variations of the podcast's logo.
Crime Junkie used the simple text of a fan-favorite phrase.
Wow in the World created a sticker sheet with graphics from recurring characters and themes from their show.
Spirits leaned into their paranormal genre with a tarot deck featuring the hosts and favorite myths.
Design it Yourself
If you're going the DIY route, it's easy to create merch using Canva. You can create eye-catching merch using their free templates. 
Hire a Professional
Sites like 99Designs and Fiverr allow you to set a budget and find a freelance designer in minutes. This makes them very popular among podcasters looking for high-quality graphics.
Sticker Mule does more than just stickers. They have a whole range of products to choose from. If you sign up for emails, they often send deals to bulk order products at around 60% off and free shipping.
Canva, best known for its simple graphics editor, has also gotten into the merch game. You can design your merch using their free templates and then click to print. 
Spring offers many products, including t-shirts, hoodies, mugs, and more. Creators can upload designs, set prices, and promote their merch through the Teespring storefront.
Printful offers a wide selection of customizable products, from clothing to accessories. They also provide fulfillment services for popular platforms like Shopify and WooCommerce.
Redbubble offers a range of products, such as clothing, stickers, phone cases, and home decor. Creators can upload their designs to Redbubble and earn a commission on each sale.
Bonfire is a platform that has grown in popularity for podcasters. They specialize in creating custom apparel for fundraising campaigns. It offers a design tool and handles printing, fulfillment, and customer support. Creators can create and sell their merch while also raising funds for specific causes or projects.
Amazon Merch on Demand allows creators to upload their designs, set prices, and list their products on Amazon. They handle printing, shipping, and customer service, making it convenient for creators.
7. Publish A Book
One of this list's most time-consuming monetization methods is publishing a book. If done correctly, a book can generate passive income and reach a broader audience outside of the podcast space.
How to transform your podcast into a book
Direct podcast-to-book adaptation. Transcribe the podcast episodes, organize the content into chapters, and add additional insights.
Write a book based on podcast themes or topics. If your podcast explores specific topics in-depth, you can write a book on those subjects. Expand on the ideas discussed in your podcast and offer new perspectives.
Collaborate with experts or guests. Consider collaborating with expert guests to co-author a book. This can help you leverage their knowledge and credibility while creating a valuable resource for your audience.
Compile listener stories or interviews. If your podcast involves sharing personal stories or conducting interviews, compile the best ones into a book. This can provide a deeper dive into the experiences shared on your podcast.
Self-publishing websites
When choosing a self-publisher, there are a lot of things to consider. Think about distribution options, pricing control, formatting flexibility, and royalties.
Amazon Kindle Direct Publishing (KDP)
KDP is a widely used platform that allows you to self-publish both e-books and print books. It provides tools to format and design your book, set pricing, and distribute it through Amazon.
Blurb
With Blurb, you can create, self-publish, promote, share, and sell print and ebooks.
IngramSpark
IngramSpark is a self-publishing platform for both print books and e-books. It has a wide distribution network to various online retailers and bookstores. IngramSpark provides tools for formatting, designing, and distributing your book.
Lulu
Lulu is a self-publishing platform that supports both print-on-demand and e-book publishing. Like the others, it offers tools for formatting, cover design, and distribution. 
8. Digital Courses, Guides, and Products
Creating successful digital goods requires an initial investment in time. However, digital goods have the potential to generate passive income for podcasters.
There are many topics or skills that you can make into digital products. 
Video Courses: Create online courses or e-learning materials. This could include any specialized knowledge, such as photography or personal development.
PDFs and Guides: You can create guides or instructional materials with a simple document editor. These can cover a wide range of topics, like business strategies, cooking, or any area where you have valuable insights.
Templates and Tools: Create digital templates or tools that assist others in their work. Think about things like social media graphics, project management tools, or any resource that would be of value to your audience.
Digital Art & Media: Create and sell stock photos, videos, illustrations, coloring pages, or phone wallpapers.
Music and Audio Products: If you're a musician, you can create and sell digital music tracks, sound effects, or audio samples. 
Jonathan Swenson turned a bonus episode of his TTRPG podcast into a rulebook that listeners can also download and play!
"Since I had never done this before I loaded up a heavily modded version of MS Paint and got to work. What I ended up with was a light and fun 5 page rulebook that I saved as a PDF." — Jonathan Swenson
9. Private Coaching
If you're one of those people that others always come to for advice, coaching may be right for you.
Krystal Proffitt realized how valuable her insights are. She then turned that into a business.
"After I started my podcast, questions flooded my inbox. From emails, to Facebook group posts, to random "can I pick your brain" requests. I knew that 1:1 coaching would be the best solution to offer members of my audience." — Krystal Proffitt
How to start online coaching
1. Figure out what you're offering clients
People want to know what they're paying for, so be very clear about what they get in your session. Detail if it's a single meeting or a three-part workshop series, and what they can expect to gain from you. 
2. Set your price
Do some research and find out what other coaches in your niche are charging. Make sure it's a price that's affordable for clients, but also compensates you for your time and energy.
3. Pick a platform
If you're just starting out, you can start coaching with free tools!
Use Calendly to schedule meetings, Zoom for the session, then PayPal to invoice the client. 
If you want something more serious, there are also great paid options. 
With Kajabi, you can create online courses, coaching sessions, and more. Their plans start at $149/month.
Satori gives online coaches tools like questionnaires, appointment booking, and custom billing plans. Their pricing starts at $8/month. 
Creators can sell online courses, give live lessons and evens, and create quizzes and assignments. Their basic plan starts at $36/month.
10. Live and Virtual Events
It's understandable that podcast live shows have grown in popularity. Podcast listeners love to see their favorite hosts recording an episode in real life. 
A lot of work goes into a single live event, but here are the steps to make things easier. 
Planning the Live Show
Remember, your fans love the podcast and are paying to see you record live. So start with your current episode structure, but don't be afraid to add some extras like a Q&A at the end. If you're going on tour, a location-specific topic for each live show is a bonus for the locals. 
PRO TIP

Bring in your podcaster friends to fill a special guest position or be the opening act. Not only will they add to the content and energy of the show, but they also double the promotional efforts and bring their fans in, as well!
Find a Venue
It seems like the obvious choice for a venue would be a typical theater space, but that might not be best for your show.
Large event venues, such as conference centers or theaters, charge many fees that can eat up profits. Plus they might deny the request if they don't believe your show is big enough to fill up the space.
There are many other options that could potentially better serve your podcast. Depending on your genre, some places to start looking could be a community center, church, music venue, or even a winery.
PRO TIP

Be sure to ask lots of questions, like if you need to supply your own sound equipment or how many electrical outlets there are. Don't forget to ask where you can set up a merch table, and if there are any food/drink minimums for guests.
Sell Tickets
Today, it's easier than ever to sell event tickets with online and mobile ticketing platforms.
Eventbrite charges 3.7% + $1.79 service fee and a 2.% payment processing fee, and fees are paid by ticket buyers unless you choose to cover them.
Events.com's fees are based on the event price range, i.e. if the event price range is $25.01-$35.00 the Events.com fee is $2.95 plus Stripe payment processing fee.
Promote the Show
Once you have the details locked in, start promoting the live event 2-3 months before the date.
Live show promotion strategies
Post the ticketing link on all the social platforms when the announcement is live.
Talk about the live show on the podcast and drum up excitement.
Share teasers and behind-the-scenes of the live show planning.
Do a giveaway for two tickets to the show, and ask fans to share the event online. 
Record a dynamic pre-roll to insert the event announcement in all episodes. 
Showtime
A week before, find out how early you can arrive at the venue. Be sure to tell everyone when they need to arrive and give schedules for sound check, when the house opens, and the performance slots. Allow yourself extra time for set-up and sound checks in case they take a little longer than planned.
PRO TIP
Pack a timer to stay on schedule, snacks for everyone helping out, and extra sound equipment and cables in case there are technical issues.
11. Start a Side Hustle
Podcasters learn things like graphic design, transcription, audio editing, and voice-over work. So it's no wonder they often turn these skills into paid gigs.
I've met multiple podcasters who've started a side hustle teaching people how to start their own podcasts. You've probably spent hundreds of hours in Audacity or your favorite editing software, and you can help walk somebody through everything from setting up your RSS feed to getting listed in Apple Podcasts and Spotify.
Many popular platforms connect freelancers with clients, and it is important to research which would be the best fit for you. You can also mention your side hustle in your podcast episodes because your audience already trusts your expertise.
Fiver allows freelancers to list their gigs and set their prices, which clients can browse through. 
Freelancers get 80% of the profit after commission fees. 
Similar to Fiverr, Upwork allows freelancers to set their gigs and prices. Additionally, there is a job board for the freelancers to browse and bid on. 
The commission fee for Upwork is on a sliding scale that starts at 20% for the first $500, then is reduced as your income increases. 
99designs is geared toward designers. It gives freelancers a list of jobs to choose from based on pre-selected categories. 
There is an introduction fee of $100 for each client and a platform fee on 5%-15%.
Flexjobs differs from the other options, as it doesn't focus on talent or design. Freelancers can also connect with companies that may be looking for part-time workers. This is a good option for podcasters looking to do Virtual Assistant and Transcription work.
There are subscriptions to begin finding freelance work, which starts at $6.95 per week.
How do podcasts make money?
There are several ways for podcasters to monetize their podcast regardless of its size, including podcast advertising, sponsorships, affiliate marketing, merch sales, and premium content.

I hope this guide has sparked some ideas of how to make money from your podcast!