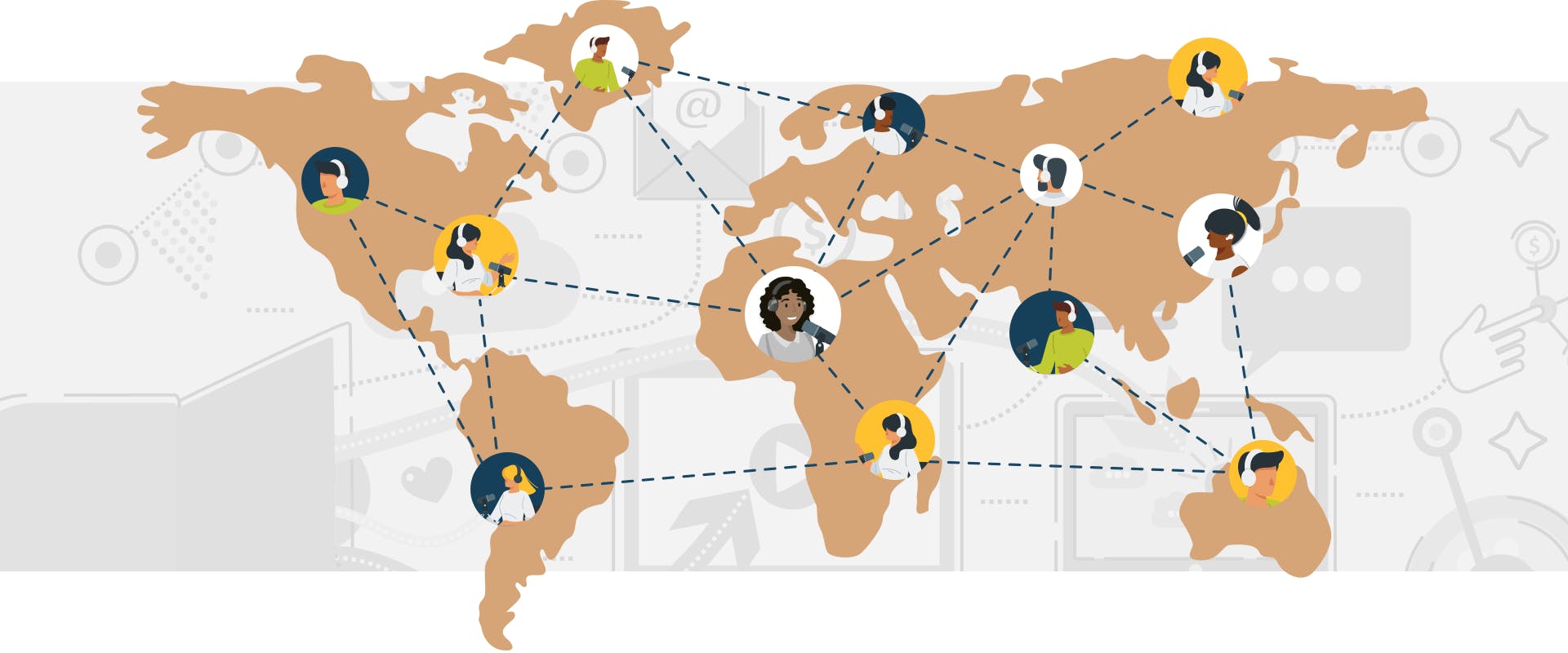 Podcast Networks: Should you join a network to grow your podcast?
Some of the world's most popular podcasts belong to a podcast network — but what does that mean, exactly?
Podcast networks host a collection of shows connected by theme, ownership, or genre, and help monetize podcasts by selling ad space and connecting podcasters with sponsors.
Sounds like a pretty good deal, right? Let's take a look at who podcast networks are for and who is most likely to benefit from them.  
Who can join a podcast network?
Any podcaster can join a network, even if you have a new podcast, but keep in mind that advertisers are typically interested in the shows with the most influence. 
Advertisers buy ads based on CPM (cost per thousand), and within this model of advertising, most major podcast networks want shows with an average of 50,000 downloads per month.
To put that number in perspective, the average podcast gets around 141 downloads in its first 30 days.  
For those in podcast advertising, it's more lucrative to place ads through networks that host hundreds of podcasts with large audiences than it is to work with individual, indie podcasters.
It's important to remember that a podcast network is, first and foremost, a business looking to make money off of your show. Let's weigh the pros and cons of joining a network so you can decide if it's the right move for you.
Pros of joining a podcast network
Podcast networks don't guarantee that your podcast will become successful, but they do offer some potential benefits.
Advantages of podcast networks include:
#1 Sponsorships
Legitimate sponsorships that earn you real money are hard to land. Large-scale businesses are looking for podcasts with big audiences, so the cost of ad space is worth their time.
As an individual podcaster, sponsors won't approach you unless you are getting tens of thousands of downloads per week. As part of a podcast network, however, your audience belongs to a larger collective audience, and as a result, you have access to sponsorships that would be difficult to get on your own. 
You will have to split the revenue you earn with the network, but you won't have to worry about hunting down sponsorships yourself. The network handles securing the sponsorships so you can focus on the quality of your show. 
#2 Cross-promotion
Cross-promotion is one of the most effective strategies for show growth, and when you join a podcast network, cross-promotion gets even more effective. 
When you belong to a network, you can connect with other podcasters who have an audience with similar interests, which makes cross-promoting extra effective. If someone is already listening to a show on your network and a host suggests your podcast, they'll probably check it out.
Pro tip: Sometimes, this kind of cross-promotion is part of your contract, and you don't have a choice but to promote someone else's show! All the more reason to make sure you feel strongly about the podcast network you're a part of so you can honestly support the other shows on your network. 
#3 More exposure
Being part of a big podcast network not only gets you more exposure, but it gets you more of the right kind of exposure. 
If you have a comedy podcast and are part of a comedy podcast network like Smodcast, your show is now in front of thousands of engaged listeners looking for podcasts along the same theme produced by a network they like. This kind of targeted exposure is more likely to grow your listenership. 
Cons of podcast networks
The advantages of podcast networks can be significant, but they come at a cost, and it's up to you whether or not the price is too high.
Here are some things you might experience as part of a network:
#1 Loss of creative control (and loss of control over ads)
Most podcast networks won't force creative decisions on you as a host, but some do. After signing a contract, your podcast network can legally veto any creativity that isn't in line with the network or its brands.
On top of creative control, you usually don't have control of the ads put in your podcast episodes, either, which means you might have to support products or brands you don't align with. 
#2 Revenue sharing
The amount of ad revenue you have to share with your network varies, and the amount of money you'll earn each month usually isn't guaranteed.
Each network splits ad revenue differently, and the details all depend on the network you join and the contract you sign, so be sure to read it carefully!
#3 You will probably have to switch hosting services
For convenience, podcast networks like to have all their shows on the same hosting service, and you'll likely have to change hosts if you join.
Changing podcasts hosts means you'll lose your shows analytics and possibly end up switching to a host you don't like.
#4 You'll have to end your old sponsorships
After signing a contract, most networks will require you to remove ads from any previous sponsorships and only promote the brands that buy ad space on your show through your network.
The freedom to form meaningful sponsorships with brands you believe in is a big thing to give up for a lot of podcasters. Having full creative control of your show is one of the biggest advantages of podcasting, and joining a network can mean trading in some of those luxuries for other potential benefits.
The most popular podcast networks
A lot of today's top-ranking podcasts earn their revenue by being part of a network, and the chances are, one of your favorite podcasts is distributed and monetized through one of these popular networks. 
The following networks host the most popular podcasts and, on average, only represent the top 1% of podcasts.
Pro tip: For those looking for a healthy distraction during the Coronavirus shutdown, scour these networks to find your new favorite shows.
1. PodcastOne - PodcastOne is one of the largest advertiser-supported podcast networks with over 200 shows across genres like sports, comedy, celebrity culture, entertainment, etc. The network is based in Beverly Hills and releases 350 episodes weekly and generates 2.1 billion annual downloads.
Popular shows: The Dr. Drew Podcast and The Laura Ingraham Show
2. Gimlet Media - Gimlet was founded in 2014 by This American Life producer, Alex Blumberg, in Brooklyn, New York, and is a division of Spotify. Gimlet primarily distributes digital audio journalism and entertainment.
Popular shows: Science Vs., The Habitat, Reply All, and The Nod
3. Earwolf - Earwolf is a Los Angeles-based podcast network founded by Scott Aukerman and Jeff Ullrich. The network was originally known as the home of the biggest comedy podcasts but has expanded to include shows on a wide variety of topics.
Popular shows: Comedy Bang Band, How Did This Get Made?, and Conan O'Brien Needs a Friend 
4. Midroll -  Midroll produces, distributes, and helps monetize their 300 + top-ranking podcasts by partnering with over 200 successful brands like T-Mobile, Toyota, and Squarespace. The Midroll network distributes shows across genres.
Popular shows: WTF with Marc Maron, Bill Nye, The Bill Simmons Podcast, and Freakonomics Radio
5. Radiotopia - In 2014, media company PRX (public radio exchange) launched the podcast network Radiotopia with NPR producer, Roman Mars, as the network's co-founder. The network averages 19 million downloads per month and is supported by grants, sponsors, and listener contributions.
Popular shows: Everything Is Alive, 99% Invisible, Ear Hustle, and Criminal. 
6. Wondery - Wondery is an American podcast network launched in 2016 by Hernan Lopez and backed by 20th Century Fox. Wondery features over 70 shows across genres like entertainment, business and true crime.
Popular shows: Life is Short with Justin Long, Even the Rich, and The Next Big Idea
7. WNYC Studios- WNYC produces on-demand radio shows and podcasts as part of New York public radio.  WNYC is home of some of the most popular podcasts of the last decade and focusses on personal narrative, audio journalism, and smart entertainment.
Popular shows:  Radiolab, Snap Judgement, and Here's the Thing
8. Infinite Guest - Infinite Guest is a podcast network created by American Public Media, the largest station-based public radio organization in the United States. Infinite Guest hosts shows related to comedy, food, sports, culture, and music.
Popular shows: The Mash-Up Americans and The Splendid Table
9. TWiT —TWiT is a network of roughly 20 tech-related podcasts founded by tech broadcaster Leo Laporta. Shows are hosted by industry experts and journalists and provide commentary, help, and how-to advice to listeners.
Popular shows: This Week in Tech, Security Now, and The Tech Guy
10. Megaphone (formerly Panoply Media): Panoply was launched by The Slate Group in 2015, but has since re-branded as Megaphone. Megaphone accepts a wide-range of genres, and their services are available to podcasters with 20,000 downloads or more per episode.
Popular shows: Happier with Gretchen Rubin, We the People, and So That Happened
These networks are all fairly exclusive and will be out of the reach for most podcasters who want to join a network. So what are your podcast network options if you have a smaller show? 
Networks for smaller podcasts
Remember, your ability to get a deal with a network that is beneficial to your show and your audience relies partly on your influence in the podcasting space and the amount of traffic you get to your podcast. With a larger audience, you have more pull when it comes to negotiating. 
With that in mind, if you're interested in joining a podcast network but don't have 50,000 downloads a month, here are a couple networks to check out:
PodGrid: Only have 100 listeners but want to be part of a network? PodGrid is a startup that exists to help small, new shows connect with advertisers with no exclusivity.
Joining the network is completely free, and as a bonus, no cross-promotion is required as a member (you don't even have to mention PodGrid on your show).
AdvertiseCast: AdvertiseCast requires podcasters to have a minimum of 2,500 downloads an episode to join.
Advertisers can view your podcast and send you an ad buy order if they think their ad would work on your show. Podcasters keep 70% of the revenue, and the other 30% goes to the network.
Should you join a podcast network?
"...Don't start a show with the ultimate goal of joining a network. You will get distracted, and the quality will suffer. Focus on users and generating great content."

— Chris Land, Improve Podcast —
Podcasting networks are a give and take. It's up to each podcaster to decide whether a network is right for them and how much control they are willing to give in exchange for more exposure and possible revenue.
The most important takeaway: creating high-quality content is always the best way to set yourself up for success —podcast network or not.