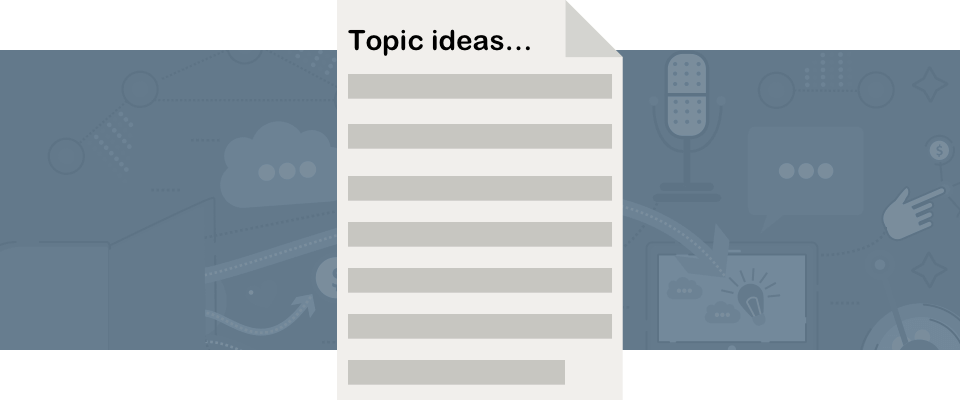 How to Pick The Perfect Topic For Your Next Podcast
Podcasts are an effective way to grow your audience, but how do you know what to topics to cover? It's tricky picking subject matter that will inspire conversation, but it is worth the effort.
The question is what you are you going to talk about during your next podcast? Follow these tips to help choose topics worth discussing.
Start with something that interests you
Make sure that you're podcasting about something that you're passionate about. If your enthusiasm for your podcast falters, so will your audience's.
When picking a topic, ask yourself:
Why does this topic matter?
Is it something you can converse about naturally?
Is it a subject that you can expand on to keep the podcast going?
Is there enough controversy around the topic to generate good conversation?
Do you have enough information to discuss the subject intelligently?
Maybe you love flowers and can't wait to feature a specific garden on your podcast. What would you say about it? Do you know enough about it to drive the conversation forward? If it is a garden you have only seen pictures of on the internet—maybe not.If it is a local garden that you have visited many times, though, you probably have first-hand knowledge of a topic that you are excited about and that makes it a good podcast subject.
Remain disciplined and focus on your topic
If you stray off topic too often, you can alienate your best listeners. A person who runs a gardening podcast shouldn't spend an hour talking about cars. People choose your podcast because they were interested in your podcast's topic, make sure you're keeping them tuned in.
You can talk about topics peripheral to your podcast topic. If gardening is your theme, then use the podcast to discuss nature, planting and other garden-based subjects. If you do pull other topics into your discussion, make sure they still connect to your core theme; it would make sense to talk about cars that improve the air quality for healthier gardens.
Keep track of your topics
Keep a record of what you discuss on each podcast to make sure your topics stay fresh. A small notebook is one of the most powerful resources you have when considering topics. Use it to:
Write down each topic your cover
Record new ideas as they come to you even if they won't fit into your next episode
Take note of concepts you get from the news or another resource that you might be able to expand into a topic at some point
The best place to find new topics ideas is from your audience
After each podcast, ask your audience what topics they would like to discuss. Those ideas can be the seed of a future epiosde, and you know that you already have listeners who would be interested.
One of the most difficult tasks you have as a podcaster is the topic selection. Find topics that mean something to you personally and build from there to create subject matter that your audience can enjoy.