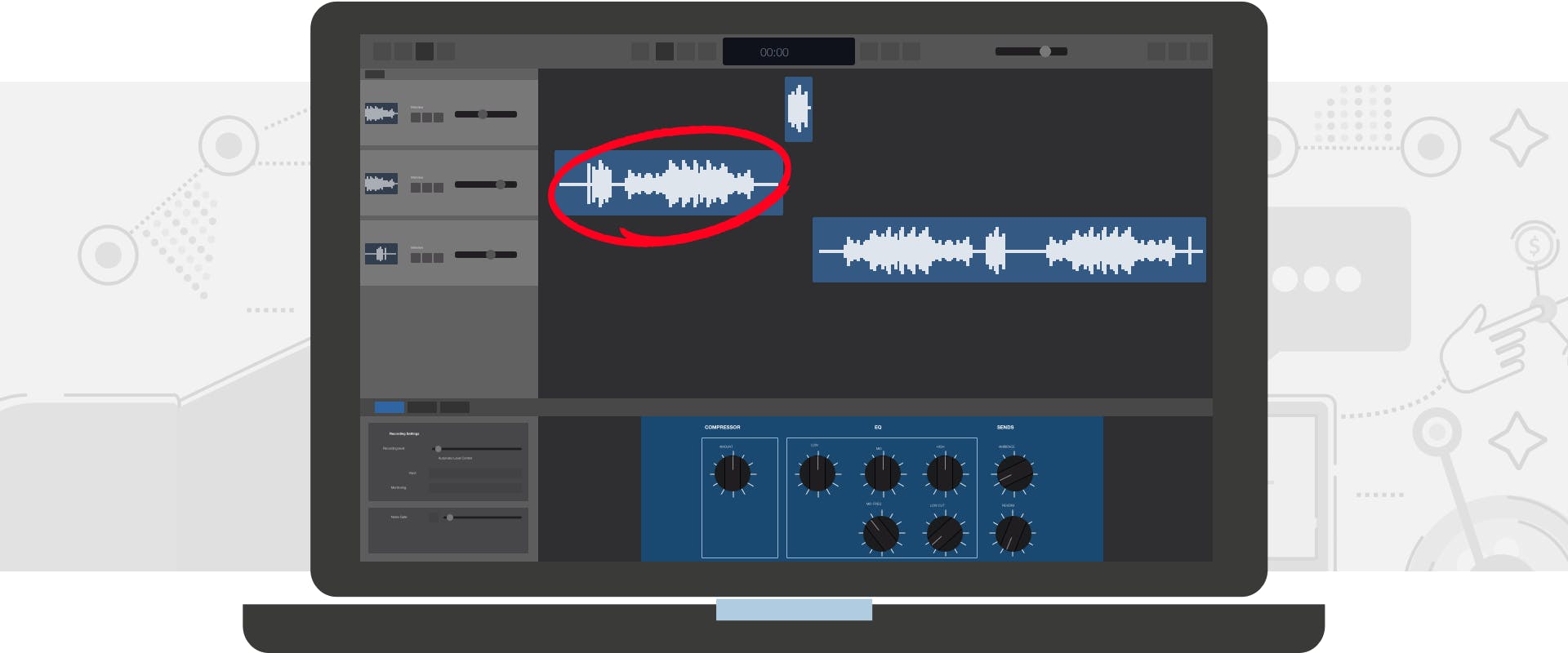 How To Create a Podcast Intro Your Listeners Will Love
"Hey there! My name is Joe Schmo, and you're listening to the Joe Schmo podcast…"
Creating a high-quality podcast intro is an excellent way to introduce yourself and your podcast to new listeners and delight your loyal subscribers simultaneously.
Just like fans of hit shows like Friends, Cheers, and Game of Thrones can lip-sync the opening segments of their favorite television shows, your podcast listeners will soon be humming along to your latest episode.
In this guide, we'll teach you how to make a high-quality podcast intro and reveal some beginner mistakes you should avoid.
How NOT To Make A Podcast Intro
Here are three big mistakes we see a lot in the podcasting space. Don't fall for these!
#1. Intro is too long
A solid podcast intro serves as positive momentum, inviting the listener into the episode and increasing the overall anticipation for what's coming next.
But after about 30 seconds of voice over and background music, that intrigue will turn into "when is the podcast going to start?"
Your intro should move at a quick pace, roughly 20-30 seconds in length. Don't let it overstay it's welcome.
#2. The music is too loud
Using theme music can be an excellent complement to the voice-over portion of your intro, but too often, the music is mixed incorrectly and ends up being too loud.
Music files typically have a higher loudness setting than the audio you record with your microphone, so unless you drop the music volume considerably (often as much as -25 dB), it will overpower the narration.
Pro Tip: Make your music softer than you think it needs to be. Then listen to your intro in a variety of environments and with several different devices (car stereo, headphones, in the kitchen, etc.) to hear how it will sound to your listeners.
#3. Using copyrighted intro music
This beginner mistake is all too common, with podcasters thinking it's okay to use copyrighted music as long as they "tweak it" or don't monetize their podcast episodes.
Here's the truth: unless you get express permission from the artist and the recording label to use the track, you can't use it.
There are plenty of music options that are free for commercial use (also called "royalty-free"), so don't make this mistake.
You can check out our blog on copyright laws for podcasters if you'd like to learn more.
How To Make A Podcast Intro
#1. Choose your music track
Before you do anything else, you'll want to select the music for your podcast intro. This is because it's best to edit your voice over segments to fit the music that you've chosen.
If your intro sounds disjointed or offbeat, it will stick out like a sore thumb, and you don't want that!
You'll also want to make sure the music you select matches the tone of your podcast. If you have a podcast about homeschooling kids, it's probably not best to choose a heavy metal guitar solo as the background music of your podcast intro.
Ask yourself, "If my podcast were a TV show, what kind of theme song would it have?"
As far as where to find the right music track, there are several options.
We conducted a deep dive not too long ago on the best websites to find free, royalty-free music, but for something you plan on using in every podcast episode we recommend buying a high-quality track from AudioJungle or Soundstripe.
AudioJungle lets you browse thousands of tracks and sound effects and pick the one you like best. Once you find one you love, you can purchase the rights to use that song in your podcast without worrying about getting into trouble down the road (and music tracks start at just $1).
Soundstripe is an excellent option if you plan on using a variety of tracks and songs in your podcast episodes. For a flat rate of $135 per year, you can download an unlimited number of royalty-free tracks.
Pro Tip: Only use instrumental tracks. Songs that feature vocalists will clash with the narrated element of your podcast intro.
#2. Write your podcast intro script
Once you have your music selected and you've edited it down to the 20-30 seconds you want to use, it's time to write your script.
The intro narration is where you'll introduce yourself, your podcast, and get people excited to listen to what's coming up in the episode.
Here are three things you need to include in your podcast intro:
Who you are...
Believe it or not, most people that come across your podcast have never met or heard of you. In one sentence, introduce yourself and list your credentials and why your opinion matters in for the topics you cover.
This could be as easy as, "Hi, my name is Joe, and I love sharing cool stories of real people doing real things."
What your podcast is about...
While your podcast name should be a big hint, you'll want to state what your podcast is about explicitly.
Is it a home gardening podcast?
A Star Wars podcast?
A review of last week's NFL football games?
Don't leave people guessing.
How they'll benefit from listening to your podcast...
This is the most omitted, yet most important, part of a great podcast intro. You need to tell the listener how your podcast is going to improve their life.
Are they going to make more money? 
Will they lose more weight? 
Will it strengthen their marriage? 
Will they feel happier and more fulfilled? 
Will they be entertained and laugh a lot listening to the podcast?
When you can clearly state how your podcast will help them, new listeners will be more likely to subscribe and listen to more episodes in the future.
Here's an example of an intro script that hits all three elements perfectly:
"Welcome to the Practical Christian podcast. My name is Travis Albritton; a former rocket scientist turned Bible teacher. Each week you'll hear mind-blowing interviews, as well as actionable tips and strategies that you can implement in your daily life to become a more effective Christian. Thanks for spending some time with me today, now let's jump into your daily dose of practical Christian training."
#3. Record Your Voice-Over
Once you have the script nailed down, it's time to record the voice-over or narration portion of your intro.
We recommend doing multiple takes (sometimes ten or more), so you can get comfortable with the script, identify areas where you can tighten it up, and give you lots of options to choose from when you start editing.
In the end, you want your intro to pull people into the podcast episode, so the clearer and more confident you can come across, the better.
Another option is to hire a voice actor to read your intro script for you. This is a popular choice for many podcasts because it sounds like you have your own personal hype man telling everyone why your podcast is amazing.
While it's certainly not required, getting a voice actor to read your podcast intro can take it to a whole other level.
Where to get voice-overs
Music Radio Creative
Music Radio Creative has an excellent website that lets you play samples from different voice-over talent, allowing you to find the perfect voice and style that will fit your podcast.
When you visit their podcast section, you'll probably notice some recognizable clients that have used their service.
It's not the cheapest, but also not the most expensive either. The price varies depending on how many words are used and the level of production.
Tim Paige
Tim Paige is the voice of LeadPages. He runs their podcast and webinars, but is also a voice actor and has done a number of high-profile podcast intros. Visit Make My Intro to learn more.
Fiverr
Many people on Fiverr will create intros, outros, and bumpers for your podcast. Like most services on Fiverr, the quality can vary dramatically, so be sure to check out samples before committing. That said, this can be a great way to get voice-overs on a budget.
#4. Add Your New Intro To Your Episode Template
Once you have your finished podcast intro, you'll want to add it to your podcast episode template in your audio editor of choice (Audacity, GarageBand, and Adobe Audition are some of the more popular options).
Since your podcast intro will be featured at the beginning of each episode, you can create a dedicated track, add the podcast intro, and then you're all set moving forward.
What About Podcast Outros?
While a good podcast intro will pull your listeners into the meat of the episode, an excellent podcast outro will leave them with something to do.
In marketing, this is known as a "call to action."
Using your theme music in the background, thank your listeners for tuning in to another episode of your podcast and tell them what you want them to do next.
Do you want them to leave a review in Apple Podcasts?
Should they join your email newsletter?
Do you want them to support your show on Patreon?
Can they find your social media profiles in the show notes?
Give your listeners a clear next step so they know what to do next and so you can develop a deeper relationship with your audience.
And then finish it off with a tagline that lets your audience know that you'll be back with the next episode soon.
Pro Tip: Only give one call to action per episode. The more things you ask your listeners to do, the less likely they are to take action.