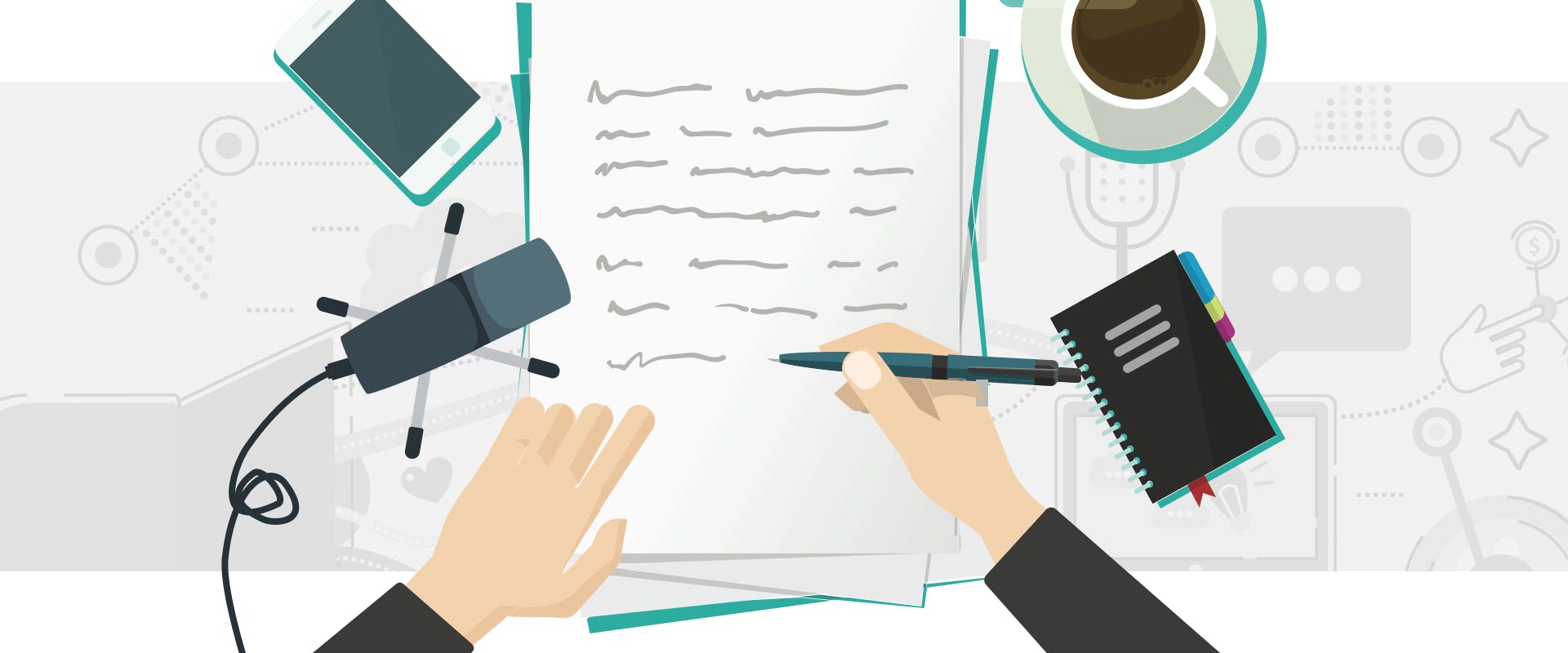 How to Write Podcast Show Notes
Successful podcasts are multifaceted.
While audio is the most obvious component of podcasting, visual and written content also plays an important role in making a podcast successful.
Quality podcast show notes summarize an episode and offer additional resources to your audience.
Podcasters can include a list of links to suggested reading and share their social media handles within their show notes. Fans also have the option to join your email list, follow a link to leave a review on your show, sign up for e-courses, or help fund your podcast through Patreon.
Notes are an essential part of growing a podcast and are fundamental to keeping your listeners engaged.
Why are Podcast Show Notes Important?
Even though podcasts are one of the most convenient ways to take in information, audio does have its limitations.
What if your listener wants to stay up-to-date on your show, but doesn't have time to listen to a full episode?
What if you want to share reading material with your listeners, or post your Patreon URL so fans can easily find your page and pledge monthly support?
The point is, sometimes hearing isn't enough.
Repetition and visual content are key for getting a message across and creating a relationship with your audience.
This is where show notes come in, and why they are a necessary step in the creation of your podcast.
Notes are a service to your readers. Paying attention to this part of your podcast has serious benefits, and your audience will appreciate the extra effort.
The Benefits of Writing Quality Show Notes
A podcaster's show notes page is a home base for their listeners.
Consistent and streamlined written content in the form of podcast notes helps build community and fosters the relationship between you and your audience.
Even a brief summary of your show can include strategic keywords and serves to boost your performance in search engines.
By incorporating a written call-to-action within your notes, you open up new possibilities for your show's growth.
Writing out key points and including memorable quotes from your episode gives readers an easy way of sharing a Tweet, and attracting more exposure to your show in the process.
It isn't easy to get listeners to act on something you say during your show or remember the key points you worked so hard to flesh out.
Instead of only telling your listeners what your Patreon page URL is, and hoping they remember the address, show notes allow you to share a direct link to your public page.
It's small considerations like these that add up to a loyal fan base and get the attention of your next new listener.
The easier you make it for listeners to connect with you and view your information, the more they will want to read what's in your episode description. As a result, you dramatically increase your chances of being funded, growing your email list, and consistently selling products and services.
Tips & Best Practices
Podcasters differ on what should be included within show notes and how long they should be.
Some podcasters use their show notes like a blog or even post their whole episode transcribed word for word, and it's easy to see why.
If more content equals more keywords, it would stand to reason that longer show notes mean more hits on a Google search and more listeners as a result.
This method might work sometimes, but when a fan of your show visits your show notes page, they aren't expecting a blog - they are expecting notes.
Listeners often decide to read episode notes because they don't have time to listen to a podcast. In this case, they probably don't have time to read a blog, either.
Most readers will be looking for streamlined content that effectively summarizes, informs and quickly conveys the key points of your show.
If your listeners do want long-form content, you can provide it to them via a dedicated blog. But we think it's best to keep them separate.
At Buzzsprout, we think show notes should:
Be brief and easy for your reader to scan (but not come at the cost of quality content!)
Follow a consistent format
Be optimized with keywords to boost SEO
Include your podcast title and episode number
Pro Tip: Write your show notes at the beginning of your workflow. Show notes are often the last thing a podcaster does. For this reason, they can easily get overlooked. By writing your notes at the beginning of your workflow, your show notes double as an outline and ensure they actually get written!
Content overwhelm is real, but show notes exist to help simplify the process of getting information to your listeners while keeping them informed and engaged.
Condensing your content into an easy-to-digest list of bullet points and brief descriptions reduces the inherent overwhelm that comes along with being a podcast listener in the 21st century.
We think this gives short, precise show notes an edge over long-form styles.
Ultimately, the choice is up to each podcaster to choose their preferred style and format.
How to Write Show Notes in Buzzsprout
For Buzzsprout users, show notes can be written in the episode description box within the episode editor:
Once you click the edit icon, scroll down to the Episode Description. You can write and format your notes within the text box.
Within the Buzzsprout episode editor you can add timestamps, links, create calls to action, and summarize the main points of each podcast episode.
After writing and formatting your notes, you can publish your episode to the directories of your choice.
Your episode notes will appear differently in each podcast player, and they are not all created equal.
In Apple Podcasts (previously iTunes podcasts), your notes will be in the "episode notes" section of your show's page.
A note to Wordpress users: If you use Wordpress for blogging and have the PowerPress plugin for your podcast, notes cannot be separated from your blog. Currently there is not a separate field for show notes.
If you're a blogger, you can post your blogs separately from your podcasts, or simply include the show notes within your blog post.
Podcast Show Notes Services
As a podcast host, a lot of work goes into making a quality episode, and it's easy to overlook writing your notes when you are trying to focus on creating.
If writing isn't your thing, or you need more time to focus on podcast content, there are companies who can write your show notes for you.
Pro Podcast Solutions offers A La Carte Services so podcasters can pick and choose the services they need most.
Price:
$40 (Basic Show Notes Service)
$70 (Advanced Show Notes package) 
Basic Show Notes service includes:
300-500 words
time stamps 
outbound links to social media and other resources
Advanced Show Notes service includes:
Featured image for your website
3 Tweets
2 SEO images
3 images customized for social media
Audiogram
Podcast Fast Track offers a stand-alone show notes service.
This is a great choice for podcasters who can't afford full-service packages.
If you're a new podcaster, Podcast Fast Track is a great choice for a show notes service, and they can help you get a running start from your very first episode.
Price: personalized quotes based on your individual needs
Show notes service includes:
500 word summary of episode
Time-stamped outline
Resource links
Images
Inbound and outbound links
Call to action
Posted directly to your website & hosting service
The Podcast Creative does not offer a stand-alone show notes service, but show notes are included in their full-service, post-production Pro Package.
Price: $449/month
Pro Package services offered:
Integration of intros and outros
Professional audio engineering
Transcribing
SEO optimized show notes
Delivery of audio file via Dropbox & more
Podcast Show Notes Examples
A lot of podcasters don't create show notes at all.
Of the ones that do, it's not uncommon to see short descriptions without time stamps, proper formatting or direct links to additional information.
Some successful podcasts take the opposite approach and include full transcripts and long-form blogs as their show notes.
We think there's a middle ground that will make both Google and your reader happy.
Here are a few examples of podcasts with notes that strike a healthy and effective balance:
Podcast Show Notes Template
The key to good show notes is proper formatting, consistency and an understanding of what information your listeners are looking for.
Download a free podcast show notes template to help you make great podcast show notes for each new episode!
Final thoughts
High-quality show notes that synthesize your episode can make your own podcast stand out from the competition, and it doesn't have to take up a lot of your time.
While long-form show notes do provide more keywords for Google, consider writing your notes in a way a human with very little time would enjoy scanning on their lunch break.
There are podcasts that don't utilize the show notes feature and still manage to be successful, but a podcaster greatly improves their odds for success if they take advantage of this extra piece of content.