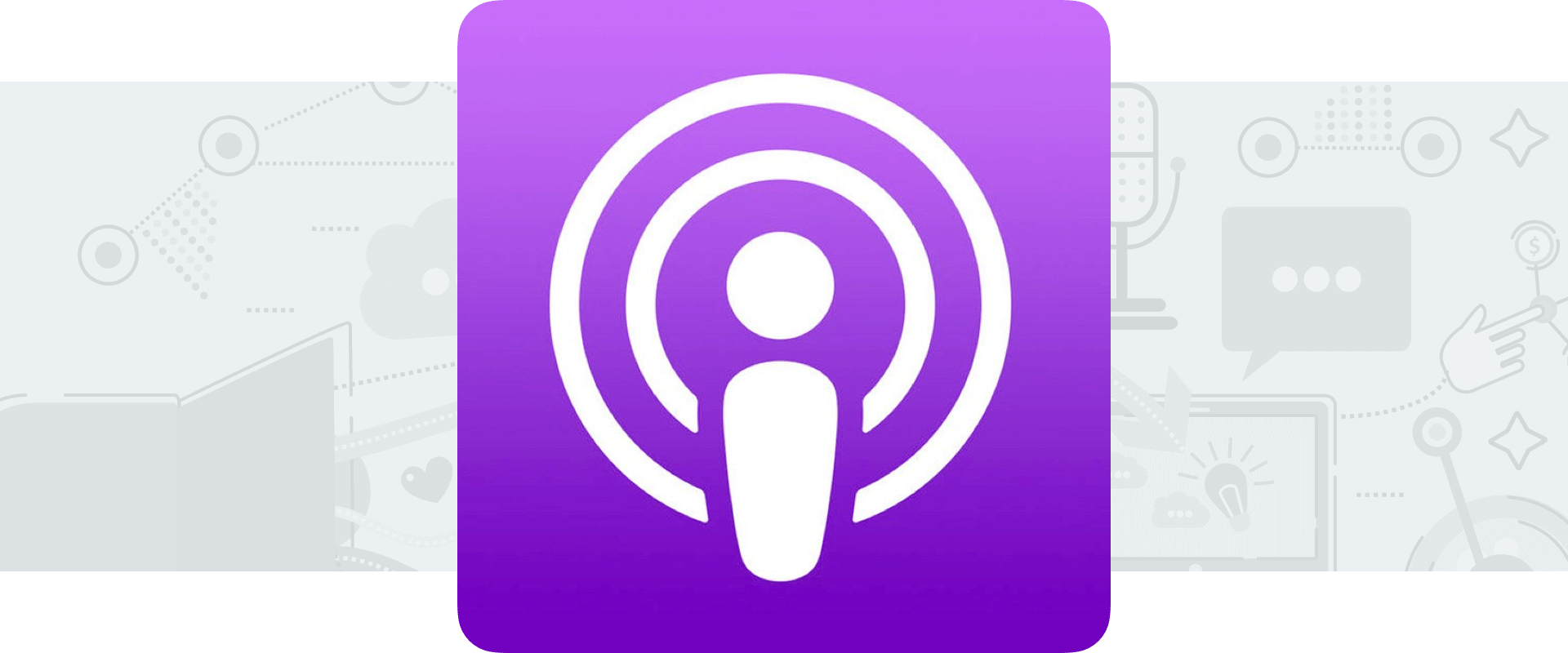 How to submit your podcast to Apple Podcasts
With over 800,000 podcast listings, Apple Podcasts is the #1 podcast directory in the world. It's where most people search for new podcasts and for most podcasts, it's the most common podcast app.
When you finish this guide your podcast will be listed in:
If you run into any issues, please feel free to ask for help in the Buzzsprout Community Group on Facebook or send an email to Buzzsprout Support.
How do I get my podcast into iTunes?

Apple rebranded the iTunes podcast directory as Apple Podcasts in 2017, but some podcasters have been slow to catch on to the new name. If you're trying to "get into iTunes," you're in the right place.
Step 1: Validate and test your RSS feed
If you're using a podcast hosting platform like Buzzsprout, you shouldn't run into any issues here. But if you built your own feed, you need to start by validating your podcast's RSS feed (also known as your "podcast feed").
Apple's recommended podcast validator is Podbase. Head to their website, paste your RSS feed address, and click Go!
Podbase will tell you if there are any issues with your RSS feed. If your RSS feed is compatible with Apple Podcasts then you should see green checkmarks all the way down.
If you get an error, Podbase will highlight the problem and let you know what you need to do to fix it. If your podcast isn't validating correctly reach out to your podcast host for help on how to correct the issue.
Step 2: Verify your RSS feed has all the correct fields to submit to Apple Podcasts
Once you've validated your feed, head to iTunes Connect to submit your podcast to Apple Podcasts.
You will need a valid Apple ID and password to submit your podcast to Apple Podcasts. If you don't have one, you can create an Apple ID for free.
We've heard reports of some podcasters getting caught in a loop where they are asked to sign in to iTunes Connect multiple times. If this happens, try adding a valid credit card to your Apple ID, and try to login again.
When you log in to iTunes Connect you should see a page like this. (If this is your first time submitting a podcast, this section will be blank).
Click the + in the upper left side of the screen.
Now enter the same RSS Feed URL you validated in Step 1, and click Validate. iTunes Connect will check two things:
That this is a valid RSS Feed, and
that it meets the requirements for Apple Podcasts.
You might receive a few validation warnings if your RSS feed doesn't have all of the required tags. For example, if you don't have a published podcast episode or are missing cover art for your podcast Apple can't accept your podcast. If so, you'll need to update these in your feed and click Validate again.
Required Fields
To submit your podcast to Apple Podcasts, you'll need to have the following fields in your RSS feed:
Podcast Title: Apple uses your title as a search term in Apple Podcasts, so make sure it is descriptive. It has a 255 character limit. Read more about how to pick a name for your podcast.
Description: Write a compelling description of your podcast. Don't stuff this section with keywords, your potential listeners are going to read this and Apple will reject podcasts that are trying to game the system. (4000 character limit).
Podcast Artwork: This one is important. Your podcast artwork will probably be the first impression your podcast makes. Make sure you create excellent podcast artwork that will look great across multiple device types.
Artwork must be a minimum size of 1400 x 1400 pixels and a maximum size of 3000 x 3000 pixels, in JPEG or PNG format, 72 dpi, with appropriate file extensions (.jpg, .png), and in the RGB colorspace. These requirements are different from the standard RSS image tag specifications.

Source: RSS tags for Podcast Connect — help.apple.com
Category: Podcasts Connect has defined a set of podcast categories, so don't try to start a new category for your Vegan Rodeo podcast. Specify the three categories, or subcategories, that are most applicable to your podcast.
Language: This is required and helps Apple know which countries should access your content. Make sure you're using the ISO 639 two-letter language code.
Explicit: If your podcast includes mature content make sure you mark it as explicit. The most common reason that Apple rejects podcasts is for failing to mark explicit content, so don't skip this part.
Review all of your podcast information for grammar and spelling mistakes. You'll want to consider what you have in the title, author, and description sections.
Be sure your podcast includes thorough and precise metadata. Your podcast must include accurate and relevant metadata to be eligible to be featured in Apple Podcasts. In addition, since most new subscribers find a podcast by searching Apple Podcasts, without accurate and relevant metadata users might not be able to find your podcast or be able to decide whether to subscribe to your podcast.

Source: About Submitting a Podcast — help.apple.com
Step 3: Submit your podcast to Apple Podcasts
Once you've filled out all the recommended tags, you're ready to submit your podcast to Apple Podcasts. Just click Submit, Apple will begin the review process.
You'll get an email letting you know your podcast is under review, and then another email once they've approved or rejected your podcast. The review process can take up to 2-weeks, but typically it only takes a few days. With iTunes Connect, you'll be able to see the status of your podcast from the dashboard.
Once you get your approval email, your podcast will be available in Apple Podcasts, the podcast section of iTunes, and in apps like Overcast!
Benefits of iTunes Connect for Podcasters
The main advantage of iTunes Connect is for managing your podcasts. By logging into iTunes Connect, you'll be able to refresh your podcast, update your RSS feed URL, or delete your podcast.
Update your RSS Feed through iTunes Connect
Before iTunes Connect, there wasn't a way to manually change your RSS Feed through iTunes. If you wanted to change your podcast host, or move to a new feed, you would need to add a new feed URL tag to your feed.
With iTunes Connect, you can specify a new URL and your podcast listing will move right over. Just drop in a new RSS feed and click Refresh Feed.
While this is great for your Apple Podcasts listing, you'll still need to put in new feed URL tag so that your subscribers and other listings, like Google Podcasts and Spotify, will move to your new feed.
<itunes:new-feed-url>www.example.com/of-a-new-feed-url.rss</itunes:new-feed-url>
Mirror URL
Apple has also added a feature called Mirror URL. Mirror URL is a static URL for each podcast listing that 301 redirect to the current source URL.
This feature will be great for keeping subscribers who have subscribed to the Mirror URL feed; if you ever change your RSS feed you would be able to keep your subscribers, even if you didn't put in a New Feed URL tag into the old feed.
The Mirror URL is a permanent link to your RSS feed URL. Users can manually subscribe to your podcast using the Mirror URL and Apple Podcasts redirects them to your RSS Feed URL; allowing you to change your RSS Feed URL without losing subscribers.

Source: View a podcast Mirror URL — help.apple.com
Other benefits of iTunes Connect
iTunes Connect for podcasts also adds a few other features that you might find beneficial:
Refresh Feed: Apple Podcasts automatically updates each podcast every 24 hours. If you'd like your content to appear in Apple Podcasts sooner, you can manually refresh your feed. (Use this feature sparingly, Apple will remove this feature if you overuse it.)
Hide Podcast: You can temporarily hide your podcast listing by clicking hide podcast.
Delete Podcast: This will permanently delete your podcast from Apple Podcasts.
Just follow the steps in this blog post and you can get your podcast listed in Apple Podcasts
If you're new to podcasting, be sure to check out How to Start a Podcast. It's a new podcast from Buzzsprout that teaches you how to create a podcast from scratch.
Podcast Distribution: Where else should you list your podcast?
Getting listed in the top podcast directories should be the first step of your podcast marketing plan. Here are our step-by-step guides on how to get your podcast into the essential podcast directories.
Alban Brooke
Alban is the Head of Marketing for Higher Pixels.
You can send feedback or questions about this article to him on Twitter.