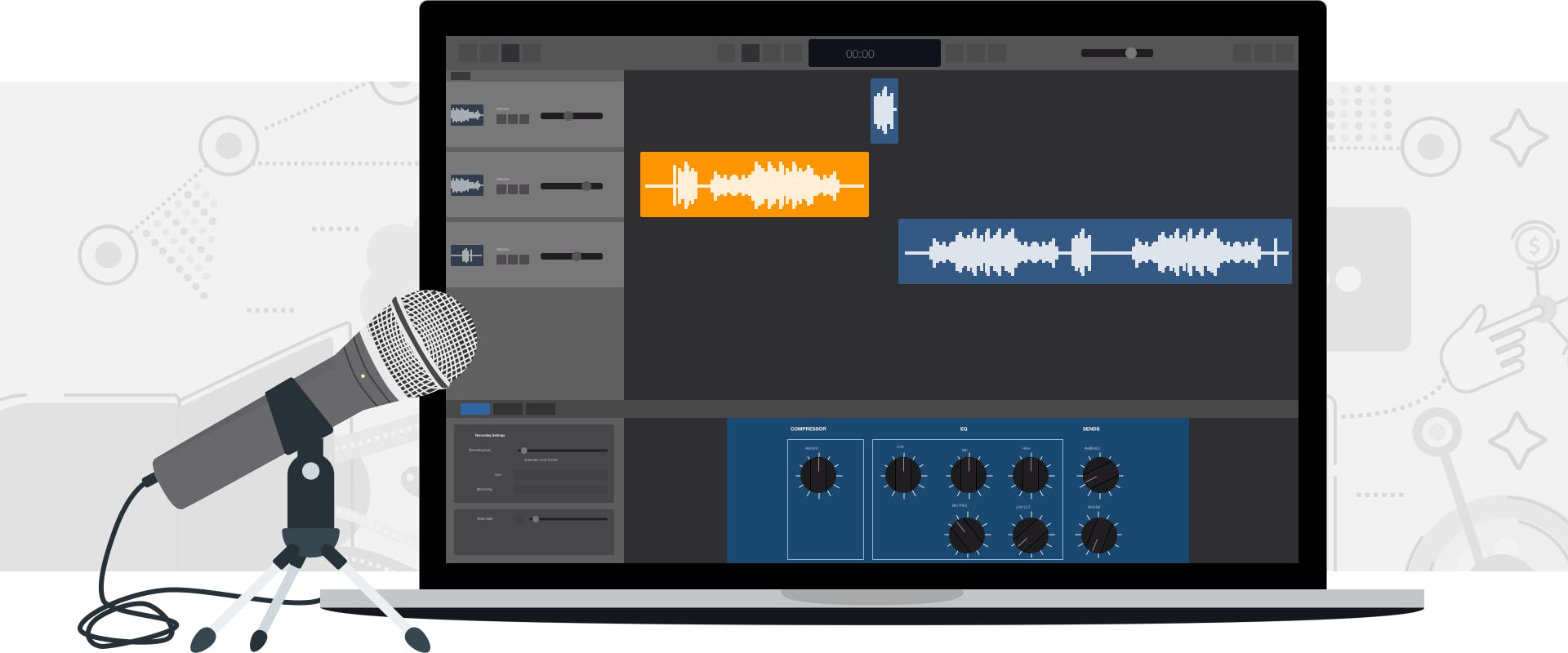 What Do You Need to Record Your Podcast?
One of the great things about podcasting is how easy it is to get started; you don't need experience, a lot of money, or a decked-out studio.
What you do need is an understanding of the basics: the right equipment, software, and a little technical knowledge. 
In this guide, we'll give you everything you need to record your first podcast episode. If you aren't tech-savvy, don't worry; you'll get more comfortable recording with each episode.
1. Sign up for a podcast hosting service  
A podcast host is like the middleman between your audio files and podcast directories; it's the bridge that connects the gap between recording your episodes and getting them into the ears of listeners. 
To get your podcast listed in directories, you need to have a host, like Buzzsprout, to store your audio files, create an RSS feed link for your show, and distribute your episodes.
Podcast hosts make this process simple, and the best part is, all you have to do is upload your finished episode, and the host takes it from there.
With Buzzsprout, you can track your podcast downloads over time and get to know your audience using easy-to-understand Advanced Podcast Statistics.
Once you set up your account and get listed in all the major directories, just upload your episode, schedule a time to publish, and we'll take care of the rest!
Try Buzzsprout free and start your podcast today.
2. Find a recording space 
Your podcast's audio quality depends partly on your equipment, but it also has a lot to do with where you choose to record your show.
When you're deciding on a place to record, try to stay indoors, avoiding open spaces and large rooms that will cause a reverberant, echo-y effect.
Some solo podcasters find walk-in closets to be a great studio option, but this method won't work so well if you have people to interview, and we advise against inviting guests into your home closet. 
If you have an interview podcast, try finding a small-to-average sized (10x10 or 10x12) bedroom. To help absorb sound, you can apply a few basic acoustic treatments to your studio that will make a dramatic difference in the final audio. 
Sound quality is a crucial part of making a professional podcast, but it's secondary to creating engaging, relevant content. So before we get into how to record, let's review how to plan out your episode.
3. Plan out your podcast episode
For most people, it's hard to hit record and deliver an off-the-cuff monologue or interview without any direction, and nothing makes recording your podcast harder than not knowing what to say or how to say it. 
Mapping an outline of your episode goes a long way toward cutting out excessive rambling, making your podcast flow, keeping your guests comfortable, and engaging listeners from beginning to end.
Of course, you're going too need some equipment to make that happen, so let's break down the essential gear you'll need to get before you start recording.
4. Decide how you want to record your show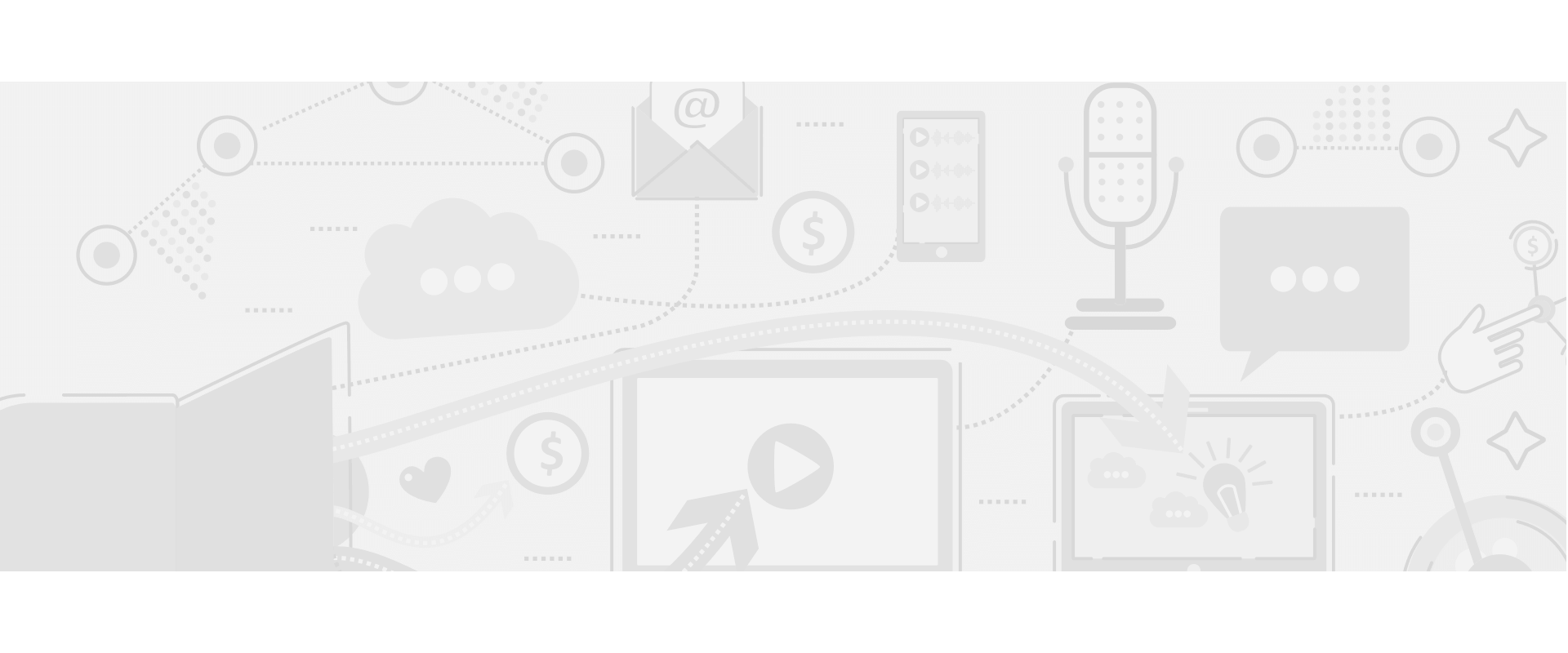 There are several ways you can record a podcast episode, and which method you choose depends on your preference, your show's style, and your budget. 
Here are three ways to record your show, the equipment needed for each method, and tips to make sure you capture high-quality audio. 
Option 1: Recording on your smartphone
Recording onto your smartphone can be a good option for on-the-go podcasters, and nowadays, there are lots of gadgets that make this a viable method.
Of course, there are some limitations to recording on a device not made for podcasting, and the final result will have a raw, unpolished quality to it. 
Even though it won't sound like you're recording in a home studio, if you get the right equipment, you can still record high-quality audio and enjoy the benefits of portable recording.
What you'll need:
 A microphone:
The iRig Mic Lav ($49.99) — This lav mic is compatible with an iPhone, iPad, and Android. The mic hooks into your headphone jack and is chainable (you can hook two iRig Mic Lav's to the same device). 
RODE Smartlav+ ($79.99) — This lav mic is a little pricier than the iRig Mic Lav and requires a RODE SC6 adapter if you want to plug in two Smartlavs. 
The iRig Mic Studio ($179.99) — You can use this compact, portable condenser mic with your smartphone, Mac, or PC. It comes with a variety of connections, including a USB and lightning cable. It even has its own recording app! Check out this tutorial to see if it's a good fit for you.
A recording app:
Unless you go with the iRig Mic Studio, you'll need to purchase a separate app to record your audio. 
Here are some affordable options that will give you the best audio quality: 
When you're ready to record, hook up your mic to your headphone jack, open up your recording app, select your mic as your input, and hit record. 
Option 2: Recording to your computer using recording software 
Recording software lets you record directly to your computer, and as many guests as you want. This option opens up a new realm of equipment guaranteed to give you professional sounding audio. 
What you'll need: 
XLR or USB mic — An XLR mic requires that you buy an audio interface (like the Scarlett Solo) to record your audio onto your computer. Buying an interface is the best option if you want to record multiple guests (unless you want to use hardware, which we'll get to in a minute!) To record with your XLR mic, plug the mic into your interface, and plug your interface into your computer's USB port. Now you can record your episode directly to your recording software!

USB microphones are more affordable than XLR mics, and perfect for solo hosts, or if you record mostly remote interviews. USB mics have a built-in audio interface, so you don't need to buy one; just plug your mic into your computer's USB port, go to the settings of your recording/editing software and select the USB mic as your input. You're ready to record!
Headphones — Headphones help you monitor your volume levels and help with proper mic technique by giving you live feedback of your voice. We like these Audio-Technica headphones for $49 on Amazon.
Pop filter — Harsh P's and S's can detract from your audio quality, but you can soften the effect of these "plosives" by putting a pop filter on your mic. You can find pop filters for your specific mic on Amazon, and they usually only cost a few dollars each.
Shock mount — Shock mounts like the On Stage MY-420 help absorb vibrations that can affect your final audio. This mount fits with most dynamic or condenser mics and attaches to either a mic stand or a boom arm.
Now that you know what gear you need, here are the top four best recording software packages that let you record and edit your episode all in one program.
Compatibility: Mac, Windows, and Linux OS
If you're skeptical about using free podcasting software, don't be! The truth is, quality recording and audio editing software doesn't have to cost you anything. For most podcasters, Audacity will have all the features you need to create your episodes. 
Some people find this program has a bit of a learning curve, so check out our Audacity tutorials for a complete walkthrough of the software!
Compatibility: Apple OS
GarageBand is an easy-to-use DAW (digital audio workstation) that lets you record, edit, mix, and export professional-quality podcast episodes. GarageBand has pro-level features like multi-track recording and powerful editing options for post-production. Its main drawback is that it's only compatible with the Apple OS. 
Learn how to record your first episode in GarageBand with our step-by-step tutorial! 
Compatibility: Windows and Apple OS
A lot of podcasters think Hindenburg is the easiest way to record and edit your podcast, because unlike the other recording options, Hindenburg Journalist is specifically for podcasters and set up for storytelling. Assembling an episode within the workspace is intuitive and beginner-friendly, and it doesn't take long to learn.
Take a tour of Hindenburg's workspace and see how you like it!
Alitu ($28/month)
Compatibility: All devices
Alitu is an all-in-one solution for recording and editing your podcast. It allows you to record high-quality audio with up to 5-people in your browser. Then you can take the audio into Alitu's episode builder for editing.
Other software options:
We think these three programs are the best out there, whether you're on a budget or not. Every podcaster has unique software preferences, though, so feel free to check out these other options:
Option 3: Recording with a field recorder (record to an SD card)
Field recorders like the Zoom H6 are an excellent hardware recording option if you want to record an interview with a guest without being tied to your laptop.
The Zoom H6 is portable and records your audio directly to an SD card as either a Wav or Mp3. You can record up to six guests at a time, each with their own microphone that records to a separate track.
What you'll need:
XLR mic: For recording guests, you can purchase multiple, hand-held XLR mics, or buy several XLR lav mics like the Comica XLR Microphone.
Headphones: Audio Technica ATH-M20x (plug into the device's 3.5 mm standard input)
SD card: A new Zoom H6 will come with an SD card, but if you want larger storage, you can buy your own on Amazon.  
Recording podcast phone calls & remote interviews
If you feature guests on your podcast, eventually a guest won't be able to make it for an in-person interview, and you'll need to record a remote interview. Here are three ways to record a long distance interview no matter what equipment you use — just make sure you have a stable internet connection or cell signal before you start!
Smartphone to smartphone
If your guest can't get to their computer, you can use your smartphone to record your phone call. 
Zoom is compatible with iOS or Android, and most people already have the app, which helps eliminate confusion for your guest. To record phone calls, you'll need a paid plan which starts at $14.99/month. 
Computer to computer
Ecamm's Call Recorder ($39.95) captures both the video and audio of your Skype call. Once your call is over, you can export your audio recording as an MP3 and use the multi-track feature to split your tracks up for easier editing. 
Zencastr is an in-browser call recorder that records each guest on a separate track and even has post-production features so you can optimize your phone call's quality. 
Alitu is an all-in-one solution for recording and editing your podcast. It allows you to record high-quality audio with up to 5-people in your browser. Then you can take the audio into Alitu's episode builder for editing.
Read our full guide on recording remote podcast interviews.
Hook your phone up to your field recorder 
If you have a Zoom H6 or a similar field recorder, you can record a phone call by hooking up your smartphone the Zoom's 3.5 mm jack using a 1/8" to 1/4" cable.
Simply dial your guest's number, check your volume levels, and hit record.
The double-ender
A double-ender is a computer-to-computer recording process where each guest records their audio using software like SquadCast. After the interview, your guest can send you their audio file, which makes editing easier and sound quality dramatically better than a regular phone call. 
You're ready to start recording!
Recording your podcast will quickly become second nature, just remember, listeners care mostly about the content of your show, not perfect recording technique!
Check out our How to Start a Podcast guide for a full walkthrough on how to get your podcast off the ground!