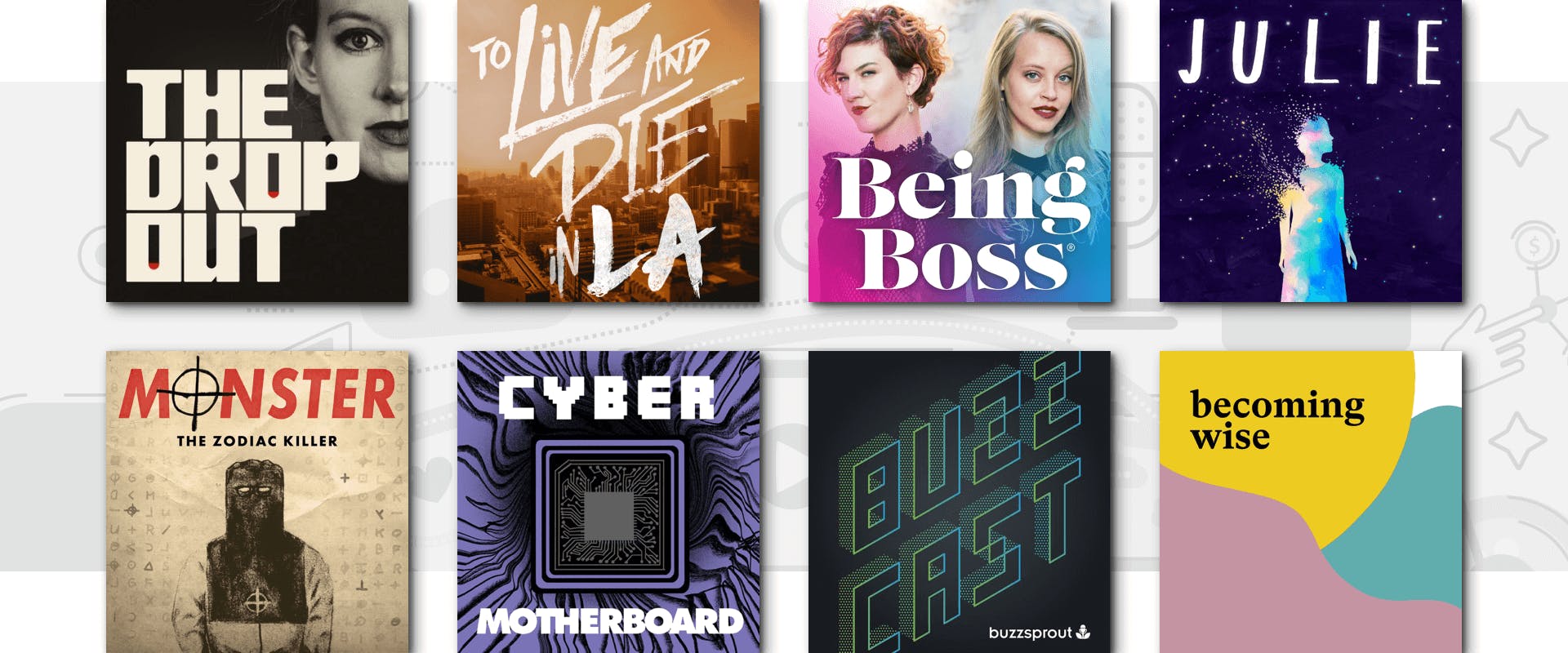 How to Design Stunning Podcast Cover Art That Stands Out in Apple Podcasts (iTunes)
Quality content is the most important part of making a podcast, but your show's cover art plays a huge role in making a positive first impression on listeners and setting yourself up for success.
Before getting started on your design, there are a few things you need to know to ensure Apple Podcasts accepts your submission. Let's dive into our top ten tips for creating quality cover art; then, we'll show you how to design your own!
Top 10 tips for creating quality podcast cover art 
These suggestions will help you create quality, effective artwork the first time around, so you don't waste time remaking your design.
1. Make sure it works in Apple Podcasts
While Spotify, Google Podcasts, and other podcast directories are a great way to reach new listeners, Apple Podcasts (formerly iTunes) is the largest and most popular. It's critical to list your show in Apple's directory and make sure your artwork meets the platform's requirements.
Cover art must be: 
• a minimum size of 1400 x 1400 pixels and a maximum size of 3000 x 3000
• in the RGB colorspace ( and at 72 dpi)
• saved as JPEG or PNG format with appropriate file extensions (.jpg, .png)
• optimized for mobile devices (Apple suggests compressing your image)
Note: Most podcast directories take their cues from Apple Podcasts, so if your artwork meets their requirements, it will also work in other directories.
2. Communicate the subject of your podcast
Podcasts vary as much as the people who create them, and your covert art should convey the type of podcast you have. Your goal is to make sure potential listeners understand your show's topic by glancing at your artwork. Which one of these scenarios best fits your podcast?
Scenario #1: "I'm doing a podcast about my hobby."
If you are launching a hobbyist podcast, you want to use artwork specific to your hobby. For example, if you're starting a podcast about Star Wars, you'll want to make sure you incorporate some Star Wars themed images. Make sure your fellow superfans can easily see what the podcast is about!
Scenario #2: "I'm launching a podcast to promote my business or church."
A lot of existing businesses and churches are launching podcasts to promote their existing brand further. If your goal is to reach out to existing customers and members, you'll want to use recognizable branding like your logo. Here are some examples where the church or business logo is prominently displayed:
Even if your brand is less recognizable, you want to use images that are familiar to your current customers and members.
Scenario #3: "My podcast is about me."
Some of the most popular podcasts use the host's personality to drive the brand. If this sounds like your podcast, you might want to consider using a picture of yourself in your artwork.
Using your image as your podcast's brand can work out well, but, as this podcasting tip reminds us, try to avoid focussing so much on being a podcast personality that you forget to bring valuable content to your listeners.
3. Design for a variety of sizes
When designing your podcast artwork, make sure it looks great everywhere it's displayed — from a large monitor to an app on an iPhone; create artwork that still works well when scaled down to thumbnail size on mobile devices. 
Tip: OnlyPod has an awesome cover art preview tool will let you see how your artwork will look in all the top apps and directories.
Your artwork will show up in Apple Podcasts, Google Podcasts, Spotify, Stitcher, and dozens of other directories. Here are three different cover art sizes within Apple Podcasts alone:
Size #1: Apple Podcasts Preview Page
When someone clicks on your Apple Podcasts link from a desktop internet browser, Apple displays your podcast information in a preview page. Typically displays at 276 x 276 pixels.
Size #2: Apple Podcasts New & Noteworthy Section
The prime location in the iTunes podcasts page typically displays podcast cover art at 125 x 125 pixels.
Size #3: Apple Podcasts Mobile App
The Apple Podcasts mobile app on the iPhone is where most podcast listeners will see your artwork. Note that your artwork's size will change as you navigate through different pages of the Apple Podcasts app.
Pro tip: To make sure your artwork looks great on smartphones, export your file at 55 x 55 pixels to see what it looks like at a small size. All your text and images should still be big enough to decipher.
4. Don't use too many words
As you can see, podcast artwork needs to look great when it's big and when it's small. One vital tip is to keep the words in your artwork to a minimum. When your artwork displays at thumbnail size, it will be nearly impossible to make out more than three or four words. typography 
Good rule of thumb: Don't use more than five words in your artwork.
5. Pay attention when selecting fonts
When adding text to your artwork, make sure that you limit visual distractions. Using multiple fonts will add another dimension of distraction. We suggest limiting the number of fonts in your artwork to no more than two, and if you use two different fonts, use one serif and one sans-serif font.
6. Avoid gimmicky fonts
There are a lot of gimmicky fonts that draw too much attention to themselves. These distracting fonts are flashy, loud, and often overused. Remember, fonts are another branding tool you can use to express your message, so make sure it aligns with your show.
Good rule of thumb: Avoid papyrus, comic sans, curlz, jokerman, or fonts that distract the reader.
7. Avoid overused images
Podcast artwork is replete with microphones and headsets, and using this imagery often misses the point of the podcast. Podcasting is the medium that you're using to convey your ideas; it isn't the subject of your podcast.
With one exception...
If your podcast's subject is podcasting, you'll want to incorporate some podcasting elements into your artwork.
Jared Easley is a respected leader and innovator in the area of podcasting. His podcast, Starve the Doubts, is about launching, building, and growing your show. Since podcasting is the subject of his podcast, it makes sense for him to incorporate headphones and a mic into his artwork.
When rebranding the artwork for Podcasting Q&A, we wanted people to immediately know what the show is about, which led us to use podcasting equipment as part of our podcast artwork. 
8. Be consistent
As we mentioned in tip #2, you'll want to use consistent imagery across your brand (website, Twitter, Facebook, other forms of social media, etc.). Apple, Coca-Cola, and Nike are all masters at branding because they use consistent imagery across all their platforms.
Soloprenuers like Tim Ferris don't use a logo at all, and instead use their own image as the face of their brand. If you go this route, just make sure you keep your text consistent across mediums.
9. Repurpose your cover art
The great thing about making cover art is you can repurpose it for other branding uses (another reason to make it as high-quality as you can.) You can use your new artwork on Soundcloud, your social media avatar, on business cards, or even as a favicon for your WordPress site.
If your repurposed cover art looks too busy at these smaller sizes, consider using a simpler design with the same color scheme (you might need to remove some the text from the image.) Feel free to tweak with your artwork across mediums, but leave enough of the original design to stay recognizable.
10. Make it future proof
The minimum podcast artwork size used to be just 300 x 300 pixels. Over the years, this standard has increased to the current 1400 x 1400 pixels minimum, and Apple's size standards may increase again in a few years.
To avoid having to redo your artwork in the future, make it future proof by submitting a larger image closer to the 3000 x 3000 pixels max. This way, your podcast is good to go if the standard rises again!
Free DIY tools to design your cover art
You don't have to be a graphic designer to create podcast artwork that looks slick and professional. These days, web tools are widely available that make podcast logo design simple — and totally free. 
So if you have a little time and creativity, here are a couple of DIY design tools you can use to create your own podcast cover art that don't cost a dime.
Adobe Spark (Free Plan)
Spark's Free Plan lets you create a custom-sized image and offers a wide selection of various templates, text styles, and pre-made color pallets to spark your creativity.
To get started, create an Adobe account. Click the + sign at the top left of the page and select Custom Size Graphic and enter your dimensions. 
Once you're in the creator page, select the Add + button to upload your image and overlay it with custom effects and text, or browse hundreds of free templates and icons.  
In need of a little inspiration? Try Spark's step-by-step logo maker and let the tool generate some ideas for your show's branding. It won't create podcast art for you, but it can get the ball rolling if you have a creative block!
When you're done with your design, selected Download at the top right of the screen and save the file as a .jpg or .png.
Canva Pro (free trial)
We think Canva's platform is a bit easier to use than Spark's, but this option requires that you sign up for a 30-day free trial of Canva Pro to use the tool's resizing feature (you'll need to use this to meet Apple's dimension requirements). 
Once you create your account, go to Create New Design > + Custom Dimensions to start your project (you'll need to disable your browser's pop up blocker before resizing).
You have access to thousands of templates, lines, shapes, icons, and fantastic text styles to choose from on the left-hand menu.
Canva Pro also lets you also use the Folders feature to organize your projects — an excellent tool if you plan to continue to create branded content like PDFs, infographics, etc.
Paid options: Hire a professional designer
If graphic design isn't your thing and you prefer to enlist a professional, hire a designer to create your artwork. Here are our top recommendations:
Cost: $299-1,399
99designs is a pricier design option but allows you to get a wide variety of potential designs. Start a design contest, review pitches from several creators, and pick the one you like most. 99designs created artwork for some of our own podcasts, so we can vouch for their work. Use this link for $20 off any contest. 
Cost: $147-$297
The Podcast Design Company offers professionally made cover art designs specifically for individuals and businesses looking to create their own podcast. They offer a 30-day guarantee, unlimited revisions, and 24/7 support.
Use Buzzsprout15 to save 15% on your first order.
Cost: $250-$500
Jenny has created a ton of great podcast cover art, so you're sure to recognize some of her work. She charges $250 for custom podcast artwork designed to your specifications and sized for all podcast apps, and the original vector artwork. For $500 you can get a full Podcaster's Package Deal.
Cost: $295
Mark specializes in creating visual identity brands for podcasters, including podcast cover art. He can also help with social media and website branding if needed.
Cost: $5-$100
If other services are out of your price range, look into using Fiverr. This platform has many talented graphic artists who are just starting out and building up their portfolio. If you choose this service, make sure you find a designer with good reviews and plenty of previous work examples.
Upload image to your Buzzsprout dashboard
If you host your podcast with Buzzsprout, you can log in to your account and select the Podcast Settings > Podcast Info. Scroll down and click the grey box that says Choose Custom Artwork to upload your podcast cover design! 
Click Save Podcast Info and wait up to 24 hours for the changes to appear.
That's it!
Your podcast's cover art is the first thing listeners see in Apple Podcasts or social media, and it plays a huge role in whether or not they decide to listen. Following these steps ensures you create visually appealing artwork that is Apple-approved and effective at drawing in new listeners.
Now it's time to put your cover art to work as part of a successful podcast marketing plan! These resources can help you get started: