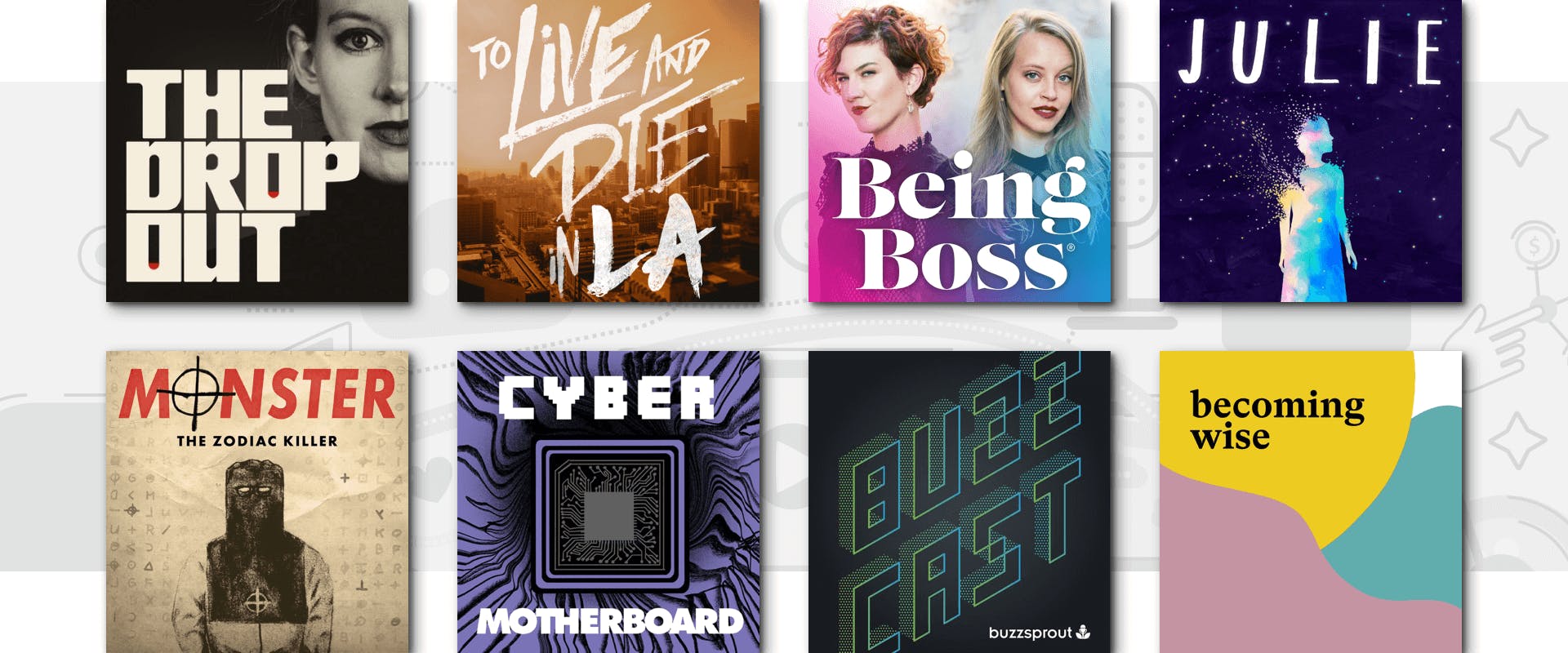 How to Design Stunning Podcast Cover Art That Stands Out in Apple Podcasts (iTunes)
While excellent episode content should always be the focus of your podcast, your podcast cover art is the first thing new listeners will see in Apple Podcasts or on social media. 
These 10 tips comprise the ultimate guide to creating a podcast logo for any new podcast.
1. Make sure it works in Apple Podcasts
While Spotify, Google Podcasts, and other podcast directories are a great way to reach new listeners, Apple Podcasts (formerly iTunes) is the largest and most popular directory. It is critical that your podcast is listed in Apple Podcasts and that your artwork meets their specifications.
Excerpts from iTunes Feed and Image Requirements:

[Cover art must be] a minimum size of 1400 x 1400 pixels and a maximum size of 3000 x 3000 pixels, 72 dpi, in JPEG or PNG format with appropriate file extensions (.jpg, .png), and in the RGB colorspace. To optimize images for mobile devices, Apple recommends compressing your image files.
Remember, attractive podcast artwork is a requirement to get into iTunes New & Noteworthy section.
2. Podcast artwork should visually communicate the subject of the podcast
Podcasts are as variable as the people who create them, and your podcast artwork should be influenced by the type of podcast that you have. Your goal is to make sure potential listeners understand what your podcast is about so that you make a great first impression. What is the goal of your podcast?
"I'm doing a podcast about my hobby."
If you are launching a hobbyist podcast, you're going to want to use artwork specific to your hobby. For example, if you're starting a podcast about Star Wars, you'll want to make sure you incorporate some Star Wars themed images. Make sure your fellow superfans know what the podcast is about!
"I'm launching a podcast to promote my business or church."
A lot of existing businesses and churches are launching podcasts to promote their existing brand further. If the goal of your podcast is to reach out to existing customers and members, then you'll want to use recognizable branding such as your logo. Here you can see several examples where the church or business logo is prominently displayed.
Even if your brand is less recognizable, you'll want to use images that your current customers and members already know; use your company or church's existing logo.
"My podcast is about me."
Some of the most popular podcasts are driven by the personality and brand of the host.
Dave Ramsey is a best selling author of personal finance books
Conan O'Brien is a TV personality who has hosted a late-night talk show for several decades
Tim Ferris is a world-renowned life hacker, author, and podcaster
If the podcast is primarily driven by the personality and brand of the host, you might want to consider using a picture of the host in your artwork. But, as this podcasting tip reminds us, don't fall so in love with the idea of being a podcast personality that you forget to bring valuable content to your listeners.
The main point is that your podcast artwork should visually communicate what the podcast is about. If somebody only sees your podcast artwork, they should still be able to tell what the podcast is about.
3. Design for a variety of sizes
When you're designing your podcast artwork, you'll want to make sure that it looks great everywhere it's displayed, from a large monitor to an app on an iPhone.
Excerpts from iTunes Podcast Best Practices:

Create artwork for your podcast that still works well when scaled down to thumbnail size on mobile devices. [...] To be eligible for featured placement on the iTunes Store and Podcasts, artwork must be a 3000 x 3000 pixel JPEG or PNG file with 72 dpi in the RGB color space.
Your artwork is going to show up in Apple Podcasts, Google Podcasts, Spotify, Stitcher, on computers, smartphones, and tablets. To give you an idea of how variable the artwork size will be, here are three sizes all from within Apple Podcasts.
Apple Podcasts Preview Page
When someone clicks on your Apple Podcasts link from a desktop internet browser, Apple displays your podcast information in a preview page. Typically displays at 276 x 276 pixels.
iTunes Store New & Noteworthy Section
The prime location in the iTunes podcasts page. Typically displays at 125 x 125 pixels.
Apple Podcasts Mobile App
The Apple Podcasts mobile app on the iPhone is where most podcast listeners will see your artwork. Note that as you navigate through different pages of the Apple Podcasts app, the size of your artwork will change.
This means your artwork needs to look great when it's massive and when it's tiny. Try exporting your artwork at 55 x 55 pixels to get an idea of what it looks like at the smaller sizes.
4. Don't use too many words
As you can see, podcast artwork needs to look great when it's big and when it's small. One vital tip is to keep the words in your artwork to a minimum. When your artwork displays at a thumbnail size, it will be nearly impossible to make out more than three or four words.
Good rule of thumb: Don't use more than five words in your artwork.
5. Pay attention when selecting fonts
When adding text to your artwork make sure that you limit visual distractions. Using multiple fonts will add another dimension of distraction. Make sure you limit the number of different fonts in your artwork. If you use two different fonts, use one serif and one sans-serif font.
Good rule of thumb: Don't use more than two fonts in your podcast cover art.
6. Avoid gimmicky fonts
There are a lot of gimmicky fonts that draw too much attention to themselves. These fonts are really flashy, loud, and often overused. Remember, fonts are just the tool to express your message.
Good rule of thumb: avoid papyrus, comic sans, curlz, jokerman, or fonts that distract the reader.
7. Avoid microphones, headsets, and other overused images
Podcast artwork is replete with microphones and headsets. Using this imagery often misses the point of the podcast. Podcasting is the medium that you're using to convey your ideas; it isn't the subject of your podcast. Movie covers don't have pictures of DVDs and TV sets, and book covers don't have pictures of paper, they use artwork to represent what the movie or the book is about.
But, one exception...
If the subject of your podcast is podcasting, you'll want to incorporate some podcasting elements into your artwork.
Jared Easley is a respected leader and innovator in the area of podcasting. His podcast Starve the Doubts is about how to launch, build, and grow your podcast. Since podcasting is the subject of his podcast, it makes sense for him to incorporate headphones and a mic into his artwork. 
When creating the artwork for How to Start a Podcast, we wanted people to immediately know what the podcast is about. That led us to feature the most well-known podcasting microphone on the planet (thanks Joe Rogan) as the focal point of our podcast artwork.
8. Be consistent
Your podcast artwork is a part of your overall branding. As we mentioned in Tip #2, you'll want to use consistent imagery across all of your brand. Apple, Coca-Cola, and Nike are all masters at branding because they use consistent imagery across all their platforms.
When designing your podcast artwork try to use the same logo and images that you use on your website, Twitter, Facebook, and other platforms. Help your listeners and followers to recognize your brand by just seeing your images.
9. Repurpose your cover art
When you finalize your podcast cover art, make sure you repurpose it in other locations. You can use your new artwork on Soundcloud, as your social media avatar, on business cards, or even as a favicon for your Wordpress site.
If your repurposed cover art looks too busy at small sizes, consider using a simpler design with the same color scheme. You might just need to remove the text from the image.
Need some help with your podcast artwork?
If you aren't a designer, you can hire somebody to design your podcast cover art. Here are a few of our recommendations:
10. Make it future proof
The minimum podcast artwork size used to be just 300 x 300 pixels. Over the years this standard has increased to the current 1400 x 1400 pixels minimum.
The standards may increase again in a few years. Make your artwork future proof by submitting a larger image closer to the 3000 x 3000 pixels max. This will ensure that if the standard is raised again that your podcast artwork will be ready to go!
There you have it!
These are our 10 tips to design stunning podcast cover art that stands out in Apple Podcasts. While content is the most important component of your podcast, podcast artwork will help you attract new listeners and grow your podcast.
Alban Brooke
Alban is the Head of Growth for Buzzsprout.
You can send feedback or questions about this article to him on Twitter.