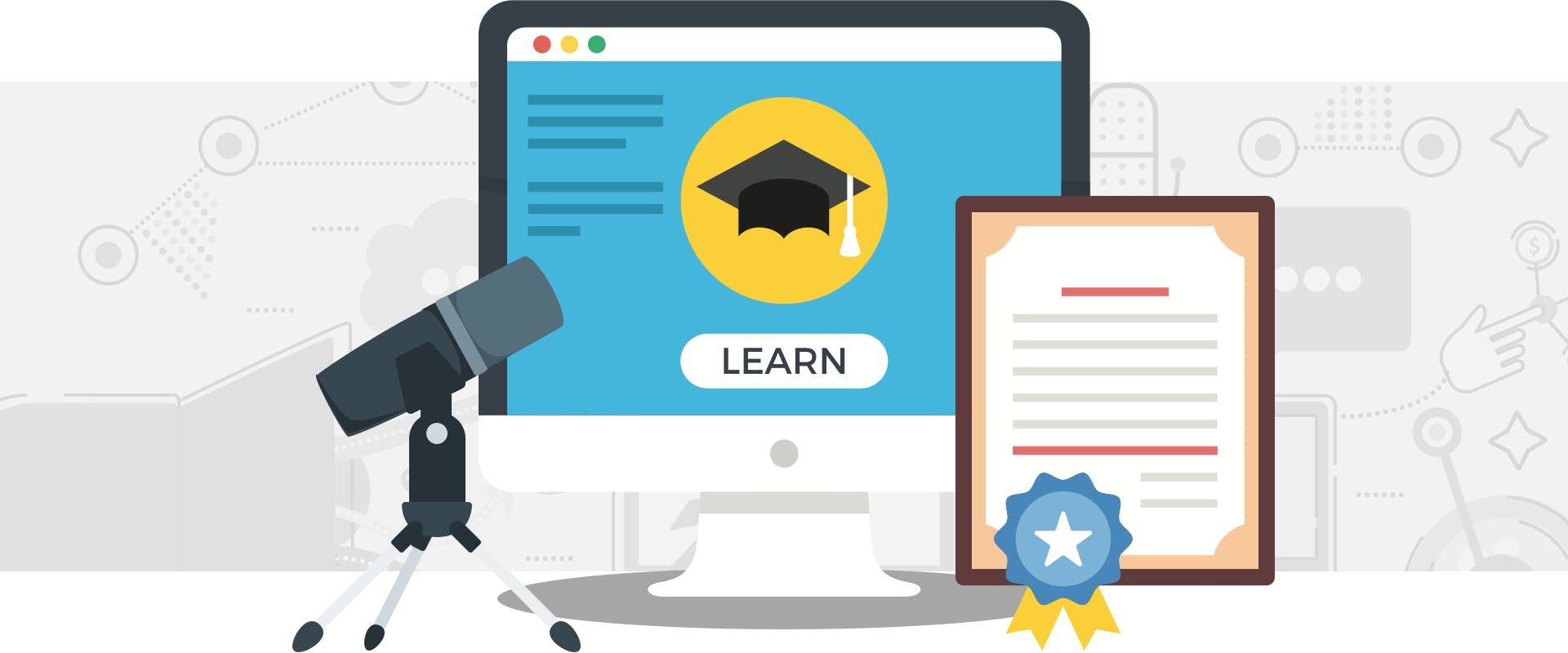 Best Free Podcast Courses for 2022
Trying to find all the answers to your podcasting questions can be frustrating. A good podcast course consolidates all the information you need into one source.
Podcast courses can help you:
launch your new podcast,
improve your marketing,
learn about tech,
monetize your content, and more.
This guide lists the best free courses to guide you through the various elements of podcasting!
Best free podcasting courses for beginners
Buzzsprout's free, online course walks you through everything you need to successfully launch your first podcast.
This step-by-step guide features written and video tutorials on the eight steps to launching a podcast.
It also answers questions like:
How do I record multiple people?
How do I submit my show to Apple Podcasts and Spotify?
What microphone should I buy? and other FAQs.
In this nine-episode serial podcast, we walk listeners through every step of podcast creation.
Episode topics include:
practical editing tips,
how to record a podcast,
how to pick a name and niche, etc.
This free course helps you get all your podcasting bases covered, and can be helpful for new and experienced podcasters!
Veteran podcaster Pat Flynn (from Smart Passive Income) created this free guide to help creators efficiently launch a new podcast.
It's an excellent course for beginners and covers these fundamentals:
how to choose a podcast topic you can commit to,
how to write a compelling podcast description,
how to decide on a format,
how to create podcast artwork, and more.
Pat also breaks down common myths about starting a podcast, so you can launch with confidence.
Ross Winn from Podcast Insights started this 10-day course to help simplify starting a podcast and making it successful.
This course covers everything from getting listed in Apple Podcasts (formerly iTunes) to monetizing your content through online courses and social media.
The course features a minimalist format and breaks down things like:
how to pick a topic,
equipment needed,
how to come up with episode ideas,
how to submit to Apple and Spotify,
how to launch, etc.
Podcaster Krystal Proffitt created this free, five-day video course to take podcasters through the fundamentals of successfully starting, launching, and marketing a podcast.
The courses topics include:
Day 1: How to Start a Podcast,
Day 2: How to Plan Content and Stay Consistent,
Day 3: How to Record Your Podcast,
Day 4: How to Launch a Podcast, and
Day 5: How to Market a Podcast.
It also includes a crash course in equipment and advice on how to stay consistent. Each video is delivered over five days so viewers can focus on one topic at a time.
The Podcast Success Academy offers guidance on various podcasting basics, including how to get your first 100 listeners in 28 days.
The host, Mark, also offers live Q&A office hours to answer members' questions.
Members will learn how to:
overcome imposter syndrome,
understand podcast tech, and
launch a simple, clear podcast plan.
This beginner course covers all the podcasting fundamentals with modules for each step of the process.
The course answers common questions like:
how do I edit my podcast with Audacity,
how do I write compelling show notes, and
how do I market my new show?
The course is video-driven and runs for an hour and 25 minutes.
Course teacher Garrick Chow walks podcasters through how to use the editing software turn a raw content into an engaging episode.
The course goes step-by-step to create episodes with high quality audio. It also explains how to add music and effects and publish your content to hosting sites.
This course is free for one month with a LinkedIn account.
Best paid podcast courses
Sometimes paid podcasting courses take a deeper dive into more advanced content. Here are some of our favorites.
Price: $140
CEO of The Podcast Host, Collin Gray, teaches new podcasters how to set up a show and how to deal with inevitable failures along the way.
This course includes in-depth lessons and tutorials on how to:
plan and strategize for success,
record and edit efficiently, and
publish and promote your new show.
The Podcast Host Collin Gray created The Podcast Academy as a resource full of valuable information for podcasters of all levels.
Price: $16.99
This podcast masterclass is led by instructors Phil Ebiner and Ravinder Deol and features modern digital marketing techniques to help grow your business through podcasting.
You'll learn:
how to edit your podcast,
how to monetize through sponsorships and affiliates, and
how to get more monthly downloads.
Price: $799
Pat Flynn focuses on the launch and the marketing behind it. He helps podcasters create shows that garner subscriptions and a loyal following.
Power Up Podcasting delves deep into:
the how and why of podcasting,
mastering the technical elements,
setting up your website, show notes, and
how to launch your podcast with an unforgettable bang.
The course comes with a money back guarantee, office hours with Pat, and access to an exclusive community of podcasters.
Price: $197
Proffitt podcasting is the complete step-by-step program for entrepreneurs who want to learn how to start, launch, and market their podcast confidently.
This course is a roadmap to help you take your podcast from an idea to a content-producing machine. The course covers:
the fundamentals of planning,
recording and editing podcast episodes, and
how to grow and monetize your show.
Proffitt Podcasting has a money-back guarantee, lifetime access, and weekly office hours in a private, students-only online community.
Price: $695
Mike Russel is an expert audio producer who created this course to help podcasters produce stand-out episodes with efficiency.
The course is divided into 10 stages where you'll learn:
10 methods to make a podcast sound great
the best hardware and software options,
recording and audio production techniques,
how to fix bad audio, and
how to talk over music and flawlessly master your audio.
Other free podcasting resources:
Podcast Movement: Podcast Launch Challenge
Podcast Movement offers a free challenge to new podcasters to get their show up and running in four weeks.

Members report their progress throughout the course to a private online community where they can enter to win one of four prizes.
Podcast Concierge: The 5 Day Podcast Challenge
In this course, Podcast Concierge Debra Levitt gives podcasters one challenge every day for five days. By the end of the course, you'll have all you need to launch your first episode.
This video gives you a better idea of how the challenge works.

Alban Brooke
Alban Brooke is the Head of Marketing at Buzzsprout and the co-host of Buzzcast. Have any questions about this guide? Reach out on Twitter.
FAQ
Why should I take a podcast course?
Taking a podcast course helps you learn a lot of information more efficiently than searching the internet for answers. Courses can help you in any area of podcasting and are especially helpful when you're just getting started.
What is the best podcasting course?
The best podcast course depends on your needs and preferences. Some of our favorite free courses are:
Buzzsprout's How to Start a Podcast [2022],
Pat Flynn's How to Start a Podcast Step-by-Step, and
Create Your Podcast Bootcamp with Krystal Proffitt.