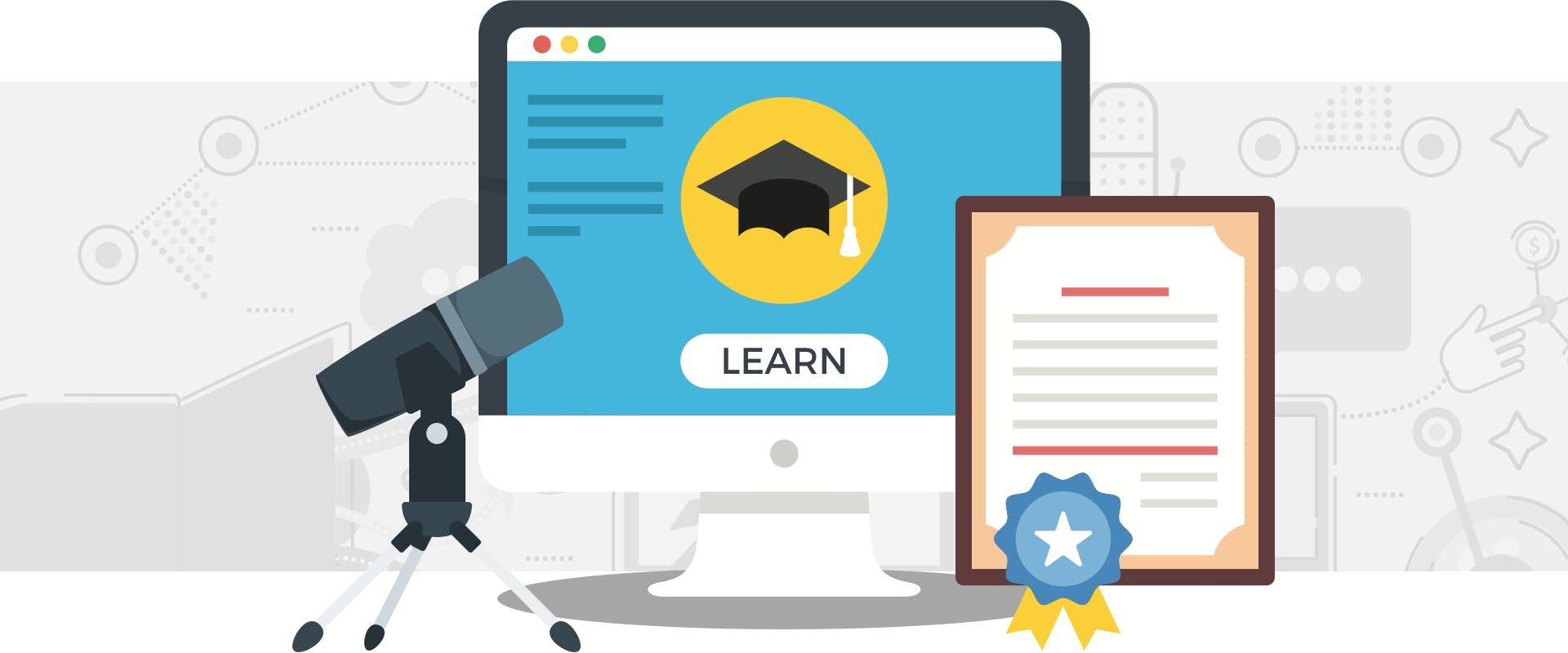 Best Free Podcast Courses for 2022
Podcasting courses exist to help synthesize the all the information on podcasting into one consolidated source.
Going through a podcast course can help you:
launch your new podcast,
improve your marketing,
learn about tech,
monetize your content,
learn from seasoned podcasters, and more.
We put together this list of the best podcasting courses to help you pick the right one for your own podcast!
Top 5 free podcasting courses
Best for: Beginner podcasters who want a comprehensive guide to the basics.
Buzzsprout's free, online course walks you through everything you need to successfully launch your first podcast.
This step-by-step guide features written and video tutorials on the eight steps to launching a podcast.
It also answers questions like:
How do I record multiple people?
How do I submit my show to Apple Podcasts and Spotify?
What microphone should I buy? and other FAQs.
Best for: Beginner podcasters who want a tutorial of the basics involved in the podcasting process.
Veteran podcaster Pat Flynn (from Smart Passive Income) created this free guide to help creators efficiently launch a new podcast.
It's an excellent course for beginners and covers these basics seven steps:
Choose a topic you can commit to,
Define your show description and artwork,
Set up and thoroughly test your equipment,
Create a plan for your episodes,
Record your episodes,
Edit and publish your episodes, and
Launch your podcast to your audience.
Best for: Podcast minimalists and creators of all levels who want to learn how to monetize.
Ross Winn from Podcast Insights started this 10-day course to help simplify starting a podcast and making it successful.
This course covers everything from getting listed in Apple Podcasts (formerly iTunes) to monetizing your content through online courses and social media.
The course features a minimalist format and breaks down things like:
how to pick a topic
equipment needed
how to come up with episode ideas
how to submit to Apple and Spotify
how to launch, etc.
Best for: Podcasters looking to start a podcast and familiarize themselves with the basics before they launch.
Podcaster Krystal Proffitt created this free, five-day video series to take podcasters through the fundamentals of successfully starting, launching, and marketing a podcast.
The courses topics include:
Day 1: How to Start a Podcast
Day 2: How to Plan Content and Stay Consistent
Day 3: How to Record Your Podcast
Day 4: How to Launch a Podcast
Day 5: How to Market a Podcast
It also includes a crash course in equipment and advice on how to stay consistent. Each video is delivered over five days so viewers can focus on one topic at a time.
Best for: Beginners overwhelmed by equipment options and technology and want to learn how to podcast around full-time work hours successfully.
The Podcast Success Academy offers guidance on various podcasting basics, including how to get your first 100 listeners in 28 days.
The host, Mark, also offers live Q&A office hours to answer members' questions.
Members will learn how to:
overcome imposter syndrome,
understand podcast tech, and
launch a simple, clear podcast plan.
Top 5 paid podcast courses:
Best for: Podcasters of all levels who want to take a deep dive into podcast technology and improve their marketing.
The Podcast Host Collin Gray created The Podcast Academy as a resource full of valuable information for podcasters of all levels. Here are some of our favorite courses of his.
Price: $140
CEO of The Podcast Host, Collin Gray, teaches new podcasters how to set up a show and how to deal with inevitable failures along the way.
This course includes:
26 in-depth lessons,
29 video tutorials,
interviewing guides,
eBooks,
printable launch planner, and more.
Price: Included in $45 a month membership
This audio editing course teaches you to work with digital audio editing software to create high-quality audio and enhance your podcast production.
The course includes:
42 Lessons,
42 Video lessons,
2+ hours video tutorials, and
28 actionable tasks.
Price: Included in $45 a month membership
In this course, Collin Gray teaches podcasters to boost their listener base extensive instructional material.
The course includes:
59 Lessons,
50 Video lessons,
9 Text summaries and takeaways,
50+ minutes video tutorials, and
43 actionable tasks.
Price: Currently on sale for $13.99
Best for: Beginner podcasters who want to dive deep and interact directly with course instructors.
This podcast masterclass is led by instructors Phil Ebiner and Ravender Deol and is an excellent option for newbies learning from scratch.
The course features:
lifetime Access,
30-day money-back guarantee,
5.5 hrs of on-demand video,
11 articles,
direct feedback with instructors,
certificate instructors, and
mobile + TV access.
Price: $799
Best for: Podcasters want to know more about how to launch and market their podcast or learn more about building a following.
Flynn focuses on the launch and the marketing behind the launch. He dedicates his podcast to helping podcasters create shows that garner support, subscriptions, and a loyal following.
Flynn walks members through the process of with short, actionable video courses. The course comes with a money back guarantee, office hours with Pat, and access to an exclusive community of podcasters.
Price: $197
Best for: Entrepreneurs who want to learn how to learn the basics and how to structure their podcast creating process the right way.
Proffitt podcasting is the complete step-by-step program for entrepreneurs who want to learn how to start, launch, and market their podcast confidently.
This course is a roadmap to help you take your podcast from an idea to a content-producing machine. The course covers:
the fundamentals of planning,
recording and editing podcast episodes, and
how to grow and monetize your show.
Proffitt Podcasting has a money-back guarantee, lifetime access, and weekly office hours in a private, students-only online community.
Price: Free with LinkedIn trial
Best for: Beginner podcasters looking to improve their production quality and effectively promote their content.
This course is taught by Danny Ozment, a marketing consultant, and producer of over 20 different podcasts.
Danny covers the basics of podcasting, focusing on audio production and marketing especially.
This course technically costs, but you can sign up for a free, one-month trial of LinkedIn Learning to take it for free!
Other courses:
Podcast Movement: Podcast Launch Challenge (free)
Podcast Movement offers a free challenge to new podcasters to get their show up and running in 4 weeks.
Members report their progress throughout the course to a private online community where they can enter to win one of four prizes.
Podcaster's Paradise with John Lee Dumas ($97 per month)
John Lee Dumas offers a Free Podcast Course and Podcaster's Paradise, a course with a monthly membership or annual fee.
Podcaster's Paradise teaches members the latest strategies for growth and monetization, monthly live Q&A, comprehensive podcast resources and templates, and access to a private online community.
Alban Brooke
Alban Brooke is the Head of Marketing at Buzzsprout and the co-host of Buzzcast. Have any questions about this guide? Reach out on Twitter.
FAQ
Why should I take a podcast course?
Podcast courses condense a lot of information into a tightly packed guide. Taking a course can be a lot more efficient than searching the internet for answers to questions, especially when you're just getting started.
How do I become a good podcaster?
You can become a better podcaster by engaging your curiosity, improving interview skills, and putting yourself in new situations. It also helps to ask for honest feedback from friends and listeners.