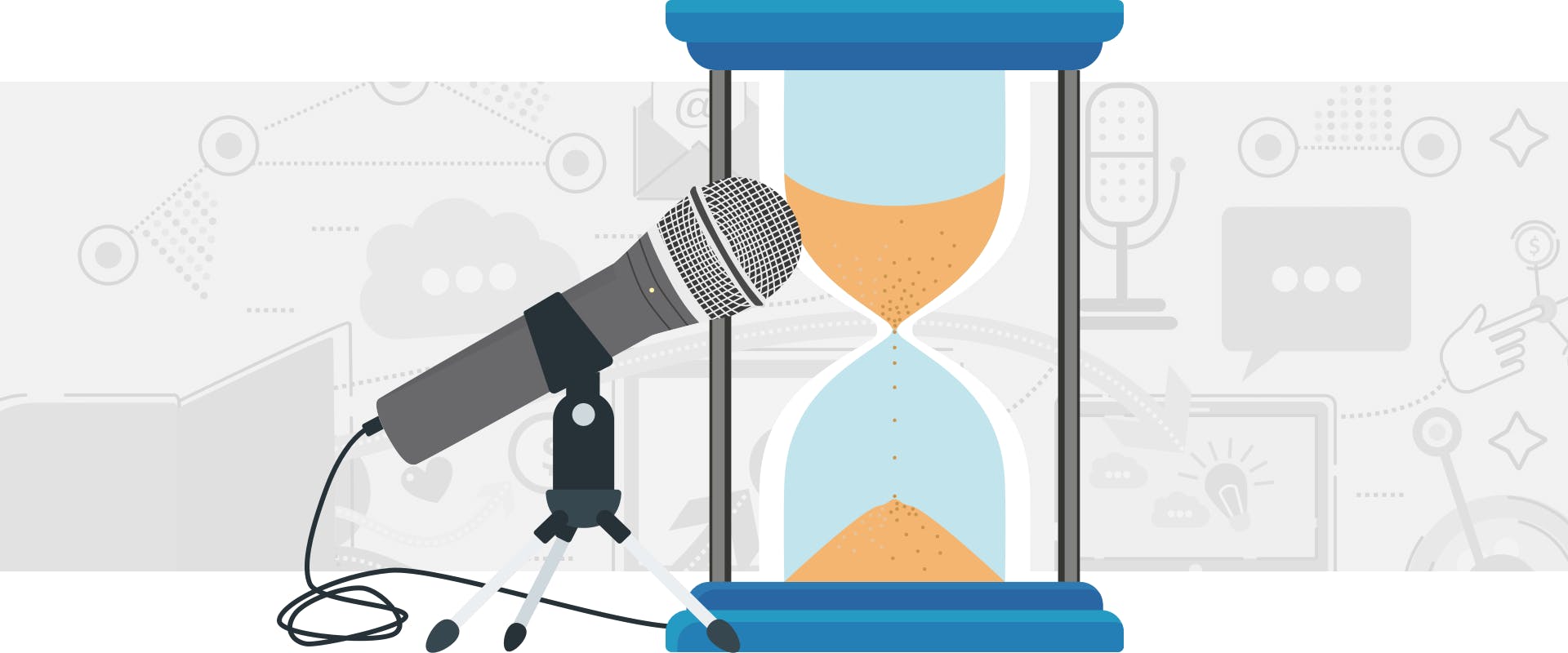 How Long Should a Podcast Episode Be? [2021 Update]
One of the most common questions we get from new podcasters is, "how long should my podcast episodes be?"
At some point, nearly every creator wonders this, and there's not just one simple answer because there's not a one-size-fits-all ideal length.
The duration of your content depends on a variety of factors, and in this guide, we'll review a few of the questions that can help determine how long your podcast episodes should be!
What's the average length of a podcast?
Podcast length varies a great deal and can be as short as a few minutes to over two hours long. However, most podcasts stay within 20 to 40 minutes and the average podcast on Buzzsprout clocks in at 38 minutes.
But this is just an average, and you can do whatever feels right for your content.
For example, Radio Headspace offers ultra-short, three-minute episodes marketed toward people who want to squeeze a short moment of zen into their days.
Dan Carlin's Hardcore History takes the opposite approach with longer episodes that sometimes reach upwards of six hours long.
And the wildly popular podcast The Joe Rogan Experience averages about three hours, and some episodes can get close to five.
Most podcasts fall in between these extremes, and the sweet spot seems to be just under 40 minutes.
Now that we've seen the range and know the average length of a podcast, it's time to figure out how long your own podcast episodes should be. 
Summary: Podcast episode length varies significantly, and there's no one ideal length. The length of your content depends on several factors, but the average episode falls within 20 to 40 minutes.
What's your subject matter?
Regardless of your podcast topic, you're the subject matter expert (or your guests are). As such, you have a gut instinct for when you've communicated all you needed to. 
But on occasion, you'll probably get the feeling that you've said everything you wanted to say, but it still doesn't feel long enough. You might wonder if it will look too short when people see it next to your long episodes in Apple Podcasts or other directories. 
In this case, we recommend sticking to the gold. If you've got 20 minutes of quality content that you could stretch into an hour of bronze, we suggest you stick with the gold. Don't add fluff solely to make a longer episode.
The length of your episodes should reflect the amount of quality content you can consistently deliver on your subject.
Summary: Make your content as long as it needs to be to communicate your message effectively (but no longer). As the host of your podcast, you have the best intuition for how long you need to get your message across. Just don't forget to consider your audience in the process!
How long is your audience's commute?
According to a 2019 study by Infinite Dial, over one-fourth of podcast listeners consume podcast content while driving. So the question is, how long is your listener's average commute, and how can you best tailor your content to fit into their routine?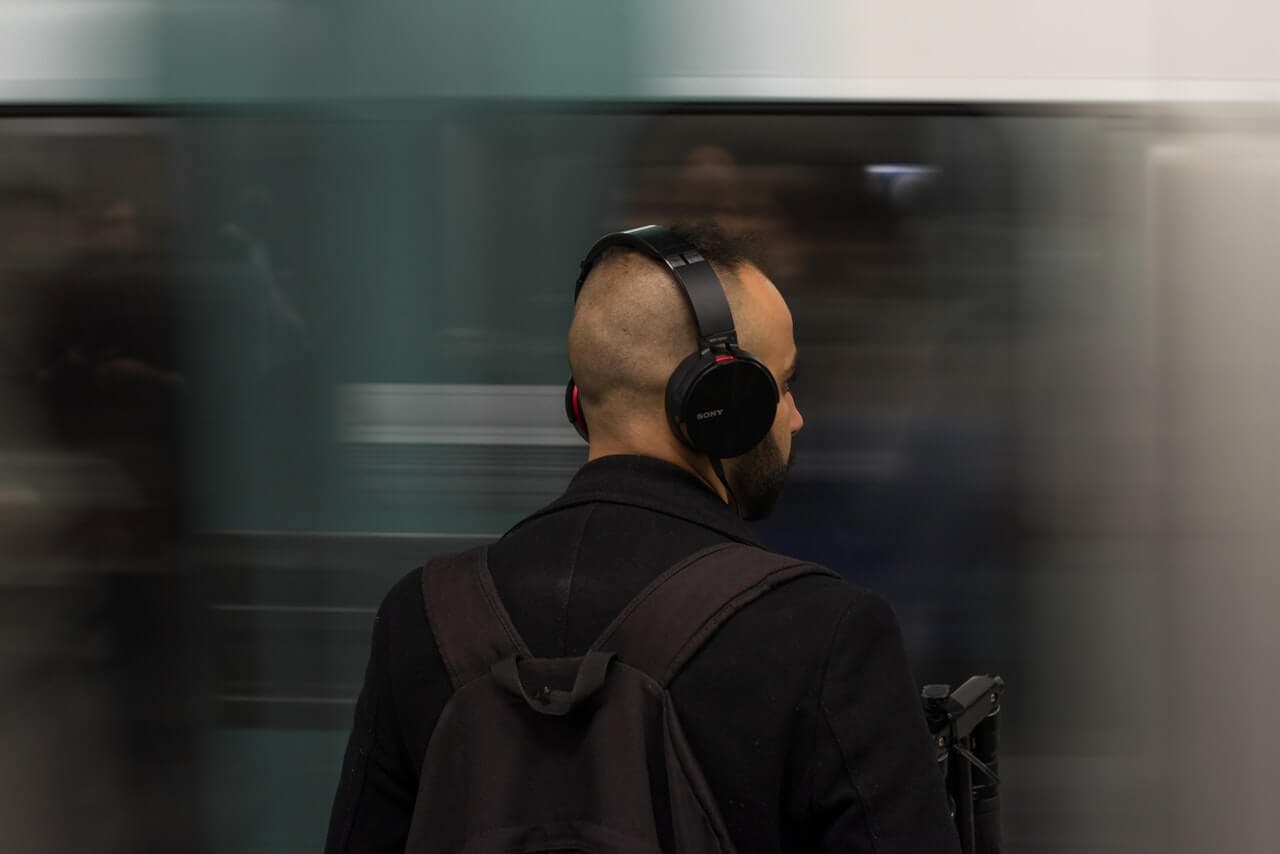 According to the US Census Bureau, the average commute time is 26.9 minutes each way  (53.8 minutes a day).
So if you'd like your listener to be able to finish your podcast during their commute, aim for under 50 minutes.
Summary: Consider your audience's location and listening habits to determine an appropriate length for your episodes suited to their lifestyle.
How much time can you invest?
Life gets busy. It can be a challenge to fit in your passions amidst work, family, friends, etc. Which raises the question: How much time and energy can you invest in your podcast?
Be honest with yourself! After all, you can't run a successful podcast if you experience podfade after five episodes. 
One solution is to hand off duties to a co-host or hire a third party to edit your audio files. 
Do you need to go through the tedious process of uploading, transcribing, and posting new episode links to your social media channels? Or can you hire a freelancer to knock that out for you and free up time? 
Outsourcing certain tasks can free up time to make more content—if you feel that's right for your podcast.
Summary: Commit to an amount of time each week (or however frequently you choose). Setting up this routine can help you find the appropriate episode length for the amount of time you have to invest in your content.
How often do you publish?
When it comes to your podcast publishing schedule, more frequent episodes are not necessarily better.
In podcasting, quality is always more important than quantity. 
Publishing one longer episode that gets 500 downloads is better than publishing three 30-minute podcast episodes a week that each get 100 downloads. 
Another hidden downside to putting out too many episodes: they'll get lost in the infinite queue (a.k.a. "I'll listen to that later" land).
Before you know it, unheard episodes have piled up, and a listener can become overwhelmed with the time it will take to catch up—so they don't.
If your audience doesn't have time for three episodes a week, adjust accordingly. Don't let your podcast get lost in limbo!
Summary: Consistency is better than frequency. One hour-long episode a week is better than two if your quality suffers under the demand. 
Find the ideal length for your episodes
After answering the above questions, you should have a general idea of the right episode length for your podcast. Here are a few more ways you can find the ideal episode length for your unique content (and your listener base). 
Schedule your podcast time
Carving out set days and times to work on your podcast brings clarity to your podcast creation and helps determine the length of your podcast. 
Building in this routine is enormously helpful for consistency, and consistency is key to building a successful podcast you can stick with for the long haul.
Build an episode structure 
As we mentioned before, podcast episodes range wildly in duration. While this may work for some, audiences prefer to know about how long they can expect to invest with your show. 
To help create and meet audience expectations, consider making a structure for your podcast episodes. 
Rough guides and timelines give you a roadmap, helping keep your episode length consistent. 
A built-in structure naturally establishes a time frame that helps simplify content creation and establishes a routine for your listeners.
Learn how to structure your podcast in 4 steps.
Poll your audience
Are you still scratching your head about your audience's preferences? Head to the source.
Add a Google Form or other survey tool to your show notes and ask if they have a preference for how long they'd like your podcast to be. 
You can also ask them about their favorite and least favorite parts of your podcast, whether they like the intro where you banter with your co-host or if you should use more sound effects. You can also get feedback on:
Other aspects of your show's format
What they'd like to hear more of
When they listen to your content & other preferences
These insights can help you put more effort into what they love and reconsider episode segments they don't. It's also a great way to connect with listeners.
Check the stats
At Buzzsprout, we offer Advanced Podcast Statistics to all account holders to help them get a pulse on the listening habits of their audience. 
You can use these stats to inventive your audience and see if any podcast listening trends emerge that can help you better tailor your content.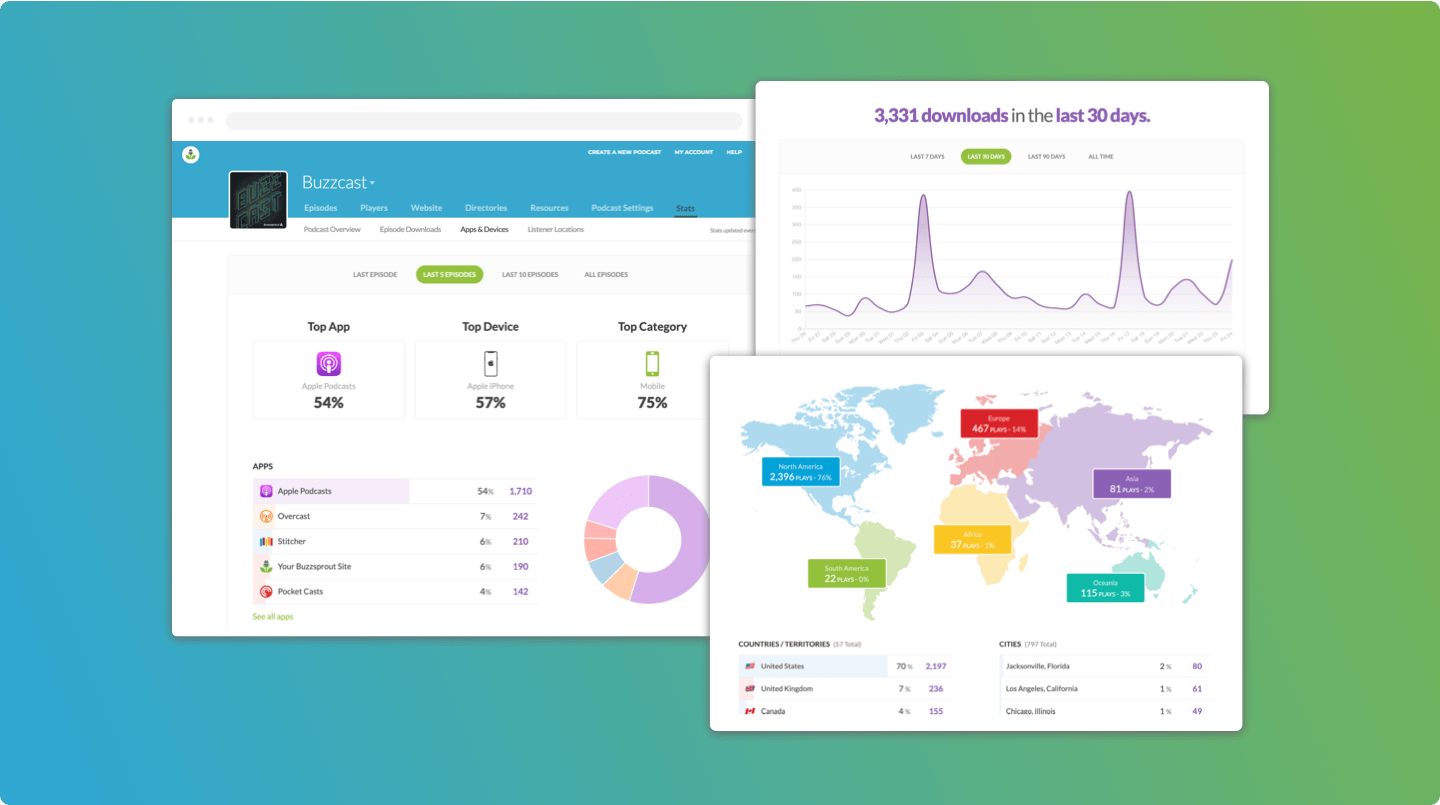 Do episodes posted on Tuesday outperform those posted on Friday? Are listeners dropping off halfway through your two-hour show? 
Your analytics dashboard stats can provide incredible insights you can't find elsewhere, so take advantage of it! What you find might help you answer how long your podcast should be.
What are good stats for a new podcast?
Takeaways
The ideal length of a podcast comes down to:
How often you can consistently publish without burning out
Your podcast's topic
Your audience's commute time, habits, and lifestyle
The amount of time you can set aside to create your podcast
If you have more questions about starting a podcast, our free How to Start a Podcast guide can help you with everything from picking out equipment to getting your podcast launched and out to the world!