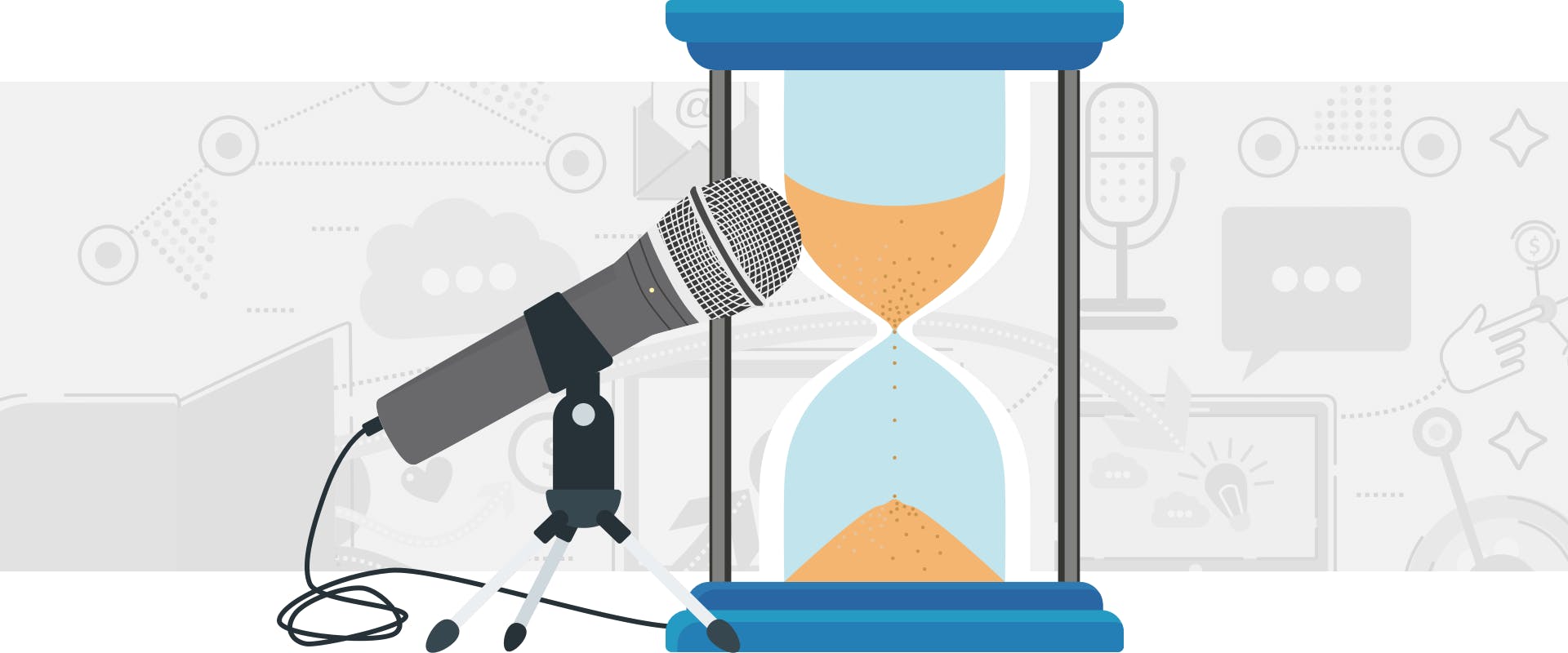 How Long Should a Podcast Be?
At some point, every podcaster has asked themselves "How long should a podcast episode be?" It's one of the most common questions we hear from new podcasters. 
The short answer: There's no one-size-fits-all ideal length. It depends on a handful of factors. Let's dive into a few questions that can help determine how long your podcast should be.
What's the Average Length of a Podcast?
With different hosts podcasting for different purposes, we see podcasts of all sorts of various lengths. 
Some podcasts are just a few minutes long, like Radio Headspace.
Radio Headspace offers quick moments of zen anyone can squeeze into their day, making their ultra-short episodes the perfect length for their audience.
And there are podcasts with a lot longer episodes like Dan Carlin's Hardcore History where episodes can reach upwards of 6-hours. 
The wildly popular show The Joe Rogan Experience averages about 3-hours, while the longer shows can get close to 5-hours. 
These podcasts with marathon episodes are outliers. Most podcasts try to stay under 45 minutes, and the average podcast length on Buzzsprout clocks in at 38 minutes. 
Now that we've seen the range, and know the average length of a podcast, let's get personal: It's time to figure out how long your episodes should be.  
What's Your Subject Matter?
Whether your podcast offers financial advice for newlyweds, waxes nostalgia about retro video games, or anything in between, you're sharing your passion with your audience. You're the subject matter expert (or you're interviewing subject matter experts), and as such, you have a gut instinct on when the content of an episode is up to snuff and ready to launch. 
But on occasion, doubt creeps in.
Have you ever gotten the feeling that you've said everything you wanted to in your episode, but it just doesn't feel long enough? You wonder if it will look too short when people see it next to your long episodes in Apple Podcasts.
If you've got 20 minutes of gold that you could stretch into an hour of bronze, stick with the gold. Don't add fluff to get your podcast to some imagined "sweet spot."
The length of your podcast should be based on the amount of quality content you can consistently deliver on your subject.
Bonus Tip: Build a Structure 
A podcast can have episodes that range wildly in duration. While this may work for some, audiences prefer to know about how long they can expect to invest with your show. To help create and meet audience expectations, consider creating a structure for your podcast episodes. This will give you a roadmap, helping keep your episode length consistent. It'll also keep you from reinventing the wheel with every episode.
How Long is Your Audience's Commute?
With nearly one-fourth of podcast listeners saying they listen to podcasts while driving, it's no wonder podcasts are common companions for people commuting to and from work.
It's the perfect way to transition from home life to work and back with your favorite show. According to the US Census Bureau, the average commute time is 26.1 minutes each way (this is even longer in big cities). That's 52.2 minutes a day. 
If you'd like your listener to be able to finish your podcast during their commute, shoot for under 50 minutes.
Bonus Tip: Poll Your Audience
Scratching your head about your audience's preferences? Head to the source.
Add a Google Form to your show notes and ask if they have a preference for how long they'd like your podcast to be. 
You can also ask them about their favorite and least favorite parts of your podcast, whether they like the intro where you banter with your co-host, or if you should use more sound effects. 
These insights can help you put more effort into what they love and reconsider content or episode segments they could do without. It's also a great way to connect with your audience.
How Much Time Can You Invest?
You have so many incredible ideas you want to put into every podcast episode. But your job has been exhausting lately, necessary home repairs need your attention and you want to have enough energy to be present with your family and friends. Which raises the question: How much time and energy can you invest in your podcast?
Your answer requires brutal honesty if you want to strike a balance in your life and while still creating a great podcast. After all, you can't run a successful podcast if you burn out after five episodes. 
One solution is to hand off duties to a co-host or third party. Do you really need to master your podcast's audio? Or can you pay someone else to handle that? (Or just use a tool like Buzzsprout's Magic Mastering™ to automatically sweeten your audio files.)
Do you really need to go through the tedious process of uploading, transcribing and posting new episode links to your social media channels? Or can you hire a freelancer to knock that out for you and free up time?
Delegating tasks gives you more time to create richer—and if you want to, longer—episodes.
Bonus Tip: Schedule Your Podcast Time
Carving out set days and times to work on your podcast brings clarity to your podcast creation. During this time, there's no need to worry about emails or phone calls or the thousand other distractions tapping you on the shoulder. It's just you and your podcast. Setting this time aside also lets family and friends know that during that time, you need a little space while you travel to podcast paradise.
How Often Do You Publish?
Let's say your podcast episodes are about an hour long and you publish two per week. It's breaking your back to make it happen, but more content is better, right? 
Not necessarily.
Quality is always more important than quantity. Publishing a weekly episode that gets 500 downloads is better than publishing three a week that only get 100 downloads a piece. (Also, consider combining ideas for short episodes into a single, longer-form episode.)
Plus, there's a hidden downside to putting out too many episodes: They'll get lost in the infinite queue. Podcast subscription limbo. The old "I'll listen to that later" land. Before you know it, unheard episodes have piled up and a listener can become overwhelmed with the sheer amount of effort it will take to catch up. And so they don't. Instead they move on to a different show. If your audience doesn't have time for 3 episodes a week, adjust accordingly. Don't let your podcast get lost in limbo!
Bonus Tip: Check the Stats
Podcasts hosts like Buzzsprout provide in-depth analytics. Go under the hood to see how long people are listening to your episodes and poke around for trends.
Do episodes posted on Tuesday outperform those posted on Friday? Are listeners dropping off halfway through your two-hour show? Your analytics dashboard stats can provide incredible insights you can't find elsewhere. Take advantage of it! What you find might help you answer how long your podcast should be.
Conclusion: How Long Should a Podcast Be?
When all is said and done, the ideal length of a podcast comes down to:
Considering the average length of a podcast is about 38 minutes
Your audience's commute time
How often you plan on publishing
The time you have to dedicate to creating your podcast