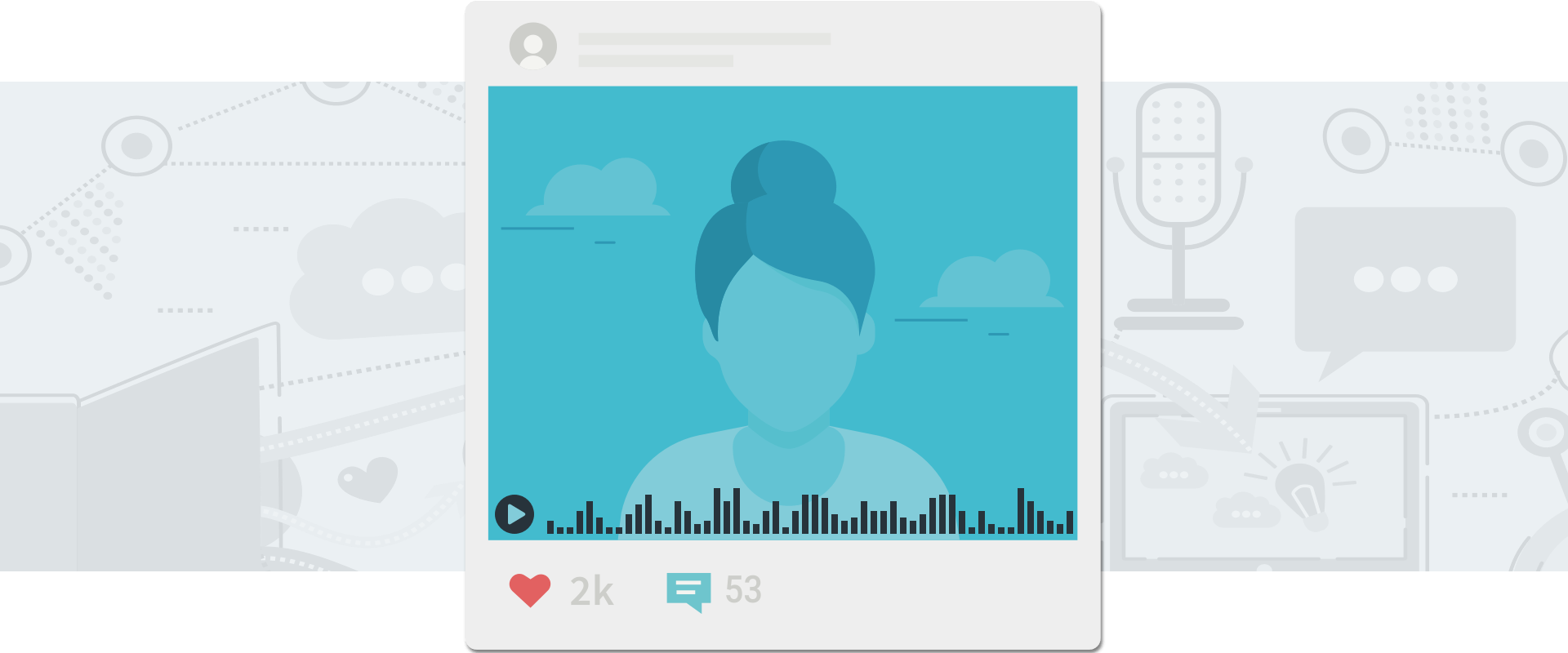 Podcast Audiograms: Tips to Engage Your Listeners on Social Media
While podcasts are becoming increasingly popular these days, there are still a lot of issues we have to confront when it comes to marketing for a podcast. Increased awareness is a great idea but in order to get to it, we need to adapt to the content itself which is not as easy as it seems.
SEO is great for blogs and other text-based content channels but when it comes to audio content, we need to think outside the box. Search engines have yet to solve the problem of indexing audio content or audio streams. Social media is based on visuals and not on sounds. Not to mention, you have to compete with the other 700,000 podcasts listed in Apple Podcasts.
What can you do?
Here are a few ways to repurpose your podcast content to stand out on social media.
Tell a story
Storytelling is essential in today's marketing context.
A podcast can deliver a story by itself but when it comes to promotion, you need to tell a story in just a few seconds, enough to get the attention of your audience and convince them that you are worthy of it before they swipe out to the next piece.
To this end, you need to create a clip that tells your podcast/episode story and sells it to the targeted audience.
What you can do?
Use parts of the podcast audio stream.
Tell a short story.
Create a video for that story.
Share the video on social media.
Make it less promotional and more valuable as a content-based piece.
And, here's an example from Matt D'Avella, a filmmaker and podcaster from New Jersey, who shared a really good promotional clip, suitable for this idea:
Capitalize on subtitles
By default, mobile social media apps play video clips with muted sound. You need to click on a clip in order to really start it. You need user intent.
Not all users have the intention to click on your promotional materials. Some of them don't even know who you are, what your podcast is about and whether or not they would like it. A muted video clip can play for 3 to 5 seconds while the user browses to their timeline. Without a sound, however, the message might not get to be received.
This is where subtitles come into place.
You can start with a catchy phrase or CTA and subtitle it in your clip to give it more visibility.
Follow the example of Steve Bartlett and give your promotional clips a voice, even when muted.
Adding subtitles (also called captions) can be a little tricky. While it can be done manually using many video editing tools, companies like Zubtitle & Rev offer paid products to make this a simple task.
Promotional slideshows
I know, they do not qualify as video clips but they are not static elements either. A slideshow can comprise of behind the scenes images, shots from the audio recording session, shots with your important guests. When paired with texts and attractive CTAs, they can also offer a level of engagement and be quite entertaining for the audience.
Here's an example from Drift:
Use a collage of clips from the podcast
Choose some of your best lines – or some of your guest's best lines – and mix them up together into a short but attractive promotional clip. Don't forget to use subtitles either and, if possible, a short promotional intro.
You can use the same branded intro for promoting all your podcast episodes and on all your future marketing-related clips.
And, here's an example from the "Tech Done Right" podcast. Instead of a simple linear wave, they got more creative. The wave surrounds the photograph with the speaker.
Turn a clip from your audio into an audiogram style video with waveform animations
Another simple yet great idea is to create a short promotional video based on the waves of your audio file. It doesn't have to be the whole podcast episode. You can crop, cut and paste the most interesting lines or topic and mix them up just like you would have with a video clip. The only difference is that there's no video, only a background image, an animation of the sound waves, captions, etc.,.
All you need to make an audiogram is an audio file, photo, and a great punch line or CTA.
Use big headlines
The last example is a video clip posted by Pat Flynn, announcing one of his SEO podcasts on Twitter.   
Unlike the previous examples, this one is based mostly on texts and audio. And, there's also another important difference. All texts are big headlines that cover one-third of the view. They accompany the audio line and outline some of the most important parts of it.
This approach is ideal for mobile promotion since the text has better readability on small screens without being intrusive either. The branding takes the background, blurred but still noticeable.
How to create podcast share clips
Now that we've seen some of the best creative ways you can promote your podcast via clips and slideshows, let's talk a little bit about the tools that make it all happen, from creating and distributing your series to the creation of your main promotional materials.
Remember that example with the audio wave shared as a short video clip? Well, with Wavve you can create similar clips in just a few minutes, based on your own audio tracks. All you need is the promotional audio and a photograph/visual banner.
The good news is that there is a free plan available, which allows you to create 1 minute video/month. It's not much but it is enough to test-drive the app, learn how to use it, and get accustomed to its interface before working with it on a regular basis.
Some of the best features of Wavve include the following:
Waveform animations - The main feature of the app, which I have already mentioned, includes a wide selection of animations you can use for your videos. They are great for customization and personalization and later, for social media sharing, especially on Instagram Stories.
Progress timer animations - You can personalize your animation even further, by adding a custom timer to your clips.
A drag and drop editor - It allows you to easily add and edit your elements inside the editor and of course, to upload your visuals and audio files.
Transcription and captions - They are essential especially if you promote your clips on social media, where the audience might come across them with muted sound. They are also essential for SEO purposes, as the search engines of today do not index audio content.
The Wavve.Links - This is also a free feature as it allows you to create a mobile responsive mini-website under your Wavve account and direct your listeners to this page. It connect directly with your podcast feed and thus, it updates automatically with all your latest materials.
When it comes to professional looking banners and social media posts, static or animated, Bannersnack really takes the cake. The app is easy to use and offers full sets of already presented formats and sizes for all social media platforms. Thus, you can automate your work and save one design for as many channels as you want to promote your podcasts on.
There are thousands of stock images available on site if you need them, a lot of fonts, icons and of course, transitions, if you are to design an animated visual. And yes, you can save it as an HTML5 animation, store it on your account and embed it wherever you want.
The best feature, in my opinion, is the availability of all the important sizes and formats, including the vertical content formats that lately, seem to have become increasingly popular among mobile users from all around the world. The app allows you to instantly adapt your landscape content into a vertical Instagram Stories post, for example.
Headliner is a free video editor for social media distribution hence, ideal for creating the clips to promote your podcasts with. The free plan allows the creation of 10 High Definition videos per month, direct share on social media and automatic transcripts.
You'll need those transcripts for the subtitles. And, there's also a captioning editor available with the app itself, making the whole process easier and faster. You don't need additional tools for this.
If you want more, there is also a professional plan available, which includes thousands of stock videos and images you can use for your clips, custom intro, and outro videos and custom templates, if you want to automate your work.
Conclusion
If you want to spread the word on your newly launched podcast and increase your initial pool of friends and colleagues who might have subscribed to it right from the start, you need effective marketing.
By following the examples in this post, you'll be able to leverage the power of social media to reach more and more listeners.