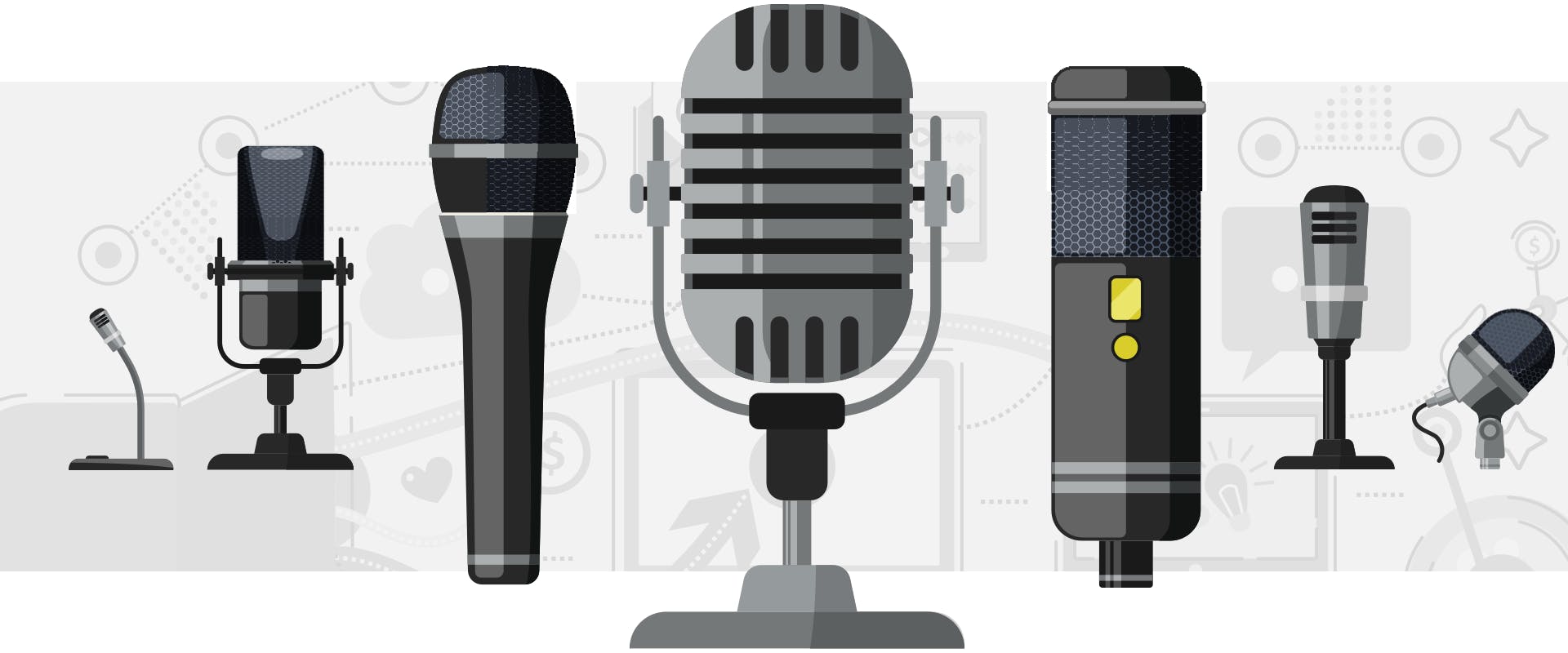 What's the Difference Between an XLR and USB Mic?
When you're looking to buy a podcast microphone, you'll hear a lot about XLR and USB connections. But what's the difference and which one is best for you?
In this guide, we'll explain the differences between XLR and USB and the pros and cons of each. We'll also recommend which one you should choose based on your own budget and needs!
What's the difference?
XLR mics are the audio industry standard and are used by rock bands, radio stations, and podcasters worldwide. Most mics on the market are XLR, and most pro audio recording gear is designed for XLR microphones.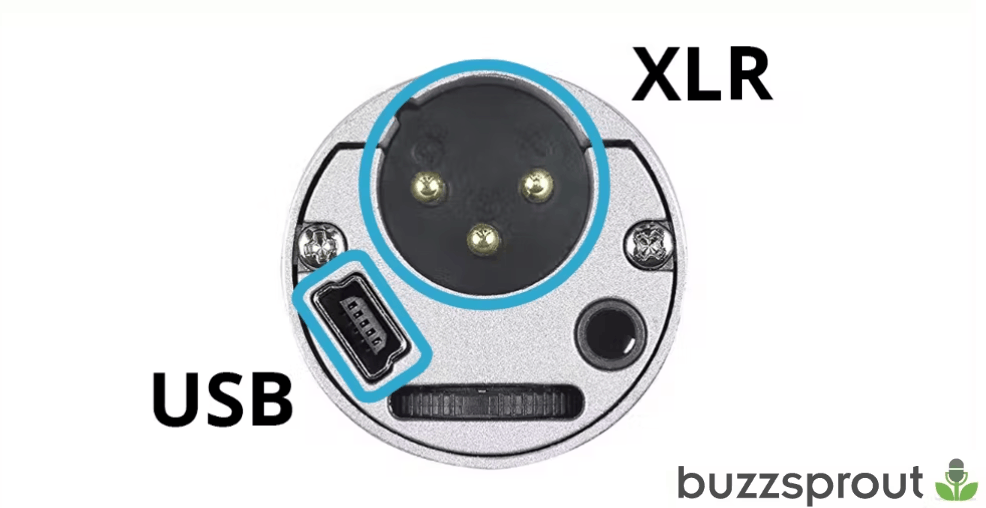 These mics require an interface to use. They capture an analog signal using three-pronged male and female connectors.
A USB mic features the same capsules and condenser elements as an XLR but plugs right into your computer's USB port. This saves you the hassle of purchasing additional audio equipment.
XLR vs. USB: Pros and cons
Neither USB nor XLR mics are better than the other. Which one is best for you depends on your setup, budget, and what you prefer in a mic. Here are some pros and cons of both mics to help you decide what's best for you.
USB microphones
Advantages of USB mics
Require no additional gear. If you record solo, the only accessory you need is a set of USB cables and you can "plug and play." If you record with more than one person, you'll need an audio interface like the Scarlett Focusrite 2i2.
Affordable. USB mics are affordable and give comparable sound quality to XLR mics. Many on the market even come with USB and XLR hookups.
Portable. USB mics are easy to travel with because they require no additional gear to use and don't require a phantom power source.
Disadvantages of USB mics
Fewer options. The biggest drawback to USB mics is the lack of options on the market compared to XLRs.
Limit what you can do with your setup. Most podcast equipment is designed for XLR mics. Getting a USB mic can limit your options should you decide to expand your podcast setup later.
Computers don't always recognize multiple mics. If you record with multiple people, some computers can also have difficulty distinguishing between USB mics.
XLR microphones
Advantages of XLR mics
Work best for recording multiple people. XLR mics are the ideal option if you record more than two people.
Flexibility. XLR mics make it easy to swap microphones, interfaces, and cables and grow your podcast setup in the future.
Sound quality. USB and XLR mics have comparable sound quality. But, you'lll notice higher-quality audio if you invest in a high-end XLR mic ($200+).
Disadvantages of XLR mics
Require an interface to use. XLR mics need to be plugged into a USB interface, even if you're recording by yourself. An audio interface can be an expensive purchase for a beginner podcaster.
More expensive. XLR mics are more expensive than USB mics and require more accessories. You'll need to purchase either a mixer, field recorder, or audio interface to capture your audio.
Less convenient to travel with. An XLR setup is less convenient to travel with and is often out of the budget for beginner podcasters.
Which one should you choose?
USB microphones are a great option for solo podcasters or two cohosts podcasters who record using software like Audacity. They also work well if you conduct your interviews using software like Squadcast or Zoom.
XLR mics are best if you're recording more than two people simultaneously. They're also a good fit if you want to customize your podcast setup over time. If you have the budget, investing in an XLR mic opens up a lot of options.
Best XLR microphones
Each of these XLR mics requires an audience interface and appropriate adapter. They'll get you excellent audio quality but come with a higher price tag.
Disclosure: Some of these product links are affiliate links, which means Buzzsprout might receive a small commission if you decide to purchase.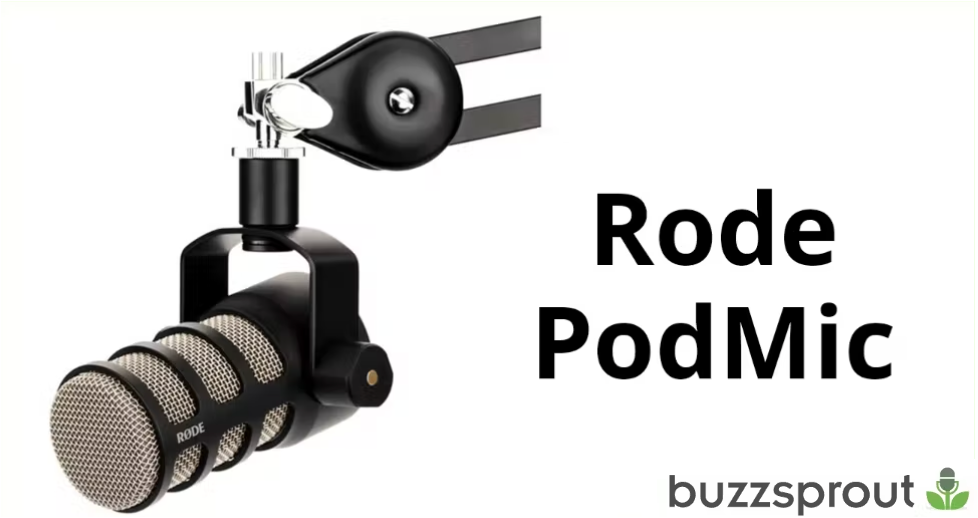 The Rode PodMic was designed with podcasting in mind. It comes with several features usually reserved for higher-end microphones.
The PodMic features a built-in shock mount and pop filter to prevent accidental vibrations from affecting your audio recording.
The Rode PodMic has a brighter tonal quality, which can help your podcast sound crisper and less muffled, paired with good mic technique.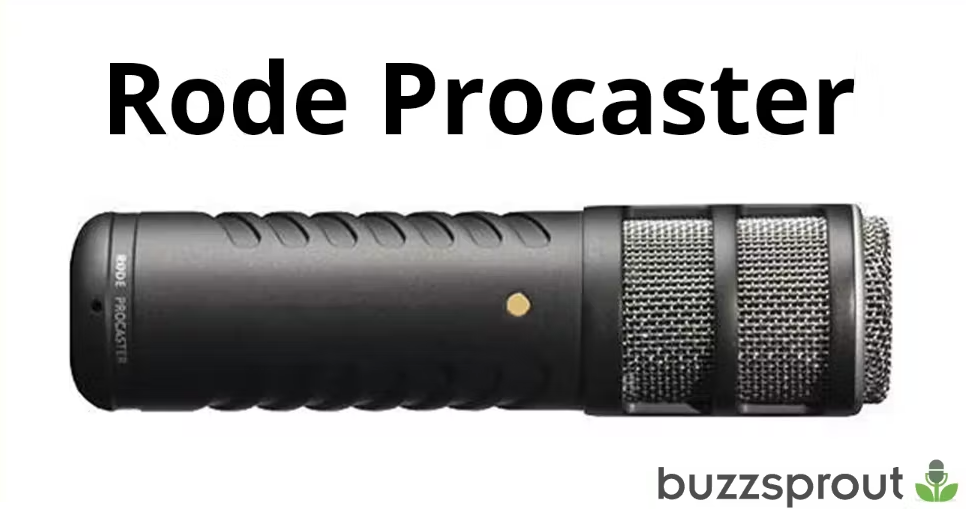 The Rode Procaster is a professional broadcast quality dynamic microphone.
It has a cardioid polar pattern and frequency response tailored for spoken-word audio. These features help the mic filter out ambient background noise.
The Procaster has an internal pop filter, but we still recommend getting an external pop filter or windscreen to cut down on plosives.
We think the Rode Procaster is the best bang-for-your-buck in XLR mics.
The Shure SM7B is a highly recommended mic popularized by podcasters like Joe Rogan. This is a versatile mic with stand-out quality, especially when used in a sound-treated environment.
The SM7B is a quieter microphone. To capture a high-quality recording, you might need to invest in a preamp like the Scarlett 2i2 audio interface or a boost device like a Cloudlifter.
If you're willing to spend a little extra on accessories, the Shure SM7B is a great pro-level mic.
Best USB microphones
These dynamic mics all have USB connections and are compatible with Mac and Windows operating systems and any podcast recording software.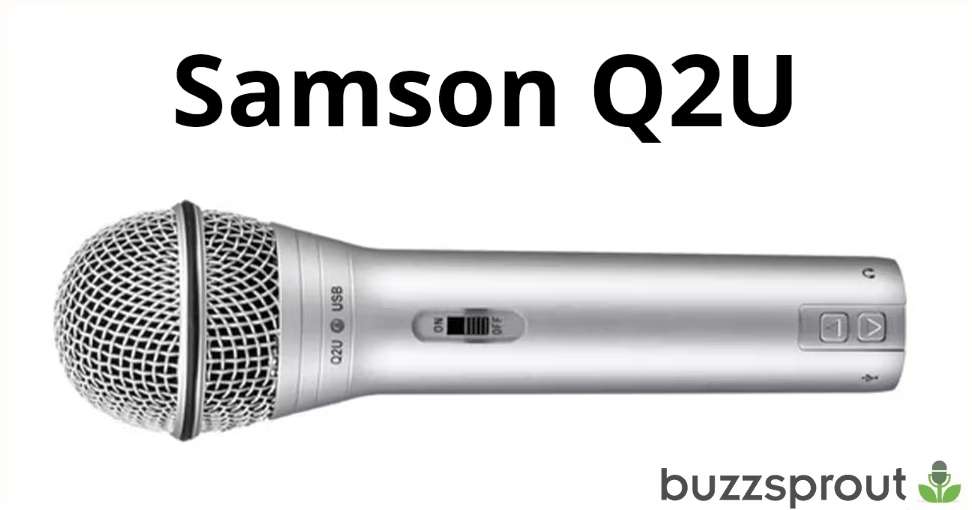 The Samson Q2U is a powerhouse with versatility and an affordable price point. It's a great all-around microphone that captures vocals well and minimizes ambient background noise.
The Samson Q2U features both XLR and USB connections and has a built-in headphone jack for zero-latency monitoring to eliminate any delay.
The Q2U also comes with an XLR cable, a USB cable, a simple mic stand, and a foam cover.
The Samson Q2U gives your voice a slightly deeper, fuller sound than the Audio-Technica ATR2100. You can listen to audio samples of both microphones to see which one you like best.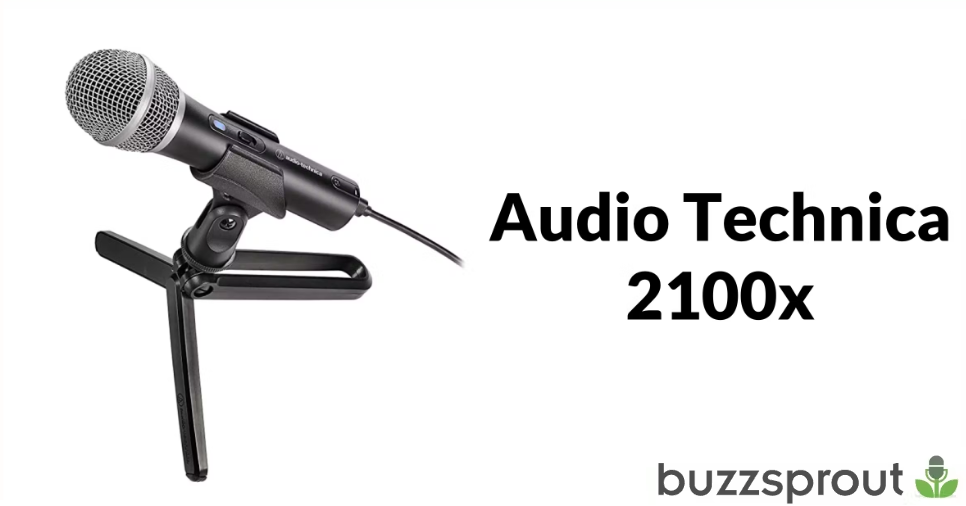 In blind sound tests, the ATR2100 compares favorably to more expensive microphones and is a great microphone for podcasters, live streamers, and voiceover work.
The Audio-Technica ATR2100 is a versatile mic with both USB and XLR connections. This means it will work just as well with an audio mixer as it does plugged into your computer.
This mic also has a built-in headphone jack, so you can monitor your audio directly from the microphone and adjust your headset volume via the volume control on the mic.
The ATR2100 comes with several essential accessories out of the box. This mic also comes complete with a mic stand, USB cable, and XLR cables.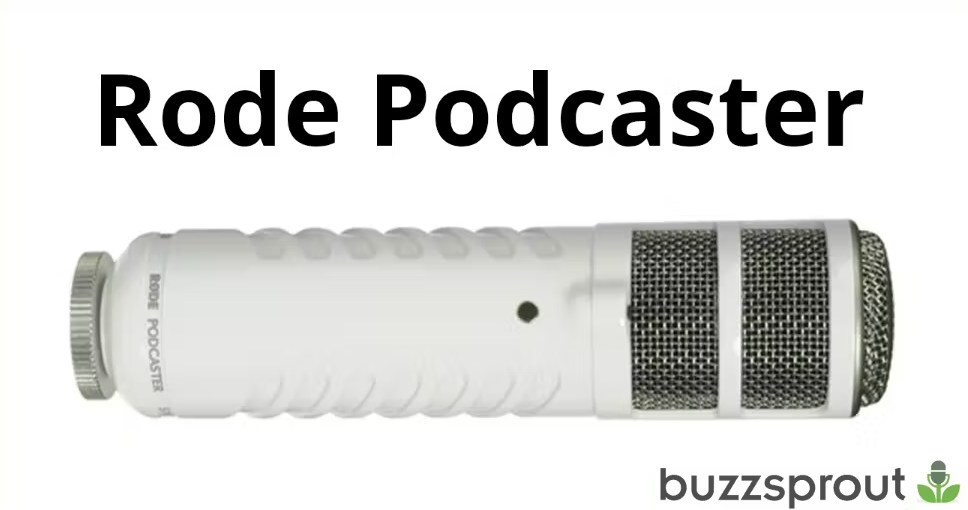 If you're a solo podcaster looking for a pro-level USB microphone, we recommend the Procaster's brother - the Rode Podcaster.
The Podcaster features the same internal components and frequency response as the Procaster with the simplicity of a USB connection.
Why we don't recommend the Blue Yeti
The Blue Yeti is a popular recommendation due to its convenient USB connection. It has a variety of polar patterns (omnidirectional, bi-directional, stereo, and cardioid) and a built-in headphone jack for zero-latency monitoring.
#1. It's a USB condenser mic
Condenser microphones pick up a broader range of frequencies, meaning more background noise in your recording. If you use this mic, you'll need to record in a well-controlled recording studio to get decent sound quality.
#2. You have to speak closely into the mic
The Blue Yeti has bi-directional or omnidirectional polar patterns. These settings technically make it easier to record more than one person at a time. But, you need to speak pretty close to the microphone to get a clean recording.
If you're using it to record multiple people, you'll get a higher quality recording by giving each guest their own mic.
Final thoughts
For most podcasters, we recommend USB mics like the Samson Q2U. These mics have an affordable price point, excellent sound quality, and require no additional gear to use.
If you have the budget and record with more than one person, we recommend investing in an XLR mic. XLR mics can give you even better sound quality and more flexibility in your podcast setup.
Alban Brooke
Alban Brooke is the Head of Marketing at Buzzsprout and the co-host of Buzzcast. Have any questions about this guide? Reach out on Twitter.
FAQs
What's the difference between a USB and XLR mic?
The biggest difference between these mics is their setup. USB mics hook straight into your computer's USB port and require no additional equipment, while XLR mics require an audio interface.
Which type of mic is best for podcasting?
USB microphones are best for solo podcasters or podcasters recording with one cohost. If you record with three or more people, we recommend investing in XLR mics for more equipment options and maximum flexibility.