Customize your Buzzsprout URL
Using a custom Buzzsprout URL
Your Buzzsprout account will automatically come with a public webpage so listeners can play your podcast. The URL will initially be setup as a subdirectory of Buzzsprout with a string of numbers. It will look something like this: www.Buzzsprout.com/48392.
You can quickly change your URL to be a subdomain of Buzzsprout like my-new-podcast.buzzsprout.com by following these steps: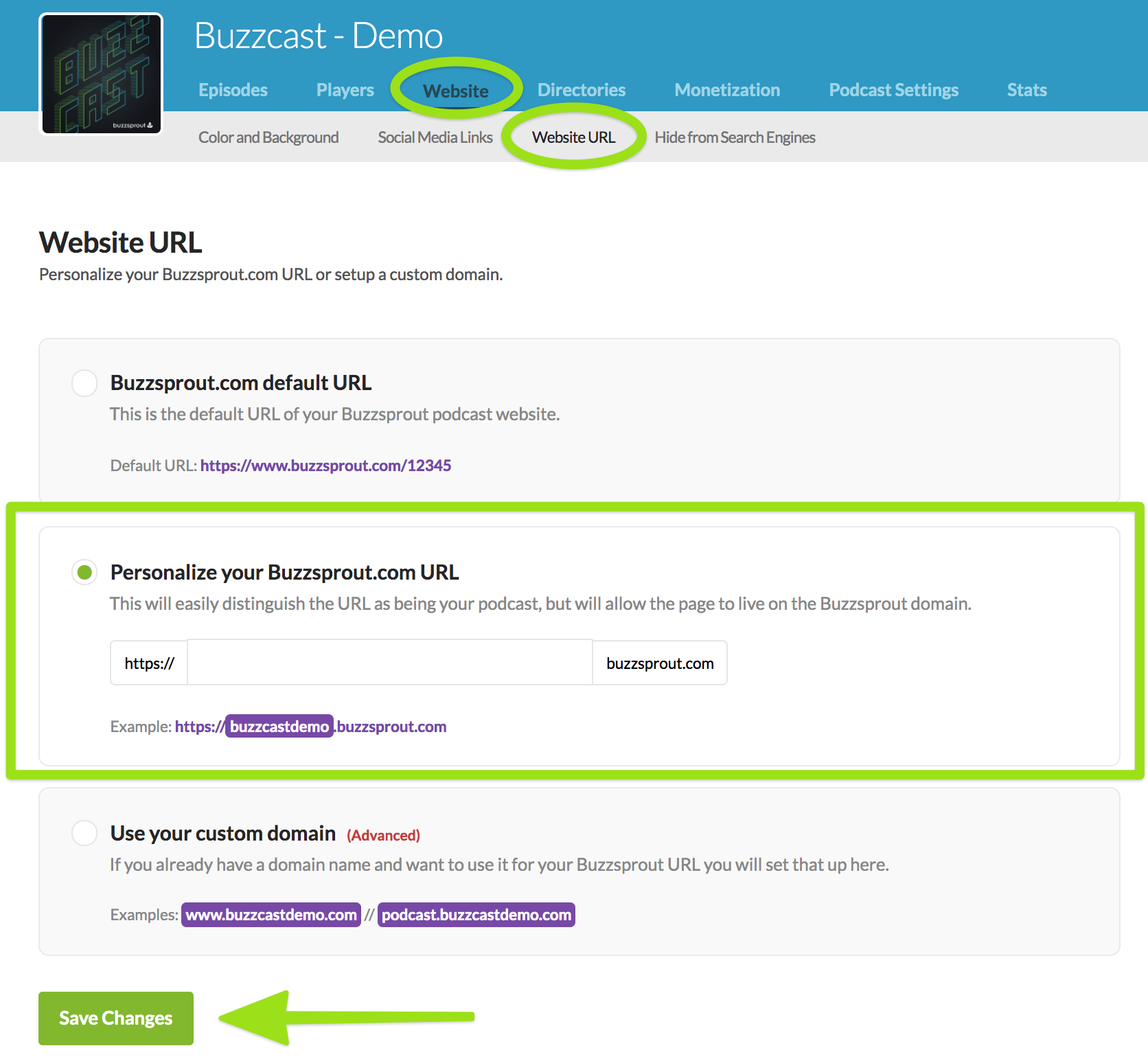 Login to Buzzsprout
Click Website
Click Your Buzzsprout Public URL
Click Enable Custom Buzzsprout web address Now you'll be able to change your URL to any subdomain of Buzzsprout.
Click Save Changes
Using your own domain URL
If you'd like to have a fully custom URL like my-new-podcast.com, or already own a URL you'd like to use, then you can setup a CNAME record. A CNAME record is a setting in the Domain Name System, and you can create CNAME records with your domain host.
Sign in to your hosting account, and go to the DNS management page. CNAME records may be in sections such as DNS Management or Name Server Management. You may have to enable advanced settings to create a CNAME record. Please contact your domain host directly if you can't locate the CNAME management options.
You may need to delete the existing CNAME entry for the alias or unique string. For example, if you're creating a CNAME record for 'podcast,' be sure to delete any existing CNAME records for 'podcast.'
Use the information in this table when you create your CNAME record. Terms used to create CNAME records vary by host.
Always use app.buzzsprout.com for custom urls.
Host Name/Alias: Custom URL: podcast
Value/Destination: app.buzzsprout.com
Your CNAME record is now configured to point to Buzzsprout. Keep in mind that changes to your DNS settings may take up to 48 hours to propagate throughout the Internet. For more help with CNAMEs (including specific instructions for popular domain hosts, screen shots, videos and more) please check out the Google Apps Help pages.
Hide your Buzzsprout page from search engines
If you don't want to promote your podcast, or want to make sure your own website is the only place to find your podcasts, you can hide your Buzzsprout public page from search engines.
Click Hide from Search Engines
Click Hide My Public Buzzsprout Website from Search Engines
Click Save
Now your public page will request any web crawlers that find the page to not index it.