Transcripts are only available on paid plans.
Buzzsprout allows you to attach a transcript to any episode within your podcast and then displays the transcript on your Buzzsprout provided public website.
To create a transcript, we recommend
Otter.ai
and have provided a discount code within your Buzzsprout account. You can, of course, use other services or even create the transcript file yourself (or copy and paste your script if you used one).
Once you have a transcript, there are a couple of ways to attach it to your episode.


Step 1
Begin by clicking on the title of the episode you are working on from the main Episodes page. From there, locate the "Add a Transcript" button on the right sidebar.
Step 2
Decide if you are going to copy and paste the transcript into Buzzsprout, if you are going to upload an Otter.ai text file, or if you are going to use the Temi integration.

Pasting in a Transcript Click the button to "Add Manually" and then copy and paste your transcript into the area provided. You can then use the toolbar to style your transcript to your liking. However you style it here, is how it will be displayed on your Buzzsprout provided public website.


If you want to save your work, but not go live yet, you can select the option to
Leave Unpublished
. If you're ready for it to go live, select
Publish Immediately
. You can return at any time to make updates to manual transcripts.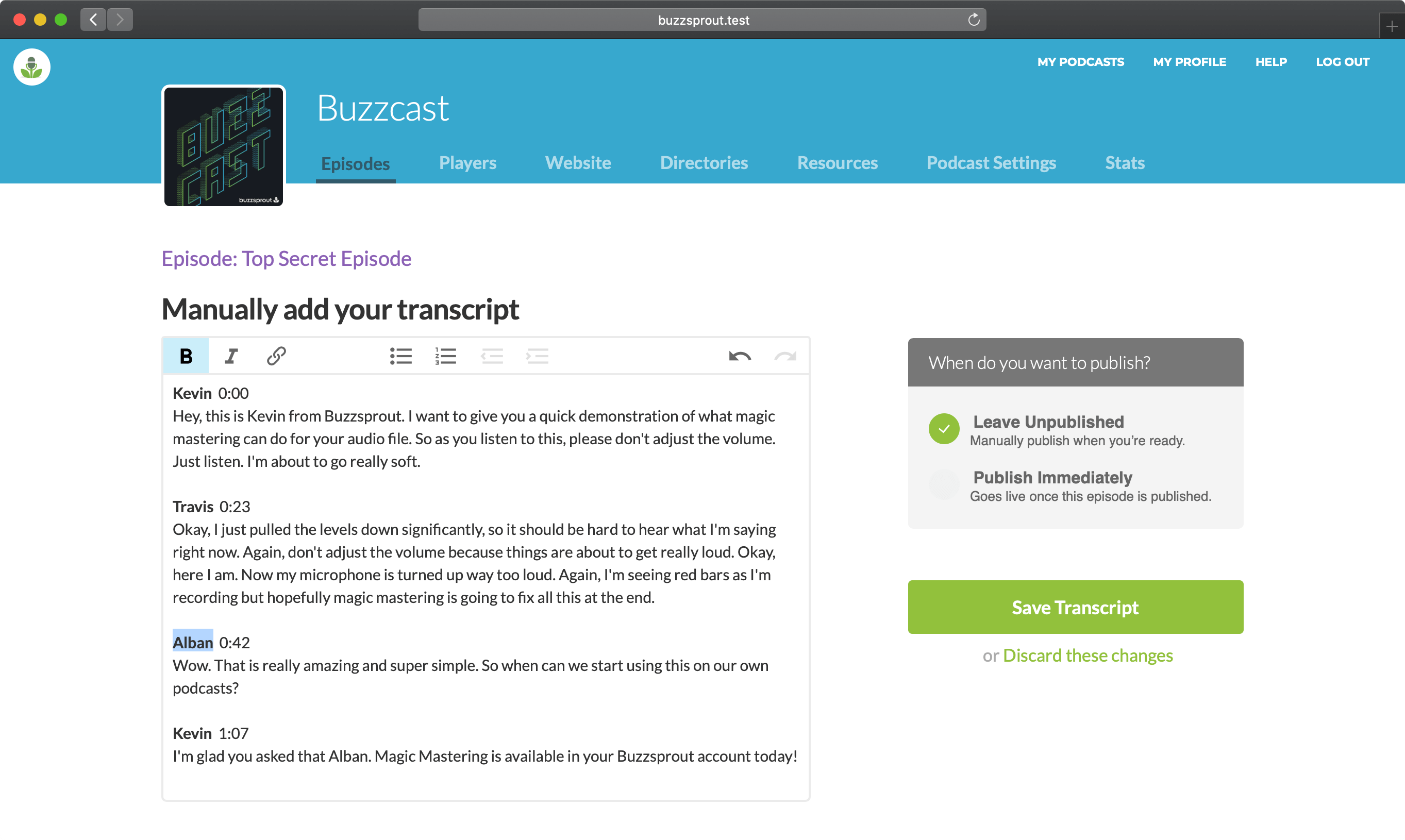 Uploading an Otter.ai Transcript File
Otter.ai is a wonderful transcription service and you can import your finished transcript file very easily. We have a separate help article that walks you through that process. Please see:
Otter.ai Transcript File Import

If you need to make updates to your Otter.ai transcript after importing, you'll make those updates through Otter. You can then export the file again and upload the new file to Buzzsprout.


Using the Temi Integration Temi is another transcription service that will transcribe your episode(s) for $0.25 per minute. The process is very simple...to get started just click "Get Started with Temi" from the Add a Transcript screen.
Transcription FAQs
Is there a fee to transcribe an episode?
Otter and Temi are both paid services, but you don't have to use them. You can get a transcript from anywhere and use it within Buzzsprout.


Temi transcripts are billed at $0.25 per minute.
The charge will appear on your next invoice.

What are the benefits of transcribing podcast episodes?
There are many reasons to include transcripts of your podcast episode. One is increased discoverability by search engines. Without a transcription of your audio file, the only ways people will discover your podcast is by word of mouth, advertising, or by searching a podcast directory. Episode transcription makes every word you speak in your podcast digestible by search engines.


This means if your podcast is typically about Real Estate, but in one episode you did a segment on your new Ford F-150, people searching Google for "Ford F-150" may land on your podcast webpage. Maybe they'll have a listen, like what they hear, and you'll have a new listener.

Transcription also makes your podcast more accessible. People with hearing disabilities can now more easily enjoy your content and people who don't understand your native language can use a text translator.

There are other benefits as well, like not having to manually type out detailed show notes, being able to copy and paste your transcription into your own website, creating a searchable archive of everything you've ever discussed on your podcast, etc. 

Where will my transcripts be displayed?
When you create a transcript for an episode, Buzzsprout will display it on your public Buzzsprout website directly under your episode description. You can edit the transcript at any time from the link on your episode detail page. Once saved, you can go back into your Buzzsprout account and click on the "Update Transcript" link.


Pro Tip: To include your episode on your personal website, just copy and paste it onto a page then you can link to that page from your episode description!