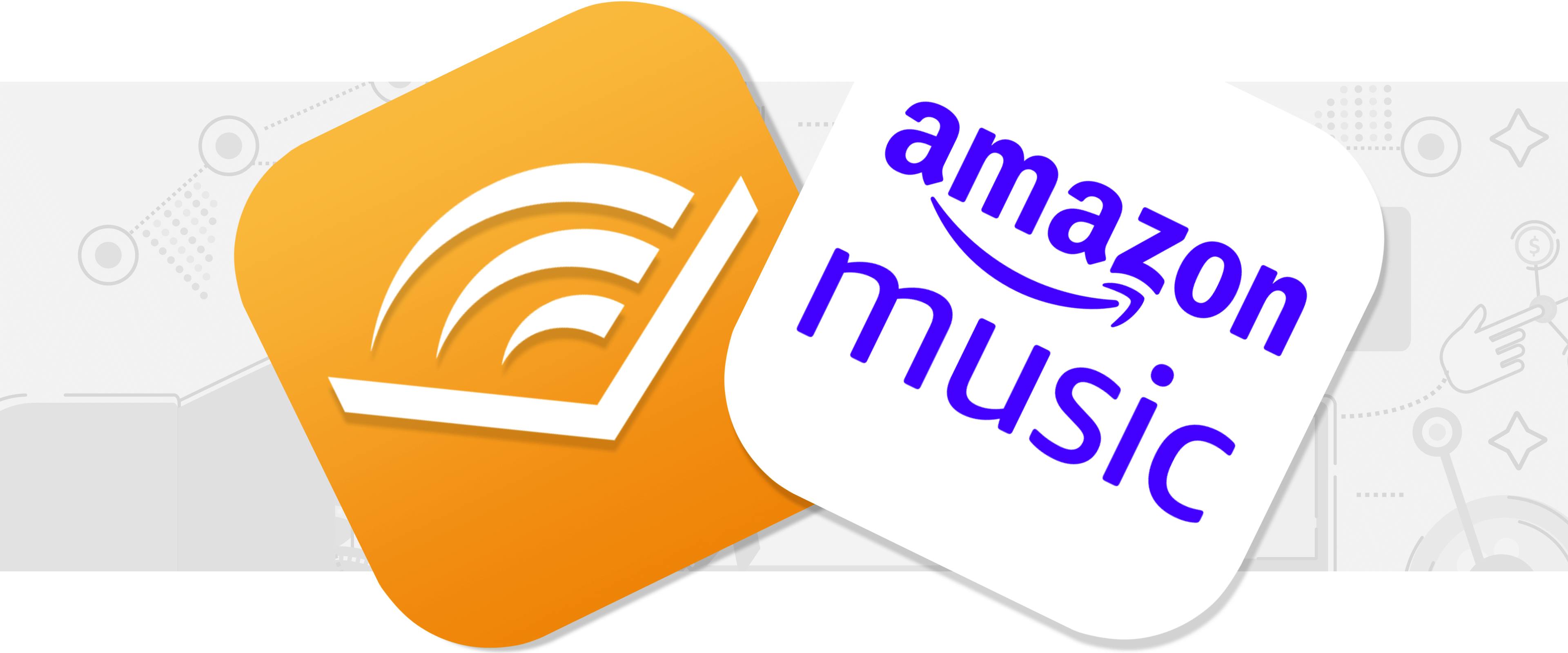 How to Submit Your Podcast to Amazon Music & Audible [2021 Update]
In the summer of 2020, Amazon Music added podcasts to its listener base of 41.8 million and even included podcasts alongside audiobooks within Audible.
As of April 2021, Amazon Music podcasts are on iOS, Android, Echo devices, web browsers, many Alexa-enabled devices and available in the U.S., U.K., Germany, Brazil, Mexico, and Japan. While the podcast platform currently accounts for only .5% of all podcast listeners, it's expected to grow quickly.
Amazon Music is not a podcast host, and you can't track your show's performance via your account as you can with Apple Podcast Connect or Google Podcasts Manager. Instead, the directory streams on-demand content directly from your hosting provider using your RSS feed.
In this guide, we'll show you how to submit your content to Amazon Music and Audible regardless of your hosting service and share a shortcut for podcasters who host their podcast with Buzzsprout.
Buzzsprout One-click Submission 
If you host your podcast on Buzzsprout, you can submit your show to Amazon and Audible with one click through your dashboard.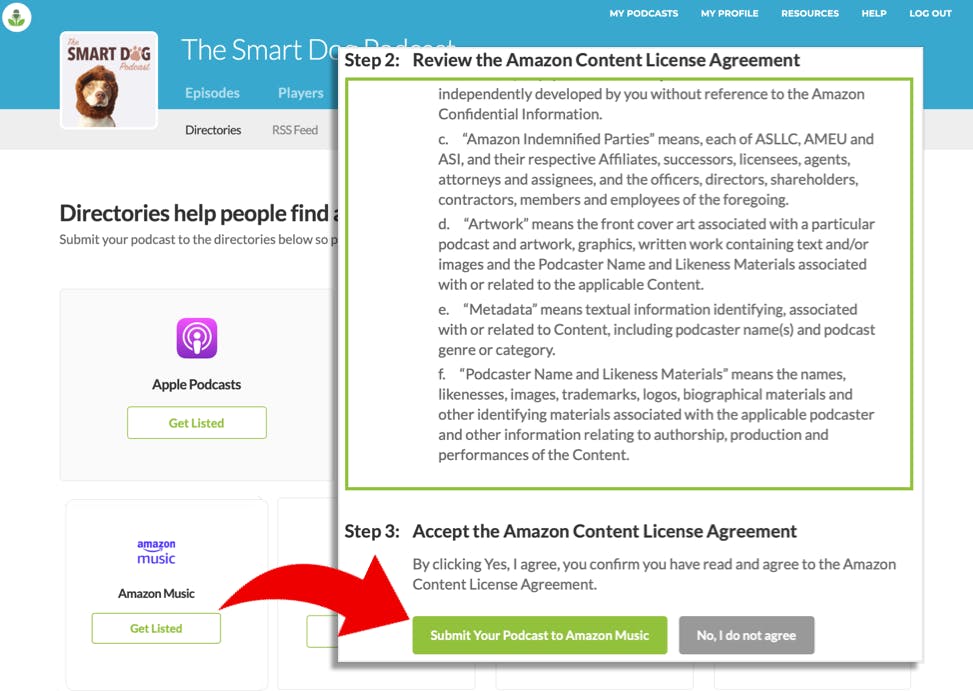 Just log in to your Buzzsprout account, go to the Directories tab, and click Get Listed. The site will prompt you to double-check that you meet the following requirements before submission:
at least one live podcast episode
a podcast description
original podcast artwork
set categories within Apple Podcast
correct language selection
appropriately marked explicit content-box
Look over the Amazon Content License Agreement, and select Submit Your Podcast to Amazon Music. That's it! Your podcast should appear in Amazon Music and Audible within 24 hours.
Submit your podcast to Amazon Music (4 steps)
If you don't host your podcast with Buzzsprout, or your hosting service is not set up with Amazon Music yet, you can follow these four steps to manually submit your podcast to the directory.
#1. Log in to Amazon Music's submission page
Go to Amazon Music's podcast submission page and sign in with your regular Amazon login credentials. If you don't have an account, you can create one for free in a matter of seconds.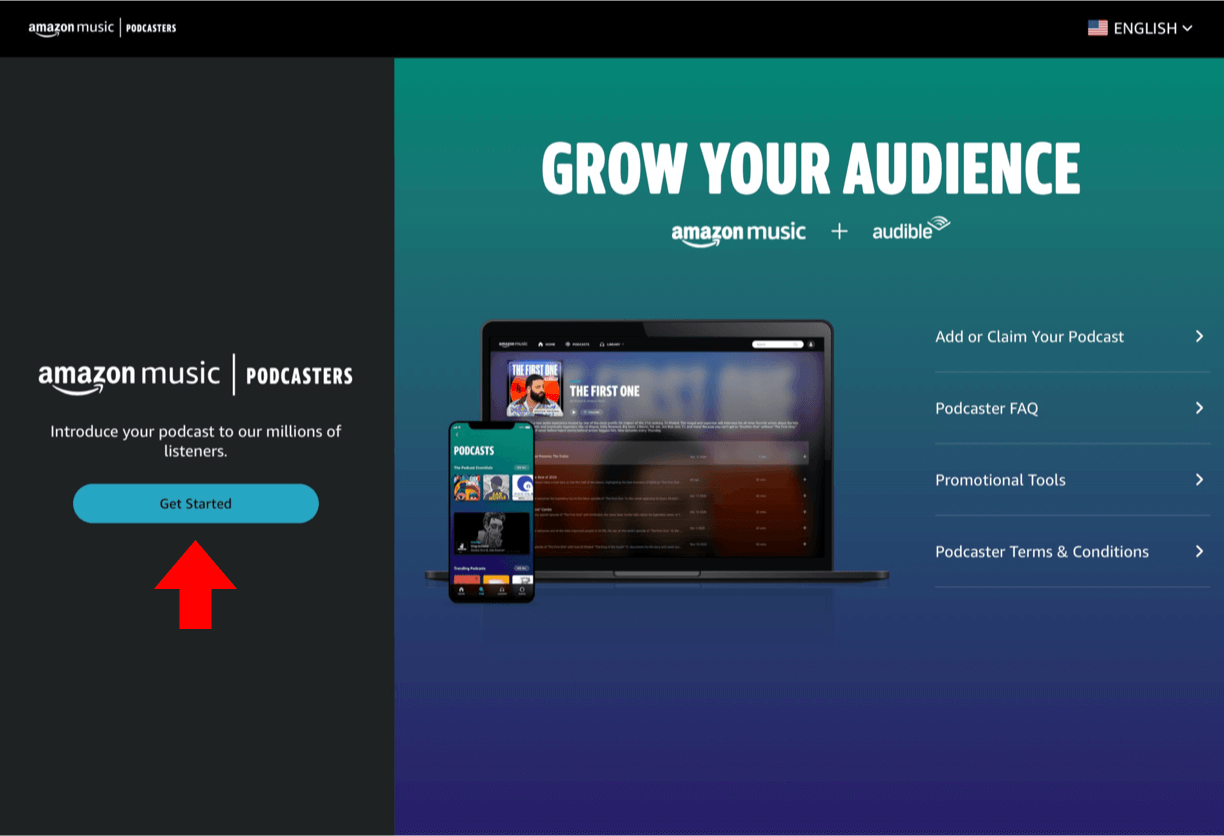 #2. Copy and paste your podcast's RSS feed URL
Next, the site prompts you to copy and paste your RSS feed so that Amazon can identify your podcast.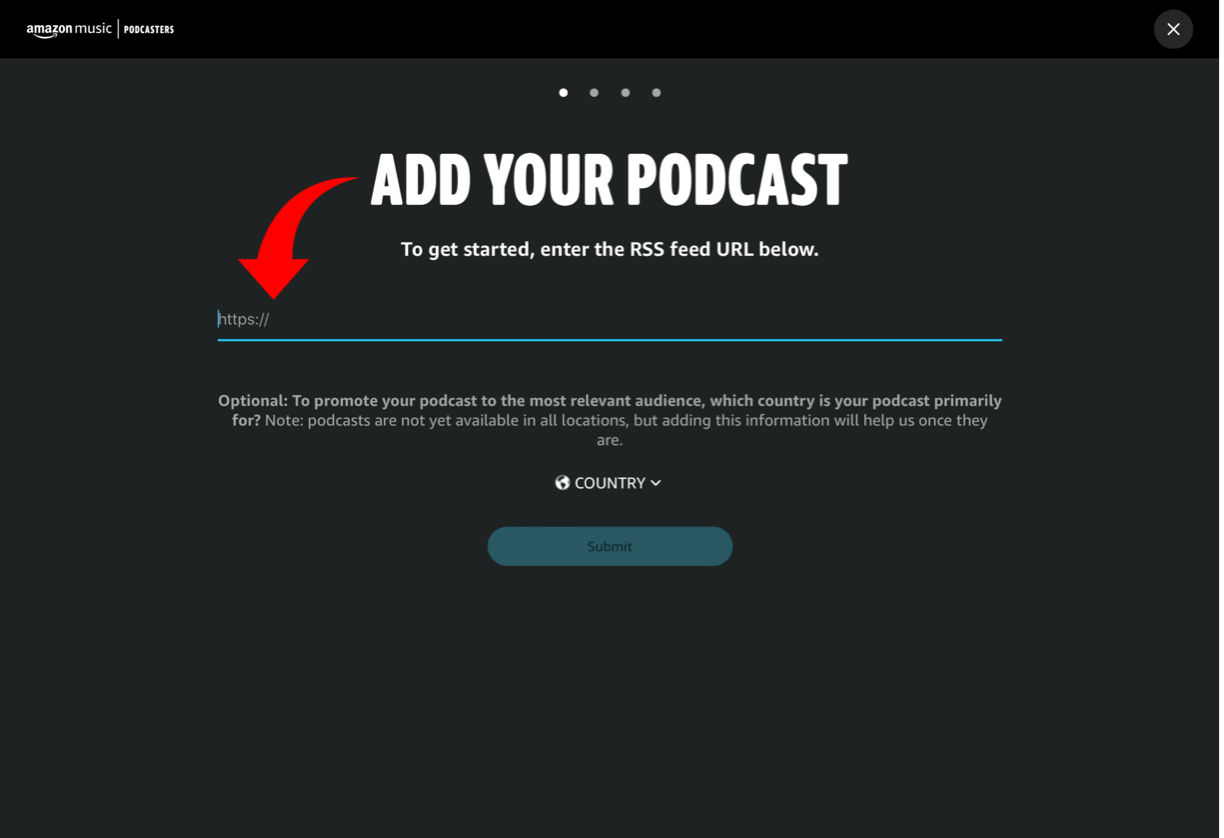 #3. Claim your podcast 
Once Amazon Music finds your podcast, verify the artwork as your own and agree to the terms and services. Click Confirm Email to prompt Amazon to send you an email to the address linked with your RSS feed (the email associated with your podcast hosting account).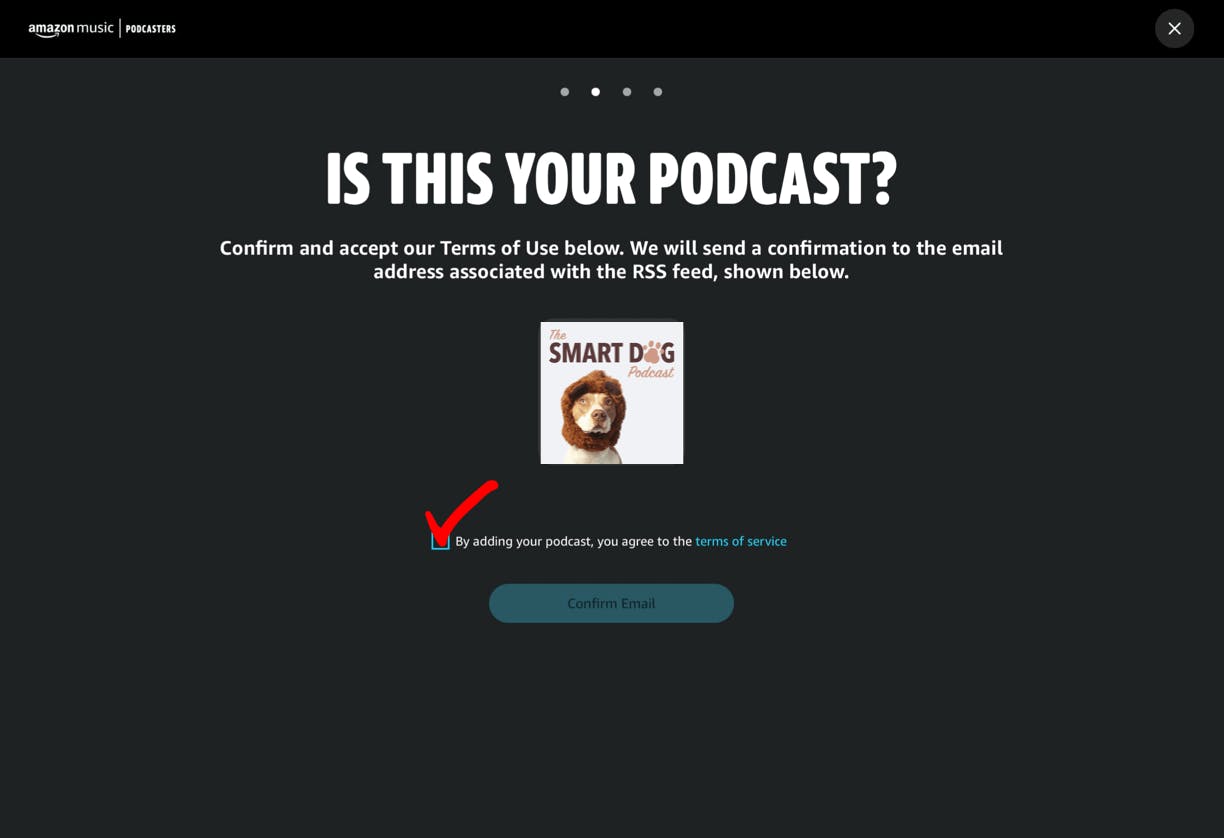 #4. Check for confirmation e-mail 
Once you enter the confirmation code into Amazon Music, you're all set. If you want to submit more than one podcast, you can repeat steps one through four as many times as you wish!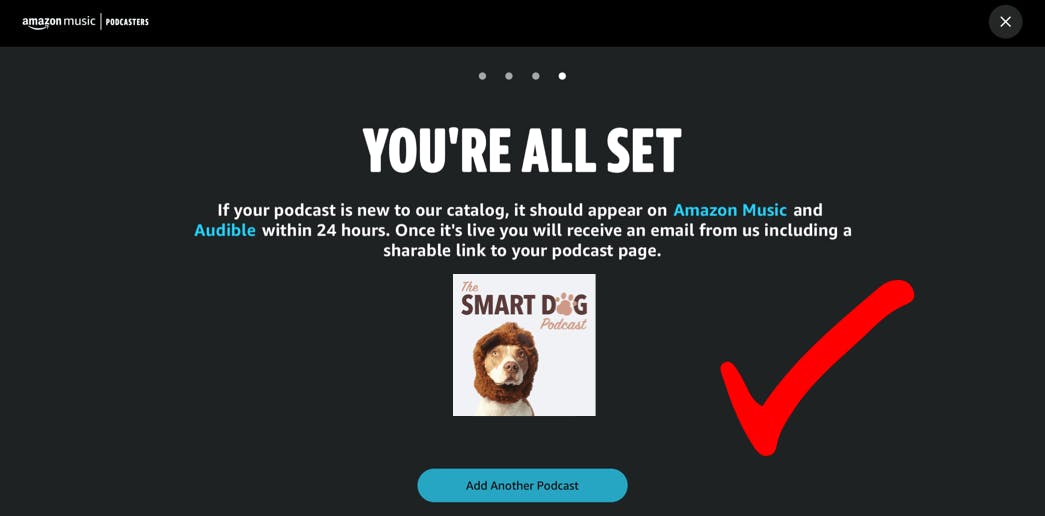 Your podcast can take up to 24 before it appears on Amazon Music and Audible; you can search for your content in the Amazon Music podcast app yourself to see if it appears in the results. 
Amazon Music promotional tools
Amazon Music created a short promotional tools guide to help podcasters with basic marketing, messaging, and tools to let your subscribers know they can now listen to your content on Amazon and Audible.
If you host with Buzzsprout, listeners will see a small Amazon Music icon underneath your episodes automatically, so there's no need to add one! 
Get listed in other top directories
Getting listed in top podcast directories like Amazon Music and Audible should be the first step of your podcasting marketing plan. If you have more questions about the platform you can check out Amazon Music's FAQ page or reach out to podcasters@amazon.com.

Be sure to list your content in the most popular podcast directories for optimal visibility; you can review our step-by-step submission guides to get started!