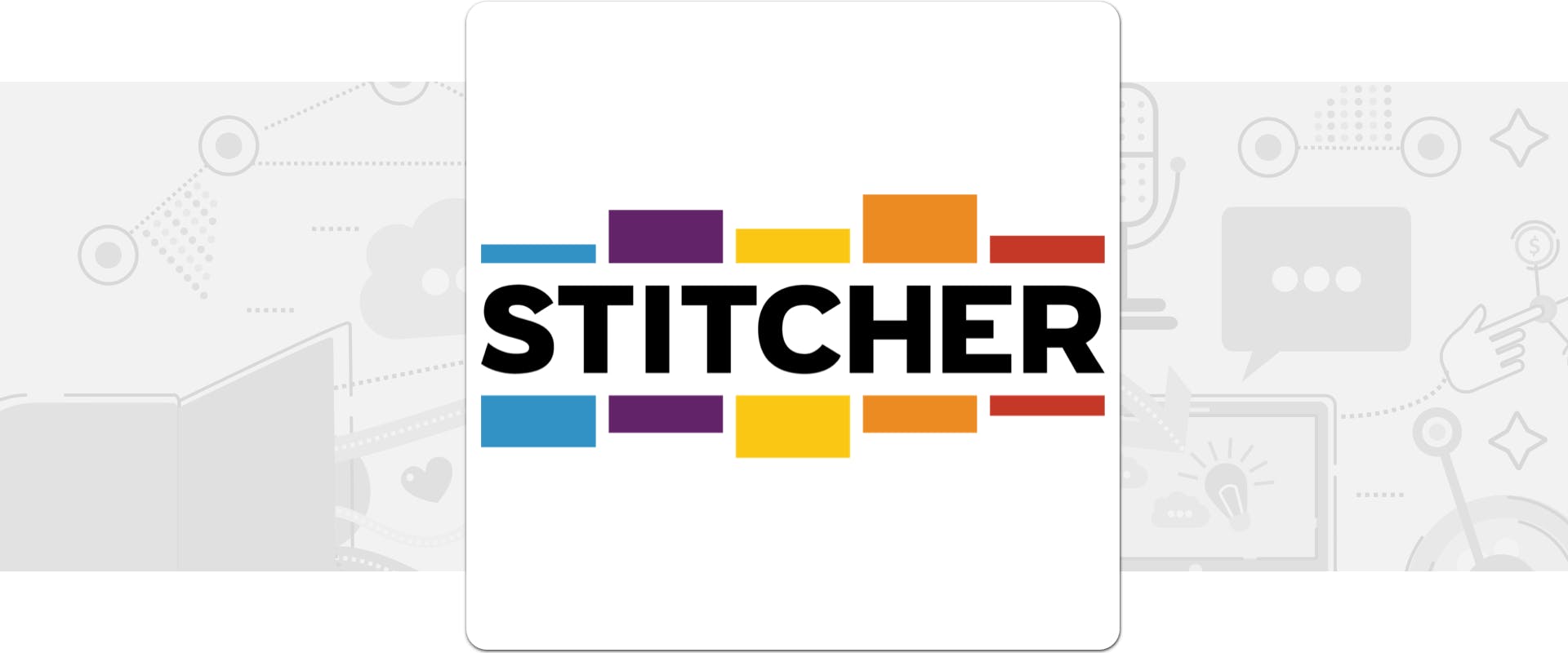 How to Submit Your Podcast to Stitcher & Access Your Show's Stats
Stitcher came onto the scene in 2007 as one of digital audio's first on-demand streaming services for Android. It's now one of the largest third-party directories in the world, and among the top nine major podcasting platforms to list your show. 
Stitcher broadcasts internet radio, news, and podcasts, so having your show listed in its catalog could get your content in front of radio listeners who don't use directories like Apple Podcasts. The podcast player is available on iPhones, iPads, Android, PC, smart speakers, and integrated into over 50 car models.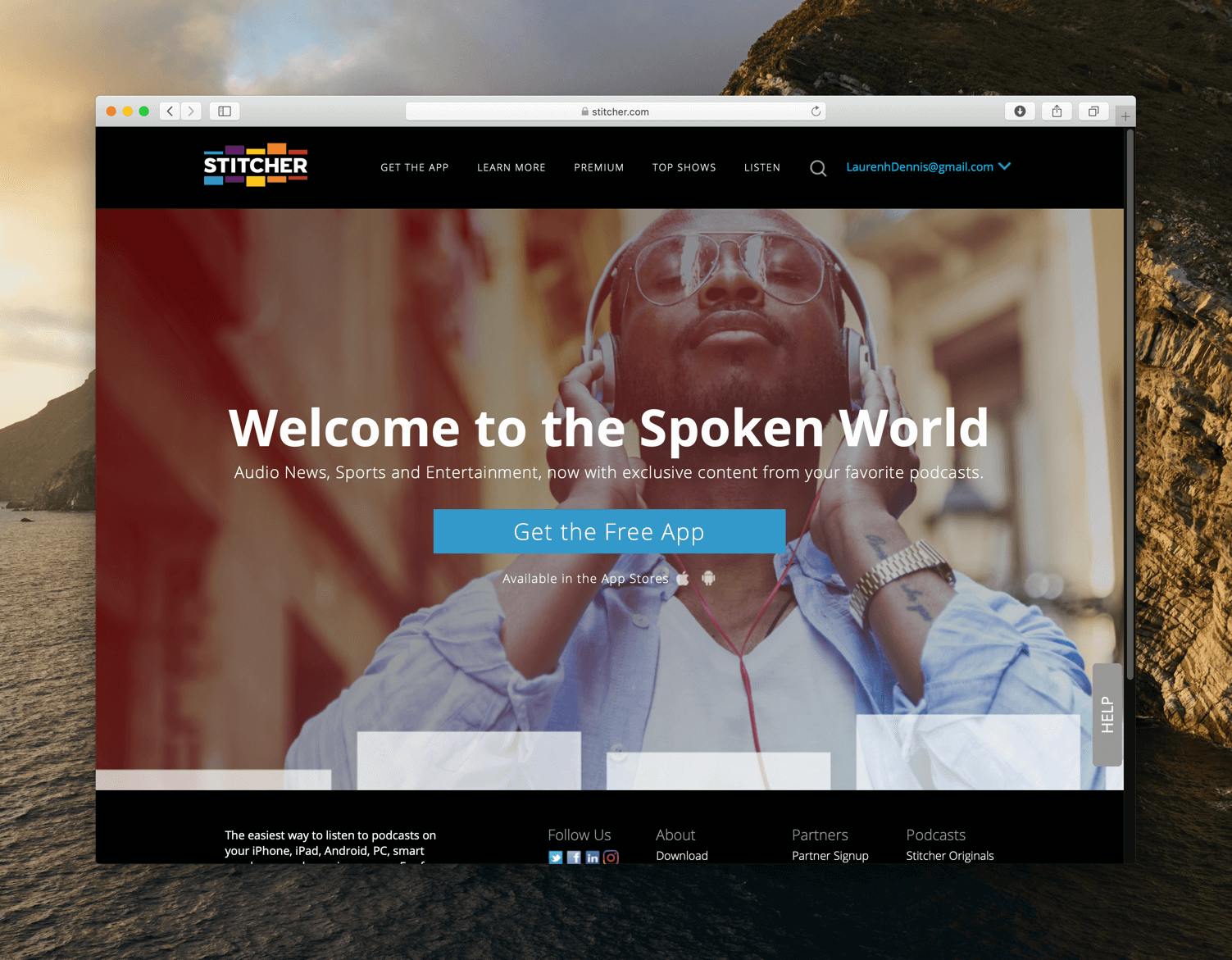 All you need to submit your podcast to Stitcher is an RSS feed link and at least one published episode on your Buzzsprout account (or whichever hosting provider you use). 
Like all directories, Stitcher uses your podcast feed to access your audio files and automatically displays each new episode you publish. 
Thankfully, Stitcher's podcast submission process is straightforward. Follow these simple steps to submit your podcast and get your show in front of millions of Stitcher users!
Step #1 Copy your RSS link from Buzzsprout
Go to your Buzzsprout dashboard > Directories > RSS Feed and copy your RSS feed URL — you'll need it in a minute.
Next, go back to the Directories tab and select Get Listed underneath the Stitcher icon.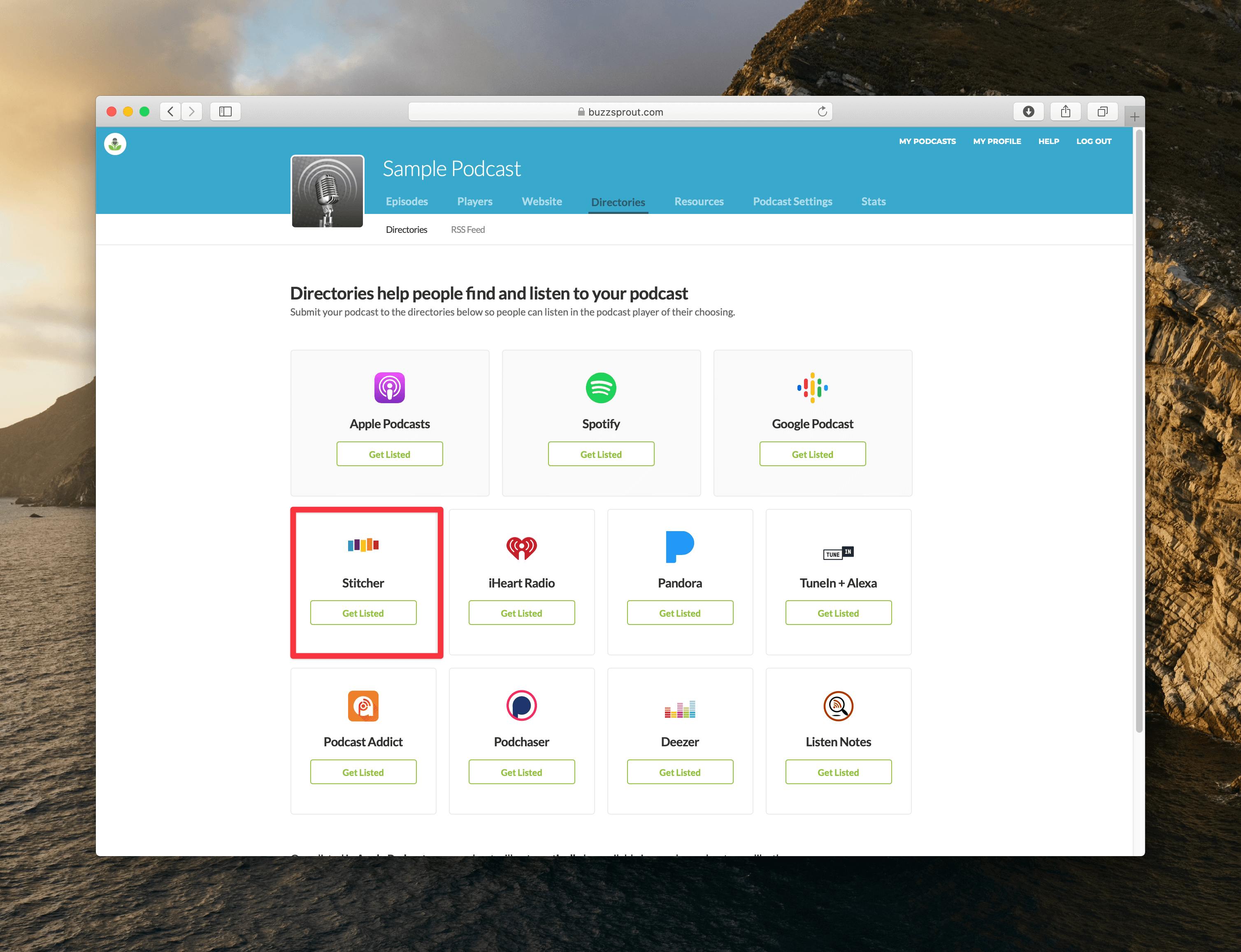 Select Create a Stitcher Account, or open Stitcher's Partner sign up page in a new browser.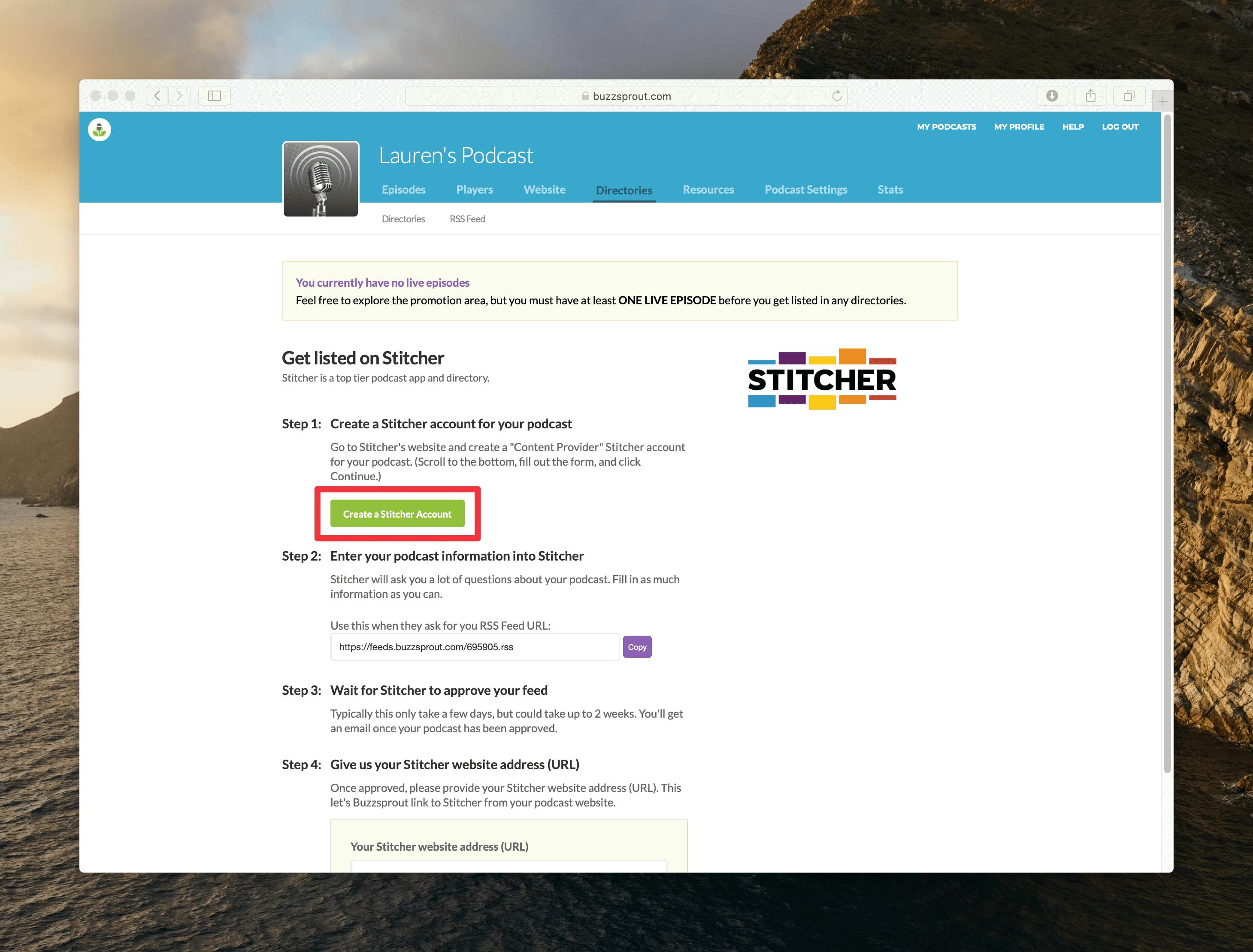 Step #2 Submit & authorize your podcast
Select the Join Us Today button to add shows to Stitcher's catalog via your RSS link.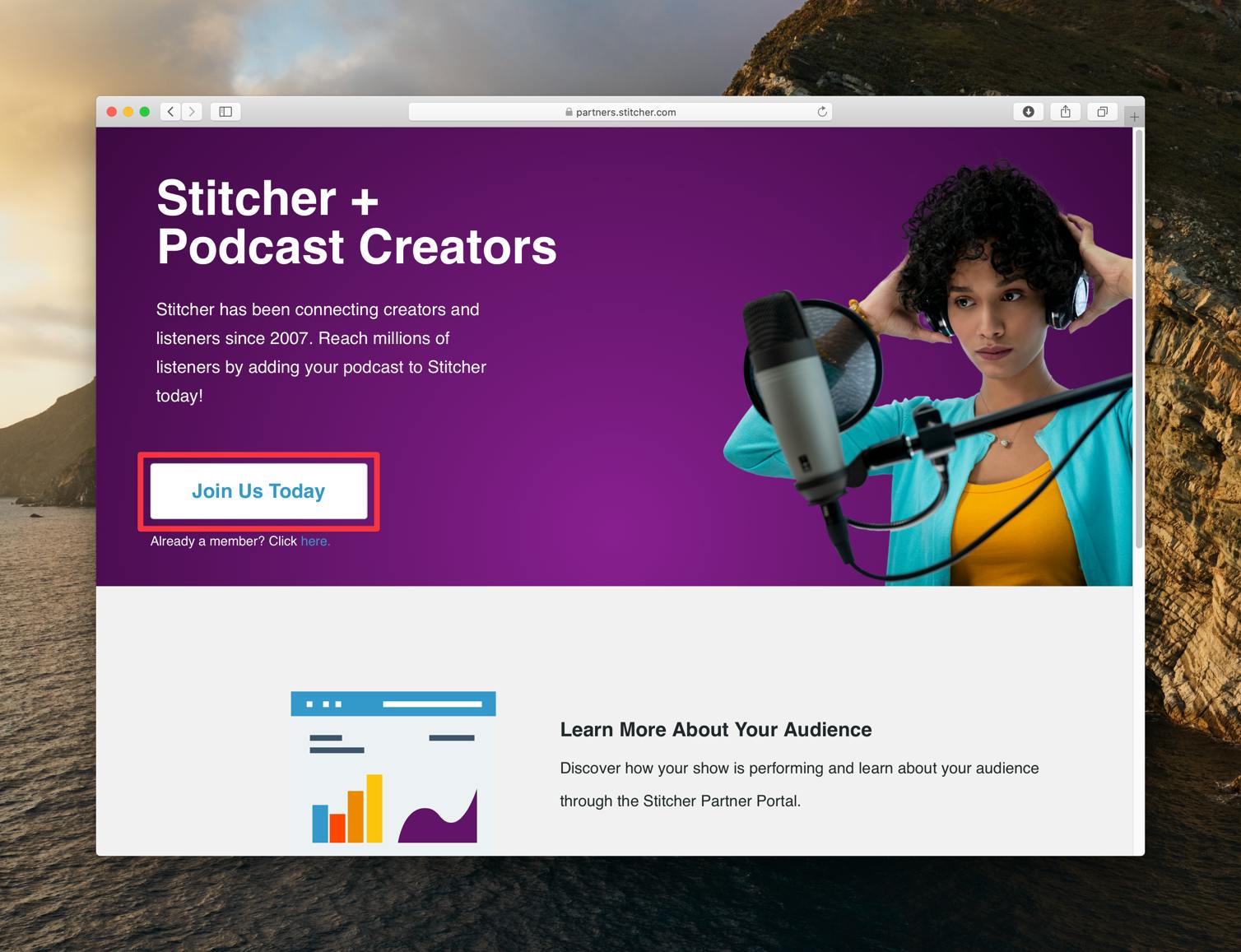 Paste your podcast RSS link into the required field and select Next!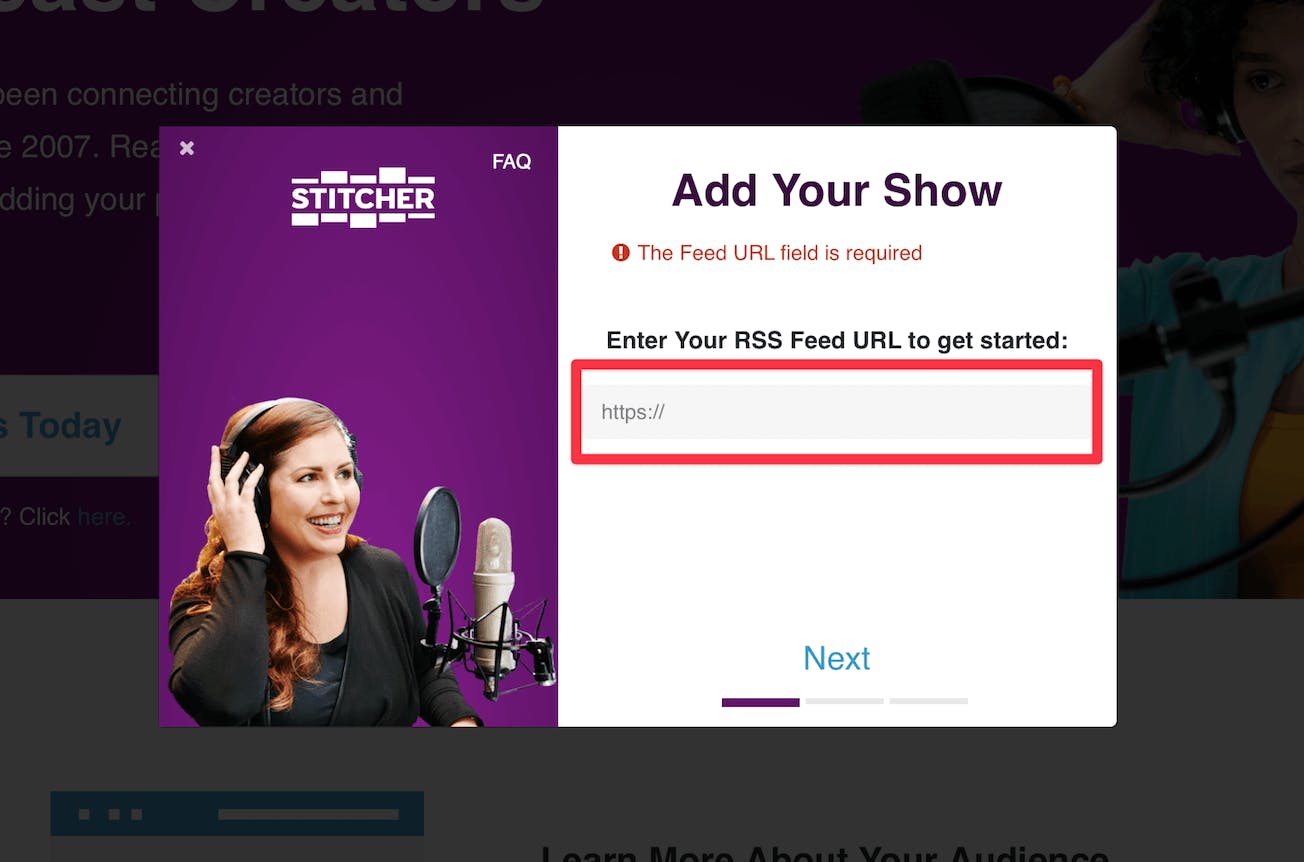 If Stitcher finds your show via your RSS link, they'll send a confirmation email to authorize the addition of your podcast to their directory.
Your show will appear in search results a few hours after you agree to the terms and conditions and click the confirmation link in the email!
Continue with the sign-up process to create your Partner account so that you can access your show's stats via the portal.
Step #3 Give Buzzsprout your podcast website URL
Go to the Promote Show tab in your Partner Portal to access your show's podcast website, then copy and paste your podcast's URL into Step #4 on your Buzzsprout dashboard so we can link to Stitcher form your podcast's Buzzsprout site.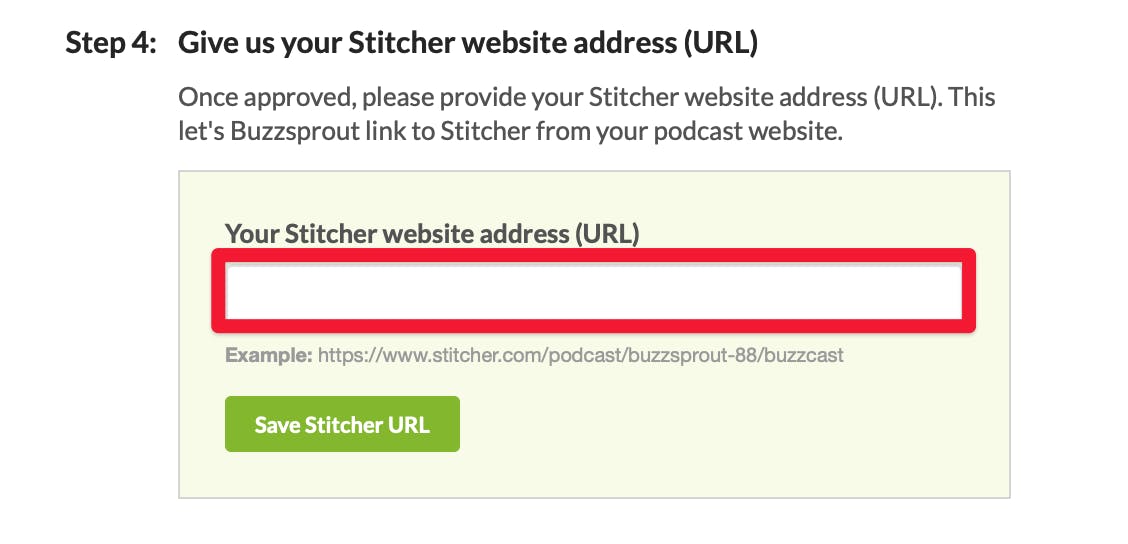 Now that you're a Stitcher content provider, you can access the Partner Portal to track the performance of your show(s) within the app and customize your podcast website! Let's break down the two main sections of the portal and walk through how to interpret the graphs and figures.
Stitcher Partner Portal 
These days, more and more directories provide podcasters with stats so they can gauge the effectiveness of their content and make informed decisions about their podcast episodes. 
If Buzzsprout hosts your show, you can access valuable analytics on your show's performance via Buzzsprout's Advanced Podcast Statistics.
But as helpful as your podcast host's stats are, they do have limits, and you'll need to view your podcast's statistics on individual platforms to get more specific data on your show.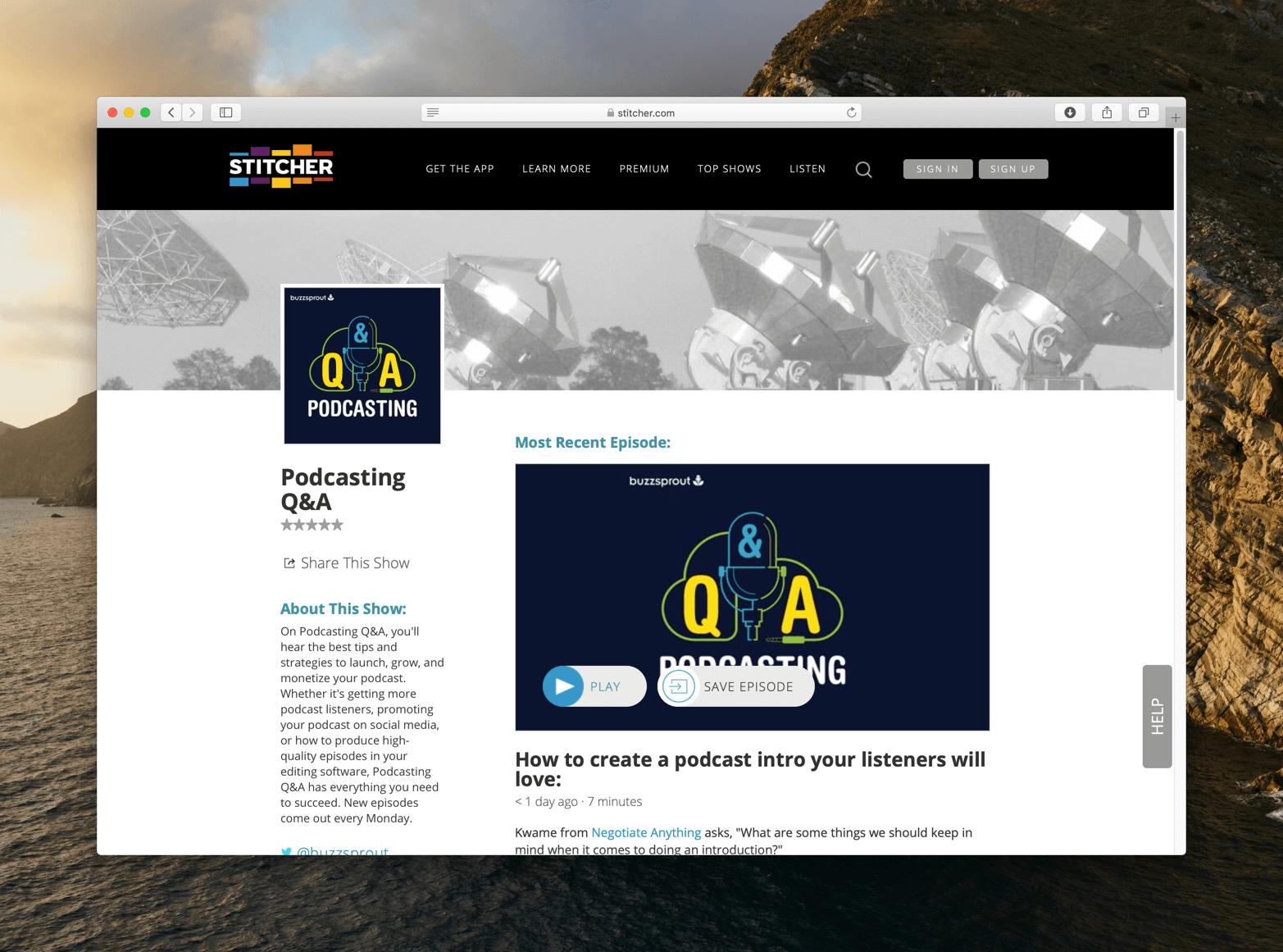 Show stats
The Show Stats page tells you how your podcast is performing overall, versus the data on individual episodes. Show Stats has three tabs, and knowing how to read the information in each section can dramatically improve your content!
Listening tab
Average Listening Time tells you the average amount of time your listeners spend streaming your show. You'll see the Average Listening Time reflected in your podcast's Average Completion Rate.
Listens/Download Ratio lets you know how many actual listens you get per 100 downloads. 
In this example, 100 people downloaded the episode, and 76 pressed play.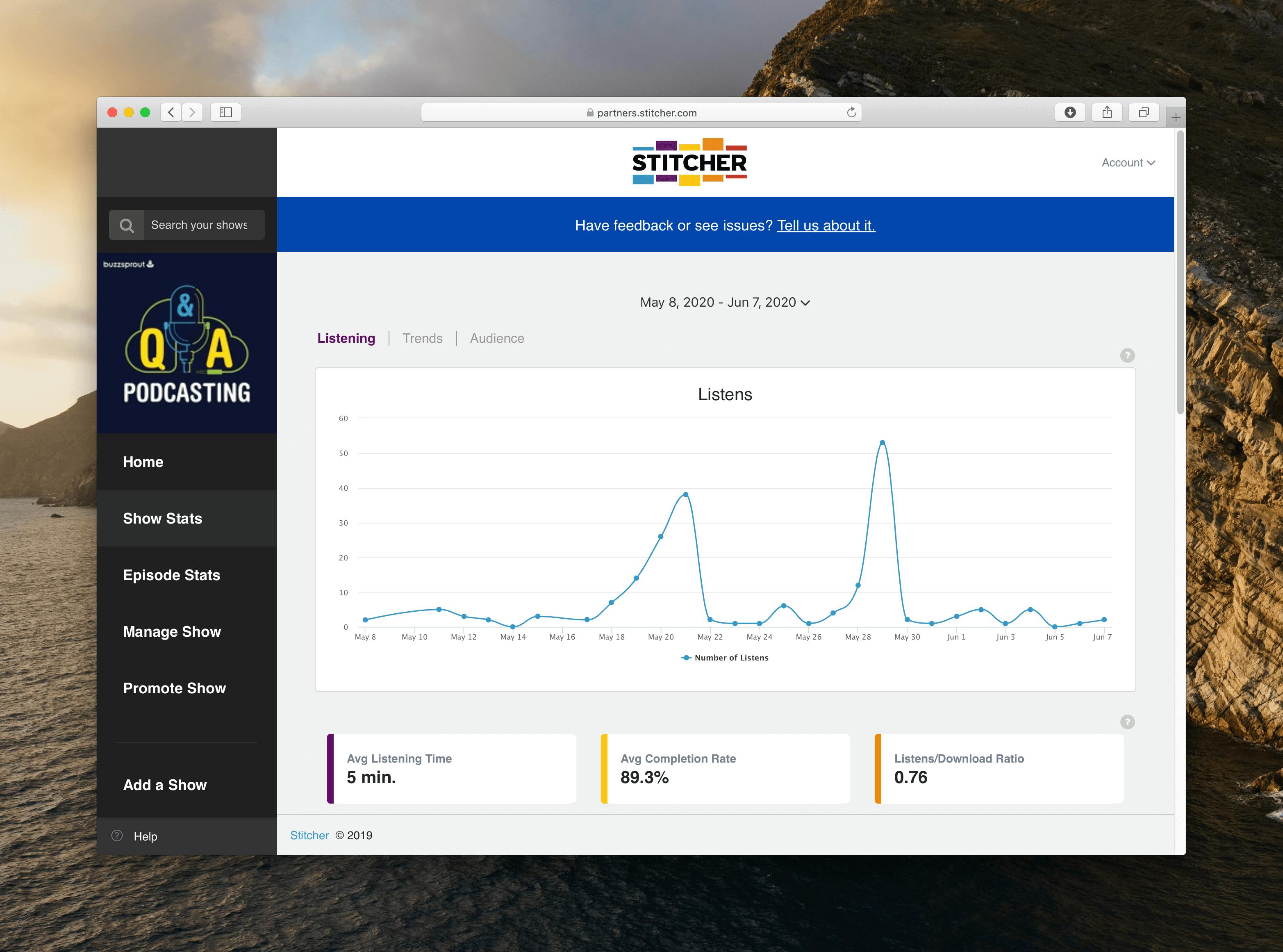 Trends tab
The Day of Week Listening chart illustrates how much time people spend listening to your podcast every day of the week. From this information, you can tell the best days to release your episodes to maximize your listenership.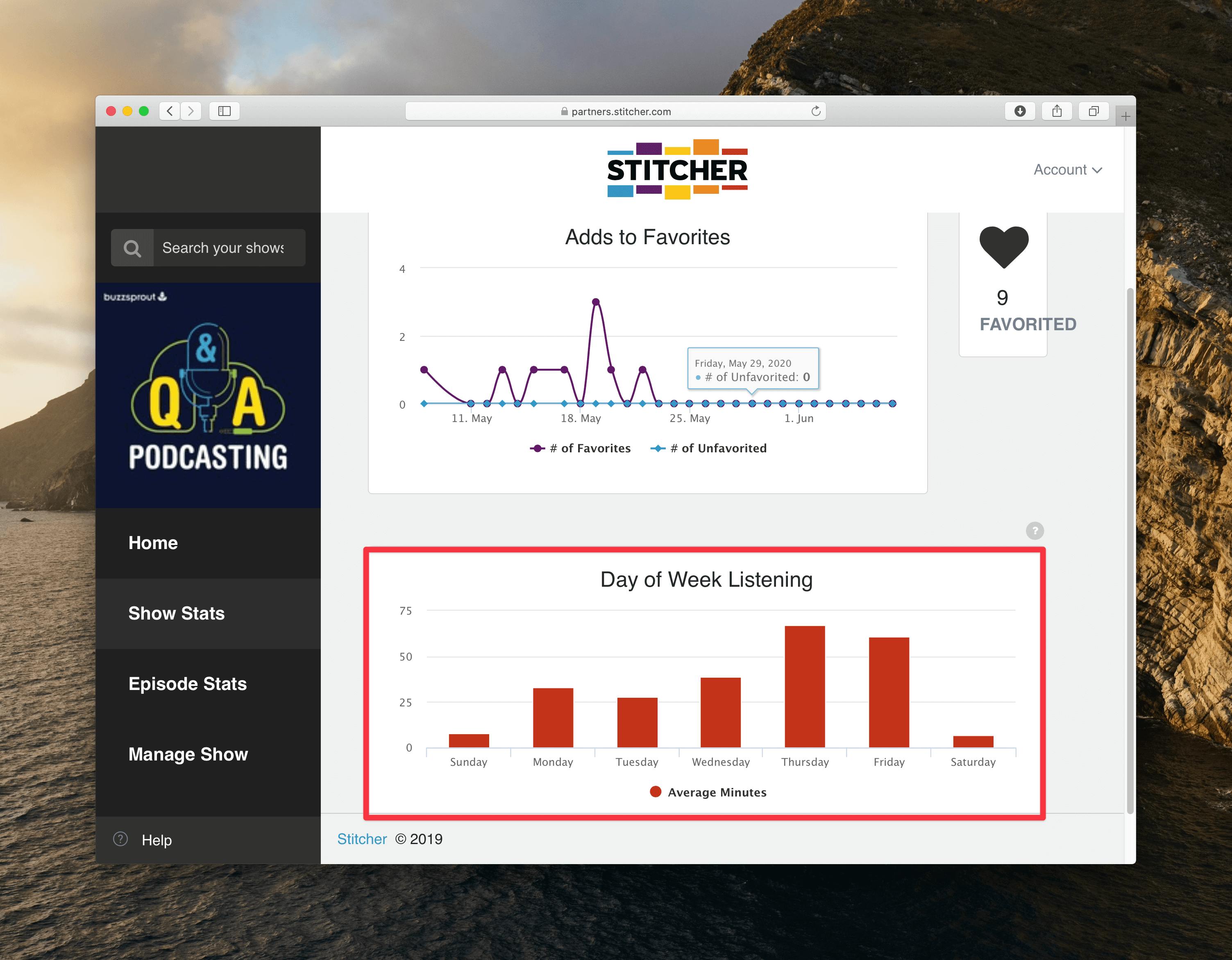 Audience tab
Listeners can use Stitcher's podcast player on a lot of devices, and this pie chart breaks down exactly how your audience consumes your content.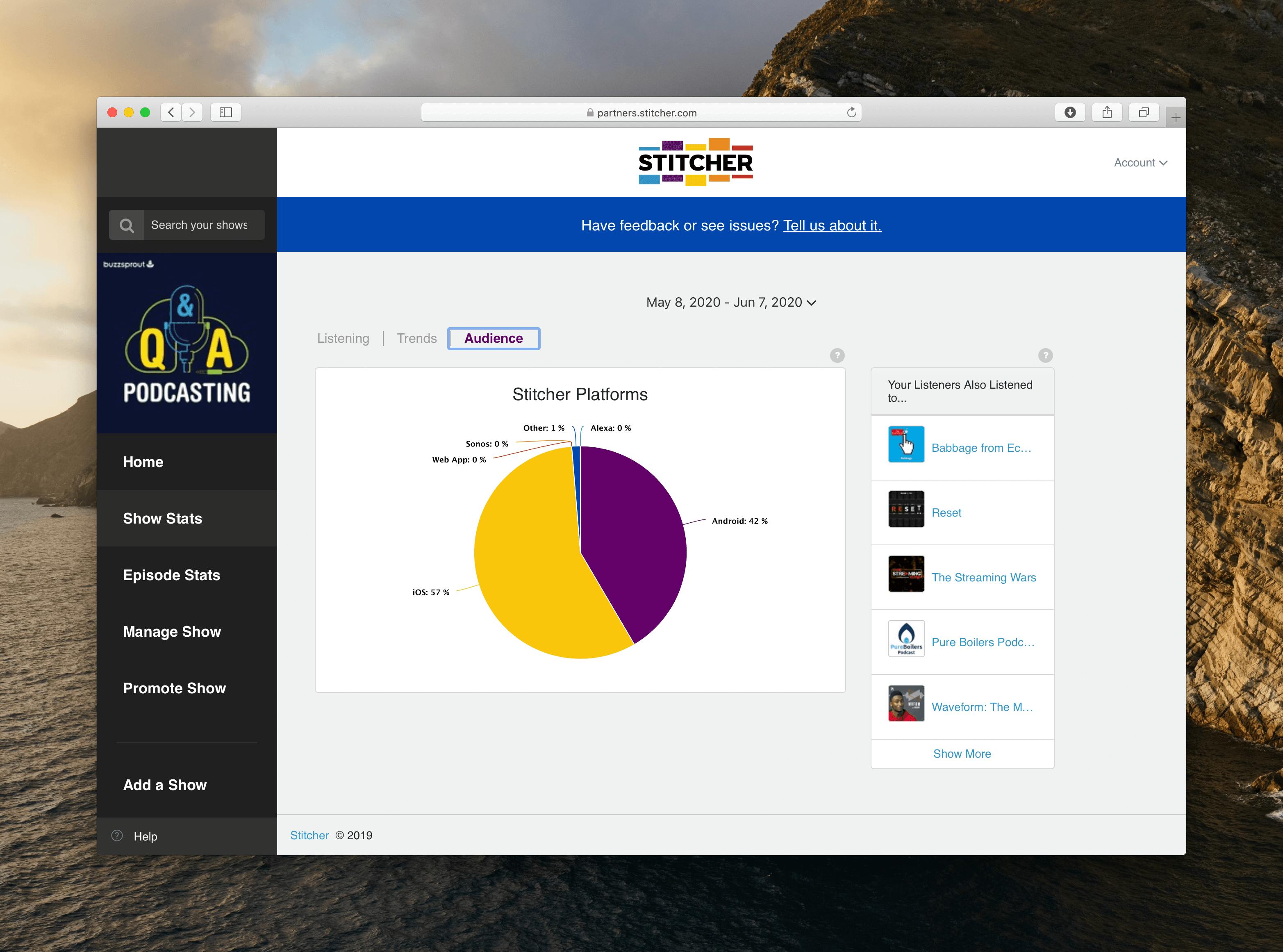 Next to the pie chart, you'll see a list of podcasts your audience also listens to, which is a great way to find creators to collaborate with that you know your listeners will enjoy.
Episode stats
Select Episode Stats on the far left menu to take a deeper dive into the analytics of your individual podcast episodes. 
Stitcher doesn't give you as much information for individual episodes, but you can use your show stats to piece together all the information you need.
Each episode has a Listens chart that shows the number of listens over the last 30 days.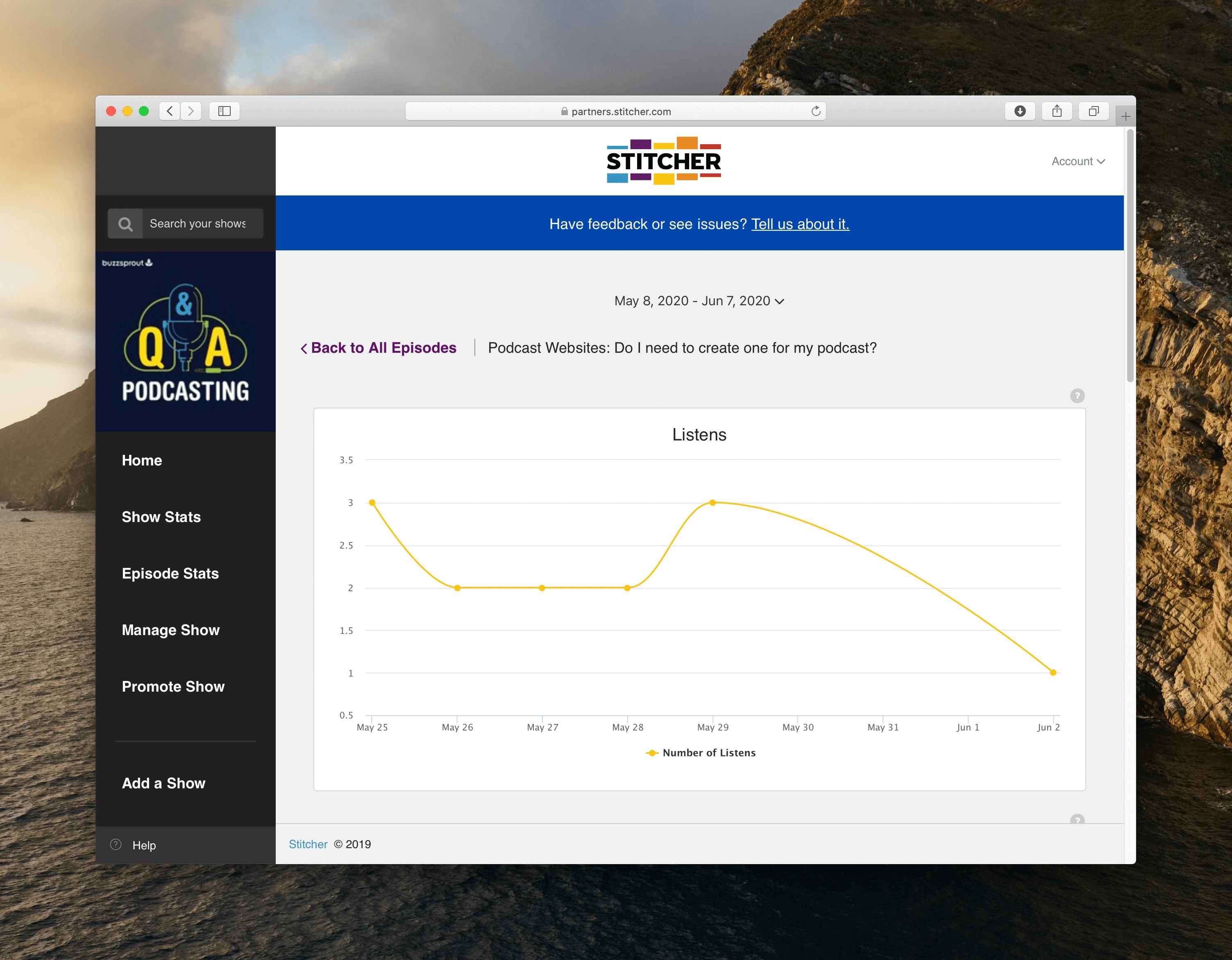 You can also view the number of active listeners over time and how long your audience listened to the episode.
Check out our stats tutorials playlist to learn how to track your podcast's performance on other major directories!
Where else should you submit your podcast? 
Listing your show in as many platforms as possible makes your content accessible to listeners no matter how or where they choose to listen.
Here are more step-by-step guides to walk you through the submission process for each major podcast directory!