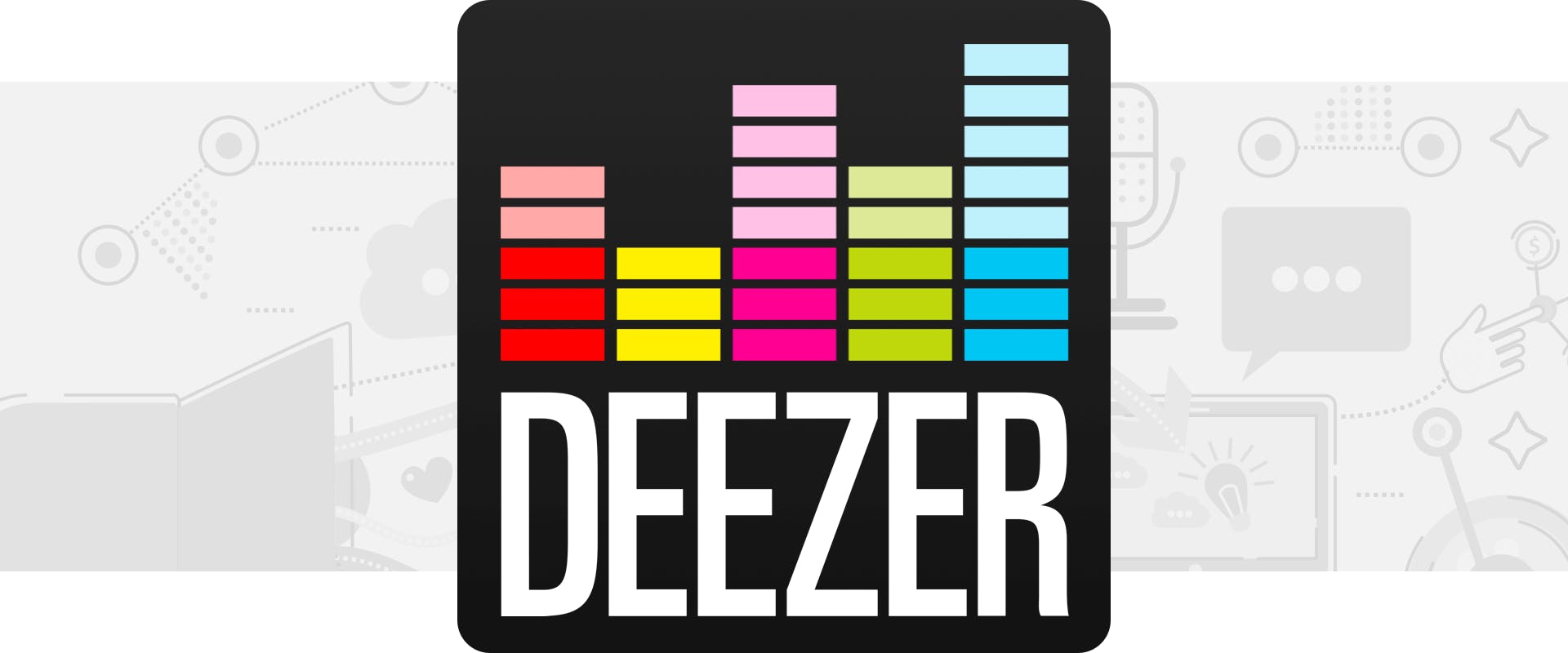 How to Submit Your Podcast to Deezer
Deezer started out as a music streaming service and has since become a popular way to stream spoken word audio.
The platform's popularity in the podcasting world grew with the addition of 23,000 new podcasts to its catalog in 2015. 
Deezer's user interface is similar to platforms like Spotify, Google Play, Soundcloud, and iHeartRadio in that it allows you to stream music, radio, audiobooks, and podcasts all within one app (as opposed to Apple Podcasts that is separate from Apple Music.)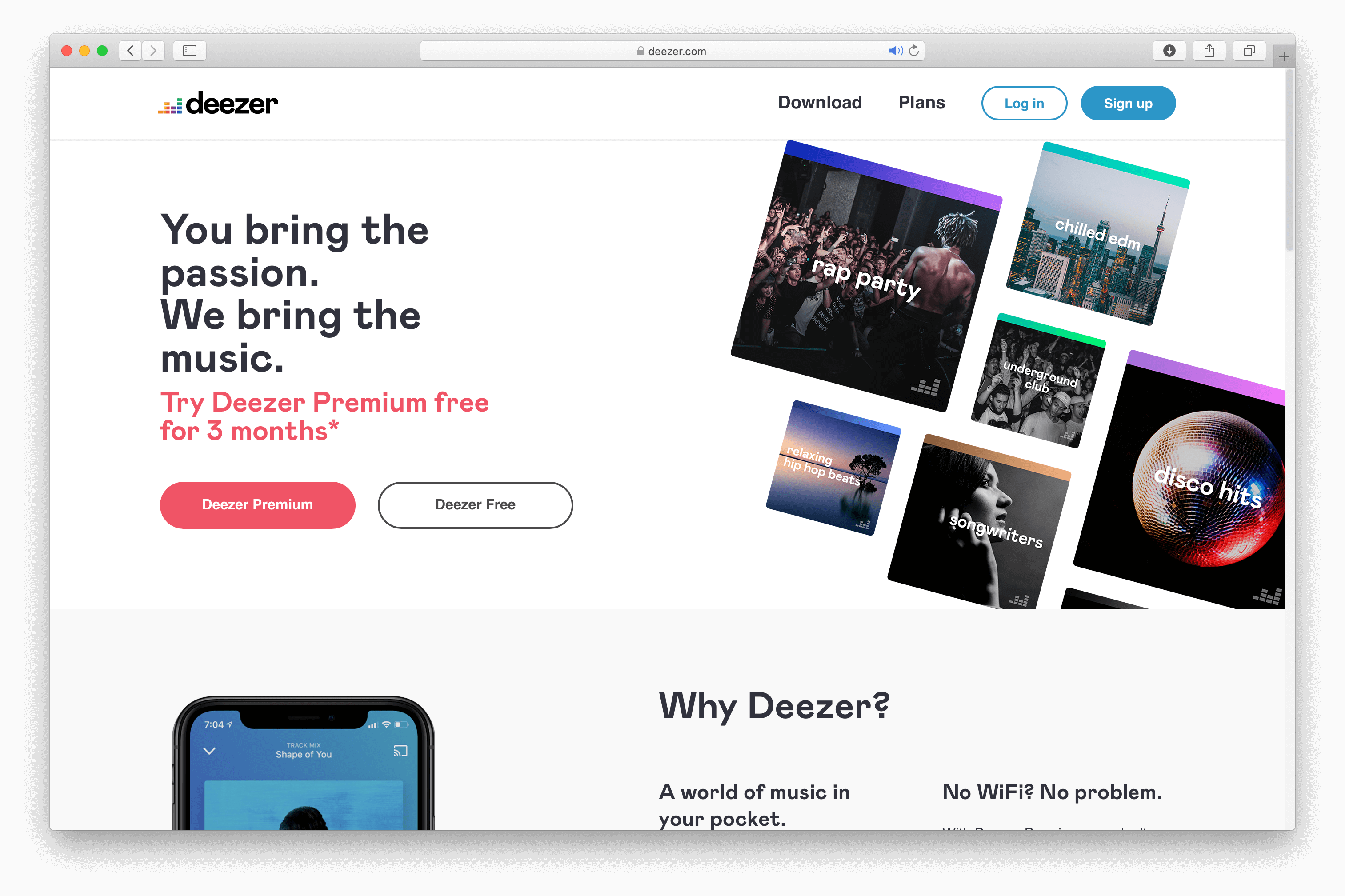 How to get your podcast on Deezer
No matter what podcast host you use (and even if you don't have a host), the process of submitting your podcast to Deezer is the same. 
Don't have an RSS feed? An RSS feed URL allows each new episode you record to automatically appear with the directories you publish to, saving you the time of publishing episodes individually. If you don't use a podcast hosting service that generates an RSS for you, you can get an RSS feed for your podcast by using a third-party service like RSS or FetchRSS.
Step 1: Submit your RSS feed & verify
Go to podcasters.deezer.com and select Publish My Podcast. 
Next, open a new browser and log into your podcast host's dashboard.
Copy your RSS link and paste it into the required field within Deezer.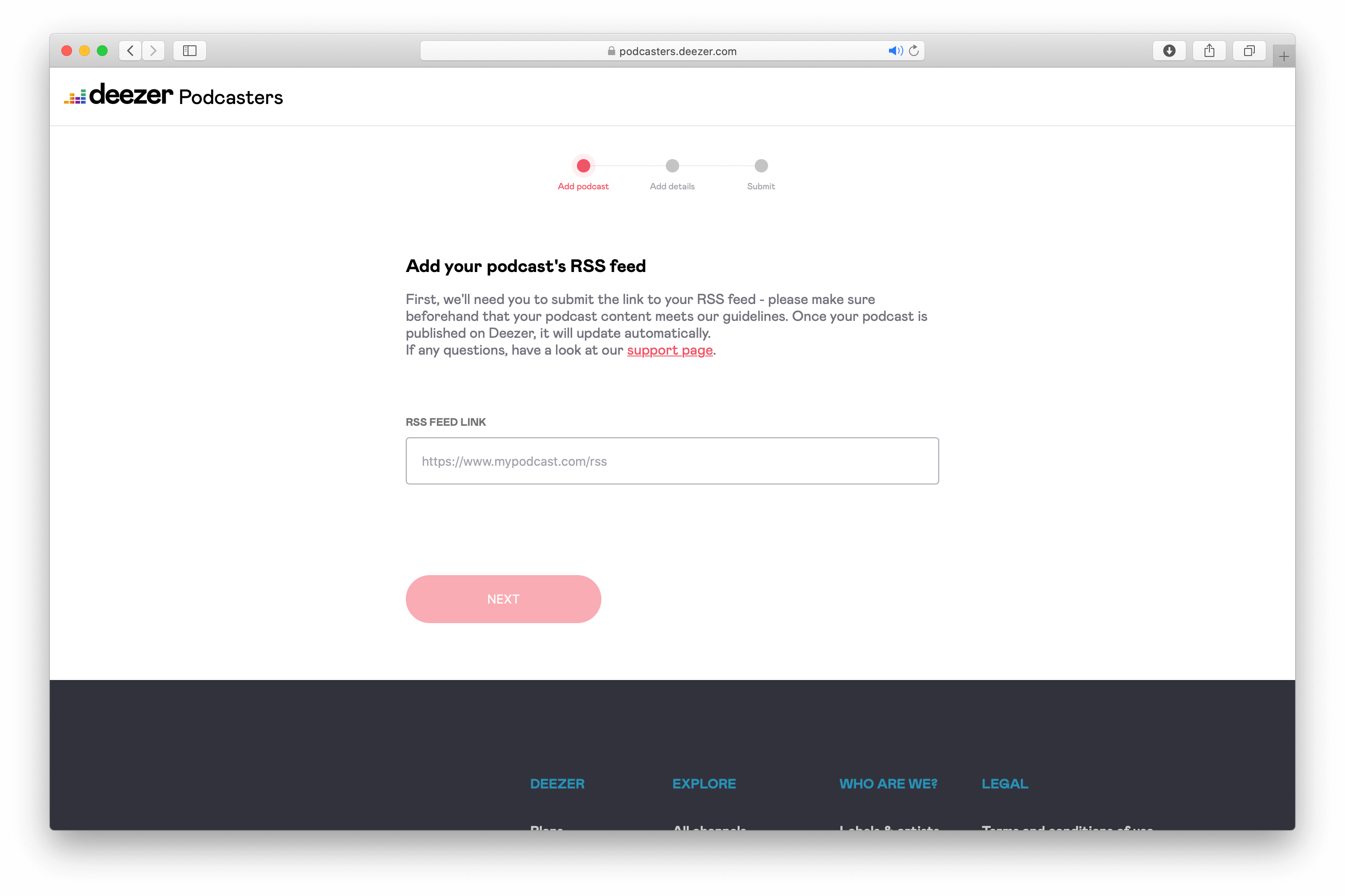 Once you submit your RSS link, Deezer will ask for a verification code. Retrieve the code they send to your email address and select continue. 
Step 2: Fill out the podcast submission form
Deezer will then direct you to the podcast submission page where you can enter all the mandatory information about your show and submit its cover art. This information helps your podcast show up in Deezer podcast searches.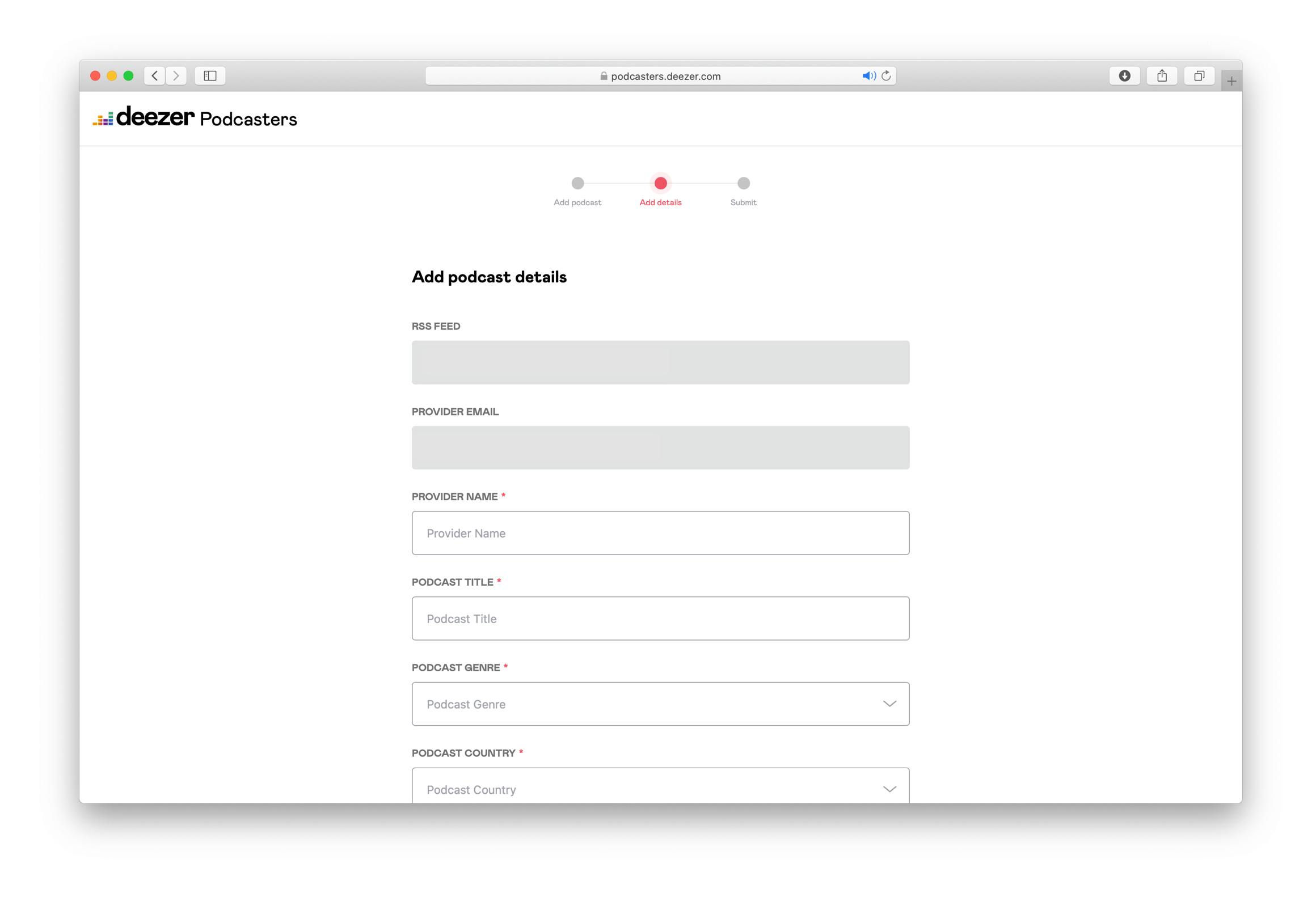 In order to make your podcast visible within Deezer's catalog, you must provide their system with the following metadata:
Podcast title
Author
Copyright
Category/Genre
Language
Country
Episode title
Explicit / Not explicit
Cover art
Pro tip: Cover art for Deezer podcast submissions differs from other directories like Apple Podcasts (formerly iTunes). Make sure your image is square, PNG file with dimensions of 1400x1400 pixels. 
After you fill in the necessary fields, press submit!
Was your submission successful?
After you submit your podcast, it should appear within one working day. It does, however, take an additional day for the podcast to show up in search results with Deezer.
If your submission is unsuccessful and doesn't appear in Deezer within 24 hours of submission, review the site's FAQ page.
Let's take a look at how this directory compares to others like it and what features it brings to the podcast directory table.
How is Deezer different from other streaming services?
Streaming digital audio on Deezer isn't much different from the experience of listening to podcasts on other all-in-one streaming services.
Deezer does differ, though, from podcast-only platforms (like RadioPublic, Overcast, Stitcher, Pocketcasts, and Apple Podcasts) by combining several kinds of digital audio into one application.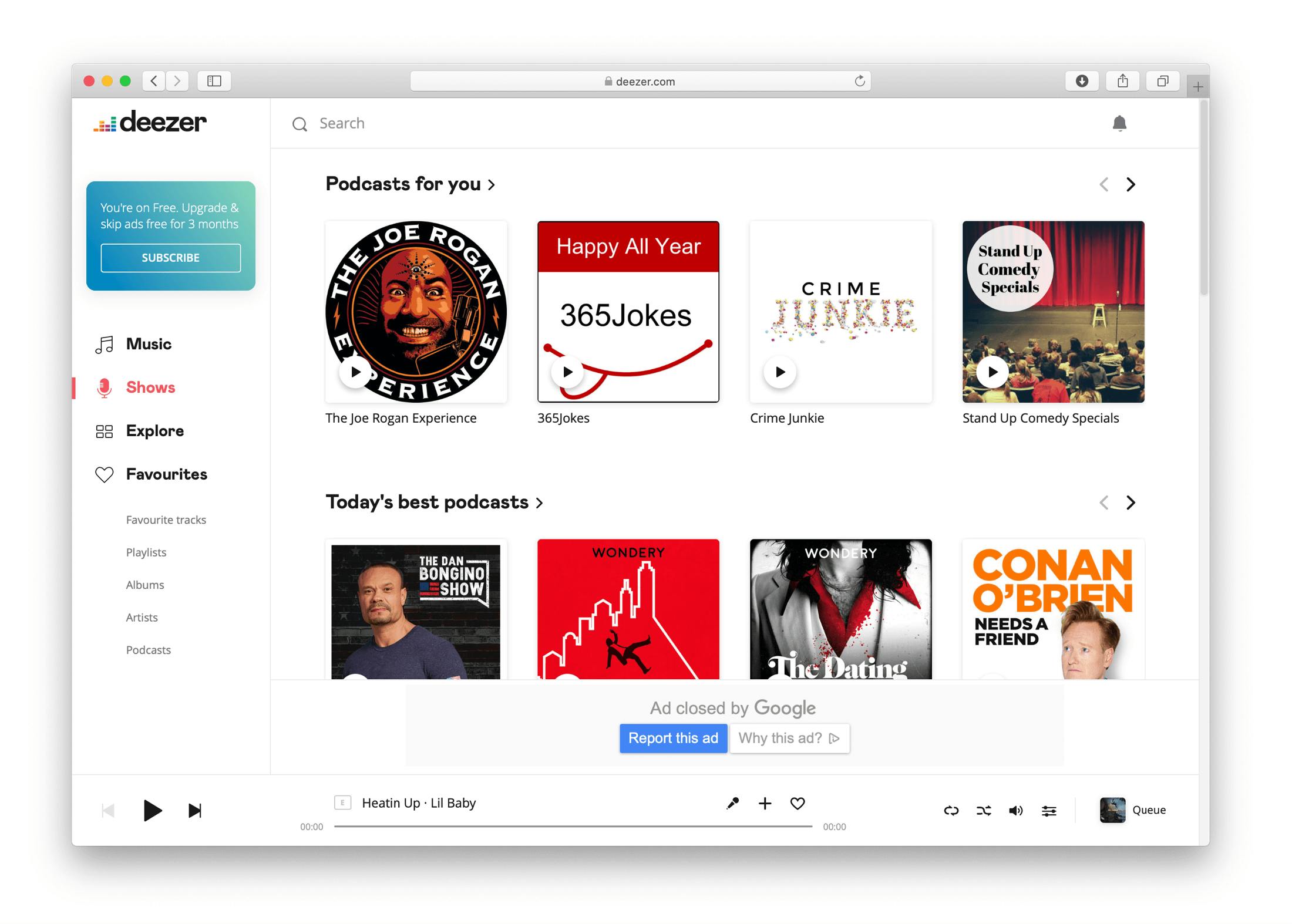 While Deezer doesn't offer podcast stats on their platform, but they will email you weekly content usage figures at the email address you provide them. The email comes in a zip file that needs to be downloaded and viewed within a browser.
Features within Deezer:
Over 30,000 radio channels & 23,000 podcasts 
Music library larger than Spotify
Audiobooks (available in Austria, Germany, and Switzerland. France and the U.K.)
Easy-to-navigate user interface
App available for iOS & Android mobile devices + Deezer in your browser
Option for lossless audio
Allows you to connect to social media networks to share music and podcasts
Why you want your podcast in Deezer
In podcasting, it's a good idea to get your podcast on as many directories as possible. 
There are a lot of podcast apps out there and naturally, podcast listeners have preferences about which app they use to consume digital audio. 
But what's in it for you?
New app, more listeners:
The biggest benefit of putting your podcast on Deezer is the possibility of attracting more listeners. By submitting your podcast to Deezer, you tap into the platform's 14 million active users, and expand your show's reach.   
Boost your SEO:
Every time you submit your podcast to a new directory, you enter your RSS URL along with your show description and episode metadata. Each time you add this information to another directory, you make your show easier to find in search engines (including podcast-only search engines like ListenNotes.)
Help maintain the podcast ecosystem:
Podcasting is a space largely untouched by marketers and sleazy advertising. For podcasters who are passionate about keeping podcasting free from this kind of marketing, certain directories are better than others. 
All the money generated from ads on Deezer goes directly to supporting artists, and podcasters keep 100% of their ad revenue.
Additional Resources:
The following podcast hosts are set up to allow you to submit your podcast directly to Deezer through your dashboard. Visit your podcast host's website for step-by-step instructions: Acast, Art19, Audioboom, Ausha, Backtracks, Blubrry, Libsyn, Omny Studios, Pippa, Podigee, Podomatic, SimpleCast, Spreaker, and Whooshkaa
Podcast Distribution: Where else should you list your podcast?
Getting listed in the top podcast directories should be the first step of your podcast marketing plan. Here are our step-by-step guides on how to get your podcast into the essential podcast directories.