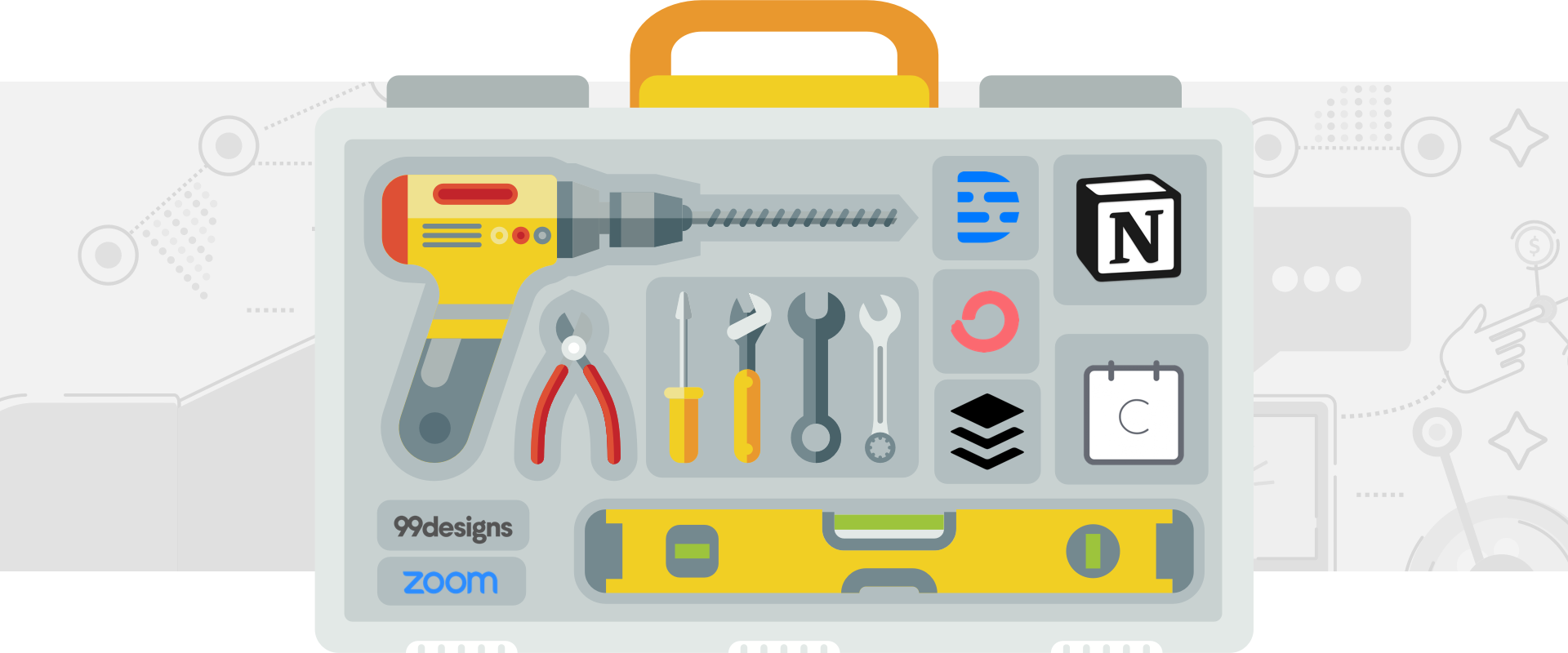 13 Essential Podcasting Tools For Every Podcaster
While it's true that you can create a basic podcast episode using something as simple as an app on your smartphone, your audience will appreciate a more sophisticated approach.
Lucky for you, there a many great tools that will take your podcast to the next level! These tools include sharing episodes on social media, editing your episodes more efficiently, and creating stunning podcast artwork.
Here are the 13 tools we recommend no matter what kind of podcast you have:
1. Notion: Note taking and collaboration
Notion gives you an online, collaborative workspace that unites your tasks and notes in one place. This tool provides your entire team one central location to brainstorm episode topics, draft your scripts, and jot down notes during interviews.
Do you have a standard editing and upload process? Use Notion's Knowledge Base tool to download your tribal knowledge into an easily accessible depository so anyone on your team can learn tasks quickly.
Need to assign some to-do's or tasks to your editor or virtual assistant? Use Notion's Task Board to manage every person's assignments and see what you have coming up at a glance.
You could cobble together a bunch of separate tools to manage your notes, tasks, and projects, or you could use Notion.
2. Calendly: Scheduling with co-hosts and guests
Use Calendly to schedule podcast interviews, with no need to engage in back-and-forth emails with your co-hosts and guests. Just set up a calendar with your availability and share it with your guests to find a perfect time to record. It also uses time zone detection so that you can easily coordinate with guests in other time zones.
The free version of Calendly allows you to create a single event, which is perfect if you only want to use it for scheduling podcast interviews. You can also upgrade to their paid plan if you plan on expanding to multiple kinds of events or want to simplify your calendar.

Once someone reserves an appointment, that information is listed in your "Upcoming Events" section in your dashboard along with all of the details that person provided when they reserved their time slot. You can also integrate Calendly with your preferred email management app or calendar to create a seamless experience.
When it comes to scheduling with co-hosts and guests, Calendly is the hands-down best solution.
3. Zoom.us: The best overall online interview solution
Remote podcast interviews have become the new normal for many podcasts, allowing you to interview guests from all over the world instead of only the people that live nearby. With Zoom, you can record an interview with anyone on Earth and be confident that you'll end up with a high-quality recording.
When you're ready to conduct your interview, each participant clicks a unique link to join your meeting using their phone or computer. Zoom will then record each person's audio on separate tracks, making it easier to edit when you are doing your final mixdown.
Unlike other popular solutions, Zoom meetings include video as well as audio helping you build a quick report with your guest and giving you the option of repurposing your interview for YouTube if that's a part of your overall strategy.
4. Facebook Live: Broadcast your recording sessions live
Many podcasters go the extra mile and connect with their audience with live broadcasting sessions. It allows your most enthusiastic fans to listen to your podcast as you're recording it—even parts you might edit out later. Some podcasts will make this a special perk for Patreon supporters, but it's also an excellent way to reach new listeners.
When you're first getting started with live streaming, we recommend Facebook Live. You can stream directly from your cell phone or webcam and automatically upload it to your Facebook page, group, or personal profile.
Once listeners start tuning in, you can ask them questions during your recording, allowing them to contribute to the episode. Facebook Live is an easy way to incorporate listener interaction directly into your podcast episodes.
If you're trying to grow a YouTube channel to compliment your podcast, you can also live stream on YouTube. You want to concentrate all of your efforts on the handful of platforms that move the needle for you, so if YouTube is important to you go live there instead of Facebook.
5. SpeakPipe: Record listener comments to use during your podcast
Engaging your audience, and getting feedback from your listeners should be one of your highest priorities. One tool you can use to receive voicemail recordings from your listeners is SpeakPipe.
Add SpeakPipe to your website and visitors will be able to send you voice messages from anywhere on your website by simply clicking on a button. SpeakPipe also provides a hosted voicemail page, so you can receive voice messages without installing anything on your website.
Visitors don't need a SpeakPipe account to send you a voicemail. They can post a message with just a few clicks without typing anything, and visitors can listen to their recording before sending it. The widget allows to record messages as many times as they want, so they can practice before sending you their final voicemail.
Messages are stored within your SpeakPipe account, and you can access your SpeakPipe mailbox from any computer or mobile device. The SpeakPipe mailbox has an option to download a voice message as an MP3 file, so you can put it on your website or insert it into a podcast.
If you're looking for an easy way to incorporate your audience into your podcast episodes, SpeakPipe is an excellent solution.
When you first get started in podcasting, free editing tools like Audacity and GarageBand get the job done. But if you find yourself wanting a more robust editing tool, we recommend Hindenburg (no relation to the Zeppelin).
Hindenburg is an all-in-one recording and editing powerhouse, with next-level tools like automatic audio leveling and their Voice Profiler which automatically applies the best EQ settings whenever you record a new episode.
Hindenburg's Noise Reduction effect is powerful and simple to use. It will automatically identify not only persistent noise, but also hum and hiss, then calculate how best to reduce them.
The hardest part about switching to a new audio editor is learning the software. Hindenburg has you covered! They have step-by-step tutorial videos to walk you through every aspect of their software so you can get up to speed and start cranking out episodes in no time.
Alternative: Alitu
Alitu is an under-the-radar online podcast editor that we recommend often. Alitu let's you clean up and combine your audio recordings, incorporate different elements of your episode such as an intro and outro, and integrates with many of the larger podcast hosts so you can upload your finished episodes directly to your host.
Buzzsprout Exclusive
If you're a Buzzsprout podcaster, you can try Hindenburg for free and get a discount on their software by clicking the link in the "Resources" tab in your Buzzsprout dashboard.
7. Descript: Transcribe your podcast for show notes and blog posts
After you've recorded and edited your podcast, you'll want to transcribe the audio for show notes and blog posts. This way, new listeners can find you through Google and become faithful subscribers.
There are plenty of machine-based transcription services (which are much more affordable than human transcription services), but only one will simultaneously edit your audio file to remove unwanted segments.
Descript will analyze your audio file (or video file), produce a high-quality transcript, and then allow you to edit out anything you don't like (awkward sentences, sneezes, narration mistakes, etc.). Then when you're ready to bring in all the elements of your podcast for the final mixdown you've already done the hard part of editing the audio segments.
Buzzsprout Exclusive
If your podcast is on Buzzsprout, you can also take advantage of our built-in transcription integration. If you haven't done it before you can read our nifty help article which walks you through the steps.
8. Podbase: Troubleshoot your RSS feed
Whether you're building your RSS feed yourself, or if your podcast hosting service generates it for you automatically, this is a critical tool to have in your podcasting toolkit. With Podbase you can quickly spot RSS feed issues that could get your podcast kicked out of Apple Podcasts or worse.
There are three types of analysis that Podbase provides.
First, Podbase will check to make sure that your podcast is properly utilizing the RSS 2.0 specification for optimal distribution and that the SSL-Certificate is compatible with Apple Podcasts.
Second, Podbase checks to see if your feed produces a "good URL" which is important for sharing and SEO.
Finally, Podbase will check fields that are particularly important for Apple Podcasts. It'll make sure that you have all the necessary category and title tags, audit your podcast artwork, and the proper description or summary.
9. Wavve: Spread the word on social media
Podcasts have a shareability problem. It's simply not easy to promote your episodes to new and existing listeners and repurposing your podcast for social media can feel like more work than making the actual episodes! That's where Wavve comes in.
Wavve gives you the power to leverage your audio content to create social videos that drive more reach and engagement around your podcast. The audiograms are customizable and are great for promoting episodes, highlighting guests, and sharing show clips.
Wavve comes with over a dozen waveform animations that you can include and customize to your design. You can add progress or timer animations to capture attention and let viewers know how much longer the video will play. And Wavve automatically generates a transcription of your audio for closed captions since a majority of social media videos are viewed with the sound off.
Similar to Wavve, Headliner is an online video tool that converts your audio files into videos that can be shared on all social platforms. Headliner also has a Marketplace where you can pay professionals to design a template for you if you don't happen to be a graphic designer.
Buzzsprout Exclusive
If you're a Buzzsprout podcaster, you can create custom Visual Soundbites for free and share them across all your social media platforms. If you haven't created one before you can read our step-by-step instructions and create your first soundbite in minutes.
10. Buffer: Schedule your social media posts
Frequent social media posts can let your listeners know about upcoming events and help them spread the word about episodes they loved. But rather than manually posting every new piece of content at the time you want it to go out, you'll save yourself a lot of heartache by using a scheduling tool like Buffer.
Buffer makes it much easier to post frequent social media updates; simply fill up your queue each week to keep posting new content on a set schedule.
Trying to grow your audience on multiple platforms? Buffer will let you create plan and publish content for Facebook, Instagram, Twitter, Pinterest, and LinkedIn, all from one simple dashboard.
And if you need to collaborate with other people, Buffer has an excellent content management tool where you can create drafts, review posts for approval, and manage login credentials for all of your accounts.
You can try Buffer for free for 7 days to see if it helps you manage and plan your social media posts.
11. ConvertKit: Keep in touch with your podcast listeners
Convert ordinary listeners into die-hard fans with customized email campaigns for marketing and outreach. Just add an email signup form to your website to collect your listeners' information and subscribe them to your email newsletter.
One feature that is useful for podcasters is the ability to A/B test email subject lines. Write a few different titles for a recent episode and see which title your listeners click on more. Then you can edit your podcast episode name to the catchier title.
You can also create custom email sequences welcoming new subscribers, dripping out high-quality resources, and introduce them to other products and services that you offer.
After testing several different platforms, we've decided that ConvertKit is the best email service for podcasters, which is why we use it at Buzzsprout.
If you want to incorporate more design elements in your email campaigns, Campaign Monitor has free templates to get you started. Their fully-customizable, drag-and-drop, editing tools make it easy to design beautiful emails. No coding required!
12. 99Designs: Create stunning podcast artwork
They say you should never judge a book by its cover, but that doesn't stop people from judging podcasts by their cover art. That's why you'll want to create some awesome podcast artwork for your show.
For stellar artwork, the best solution is 99Designs, which lets you create a custom project that graphic designers around the world compete to win. Choose the designs you like and continue working with those designers until you have the perfect podcast artwork!
If you need a free solution, you can start with Pexels to search for beautiful, royalty free images and import the image into Canva to edit that image and add your podcast title.
13. Coffee: A podcaster's best friend
If you're not worn out after brainstorming ideas, writing a script, recording an episode, and editing your podcast to perfection, then you're ahead of 99% of podcasters.
For the rest of us, there's coffee to help us through the process. Having a fresh pot of coffee on hand can help keep you focused when you're grinding out your next episode or two.
* important disclosure: Some of the links above are affiliate links, which means that if you choose to make a purchase, Buzzsprout will earn a commission. This commission comes at no additional cost to you. Please understand that we have experience with all of these products, and recommend them because they are helpful and useful, not because of the small commissions we make if you decide to buy something. Please do not spend any money on these products unless you feel you need them or that they will help you achieve your goals.